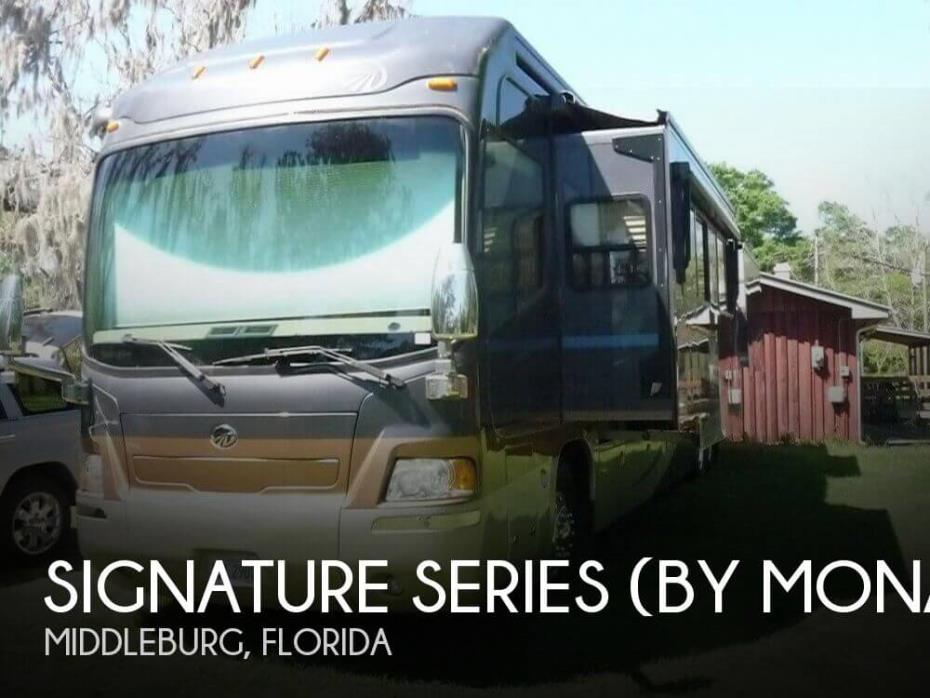 2007 Monaco Signature Series 45 Commander IV
$166,900
Jacksonville, Florida
According to the seller, all mechanical and operational systems function as intended. Although the coach is in good condition it is not new and shows some of the typical issues of an older coach. There are a few cracked tiles in the galley area and some other cosmetic issues that can easily be remedied by a capable DIYer. This is a big, powerful coach at a very reasonable price point. A great value. Stock #111299 Stored Inside!! Fresh Detail In and Out!! New Slide Toppers!! If you need RVing luxury and massive horsepower and towing capacity, it's time to let the luxury and high performance of this Monaco coach take you down the road in quality, comfort, style, and safety. It's time for you to drive the Signature Series 45 Commander IV. This is the coach of your dreams. Just check out the extensive feature of this gorgeous coach. General Features: Non-smoking; no pets; 150 gallon fuel capacity; 100 gallon water capacity; sleeps 4; 4 slide outs; electric slide awnings; auto transmission; in-motion satellite dish; 3 fantastic fans w/rain sensors; 2 automatic electrical Girard patio awnings on passenger side; electric window awnings all around; solar panel; tag axle; cruise control; exhaust brake; backup camera; CB radio; security system; air leveling system. Mechanical Features: Power steering; 2 stage Jake brake; air brakes; Allison MH-4000 6 speed transmission; anti-lock braking system with disc brakes; 12.5 KW diesel generator on power slide; 2800 watt Pure Sine Wave Inverter; 270 amp alternator. Chassis Features: Roadmaster Series S-10 outboard air bags computerized leveling; 10 Bilstein shocks for level and smooth ride. Exterior Features: Fiberglass one-piece roof; graphics package; deluxe full-body paint; fog lights; 3M film front mask; alloy wheels; full-length Monaco mud flap; 10,000lb.trailer hitch receiver; 7/4 way plug trailer wiring; towing package with electric brake controller; stainless steel exhaust; rear ladder; exterior TV; triple head power heated mirrors with cameras; solar panel w/regulator; stainless super service center w/ shower; flush-mounted tinted dual-pane windows; keyless entry system w/remote; Girard entry door & slide-out topper awnings; 2 roof-mounted Girard auto patio awnings; powered electrical 50 amp cord reel; water hose powered reel; auto water fill shutoff; manual & electric Sanicon (Macerator) dump system; large heated basement storage w/pass-thru storage tray. Driver Features: VORAD Collision Avoidance System (w/on screen display of lane traffic & alarm if traffic is lane changing also. Note: VORAD is connected to cruise control and will slowcoach and give alarm if car in front slows down); automatic traction control; color rear vision system; GPS navigational system; See-Vision System with 4 cameras and 2 displays; power heated & lumbar support leather pilot & co-pilot electric seats with memory; power sun visors; adjustable accelerator & brake pedals; dash air; powered driver's side window. Interior Features: Tile Floors; Corian computer station with numerous drawers ( including several file drawers); recliner with a footstool; J-couch with storage ottoman; bedroom carpet; Spiced Maple stained cabinetry; power silhouette shades in living & dining areas; radius ceiling design w/accents; 50 amp power distribution center; surge protector; deluxe security system; central vacuum system; drop-in glass vanity sink. Entertainment Features: King Dome In-Motion Satellite HD TV system; Bose Home Theater System; 37" & 32" LCD TV's; living room TV is ceiling retractable; AM/FM stereo with MultiDisc CD player. Heat and A/C Features: Aqua Hot - diesel heated continuous hot water and heat; 3 low profile 15M BTU A/C's w/ heat pumps. Kitchen Features: Tile flooring; Corain countertops & window sills; 3 burner LP gas range top; convection/ microwave oven; side-by-side refrigerator combo w/ice and water indoor; dishwasher; double sink; instant-on hot water faucet; Spiced Maple stained cabinets. Bath and Laundry Features: Corian shower w/ tile accents & glass door; stacked washer & dryer; white china residential type toilet. Bedroom Features: Spacious bedroom suite with 2 slide-outs; king bed, King Air mattress w/remote; carpet; large mirror sliding door side to side closet w/auto lighting; additional closet on the street side; 32" LCD flat screen HDTV w/DVD player & satellite hookup; ceiling fan; See-Vision security display; dresser with many drawers; corner drop-in glass vanity sink. There's just not much to not love about this Monaco RV. And you sure can't call this "camping". This is traveling in comfort, style and luxury. Reason for selling is health reasons.
2003 Monaco Signature Series 42 Supreme D
$129,900
Pennellville, New York
This second owner, low mileage, always stored indoors Monaco is in very good condition with a few issues to note. The main slide is currently inoperable because of a blown hydraulic line. The owner states that the estimate to repair this is $1,000. There is a tear in one of the seams on the patio awning, and the driver's side window seal is leaking. Also, the roof access ladder needs to be repaired or replaced. Stock #255811 Immaculate coach inside and out! Well cared for with nice upgrades! This 2003 Signature Supreme by Monaco is a must-see. This coach has been stored indoors heated since new, and it only has 67,000 miles on the meter! This coach rides on a Roadmaster chassis with a 500HP Cummins coupled to an Allison automatic transmission providing an excellent ride and plenty of power. Features and upgrades include the Aqua-Hot System, upgraded 45" flat-screen TV in the living room, washer/dryer combo unit, dishwasher, and a huge commercial refrigerator/freezer! It has a 12.5KW Onan Generator, three A/C units, newer carpeting, slide-out basement storage, keyless entry, and the list goes on. Don't let this one get away; make an offer today! Reason for selling is seller downsizing.
2004 Monaco Signature 45 CASTLE
$130,000
Utica, Michigan
Category Class A
Length -
Posted Over 1 Month
2004 Monaco Signature 45 CASTLE, Top of the Line Luxury home on wheels. 500 hp Detroit Diesel, four slide outs, aqua hot Aladdin system, GPS, Bose sound $130,000.00
Trim 45 CASTLE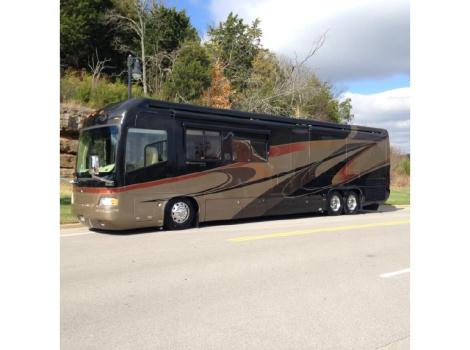 2008 Monaco Signature 45 CAMBRIDGE IV
$289,900
Franklin, Tennessee
Category Class A
Length 45
Posted Over 1 Month
2008 45ft Monaco Signature BATH + half Cambridge IV With 4 slides. All the right colors (cayenne spice) all the right equipment (loaded). 45ft. Cambridge IV BATH + HALF, 600 HP Cummins(no D.E.F.) 30,000 miles. Immaculate and always stored indoors, no pets, no shoes, no smoking, 8 new Michelin XZA2 tires (22 nd week, 2013). 4 new lifeline AGM 4D batteries (Nov 2013). 12.5 kw Onan w/ 900 hours. fresh chassis and gen service. All signature standard equipment plus $54,000 in options including gorgeous stained cherry, air and hydraulic leveling,electric pass thru s/o tray, adjustable shocks, power interior shades, air ride pilot seat, residential Jenn-Aire Refrigerator (NOT Frigidaire), KVH in motion satellite, 37" front LCD TV, 32" bedroom LCD TV, 32" exterior drop down LCD TV,Bose sound,security system with safe and see vision with in-mirror cameras, 2800 watt Magnum inverter, SS Fisher Paykel dishwasher, SS microwave convection, central vac, Ariston stacked washer and Dryer, Full custom tile flooring with mosaic inlays, Sleep Number Dual king air bed, co-pilot side leather air hide-a-bed,custom leather dinette ensemble, ozone water treatment system, full length Girard roof mount awnings, Girard electric window awnings, large living room bay windows, too much to list. Complete service records since day 1, meticulously maintained. Aggressively priced at $289,900. Owner 615-790-8160 Franklin, TN $289,900.00 6157908160
Trim 45 CAMBRIDGE IV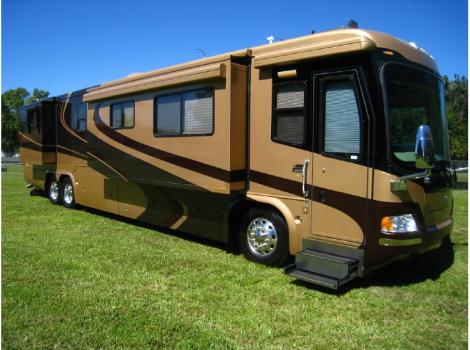 2005 Monaco Signature 45 COMMANDER IV
$169,500
Apopka, Florida
Category Class A
Length 45
Posted Over 1 Month
call Gary today for more details or to see this Beautiful Coach!
Trim 45 COMMANDER IV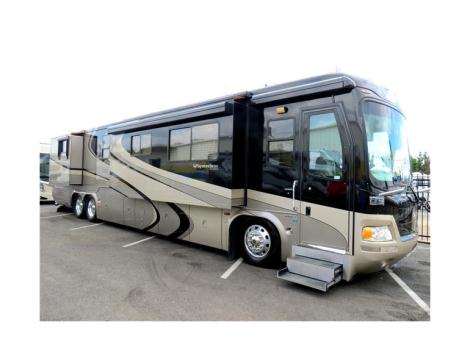 2005 Monaco Signature 45
Request Price
Fresno, California
2005 Monaco Signature45, 3 Window Awnings, 4 Door Refrigerator, 4 Slide Outs, 50 Amp Service, Air & Hydraulic Level, Allison 6 Speed Transmission, AM/FM/Cassette Stereo, Auto Generator Start, Center Kitchen, Convection/Microwave Oven, Deluxe Cabinets, Diesel Generator, Driver's Door, Electric Patio Awning, Fiberglass Exterior, Free Standing Dinette, Full Rear Wardrobe, Global Positioning System, Household Refrigerator, Hydronic Heating System, Ice Maker in Freezer, Leather Front Seats, Leather Sofa Sleeper, Metal Wrapped Awning, Mirrored Wardrobe, Motor Home Jacks, Opposing Slides - Bedroom, Opposing Slides - Livingroom, Power Driver Seat, Power Passenger Seat, Power Windows & Locks, Remote Heated Mirror, Roof AC, Satellite Dish Receiver, Solar Charging System, Split Bath w/Shower, Tile Floor in Bath, Tile Floor in Kitchen, Washer/Dryer Separate, Window Sunscreens,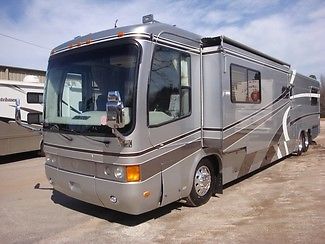 450hp Diesel Signature RV Monaco Tag Axle Motorhome 45' Slide 3 Sofas New tires
$69,999
Piedmont, South Carolina
Category Class A
Length -
Posted Over 1 Month
Best Offer Available2000 Monaco Signature 45C....Karolina Koaches - Call 866-381-4279....Top Line InformationYear:2000VIN:1RF120718Y1008794Make:MonacoModel/Trim:Signature 45CCondition:Pre-OwnedType:Motorized Class AExterior:SilverEngine:Six cylinder M11 CumminsMileage:162,851Transmission:Allison 6spd ATDrive Train:Rear Wheel DriveDescription.......KKRVS . com....... 866 381 4279.... M-F 9-5EST.... After hours cell phone: Bob 864 245 2454. Glen 864 376 6869. Typically, we have generic descriptions and we will change some of the info for each specific unit. For our ebay no reserve auctions, the $500 down payment is due as soon as the auction is over via paypal or similar. The total amount is due within 72 hours, whether you pick up the unit or not. If the total amount is not paid within 72 hours we reserve the right to NOT sell the unit to the winning bidder and possibly sell to another buyer. For our buy it now auctions we can arrange other terms. When we sell on a ebay no reserve auction, the price is usually really cheap, so we do not have the funds necessary to extend the red carpet treatment. Basically, you are purchasing for a really cheap price and with the savings, it is our belief that you can afford to refurbish what YOU think is necessary. NOW, for our buy it now auctions we will do our best to assist you with what we can. Now about this item... This coach is approx 45'. This coach is a Signature by Monaco. This RV was just driven several hundred miles with no trouble. AT THE TIME OF THE LISTING the following was known... There are 3 roof AC units that work. The engine or dash AC does seem to blow cooler air. The M11 Cummins DIESEL engine runs as it should, no problems. The Allison 6 speed automatic overdrive transmission shifts great also, no problems. At the time of the listing the Onan generator is in working condition. There is a fridge / freezer that works on LP gas or electric. For the buy it now price of $89999, if the rv has a location for a combo washer dryer, we will include a combo unit, for any other price, even if you see it, it is not included. For the no reserve auctions or rvs that do not have a combo unit, typically, we have some used units that we sell for $600 installed. We did NOT check every single light, drawer, storage door latch, heat, jacks if present, water, etc. Hopefully, they are good. We feel that since this motorhome is a repo and we are selling for a low profit, we are NOT planning to check or go over every single detail. Typically, we only check the roof top ac, the fridge and generator. WE can not cover, repair, or go over it all and make very little or low profit. So, our theory is to sell a lot at very little profit. This is good for you because it gives you a chance to own a RV for a VERY LOW price. As with any older RV, there is some delam or water damage. Sometimes we do not have all of the keys for each door, due to being a REPO. Please call us, if you need to know something, 866 381 4279. I generally state, just to cover myself, this coach does look better in pictures than in person. I guess the lighting makes the units look better. Over the past 15 years this unit has probably had some leaks, we do not know all of the history. So, we can not guarantee there has never been a leak, but, I can state that we typically re-seal the roof on most of our units, so, currently there should not be any leaks. We usually liquidate our inventory and only do a basic mechanical check out. We sold over 350 units in 2008. We sold over 100 units in the 4th quarter alone!!! YES, we sold over 100 units in the supposedly worst economy ever. We are selling them because we are CHEAP. So we are unable to take enough time to completely check out every thing on each unit. We will make sure the engine, transmission, over head air conditioner, refrigerator, and the generator operate normally (if/when applicable). These are the items most people are concerned with. We will also perform a basic check on the drivetrain, which consist of a test drive to determine if the engine transmission and brakes seem to perform properly. We will repair what is necessary. The REST is up to you!! The carpet looks good as you can see in the pictures. There are typically some stains here or there, but nothing to really be concerned about. The tires typically have good tread on 22.5 inch wheels, but they have older date codes. So, since you are most likely going to purchase this RV for a cheap price, just plan on purchasing 6 new tires to be safe. There is a local tire store that will install 8 new tires for approx $2800. For the buy it now price of $89999 we will include new tires. This coach has a 50 amp power cord hook up from the factory, as with most repos, the power cords are sometimes missing. Typically, a 30 amp power cord is approx $90 and a new 50amp power cord is $250. Sometimes we have used cords that we can sell for less. For the buy it now price of $89999 we will include a power cord. Also, the curtains or blinds are usually tattered and worn on these older units. When an appoitment is made to pick up your item, Karolina Koaches will have your item powered up so you can feel confident that the coach functions as described in this ebay ad. All that we require is a 48 hour notice so we can have your item ready for your arrival. If you fail to give us a 48 hour notice then we will NOT have adequate time to have your item powered up for your complete inspection. I do not think you would have any trouble although I can NOT guarantee anything. I now feel that I have described this coach bad. I would rather you to be happy and satisified than disappointed when you arrive. GENERALLY, the item that you are viewing is a REPO unit and a few are trade-ins. This means that this is your chance to own a great USED coach for a very low price. With the REPO RV's, there is usually some TLC needed. We generally have generic descriptions for our ebay auctions. Sometimes, we may forget something or make a mistake about some detail. So, please give us a call for a walk around description to ensure that we have good communications about this RV. Karolina Koaches has the best prices and the most feedback for an RV dealer in the South!! WE USUALLY HAVE SEVERAL OTHER RVS ON EBAY FOR SALE. Typically, we have the lowest prices... ANYWHERE. When you combine our prices and our eBay feedback, we are the BEST.. During business hours we can be reached at the telephone at the store, 864-845-1462 or toll free 866 381 4279. At Karolina Koaches we try our best to describe our items accurately. This is how we maintain our GREAT feedback for over 1200 eBay transactions, we describe the good and the BAD. We have GREAT feedback because we do NOT sell brand new or perfect items. We maintain GREAT feedback because we describe accurately. If there is a fault we TRY our best to state the fault or have a picture of the fault. Please do not assume anything, if it is not described then it does not work or does not exist. Please do not assume that we check everything. Karolina Koaches is generally open for viewing of RVs Monday - Friday 10:00-4:00. Over the past 10+ years of selling on ebay, we do NOT like to sell to most dealers. In our experience, most dealers are hard to deal with. So, if you are a dealer, if you are difficult and ask for discounts or special terms, you will be subject to a PIA, pain in the [email protected]@, fee of an extra $495. As long as we all get along, meaning that you do NOT ask for discounts or special terms, we can not charge the PIA fee. For the typical ebayer, you should bid with confidence knowing that we sell to a lot of other dealers and they in turn take home, clean up the minor details and then in turn sell to their retail buyers for big mark ups. This is your chance to compete with other dealers for the best prices on the net.. Good luck and happy bidding. For transport services please try, Movecars.com, http://www.movecars.com/toc/find/index.htm or go to ww.uship.com. Canadian Buyer INFO.... For buyers outside of the US, we do charge a $495 fee in addition to the bid and or winning price. Typically, we have to overnight paperwork, pay for recall letters etc. http://www.ucanimport.com/Border_Crossing_Info.aspx List of Canadian admissible vehicles http://www.tc.gc.ca/roadsafety/safevehicles/importation/usa/vafus/list2/menu.htm eBay Disclaimer This vehicle is being sold as is, where is with no warranty, expressed written or implied. The seller shall not be responsible for the correct description, authenticity, genuineness, or defects herein, and makes no warranty in connection therewith. No allowance or set aside will be made on account of any incorrectness, imperfection, defect or damage. Any descriptions or representations are for identification purposes only and are not to be construed as a warranty of any type. It is the responsibility of the buyer to have thoroughly inspected the vehicle, and to have satisfied himself or herself as to the condition and value and to bid based upon that judgement solely. The seller shall and will make every reasonable effort to disclose any known defects associated with this vehicle at the buyer's request prior to the close of sale. Seller assumes no responsibility for any repairs regardless of any oral statements about the vehicle. Typically, we have the lowest prices... ANYWHERE. When you combine our prices and our eBay feedback, we are the BEST.. We sell Used Diesel and Gas RVs. Some of our used rvs have slide out rooms and some do not. We try to keep all styles of RVs in stock that include Class A diesel and gas, Class B gas and diesel, Class C, travel trailers along with some 5th wheels and toy haulers. At our dealership we work very hard to accurately describe our vehicles through text descriptions and elaborate photos. When you purchase a pre-owned vehicle it is not a new vehicle. Any used vehicle can have normal wear and blemishes. Before placing a bid please read the descriptions thoroughly and view all pictures.Additional Photos* * * Click Photos to Enlarge * * ** * * Click Photos to Enlarge * * *Toll Free: 866-381-4279Phone: 864-845-1462Alt: 864-245-2454 Included Standard EquipmentInteriorSleeps 6Exterior1 slide outsMechanicalDiesel FuelDiesel fuel generator Hours of OperationMon: Tue: Wed: Thu: Fri: Sat: Sun: 10am - 5pm10am - 5pm10am - 5pm10am - 5pm10am - 5pm9am - 3pm NO PickupsCLOSED Vehicle Values Warranty Financing Let us help you finance your next vehicle. Begin by clicking the credit application button, print, and fax us your completed application. Our finance team will work to get you the best financing options available. TermsNotice to Bidders: If you have negative or zero feedback we may try to contact you to verify that you are a real bidder. If we can not contact you we WILL cancel your bid.Payment Types: Certified FundsFees: Out of State BuyersOut of state buyers are not charged tax, title, or license. The customer is responsible for registering the vehicle in their home state. DepositWe require a $500 down payment within 1 day/ 24 hours of winning the auction, even on holiday weekends, since paypal is always open. Once the down payment has been received we will be happy to schedule an appointment for the pickup of your new item. Down payments are non refundable. The down payment is due PRIOR to pickup or within 24 hours, whichever comes first. If you fail to send the down payment prior to arrival we reserve the right to NOT sell the item to you. If we feel that you are trying to manipulate Karolina Koaches we reserve the right to NOT sell the item to you. This is ebay, the prices are cheap, you do NOT get a retail experience because you are not paying retail price. If you do not follow our payment terms we reserve the right to NOT sell the item to you. Future Buyers: The above item is being sold "as-is" with no guarantees written or implied unless you are purchaseing one of our new units which we will list in the desrpition as having a warranty. Unless we state warranty there is NO warranty. We ask all ebayers to view, and have the above unit inspected by a mechanic of your choice at your expense prior to the winning bid. The mechanic must inspect the unit at Karolinas location. At Karolina Koaches we ask that you realize that you are purchasing a used Motorhome, 5th-Wheel or tow behind trailer, in many cases for a lot less than retail. Just like any pre-owned vehicle there will be some dings, nicks, chips, scratches, fading and or peeling of the stripes and graphics and of course some normal wear and tear. We try our best to describe our units in detail. Small items such as remotes, TV or key fob, floor mats, extra keys and cd cartridges may be missing, even though no stated as missing. The Buyer is responsible for a $295.00 dealer service process fee if inside the US and $495 dealer service process fee for buyers outside the US (this helps to cover the costs and related expenses.). For scheduling a pickup please allow a MINIMUM of 48 hours after the auction ends to pick up your coach, our reason why... we may already have others scheduled and no time to work you in for the necessary time required to cover the delivery of an item. Please do NOT bid if you do not agree to these terms. If there is something that you do not agree or understand, please CALL or email us prior to bidding. Please do NOT bid if you are not pre-approved by your lending institution to complete the transaction. The winning bidder must contact us within 24 hours of the auction end either by phone or e-mail. If we have NOT received the $500 NON- refundable down payment within the 24 hour timeframe, we reserve the right to NOT sell the item to the winning bidder. If "eBay" has a documented outage within 2 hours of the auction end we reserve the right to not sell to the winning bidder (please note in 4 plus years this has only happened once). Please be aware of the following: NADA Book values, lengths of units, names, and model numbers are a point of reference only, it is the buyers responsibility to verify their purchase PRIOR to the departure of your item from Karolina Koaches. The balance is due within 3 days following the auction end or upon taking delivery, whichever comes first. If the balance is not paid in full within 3 days then additional fees will be incurred, or we may refuse to sell the item. Please note that unit must be paid in full in order to have it delivered to you. We offer $100 discount, please ask us!! All buyers that reside out of the United Sates must pay by bank wire transfer or cash (in person) prior to the coach leaving our property. In some cases there may be a slight delay for title. When purchasing one of our items via eBay you agree that the venue for any legal proceedings will be in the County of Anderson South Carolina. If you change your mind for any reason or decide to NOT purchase or try to return your item, we charge a 30% restocking fee. Our units are available for sale locally on our lot and we reserve the right to cancel this auction at any time and sell the item prior to auction end. Terms: Auction PoliciesCustomers with zero or negative feedback on eBay Motors please contact us prior to bidding. Otherwise, we reserve the right to cancel your bid. Understand this is only to protect the integrity of the auction. The decorations will be removed upon receipt of the deposit. For the following optional 2 services I can start a Ebay auction for you to purchase so we both can receive feedback. If you desire either service just let me know, I will start a ebay auction for the service described and you can purchase it through Ebay. OPTIONAL SERVICES: We offer for your convenience two services: *** 1) $495 Prep Service: This includes filling the fuel tank with Gasoline($695 for diesel), filling the LP tank and water tanks *** 2) $75 Coach Essentials Kit: This includes: sewer hose, sewer odor cup, holding tank deodorizers, RV toilet paper, A/C adapter cord, water regulator, and a fresh water hose. MECHANICAL: We work on and repair most mechanical functions with our coaches. But, due to stringent State and Federal regulations, we are not set up to repair or maintain dash A/C units. Thus we do NOT guarantee that any dash A/C units work. ALL A/C components are "AS IS". Most do work, but we will NOT be responsible for repairing of maintaining dash A/C components. Also, we do not guarantee the following (if installed) will operate: 1) satellite systems 2) security systems 3) non-factory add-ons 4) we cannot guarantee tire life or wear 5) cruise control 6) spare tires are optional and are NOT standard equipment. ADVERTISING ERRORS: Please be aware that we are NOT PERFECT. We go to great lengths to make sure our ads are correct, BUT occasionally we do make a mistake. If you do not see it in the picture, then it probably is NOT an option on the vehicle. If you do not see floor mats, then the vehicle probably does not have them. If we do not mention a keyless entry, then we most likely do not have the keyless remote even though the vehicle might have had one when new. If you are unsure about an option, then please e-mail me and I will confirm if it has that option. SHIPPING: All sales are "AS IS, WHERE IS" but we can gladly assist with shipping arrangements. Shipping is only available after the item is PAID IN FULL. On all RVs especially older models there is almost always some delamation. If you can not send a deposit within 24 hours please do not bid. If you can not pay the final balance within 3 business days, please do NOT bid. If you do NOT pay the Deposit within 24 hours we reserve the right to NOT sell the item. If you do NOT pay the full amount within 3 days we reserve the right to NOT sell the item and keep the $500 deposit. As far as the deposit and final payment we do offer a couple of different options. Pay the $500 deposit within 24 hours via Paypal or send me a confirmation # from FedEx or similar for a cashiers check within 24 hours and you will have 3 days to pay the balance. we do offer a $100 store credit AFTER the $295 eBay auction Fee is paid. In order to receive the $100 store credit, the entire balance must be paid within 48 hours of the end of the auction. Full payment is due within 3 days period. If you do not pay within the 3 days we do reserve the right to NOT sell the unit to you. I will NOT hand over my title until your funds have cleared my account, 5 business days. So, if you arrive to pickup your new item and you do NOT bring cash or do a bank wire transfer then I hold the title till your funds clear MY bank. If you want to leave with your title then bring cash or do a bank transfer which usually takes 2 - 3 hours. Odometer Mile: Please be aware that FEDERAL LAW says that ALL motorhome sales of vehicles that are over 16,000 lbs are considered MILES EXEMPT. This means that the miles that read on the odometer are not guaranteed. This is NOT my rule or my method. I have nothing to do with this law. THIS IS FEDERAL LAW. What it does mean is that while the miles shown are NORMALLY correct, I do NOT guarantee it. How could I possibly know the complete history of a 10-15 year old vehicle that I have only owned for very short time? On vehicles 10 years old or older the titles can be labeled exempt for miles. A large percentage of the time the older RVs have an exhaust leak. I do NOT accept PayPal for final payment, PayPal is for deposit only. After you have inspected the coach and all is well, we can go for a test drive. About Us Karolina Koaches Inc Karolina Koaches Inc is the camping and recreational vehicle enthusiasts low price leader for everything they need to enjoy using their RV. Along with an RV parts and accessories showroom,we also offer a fair selection of new and used RVs for sale; RV service; affordable RV rentals (Class As), technical advice from people with experience; and hard-to-find parts. Founded in 2004, Karolina Koaches has grown from a tiny backyard business in Anderson SC to the Carolinas number one low price leader and retailer of Used RVs and RV accessories. With 100% feedback on eBay we are uniquely positioned to serve the needs of camping and RVing families, whether they enjoy weekends outdoors in a pop-up trailer or live full-time in a custom coach. Our growing network of products and services provides campers and RVers the security of a trusted, established name to turn to when they are ready to buy or trade their RV; when they need service, repair or just someone to talk to; when they want to find ways to make travel more convenient or affordable, and when they need specialized accessories designed for the RV and outdoor lifestyle. If we dont have it we will point them in the right direction.Visit karolinakoaches.com, kkrvs.com or call us @ 1-866-381-4279 and tell us how we can improve your experience with us and make RVing, tailgating and camping even more fun for your family. We try hard to make all buyers happy. We believe it is better to under promise and over deliver. We have worked hard to maintain our GREAT feedback rating. We have over 1300 completed transactions on ebay. In 2008, we sold over 350 units in supposedly the worst economy that we have seen in a long time. We are selling so many units because we are selling them soo cheap. This should give you confidence that we operate a legitimate business. We try our best to describe as accurately as possible. If a unit needs some work then we try our best to inform you that it needs work. Rest assured, if there is a challenge we will work with you to resolve it. Karolina Koaches601 Shiloh RoadPiedmont, South Carolina 29673Toll Free: 866-381-4279Phone: 864-845-1462Alt: 864-245-2454 ©2003-2015AutoRevo- All Rights Reserved Auction counter powered byAutoRevo Dealer Websites and eBay Templates Powered by AutoRevo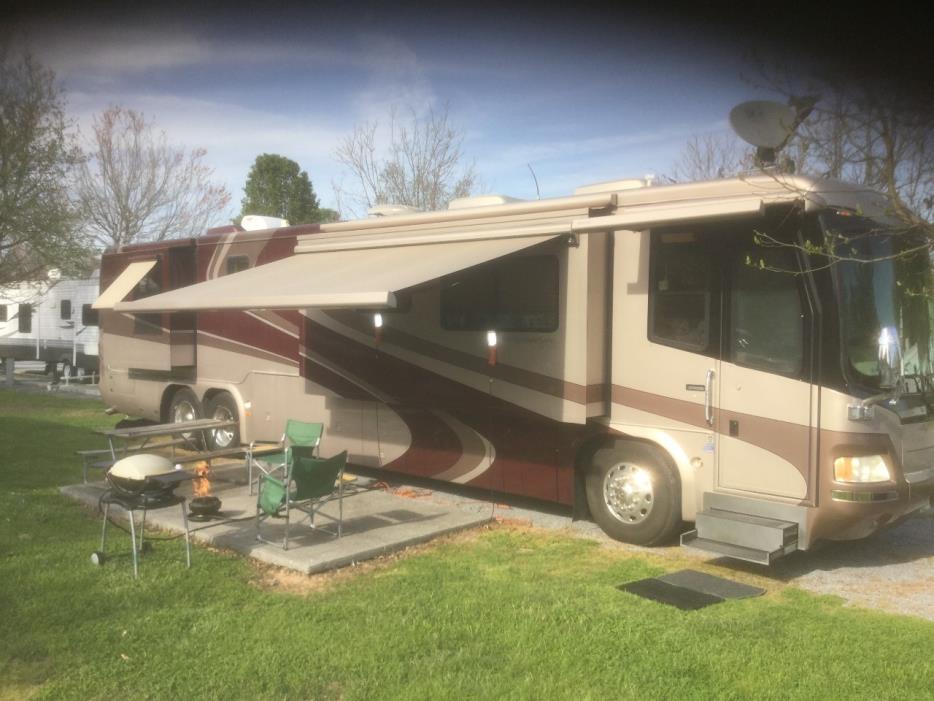 2005 Monaco SIGNATURE 45 CASTLE
$155,000
Missoula, Montana
This coach is in perfect condition. Serviced annually by NIRVC for the 5 years we have owned it.We are a couple of Aussies been travelling the USA 2x2 months for 5 years but ready to go on to other things back home. We cant take it with us so it has to go. We have advertised this coach at this price as serious sellers and intend to hand it to a new owner when we depart your wonderful country on or about the 1st of June.All the standard features of  a 2005 Sig Castle 1V and with cherry interior.The Signature has the 10 airbag Roadmaster Chassis which handles faultlessly.Extra extras include fishing rod & fly rod, Weber BBQ , "Campfire in a Can", linen, crockery etc.New when we bought the coach- Sat Dish, new Tvs, new tires, new windscreen ,expresso machine.New 2015 - Radiator, Charge Air Cooler, New 2016 - New Alternator, New Blue Ox 10000lb.Upgrades on this coach include Girard Awnings and upgraded Convection Microwave.Amazing things about this coach include: Internal layout in Saloon is 1 sofa bed and 1 J bed allowing sleeping for 6 (inc master)4 high pressure propane outlets ( I use 2)Auto start generator either on low battery or internal temp.Aquahot is incredible  (Breckenridge -3 living proof)As fly in fly out travellers we made sure the coach was up cratch each time we came as we couldnt afford breakdowns and suffice to say it has never let us down.If you want to view the coach we are enroute Atlanta to Yellowstone then back to Dallas. (Currently Nashville)  We will meet you at a suitable airport to show you the coach, and happy to delay our departure to deliver the coach pretty much anywhere in the USA We have loved this coach and before each trip have made sure she's right to go. Come see this coach. I'll put the beer on ice.
2004 Monaco SIGNATURE 45 CASTLE
$165,000
Bel Air, Maryland
Many customized options.  I will list as much as possible but you must see to believe.  More pics coming soon.Cummins 525hp Turbo Diesel EngineAllison 4000 MH TransmissionJacobs Engine BrakeCushion Air Glide Suspension10 Air Bags and 10 Bilstein ShocksATCABSAutomatic Air Leveling10,000 Lb Hitch ReceiverTires 295/80R/22.5--1000 Miles Old-MichelinWheels-Polished Aluminum270 Amp AlternatorTriple Heated Mirrors w/CamerasAuto Temp Start Switch for GeneratorColor Rear Vision SystemGPS Nav SystemAladdin Video Coach SystemHeated Leather Power Pilot & Co-Pilot SeatsElectric Sliding Pilot Seat CusionPower Footrest on Co-Pilot SeatPower SunvisorsAdjustable Accelerator & Brake PedalsTiled Front Entry LandingSide-by-Side Residential Refridgerator/FreezerStainless Spacemaker Convection MicrowaveRecessed 2 Burner High Output Cooktop w/CoverIn Motion Digital Satellite SystemHome Theater SystemNatural Cherry CabinetryLiving Room OttomanPilotside Furniture-Leather SofaKing Air Mattress w/Remote & Ralph Lauren Bedding PkgFour 6VDeep Cycle House Batteries--NEW4 Additional House BatteriesSatellite Receiver in Main BedroomDinette BoothTile-12x12 Daino Reale60 Amp Power Distribution Center12.5 KW Diesel Generator on Power Slide3000 Watt Inverter with Remote Start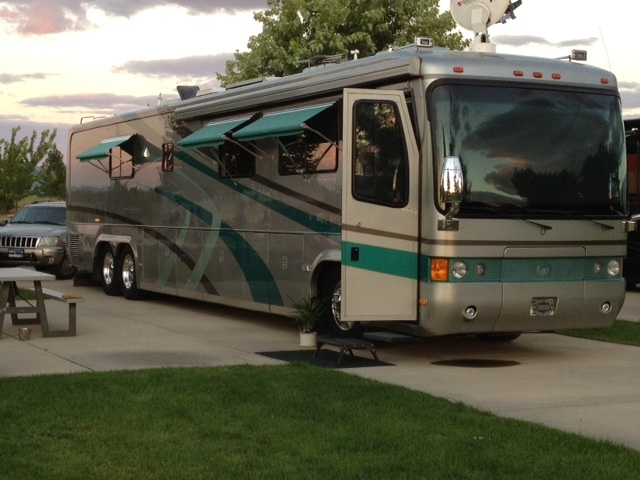 2001 Monaco SIGNATURE 45 EMPRESS
$119,900
Rio Vista, California
Full Timer's Dream Coach 2001 Monaco Signature w/Double Slides --The General Floor Plan. Cummins ISM500 Engine, Allison HD4000MH, Jake exhaust, All Electric 4 Solar panels, 2 Trace Inverters, Onan Generator 12.5 KW HDCAB quiet diesel, Silverleaf, Aqua-Hot, Instant Hot, Five 8-D Lifeline and 2-4D Start Batteries , 3 Dometic Roof Air, Road Relay, Computerized Air Leveling System, 200 gal fuel tank, Girard Automatic Patio Awning with full Zip Dee separate awnings, Maple cabinetry with custom Davis Cabinets, Queen Size Bed, Walk-in Closet with Brass Rod, Washer & Dryer Stacked, Nu-Heat Italian Tile Floors, Fisher Paykel Dishwasher, Seaward Electric Range, GE Advantium Microwave/Convection, Whirlpool Side By Side Residential Refrigerator, Deep Pantry Pullouts, Appliance Garage, Euro Chair, 40" Panasonic Plasma TV Flat Screen Front/HD Flat Screen Rear, Surround Sound 30 Bose Lifestyle, HD Moto-Sat Dish with Satellite Finder, Bedroom Ceiling Fan, Ralph Lauren Captain and Co-Pilot Chairs, Built In Safe, Hide A Bed Sofa, Hunter Douglas Power Shades, Backup Camera/Monitor, All Maintenance Records, Non-smokers.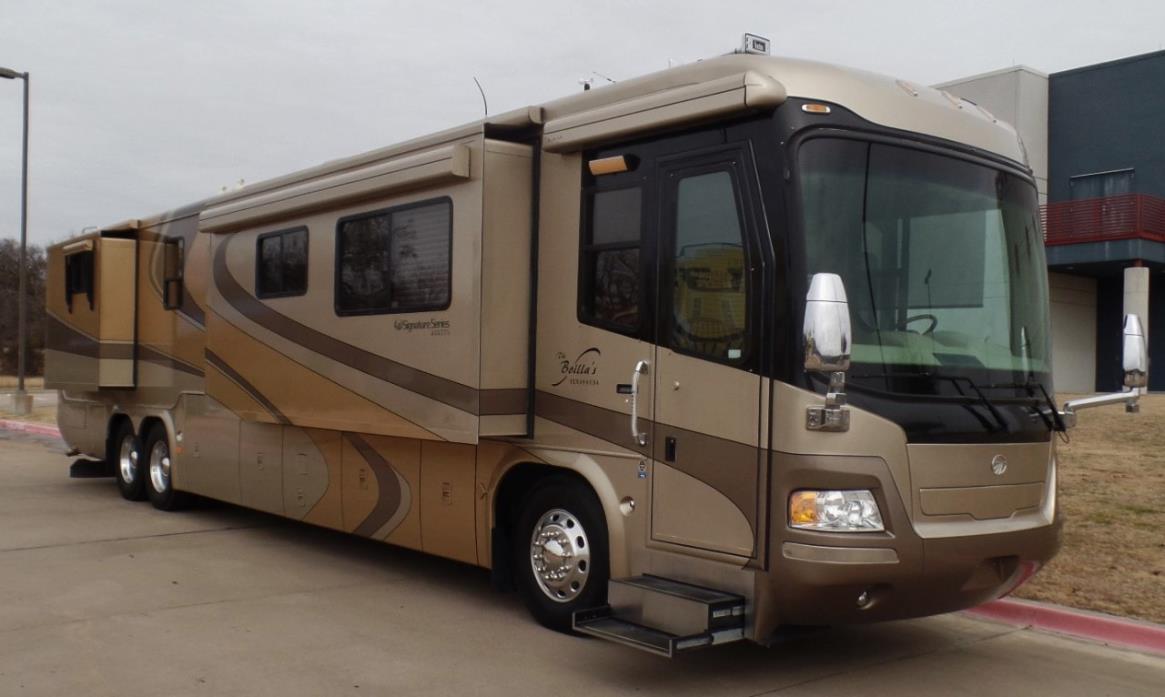 2005 Monaco SIGNATURE 45 CASTLE
$158,500
Weatherford, Texas
You are looking at a beautiful 2005 Monaco Signature 45ft Castle IV. This high line coach is powered by a upgraded Detroit Series 60 515Hp turbo diesel which is paired with a Allison six speed world transmission. All this power sits on a Road master 10 airbag chassis for a flawless driving experience. The exterior has a full body paint scheme with incredible graphics. There are no blemishes and coach looks as if it just came off the showroom floor. It is that nice! it also has zero paint checking which is a rarity these days. The storage bays are full pass thru and have slide trays for easy access to all your supplies. Coach has a full awning package with electric Girard main awning and power window awnings all the way around. The tire are all Toyo 295/80/22.5 which were put on in late 2015 so they are still like new. The interior is like new and screams luxury from the moment you walk in. Coach has all the high end features you would find in a custom home from real cherry wood cabinetry to solid surface counter tops. Everything is top of the line. Coach shows no wear and everything looks new. Previous owner kept this coach in a tempature controlled storage facility and it shows. All systems are in good working order and have been checked out by my certified mechanic. Coach has a full Aqua hot system which is diesel run and provides constant and unlimited hot water and serves as a 55000 BTU furnace. The generator is a Onan 12.5KW quite diesel which starts and runs like new with only 1200 hours. This rig is really one of those coaches that just makes you say wow when you walk around it. If you have been looking for a high end coach that is like new than look no further. Coach was owned locally and was just traded on a new Newmar Essex last week. Coach has no rust and looks as good in person as it does in the pictures. The front drop down tv is new and it is a smart tv. Coach has all books, remotes, and accessories. This rig is completely ready to jump in and hit the road. I have the full build sheet with all options I would be happy to email right to you and over a 100 additional photos. I will take your trade if you have one. Please feel free to give me a call with any questions or to schedule a viewing. The Previous owner spared no expense to make this coach top of the line and all service is up to date. If this is the coach you have been waiting for don't sit around on this one it will be sold by the weekend. Thanks Christian 817-689-1835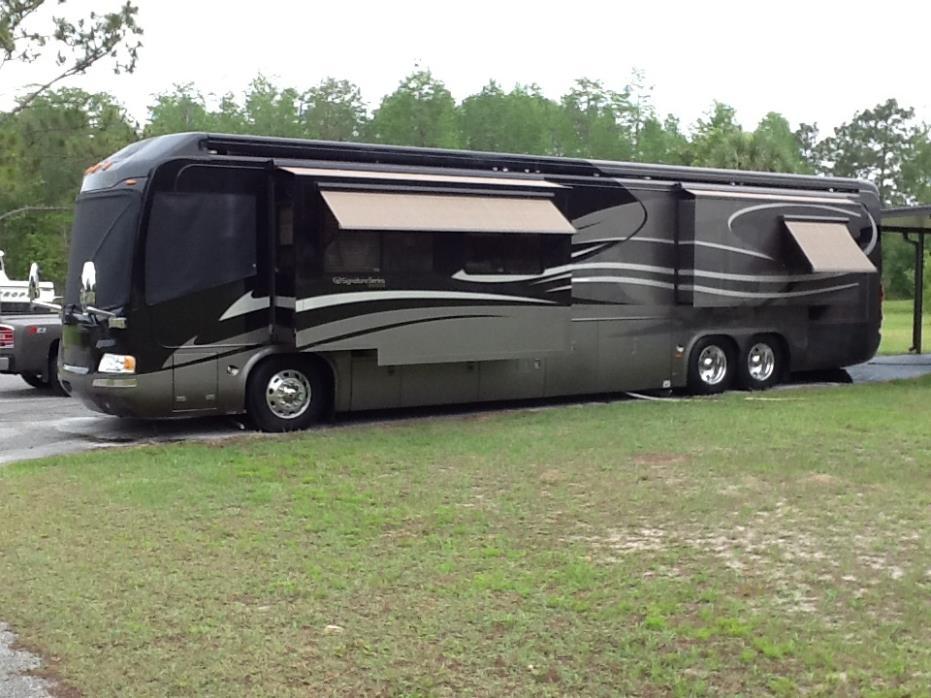 2006 Monaco SIGNATURE 45 CASTLE
$195,000
Batavia, Ohio
Polished marble floors, central vac, house refridgerator, new tires, new batteries, motorhome in great shape ready to go, many trips out west, memories you can't replace, health getting to bad to use any more.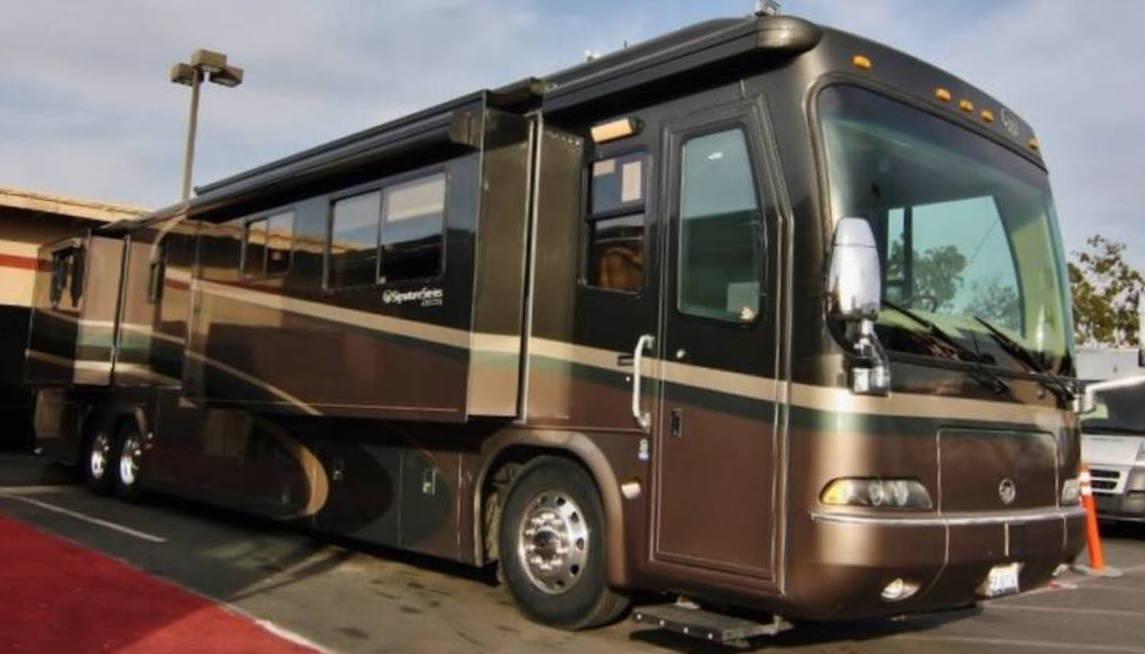 2004 Monaco Signature 45 Castle
$139,000
Garden Grove, California
2004 Monaco Signature 45 Castle, Roadmaster Chassis and the 500HP Detroit 60 Engine. This motor home has 4 slide outs and opposing sofas in the living room. Its in excellent condition and has all of the luxury options you would expect including; king size bed, tons of storage, tile flooring and so much more. Sleeps 5, 2 TVs, Shower, Fresh Water Tank, Outside Shower, Gray Water Tank, Black Water Tank, Skylight, Sound System, Queen Island Bed, Generator, Sofa Sleeper, Power Inverter, Full Kitchen, Ducted A/C & Heat, Basement Storage, Roof AC, Electric Step, Conv Microwave, Furnace, Side by Side Fridge, Table & Chairs, Monitor Panel, Non Smoking, No Pets, HWH Leveling One owner hughe floor area in kitchen new tires always stored inside complete RV maintenance check Satellite in motion wind sensor on awning aqua hot tile floors. Must see. Asking $139000, For Sale By Owner in GARDEN GROVE CA 92840, Contact Andy at 844-323-0010 ext: 26601 for more information. This For Sale by Owner Listing was provided by RVSellersUSA, a division of National Marketing Classifieds - NMSell, Mileage: 0
Showcase Ads
×
Alert Successfully Created
Sours: https://www.smartrvguide.com/rvs-for-sale/monaco-signature-45
Used monaco motorhomes for sale in Canada
1 - 24of 31ads
11 days ago
2005 Monaco Caymen 36 Ft Motorhome
Coldstream, North Okanagan
2005 Monaco Caymen 36' Motorhome complete with winter package for sale. 300 hp Cummins Diesel with engine brake. Diesel fill from both driver s side or...
classifieds.castanet.net
30+ days ago
2012 Monaco dynasty palace IV
West Kelowna, Central Okanagan
Kms: 60072 stock #: c26828 VIN#: 51z145619c1056729 2012 dynasty palace IV class a diesel motorhome by Monaco RV. Roadmaster s series chassis with a Cummins isx...
classifieds.castanet.net
7 hours ago
Monaco Motorhome for sale.
Edmonton, Alberta
2006 Monaco Diplomat. 40', 4 - slides. 400 Cummins diesel pusher. Comes with auto satellite, 2 - upgraded tvs, newer fridge, convection microwave, onan...
kijiji.ca
3 days ago
Monaco diplomat motorhome
Kitchener, Waterloo
1998 Monaco diplomat 38a diesel "pusher" class a motorhome
kijiji.ca
3 days ago
Motorhome for Sale
Lethbridge, Alberta
2007 Monaco Camelot peq 40' motorhome with 4 slides and slide toppers. 400 Cummins, Allison 6 speed transmission with 63500 miles, onan 10,000 Watt genset with...
kijiji.ca
6 days ago
2008 Monaco 37 ft Motorhome for sale
Comox Valley, British Columbia
2008 Monaco Lapalma 37 ft motorhome. In beautiful condition. 340 hp Diesel engine, 56,000 miles. Tons of upgrades including new flooring, stove, microwave,...
kijiji.ca
6 days ago
2000 la Palma Monaco motorhome
Toronto, Ontario
36 ft class a V 10 Triton engine easy to operate with G license . Kitchen and sofa bed opens up with one large slide giving great additional living space with...
kijiji.ca
4 days ago
2008 Monaco la Palma XL motorhome - class a 36wbd
Highway 97, Kelowna
Cummins isb-ad 340 hp engine Allison transmissionAuto hydraulic leveling system5000 lbs hitch600 watt inverter6. 0kw Onan diesel generatorSlide topper...
kijiji.ca
6 days ago
2006 Monaco Knight 38pdq
Carleton Place, Lanark
2006 Monaco Knight 38pdq diesel 59990 miles Cummins ISC 330 engine air brake license required 4 slides ,2 TV's 2 DVD players,2 slide out trays splendide washer...
kijiji.ca
4 days ago
2010 Monaco Camelot 42kfq charting new territory.
Sylvan Lake, Red Deer
Front kitchen layout. Very low miles. Excellent condition coach.Features on this diesel pusher / class a motorhome include: roadmaster rr10s raised rail chassis...
kijiji.ca
12 days ago
2005 Monaco caymen 36' motorhome for sale
Vernon, Mount Waddington
2005 Monaco caymen model 36ppd motorhome complete with winter package for sale. 300 HP Cummins diesel with engine brake. Diesel fill from both driver s side or...
kijiji.ca
4 days ago
2007 Monaco executive 45 McKinley II luxury and innovation.
Sylvan Lake, Red Deer
525hp Cummins engine. Rear bath. Excellent condition coach.Features on this motorhome / class a diesel pusher include: roadmaster s-series chassis Cummins isx...
kijiji.ca
16 days ago
Class a Monaco motorhome
Little Britain, Greater Sudbury Grand Sudbury
Monaco Riptide 31 ft. 52,400 miles Ford new floor, doors painted black, penny tile in kitchen and bathroom.Stove,convection oven,fridge, hot water tank,heater,...
kijiji.ca
Reduced price11 days ago
2005 Monaco Cayman
Lethbridge, Alberta
$ 59,000
2005 Monaco Cayman. Cummins diesel, Allison transmission and engine brake. It has 4 Slides, 1 living room,1 kitchen and 2 in the bedroom, lots room and plenty...
kijiji.ca
7 days ago
Beautiful class a 32' motorhome now taking appointments to view
Ottawa, Ontario
32 foot Monaco LaPalma Class A motorhome with on board generator, 2 air conditioners, furnace, in ceiling speakers, 3 way fridge/freezer, stove, Corian counter...
kijiji.ca
15 days ago
40 ft 2000 holiday Rambler imperial motorhome by Monaco
Saint Catharines, Ontario
2000 holiday Rambler imperial by Monaco - 40 ft diesel motorhomebeautiful top of the line 40 foot, 2000 holiday Rambler imperial by Monaco one of the most...
kijiji.ca
16 days ago
2006 Monaco Windsor 40ft Diesel Motorhome
Rocky Mountain House, Clearwater
350 hp, 47073 miles, original owner. Many upgrades, mint condition, must be seen. Call Jim at 403-846-1178
kijiji.ca
28 days ago
2007 Monaco Dynasty Motorhome
Pincher Creek, Pincher Creek No. 9
Monaco RV for sale- 2007 Monaco dynasty platinum IV with 4 slides and 61,000 miles. This RV is approximately 40 feet in length with a Cummins 400hp engine,...
kijiji.ca
20 days ago
2005 Monaco diplomat 40pdq W\u002f400hp Cummins
Saskatoon, Division No. 11
Diesel pusher motorhome for sale, 8.2L 400hp Cummins, 10000kw onan quiet series gen set, 4 huge slides, new coach and chassis batteries, front and rears tires...
kijiji.ca
2 days ago
2013 holiday Rambler 43 DfT - immaculate 45' diesel coach
Edmonton, Alberta
View video here sale - no GST beautiful, well maintained, exceptional floorplan 45' tag axle diesel coach owned by non-retired couple, has been used in Arizona...
kijiji.ca
26 days ago
Diesel pusher Motorhome
Crawford Bay, Central Kootenay
34 Windsor Monaco diesel pusher. Immaculate condition. Upgraded countertops and flooring. Lots of natural light and good flow. Recent inspection and service....
kijiji.ca
28 days ago
1999 Monaco dynasty
Port Alberni, Alberni-Clayoquot
1999 Monaco dynasty motorhome 40ft Ralph Lauren classic 6500 miles / 10,460 km on new engine.
kijiji.ca
26 days ago
40 ft diesel pusher motorhome
Spruce Grove, Parkland
2002 Monaco dynasty 40ft 400 HP diesel pusher with tag Axel this motorhome was $565,000 new . 2 X slides - self air leveling rear camera- aquahot-new tires...
kijiji.ca
28 days ago
Wanted: motorhome class a
Rocky Mountain House, Clearwater
2006 Monaco Knight plq,40ft, 330hp Cummings,6 speed Alison trans,4 slides,new front TV,air conditioners new in 2020,front TV new 3years ago, house battery's...
kijiji.ca
1 - 24
Sours: https://www.allclassifieds.ca/rv-accessories/used-monaco-motorhomes-for-sale-in-canada.html
Used 2007 Monaco Signature Series 45 Noble III
Motor Home Class A - Diesel
Stock #24837A
Laughlin, NV
45 Noble III Floorplan
Specifications
Sleeps
5
Slides
3
Ext Width
8 ft 5 in
Ext Height
12 ft 8 in
Int Height
0 ft 7 in
Hitch Weight
10000 lbs
Gross Weight
50160 lbs
Fresh Water Capacity
100 gals
Grey Water Capacity
72 gals
Black Water Capacity
40 gals
Tire Size
295/80R/22.5
Miles
95794
Engine
Cummins ISX 525 hp
Chassis
Roadmaster S-Series
VIN
1RF17561871043575
Description
Triple Slide w/PanaSuite Full Wall Slide on Driver Side, Rear Bath w/Wardrobe, Shower, Linen Cab., Wash/Dryer, Queen Bed w/Nightstands, Dresser w/Hamper, TV, Closet, Refrig., Dinette w/Chairs, Jackknife Sofa, J-Lounge, Ottoman w/Storage, Double Kitchen Sink, 2 Burner Cooktop, 2nd Half Bath & More.
Call 702-623-9143 for your best price today!
Features
Standard Features
Construction
Heavy-Duty Steel Superstructure with Steel Cage Cockpit Construction
Seamless One-Piece Molded Crowned Fiberglass Roof
All-Season Foam Insulated Roof
Laminated Gel Coat Fiberglass Walls
Five-Layer Flooring with Two Layers OSB Flooring
Deluxe Full-Body Paint
One-Piece Windshield
Triple Head Power Controlled Heated Chrome Exterior Mirrors with Security Cameras and Turn Indicator Lights
Halogen Fog Lamps
Daytime Running Lights
Recessed Side Docking Lights
Dual Trumpet Air Horns
Chassis & Engine
Roadmaster S-Series: Semi-Monocoque Chassis
Cummins® ISM 525 HP Engine with Allison® 4000 MH 6-Speed World Transmission and Electronic Shifter
Dual Fuel Fill
270 Amp Alternator
Rear Axle Ratio: 4.30:1
Tires: 295/80R/22.5
Polished Aluminum Wheels
Full-Cushion Air Glide Suspension with Ten Outboard Air Bags and Ten Bilstein® Shock Absorbers
Air Suspension with Ping Tank
Automatic Traction Control
Air Disc Brake System with ABS
Tag Axle with Anti-Lock Braking System
Auto Slack Adjusters on Brakes
Two-Stage Jacobs Engine Brake
Pre-Wire for Supplemental Braking System
Appliances & Accessories
14 Cu. Ft. 2-Door Refrigerator with Water/Ice Dispenser in Door
Recessed High-Output 2-Burner Cooktop with Flush-Mount Covers
Spacesaver Convection Microwave with Touch Control
Electric TV Antenna
Fully Automatic Digital Satellite System with Receiver in Living Area and Bedroom
37" LCD TV Mounted in Living Area Ceiling
32" LCD TV in Bedroom
Bedroom Stereo/CD/Clock Radio
Bose® Sound System with DVD Player and Recessed Surround Sound Speakers
Bedroom DVD Player
Universal Remote System
Combination Washer/Dryer
Interior
Stained or Natural Oak Cabinetry
Built-In Storage Area for Kitchen Countertop Covers
Clothing Hamper in Bedroom
Radiused Padded Vinyl Ceiling Design w/Imagicor Accent in Living Room and Bedroom
Corian Countertops Throughout w/Serpentine, Dripless Edge
Ceramic Tile Backsplash in Galley and Bath Areas
Power Silhouette Shades in Living Room and Dining Area
Day/Night Shades w/Blackouts in Bedroom
Designer Wallpaper Throughout
High Gloss Tile Floors in Galley, Bath & Cockpit Area
Bedspread and Pillows
Furniture
Legless Side-Slide Solid Surface Dinette Table with Two Freestanding Dinette Chairs and Two Folding Chairs
Roadside: Fabric Sleeper Sofa
Curbside: Leather J-Lounge with Drawer and Ottoman with Storage
Additional Bedroom Wardrobe (N/A: 42 Chateau IV, 45 Conquest IV, 45 Castle IV)
Queen Bed with Pillowtop-Hinged Mattress
Electrical
50 Amp 120/240V Distribution Panel and Power Cord with Quick Disconnect
Onan® 12.5 kW QD Generator on Power Slide-Out Tray with Auxiliary Start Switch and Automatic Temperature Start
2,800 Watt Pure Sine Wave Inverter with Auto Genstart and Auto Temp Start
Halogen Map Lights Above Driver/Passenger Seating
Decorative Lighting in Living Area and Bedroom
Halogen Lighting in Ceiling Throughout
Accent Rope Lighting Throughout Coach
Lighted Utility Center
Underhood Utility Light
120V Outlet in Private Bath
120V Outlet in Bed Base
120V Receptacles inside Storage Compartment
Porch Light
Doorbell
Lights in Outside Storage Compartments
Four 6V House Batteries
Two 12V Chassis Batteries
Plumbing/LP Systems
Central Water Purifier in Service Compartment
Manabloc Water System for Entire Coach
Insulated Systems Compartment with Easy Access to Hook-Up
Water Pump Switch in Galley, Bathroom, and Service Bay
Winterization Valving System
China Toilet
Super Service Center
Corian® Shower with Tile Accents and Shower Caddy
Shower Head Volume Control
Black Holding Tank Rinsing System
Outside Faucet with Hot and Cold Water
Power Water Hose Reel
Soap Dispenser in Kitchen
Insta-Hot® Water System in Kitchen
Heating, Vent & Air Conditioning
Aqua-Hot® Heating System
Three Low-Profile Ducted 15M BTU Roof Air Conditioners with Wall Thermostat and Heat Pump
Electronic AC/Heat Climate Control System Center Defroster Vents
12V Attic Fan in Bathroom and Private Lavatory
12V Attic Fan with Wall Thermostat in Kitchen
See us for a complete list of features & available options!
Favorite RVs
Save your favorite RVs as you browse. Begin with this one!
What Other Customers Are Saying
Louis from Metairie, LA
Chris from University Place, WA
Stan
We are here to help, call us at
702-623-9143 or Contact Us
RV Country is not responsible for any misprints, typos, or errors found in our website pages. All prices plus government fees and taxes, any finance charges, any dealer document processing charge, any electronic filing charge, and any emissions testing charge. Manufacturer pictures, specifications, and features may be used in place of actual units on our lot. Please contact us at 559-486-1000. for availability as our inventory changes rapidly. All calculated payments are an estimate only and do not constitute a commitment that financing or a specific interest rate or term is available.
Sours: https://www.rvcountry.com/product/used-2007-monaco-signature-series-45-noble-iii-1046488-10
Beautiful 2008 Monaco Signature 45′
View Monaco Signature Diesel Pushers For Sale
Inventory Filter
Used 2007 Monaco RV Signature Series 45 Commander IV
Pop RVs - Jacksonville, Florida
Stock #111299 - Stored Inside!! Fresh Detail In and Out!! New Slide Toppers!!If you need RVing luxury and massive horsepower and towing capacity, it's time to let the luxury and high performance of this Monaco coach take you down the road in quality, ...
Price: $206,700.00
Sale Price: $166,900.00
Sale!ConsignmentReducedMore Info
Used 2003 Monaco RV Signature Series 42 Supreme D
Pop RVs - Pennellville, New York
Stock #255811 - Immaculate coach inside and out! Well cared for with nice upgrades!This 2003 Signature Supreme by Monaco is a must-see. This coach has been stored indoors heated since new, and it only has 67,000 miles on the meter!This coach rides on a Roa ...
Price: $138,000.00
Sale Price: $129,900.00
Sale!ConsignmentReducedMore Info
Used 1999 Monaco RV Signature Series Caesar
Pop RVs - Knoxville, Tennessee
Stock #215911 - 1999 Signature Series by Monaco Caesar. High End Coach at Great Price. It has Everything. Even a Walk-In Closet!This is a very nice older motorhome by Monaco. The sellers used to own two RV Repair shops in Tennessee and Texas, and they purc ...
Price: $72,300.00
Sale Price: $58,000.00
Sale!ConsignmentReducedMore Info
Used 1994 Monaco RV Signature Crown Royale 300
Pop RVs - Pilot Point, Texas
Stock #182431 - Crown Royale ready for a new owner!It's time to get out and enjoy life again!The 1994 Monaco Crown Royale Signature 300 is an excellent older RV.Equipped with the venerable 8.3L 300 HP Cummins with an Allison transmission, these RVs ar ...
Need Advice?
Join us on our popular forums at www.rvtalk.com where hundreds of RV enthusiast just like you ask questions, share opinions, and enjoy each others company - You'll be glad you did.
Our RV Destinations section will give you a starting point to plan your next journey or camping trip. Designed to provide everyone from full timers to occasional campers a complete resource, this section has links to campgrounds, resorts and local areas of interest all over the US.
Finally, our RV Insurance and RV Financing sections allow you to get quotes from the top providers.
A Service of RVUSA.com - Online RV Classifieds
---
This website is a service provided by Netsource Media, the creators of RVUSA.com - Your Online RV Classifieds, to further customer knowledge of Monaco units.
This site is not owned, maintained, or endorsed by Monaco, Inc.
©2021 | Website designed and hosted by Netsource Media - Digital Marketing for the RV Industry | Privacy Policy | Sitemap
Sours: https://www.monacorvsource.com/monaco-rv-signature-diesel-pusher-for-sale?model_id=4657&type_id=16
Monaco signature for sale 2007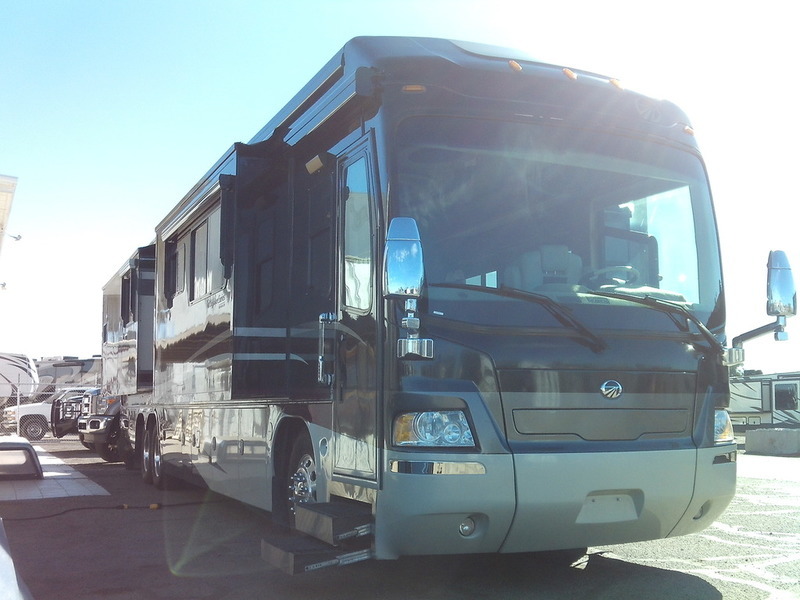 2007 Monaco Signature Series 45 Noble III
Request Price
Yuma, Arizona
2007 Monaco Signature Series 45 Noble III, Beautiful coach. This one really has it all. Aqua hot, bath and a half, 600 hp Cummins, etc. Call and ask for Jordan to reserve this one TODAY. Come on, fellow travelers. Haven't you waited longenough to drive your dream? It's your turn now. AndMonaco is here to make it all happen. With high-line,high-performing coaches that lead the way in quality,comfort and safety. So grab a road atlas and climbaboard. The coach of your dreams is just ahead.
2007 Monaco Signature 45 NOBLE III
$225,000
New Bern, North Carolina
2007 MONACO SIGNATURE, 45' NOBLE III, BATH AND HALF, ISX 600 HP CUMMINS, 6 SPEED ALLISON TRANSMISSION, 32215 MILES. AUTO AIR LEVELING SYSTEM, ALADDIN COACH SYSTEM, NATURAL CHERRY CABINETRY, POWER SHADES THRU- OUT COACH CORIAN COUNTERTOPS. 12.5 KW ONAN GENERATOR, 2800 WATT INVERTER, SOLAR PANEL, AQUA HOT HEATING SYSTEM, 3 LOW PROFILE 15 BTU A/C W/HEAT PUMPS, KEYLESS ENTRY W/REMOTE, 4 ROOF MOUNTED GIRARD SUTO PATIO AWNINGS W/REMOTE, GIRARD ENTRY DOOR & SLIDE-OUT TOPPER AWNINGS, AIR RIDE PILOT SEAT, CENTRAL VACUUM SYSTEM, IN- MOTION DSS W/HD SYSTEM, QUEEN AIR MATTRESS W/REMOTE. COLLISION AVOIDANCE SYSTEM, SLEEPER SOFA ON DRIVER SIDE, J- LOUNGE WITH OTTOMAN ON PASSENGER SIDE. JENN AIR STAINLESS RESIDENTIAL REFRIGERATOR. 42" LCD TV IN LIVING ROOM, 37" LCD IN BEDROOM. NEW BATTERIES IN 2015, NEW TIRES JUNE 2016. NO PETS, NO SMOKING, GARAGED WHEN NOT IN USE. ORIGINAL OWNER.$225000 LOCATED IN NEW BERN, NORTH CAROLINA CALL FOR MORE INFO AT 252-638-5658 OR EMAIL ME AT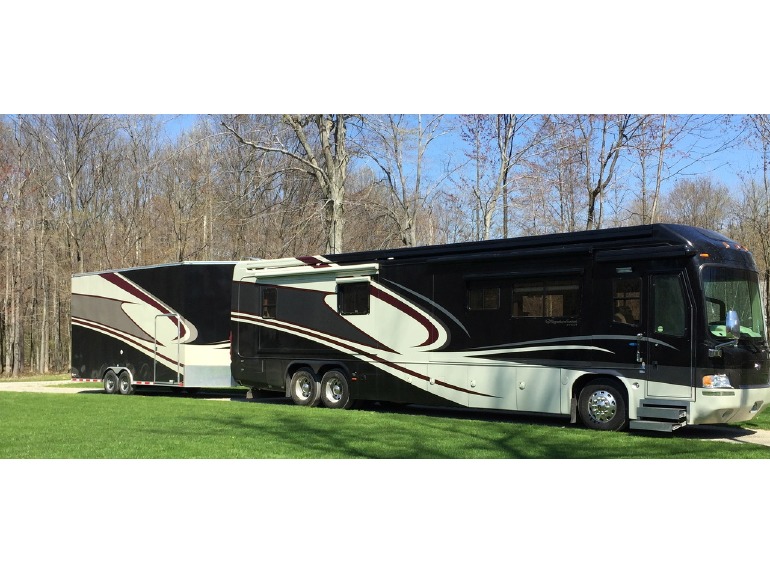 2007 Monaco Signature 45 NOBLE III
$249,000
Jefferson, Ohio
2007 Monaco Signature 45 NOBLE III, 2007 Monaco Signature 45 NOBLE III, 2007 Monaco Signature 45 Noble III 35593 miles, Cummins ISX 600 HP, Allison MH 4000 6 Speed transmission, Jacobs engine brake, air ride suspension, auto traction control, auto air leveling, 270 amp alternator, triple head power heated mirrors w/ cameras, 12.5 KW Onan Generator on power slide-out, 2800 watt inverter, solar panel w/regulator, Collision Avoidance System, Deluxe Full Body Paint, Storage bay electric slide-out tray w/remote, storage bay doors w/electric power locks and remote, GPS, Aladdin Video system, Driver Air ride heated and leather seat, Co-pilot heated and leather sear, Satellite in motion system, 42" LCD TV in living room, 37" LCD TV in bedroom, See Vision LCD monitor in bedroom, Natural Cherry Cabinets, Corian countertops, power shades in living room and bedroom, security system, Aqua Hot Heating system, 3 Low Profile 15 BTU A/C w/heat pump, kayless entry system w/remote, 4 Roof Top Mounted Girard Auto Patio Awnings w/remote and wind senor, Girard Entry Door and slide-out topper awnings, all windows has Girard electric awnings, Queen Mattress, Jenn-Air Stainless Refrigerator , 4 New Batteries installed 2014. NO PETS, NO SMOKING, GARAGE STORED WHEN NOT IN USE. ORGINAL OWNER MSRP $640,209. Coach was remodeled in 2013 and a few minor changes to interior configuration from original. 2012 28' CARGO MATE STACKER ALUMINUM TRAILER GVW 14,000 LIGHT WEIGHT 4,300. ONLY 5,000 MILES. MATCHING PAINT AND GRAPHICS TO THE COACH ONLY $34,900.00 $249,000.00 4403445301
Showcase Ads
×
Alert Successfully Created
Sours: https://www.smartrvguide.com/rvs-for-sale/monaco-signature-noble-iii-600hp
Beautiful 2008 Monaco Signature 45′
We're sorry.
As a retired Gunnery Sergeant in the Marine Corps, I appreciate professionalism and MHS excels in every aspect. From the first time we met our salesman and told him what we were looking for, he treated us with respect and showed a vast knowledge of the different RVs that may meet our needs. He applied no pressure at all and let us come to our decision at our own pace.
We went to the Fort Worth RV Show the next weekend, and we saw nothing from any dealer there that could match the coach or the price from MHS. After choosing the Thor A.C.E. 30.1, our salesman worked with us to get us the best offer for our trade-in. We chose the closing day and when we arrived all was in readiness for us. From the paperwork that Katy had prepared to the coach itself all was ready for us. A smooth walk-through was conducted by Brandon who showed a lot of patience and knowledge throughout the process. Any questions were answered promptly and we were encouraged to stay the night on their lot to ensure that everything was working to our satisfaction.
In summary, I highly recommend MHS as the place to start your RV purchase. I am certain that after experiencing their hospitality and professionalism you will complete your purchase with them too.
In summary, I highly recommend MHS as the place to start your RV purchase. I am certain that after experiencing their hospitality and professionalism you will complete your purchase with them too.
MHS's honesty and integrity were exemplified when after the deal had been completed, MHS discovered an error in the valuation of our trade-in. The sales manager personally came to the site we were in and delivered to us a check for $3,000. What a breath of fresh air!
Sours: https://mhsrv.com
Now discussing:
I started with the pictures, opened the first one and was taken aback. In the photo was Oksana, her face was covered in semen. This is at a New Year's disco, the quality was poor.
894
895
896
897
898