'Best Restaurant in Virginia' Pasture closes in downtown Richmond
RICHMOND, Va. -- Pasture, an award-winning restaurant that helped usher in a restaurant re-birth of sorts in downtown Richmond has served its last meal. Co-owners Jason Alley and Michele Jones announced Monday they have closed Pasture.
"After some hard introspection, we decided that it is time to close the restaurant," Alley said.
News of Pasture's closure came less two months after Alley and Jones announced the Grace Street restaurant was for sale. The announced plan, back in April, was to keep the restaurant open while they attempted to sell the building.
No specific reason was given for why that plan changed.
"It wasn't a decision that we took lightly, but feel like all things considered, now was the time," Alley added.
Pasture was named Best Restaurant in Virginia by Southern Living magazine in 2017.
Alley and Jones' two other restaurants -- Comfort and Bingo Beer Co remain open for business.
Love Virginia restaurants? Listen to Eat It, Virginia!

Subscribe to the Eat It, Virginia! podcast. Email feedback and questions to [email protected]
Sours: https://www.wtvr.com/2019/06/10/pasture-closed-richmond/
Permanently Closed - Pasture
Menu
garden salsa, hot sauce oil, tortillas
house fennel sausage, goat cheese, pickled pear
Red Wine Jelly Pork Meatballs
pickled pepper grits
vegetarian chili, cheddar cheese, onions
Crispy Ham Cured Pork Ribs
Alabama white sauce
Soup, Salads, and Sandwiches
*Add falafel or house cured bacon to any salad $3. *sandwiches come with choice of side
Marinated Chicken Breast or Steak*
vegetables, citrus vinaigrette
pickled onion, fried peanuts, radish, pimento cheese ranch
muenster cheese, english muffin
with choice of pimento, American, cheddar, or muenster, sourdough
special sauce, house dill pickles, lettuce, onion, American cheese
sesame roll, tartar, slaw, house dill pickles
House Cured Pork Pastrami
sourdough, muenster cheese, pickled veggies, beer mustard
cucumber dressing, cherry tomatoes, lettuce, pickled onions
sesame roll, tarragon mayonnaise, arugula, caramelized onion
Sours: https://www.opentable.com/r/pasture-richmond
New restaurant Lillie Pearl to fill former Pasture space on Grace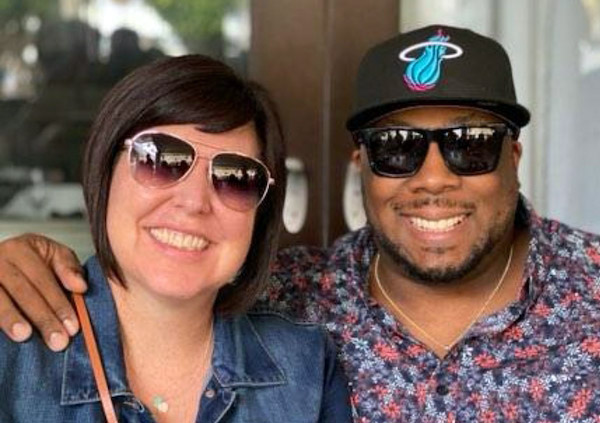 Kimberly Love-Lindsey and Mike Lindsey.
After helping run one of the bigger restaurant groups in town, Mike Lindsey and Kimberly Love-Lindsey are stepping out on their own.
The married couple is preparing to open Lillie Pearl at 416 E. Grace St. downtown, in the space most recently home to the short-lived Pink Flamingo taqueria. Before that it housed the Pasture restaurant.
For the last four years Lindsey has been the executive chef at EAT Restaurant Partners, while Love-Lindsey has served as director of operations for the group.
The duo helped EAT open and run Pizza & Beer of Richmond, Hot Chick, Fatty Smokes, Red Salt Chophouse & Sushi and Wong's Tacos. But the duo always had ambitions to own something of their own.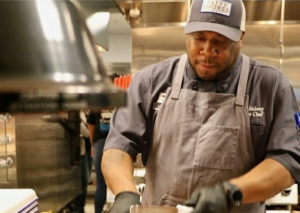 Mike has served as executive chef for EAT Restaurant Partners the last four years.
"This was a great opportunity for me to spread my wings and get my own thing going," Lindsey said. "Hopefully, we can keep the magic going with what we're doing at Lillie Pearl. It's something I feel good and passionate about."
Lillie Pearl is leasing the 4,000-square-foot space that was left vacant by Pink Flamingo's closure this summer. Prior to that, Pasture operated in the building for 8 years.
Lillie Pearl is named for Lindsey's grandmother, and he said he wants the new venture to capture the energy of its namesake's home.
"We want the restaurant to have that feeling of, 'Oh, we're going to grandma's house,' but it's the cool grandma," Lindsey said. "Where you can have great food, be loud, laugh and celebrate."
Lillie Pearl's menu will feature New American fare with plenty of West African influence.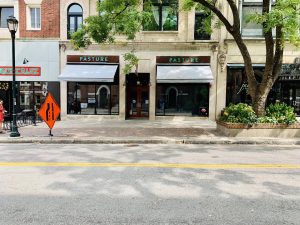 The building was previously home to The Pink Flamingo and Pasture before that. (BizSense file photo)
"A dish I really hope is a staple for us and I'm excited to do is the Obe Ata lamb shank with jollof rice," Lindsey said. "It's a traditional West African dish, and it pays homage to what the true, core Black American influence on the South is. I want to be able to celebrate that."
Lindsey added Lillie Pearl will have a full bar, and be open for lunch and brunch on Sundays.
"I've been in the business a long time and I can tell you what helps you make money is lunch," Lindsey said, laughing.
The space needs minimal work, Lindsey said, and they hope to have Lillie Pearl open in November. Nathan Hughes of Sperity Real Estate Ventures represented Lillie Pearl in lease negotiations. Thalhimer's Reilly Marchant represented the landlord.
Lindsey said it's bittersweet for he and Kimberly to be leaving EAT after a good run.
"I've had a great experience at EAT. I helped create an incredible avenue of restaurants with them," he said. "It's not sad, but it's like when you go off to college and you leave home. You don't really want to leave your friends but you're super excited to go and do your own thing. It's kind of that feeling."
Sours: https://richmondbizsense.com/2020/10/01/new-restaurant-lillie-pearl-to-fill-former-pasture-space-on-grace/
10 Best Restaurants in Richmond, Virginia (2021) - Top places the locals eat in Richmond, VA
Pasture – an award-winning Richmond restaurant – is for sale
RICHMOND, Va. — Beloved downtown Richmond restaurant Pasture, owned by Jason Alley and Michele Jones, is for sale, Alley confirmed Tuesday morning.
"This is a good thing," Alley, the lauded Richmond chef who also owns Comfort and Bingo Beer Co., said. "Things are busy and crazy —- basically what it comes down to is that we love Pasture – it's been amazing for us, a positive experience."
Pasture would be headed into its eighth year open and was one of the first restaurants to open (again) in the that area (416 E Grace Street) near Richmond CenterStage.
Restaurants like Wong Gonzalez and Juleps followed.
What does Alley want to see for Pasture?
"We've never sold a business before. We are hoping someone buys Pasture and continues the work of a great restaurant," he said.
As for his future business plans?
"We have 70 years of restaurant experience between us (Alley and Jones) — and we have signed a deal to do research and development for a concept called Rally coming to town, a pickle ball concept,," he said. "The intention is to have eight courts. There will be cafes, bars, restaurants and a co-working space."
While a final location for Rally is not set, Alley hopes it will be in or around Scott's Addition.
Both Jones and Alley are moving forward – hoping to do more philanthropic things with their free time.
Michele Jones and Jason Alley
Last year the pair changed their business model at Comfort, donate net profits to FeedMore in an effort to end the hunger epidemic in Richmond.
Pasture will stay open during the sale process.
Ry Marchant will retain ownership of the building.
Listen to Chris Staples on this episode of Eat It, Virginia!

Subscribe to the Eat It, Virginia! podcast. If you like what you hear, kindly leave a review. Email feedback and questions to the show at [email protected]
37.542451-77.438403
Sours: https://www.wtvr.com/2019/04/23/pasture-for-sale/
Restaurant richmond va pasture
Neighbors opening newest restaurant in former Pasture space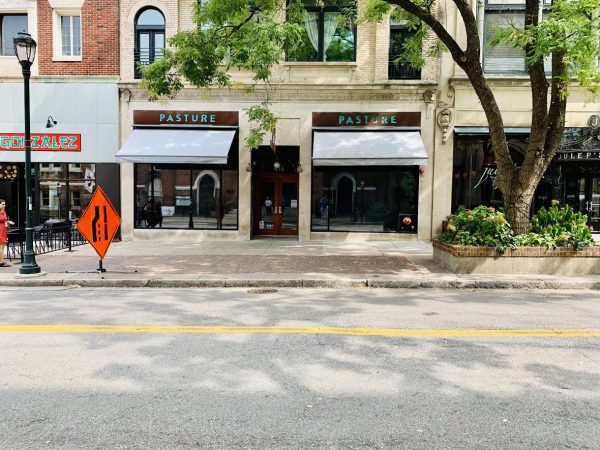 The Pink Flamingo is set to take over the former Pasture restaurant space at 416 E. Grace St. (Photos by J. Elias O'Neal)
Michael and Maria Oseguera thought they had it all figured out.
New restaurant concept? Check. A venue for said new restaurant concept? Check. A name for the venture? Well, not so much.
The husband-and-wife team behind downtown restaurant Maya is opening its newest concept, Pink Flamingo, in the former Pasture restaurant space at 416 E. Grace St.
The new restaurant is slated to open by mid-October. The Osegueras had intended for it to be under a different name – Cabo – until they heard about it from a similarly named business: Blacksburg-based Cabo Fish Taco.
"We had gotten a letter from their lawyer basically saying the Cabo name we were going to use for our restaurant was already taken and trademarked by them, and that we needed to find another name," Michael Oseguera said. "But luckily, we had a backup."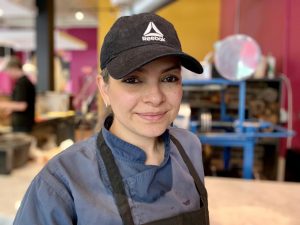 Maria Oseguera is overseeing menu development at Pink Flamingo.
The couple leased the space in July shortly after Pasture closed for business on June 8. Reilly Marchant with Cushman & Wakefield | Thalhimer represented the landlord in the transaction.
Pasture – opened in 2011 by co-owner and chef Jason Alley, and business partners Michele Jones and Ry Marchant – was among the first restaurants to open along what's become sort of a restaurant row along that stretch of East Grace Street.
Pink Flamingo is located a few yards from Maya, the Osegueras' modern Mexican restaurant at 525 E. Grace St.
"It's been a word that I like to use with my daughters, like a catchphrase we like to use," Michael said of Pink Flamingo. "They like to say it, and we say it to each other."
Despite having to change the name of the venture at the last minute, Michael said the concept of beach street food will remain the same.
"It's going to be a coastal taco and ceviche bar," Michael said.
Menu items include the Flamingo Cocktail, the restaurant's take on a traditional Mexican campechana, which is made with a citrus-centric sauce that is mixed with octopus, oysters and shrimp.
On top of ceviche and campechana dishes, Michael said Pink Flamingo also will serve Mexican sandwiches and tacos, many of which can be found on Maya's existing menu and will be permanently transferred to the new establishment.
"To keep the concepts separate, we're going to move several of the tacos that we have on Maya's menu to Pink Flamingo, and backfill those missing menu items with a few favorites from our former Lucca Enoteca menu … such as our coal-fired pizzas and pasta dishes," Michael said, referring to the Italian restaurant the couple launched in 2016 before switching over the concept to Maya that same year.
Pink Flamingo also will include a ceviche- and tortilla-making station in the center of the 4,000-square-foot restaurant space, where guests can witness how their tortillas and ceviche dishes are being prepared, Michael said.
"We're going to be relocating our existing machine at Maya's to Pink Flamingo, since the bulk of our tacos are going to be featured at that location," he said.
Beer and wine also will be served, along with signature cocktails, Michael said. An ABC license for the establishment is pending.
Overall, Michael said they are investing about $150,000 into the space, which will seat about 90 people, including 16 at the bar and 12 on the patio. The restaurant will employ about 30 people.
Pink Flamingo also is working with third-party food delivery services, such as GrubHub and UberEats, to expand its dine-out options to other parts of the city. Michael said it is considering adding catering.
"It just makes sense for us to add those types of services, given our location," he said.
Pink Flamingo joins an established lineup of Latin options in the Grace Street corridor.
Besides Maya, Ay Caramba opened a year ago in the former Kenn-Tico Cuban Bar & Grill at 204 E. Grace St. Wong Gonzalez, an Asian and Mexican fusion concept next door at 412 E. Grace St., is in its third year of business.
Sours: https://richmondbizsense.com/2019/09/23/neighbors-opening-newest-restaurant-in-former-pasture-space/
Pasture: Restaurant of the Year Winner 2019 - Metro
Pasture
---

Operations may be disrupted due to COVID-19. Be sure to contact the restaurant to find out its current status and offerings.


---


Pasture Restaurant Review
: Adhering to the farm-supporting, Southern-respecting ethos of co-owners Michele Johnson and chef Jason Alley (also of Comfort), Pasture sports a cool, urban-barn aesthetic. Dinner's menu runs the gamut from snacks (including pimento cheese and Ritz crackers, and red curry pork rinds) to small plates (perhaps a Frito pie of vegetarian chili, cheddar and onions) to entrées ("Country Captain," a half roasted chicken and tomato/curry gravy, for one, or seared fish with creamed rice grits, tomato/watermelon salad and preserved lemon vinaigrette). Bite into the burger at lunch or dinner, an upscale, grown-up Big Mac. Among side choices, pick jalapeño slaw or house-cut fries. And don't miss the "candy bar" for dessert. A bullion of chocolate ganache and homemade peanut butter with crunchy pretzel brittle, it's a new millennium "Whatchamacallit." Like all of Pasture's food, it's not intimidating or self-aggrandizing, simply focused on quality ingredients prepared with skilled technique. And speaking of skilled, so is the friendly service.
Sours: https://www.gayot.com/restaurants/pasture-richmond-va-23219_68ri130401.html
You will also be interested:
Lenka exclaimed entering the room and seeing what was happening. The man fucking at a fast pace Irka in the ass turned to her exclamation, and pulled the member out of Irka's ass and went. To her.
851
852
853
854
855