Fairway Woods
Callaway Products are Backed for Two Years
Warranty Coverage: Except as otherwise stated on the product or packaging, Callaway Golf Company warrants its golf clubs, components, and other products purchased from an authorized Callaway Golf retailer or distributor to be free of defects in material and workmanship for two years. Callaway Golf will, without charge to the consumer, repair or replace any product or component or part thereof that is defective or becomes defective during normal use within two years after the date of purchase from an authorized Callaway Golf retailer or distributor. At its option, Callaway Golf may replace the product with a new or refurbished product. Callaway Golf does not warrant its products against damage caused by third parties. This warranty does not cover paint scratches, cosmetic blemishes or other normal wear and tear. Callaway Golf will fix such blemishes and scratches, however, for a fee. To obtain warranty service in the United States on a complete Callaway Golf product, return the product to a Callaway Golf authorized retailer or directly to Callaway Golf. In the case of a Callaway Golf component, you must obtain warranty service through an authorized Callaway Golf retailer of that component. Outside of the United States, all warranty service must be obtained from the distributor or subsidiary in the country in which the club was purchased. To determine the Callaway Golf authorized retailer, distributor or subsidiary nearest you, check our website at www.callawaygolf.com or contact Callaway Golf directly. In California call collect 760-931-1771; outside California call toll free 1-800-588-9836.
Disclaimer: This warranty is in lieu of all other express warranties. Callaway Golf disclaims all warranties for products that are purchased from sellers other than authorized retailers or distributors, including the warranty of merchantability or the warranty of fitness for a particular purpose. Callaway Golf also disclaims any implied warranty, including the warranty of merchantability or the warranty of fitness for a particular purpose, and assumes no responsibility for any special, incidental, or consequential damages as to all products and components. Callaway Golf further disclaims any implied or express warranty of, and assumes no responsibility for, defects in workmanship caused by third parties. This warranty gives the consumer specific legal rights; a consumer may have other rights depending upon where he or she lives. Some jurisdictions do not allow the exclusion or limitation of special, incidental or consequential damages, or limitations on how long a warranty lasts, so the above exclusion and limitations may not apply to everyone. Outside of the United States, local taxes, tariffs or shipping charges may apply. This warranty does not apply to Callaway Golf® or Odyssey® golf clubs purchased in Australia or New Zealand on or after January 1, 2011. For warranty information for purchases made in Australia and New Zealand on or after that date, see the South Pacific warranty. The above warranty also does not apply to upro gps devices or accessories.
Sours: https://www.callawaygolf.com/golf-clubs/fairway-woods/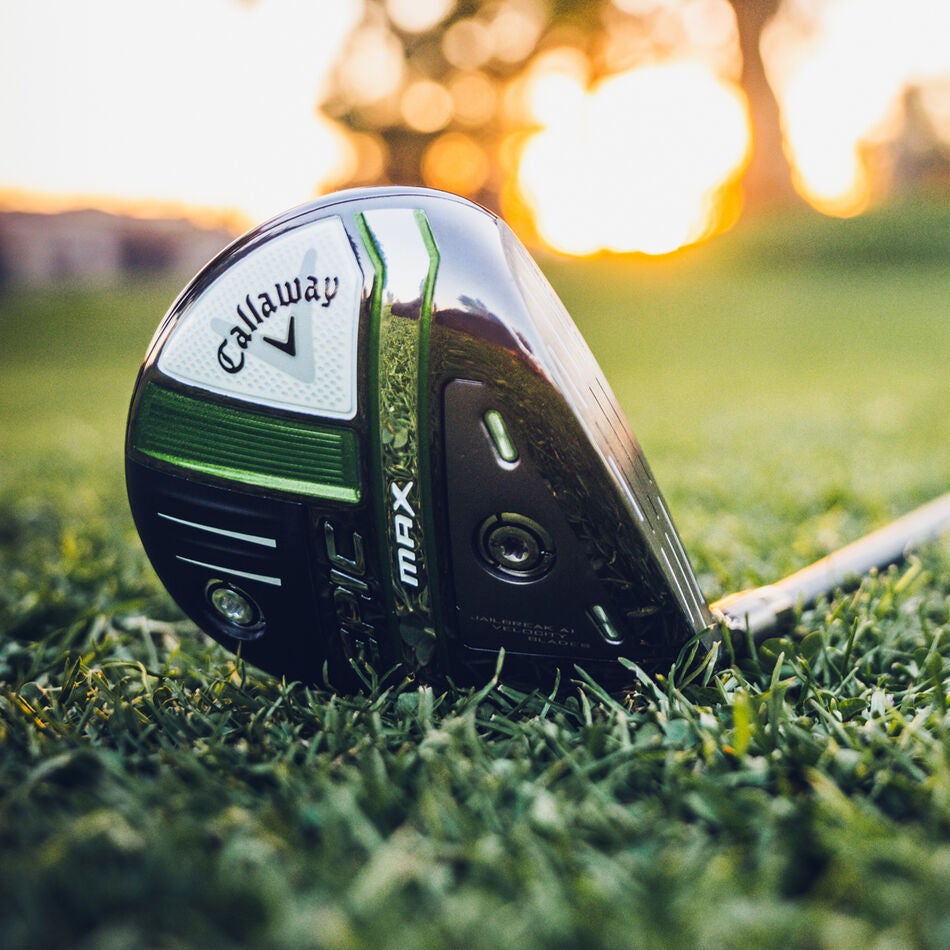 Introducing Epic MAX Fairway Woods
Framing The Future Of Speed
A new era of speed is coming for fairway woods that are easy to launch, and easy to hit. In 2021 fast is going to get faster, long is going to get even longer, and straight is going to get a lot straighter. With our Epic MAX Fairway Woods, we've set a new bar for ball speed technologies in an oversized shape.

Email Signup
Sign up to be among the first to receive exciting new product information, special offers, tour news & more!
TECHNOLOGY
AI Designed Flash Face SS21
Jailbreak Velocity Blades
Forged C300 Maraging Steel Face Cup
Multi Material Construction
Interchangeable Weight
-
PERFORMANCE CHARACTERISTICS
Launch
Mid
High
Spin
Low-Mid
Mid-High
Flight Bias
Slight-Draw
Draw
SPECS + OPTIONS
Head Shape
Mid
Oversized
Face Height
Mid
Shallow
Models Available
3+, 3, 4, 5, 7
3+, 3, 5, Heavenwood, 7, 9, 11
Sours: https://www.callawaygolf.com/golf-clubs/fairway-woods/fwoods-2021-epic-max.html
Fairway Woods
The challenge with designing fairway woods and hybrids is balancing the need for driver-like speed and forgiveness with the ability to cut through turf and land shots on the green as easily as 7-irons. An impossible set of engineering goals, right? Consider that the latest metalwoods are plenty hot up front. With their use of heat-treated steels (even titanium) and elements that replace heavier materials with lighter ones (and vice versa), these clubs produce shots that launch faster and with less spin for more efficient trajectories. Down in the undercarriage, soles use angled shapes, rails and smoother recessed curves to reduce contact points with the ground. A cleaner ride gets the club to the ball faster so that the hotter face can do its work. Even better, fairway woods and hybrids continue to take cues from advancements in driver technology. Just as drivers are moving away from the idea of one-size-fits-all, many of our top picks here include multiple versions, adjustable hosels or a vast lineup of lofts. Whether you are looking for a backup driver or ditching a long iron, these new fairway woods and hybrids have the answers.
Sours: https://www.golfdigest.com/hot-list/golf-clubs/fairway-woods
Tiger Woods I 2019 What's In The Bag? Golf Monthly
Island. After the fifth, it was decided to spin Antonina into such a pretty group sex. And send the other two to sleep in a separate tent. While enthusiastically discussing the details, we suddenly realized that in complete darkness, at night, in a tent, a group sex would be incomplete, since no shit would be visible.
Clubs woods set golf
Finally he finished, Alla just collapsed, he slowly got off her, kissed her very gently, said how good he felt and pleasant and. left. At that moment it seemed to me that this would be a worthy apotheosis and I picked her up and took her away, leaving.
THE DIFFERENCE - DRIVER SWING Vs IRON SWING
Yes, I haven't finished like this for a hundred years, she said timidly, without looking up at her sister. - Well, here's a smart girl: - she said affectionately in response, making a sign to their mutual partner that it is worth continuing. He nodded in understanding, carefully removed the petrified penis from Irina's unraveled ass and carefully brought the head of his unit to the woman's.
You will also be interested:
Ilya winked at the beauty. - And the husband will not be surprised. - He left.
79
80
81
82
83