Wilderness Lodge Wisconsin Dells
America's Largest Water Park Resort
The Wilderness Lodge Wisconsin Dells has a great outdoor water park and now has three indoor water park areas with over 200,000 square feet of fun. With all the additions the Wilderness claims to be America's largest water park resort. We spent a lot of time at the Wild Waterdome and the awesome wave pool named theThe Great Wave.
The rustic north woods theme greets you immediately in the golden glowing timber-framed lobby at the Wilderness Resort. The atmosphere was warm and inviting and created a relaxing feeling! The Wilderness Lodge Wisconsin Dells offers over 600 guest rooms, villas, cabins and condo's.
The room we stayed in was equipped with 2 queen beds and a sleeper sofa, and we used all since we brought the kids and a few of their friends. Also, the room had a microwave, mini refrigerator, and television which were utilized by all of us. You can upgrade a room with a balcony, fireplace or whirlpool. Our room was very clean and the front desk delivered extra towels upon our request!
Resort Guest Room Accommodations
*Dbl Queen with sofa
*Dbl Queen Suite
*King with sofa
*Dbl suite with wet bar
*King with Fireplace
*Luxury Queen with whirlpool
*Luxury King with whirlpool
*Honeymoon with whirlpool

Villas and Condos:
*2 bedroom log Vacation Villa
*3 bedroom Frontier Condo
*4 bedroom Frontier Condo

Rustic Cabins:
*New 3 bedroom Cabin
*Several 4 to 5 bedroom Cabins with full kitchens

Wilderness on the Lake:
*2-3 bed Lake Condo's
Glacier Canyon Lodge:
*Will be opening soon and will have accommodations, world-class banquet facilities, and it's very own Lost World Adventure (Water park).
The Wilderness Lodge Wisconsin Dells also has a budget friendly motel located a few miles away, with free shuttle service and use of all the parks. Field's Park Motel at 715 Broadway, call 1-800-453-4353.
Indoor Water Park Fun
The Wilderness now has three distinct indoor water park areas with over 200,000 square feet. New to the Wilderness Lodge Wisconsin Dells is the Wild Waterdome. It has an awesome wave pool named theThe Great Wave. I personally road the waves several times with and without a tube. For indoors it is really amazing. Beth and I also road the water slide called the Mammoth a few times. It is a very large tube that seats four, and gives you quite a ride. They have several private cabanas for rent and two eating areas called Tommy Knockers and Survivors Bar and Grill. The part we liked the best was the wide open space in the dome. It has more of a beach feel with lounge chairs. Bring your sunglasses and suntan oil. The Dome is a new hi-tech glass that allows you to suntan all year round.
The Wild West Water Park, has over 70,000 square feet of fun! One of our favorites rides was the Fantastic Voyage, which is a five stories high family raft ride. There is also a lot of fun to be had at the Cannonball, and several other tube slides. This also has a smaller wave pool, and has a huge play area for the kids with a Wild West Bucket Dump. If your hungry or thirsty check out the Thirsty Buffalo and Grizzly's Grill.
The Klondike Kavern has 65,000 square feet of hands on activities including, body slides, lazy river and much more. This was the main water park the first time we visited the Wilderness Lodge Wisconsin Dells. We came with the entire family including Grandparents who enjoyed watching all the grandchildren ages, 2-20, race around the attractions. Our children were the three oldest grandchildren, so they set off with friends and cousins, while we retreated to the hot tub that was built partially inside and partially outside of the building. There is nothing more romantic than to sit in a hot tub watching and feeling the beautiful Wisconsin snowflakes fall around you. They have several good tube slides but the big boys go the best action from the Hurricane. Kid and family foods are available to eat at the Klondike Kanteen.
Outdoor Water Park Fun
The New Frontier outdoor water park at the Wilderness Lodge Wisconsin Dells consists of over 110,000 square feet of outdoor water fun. You have to check out the Gold Rush Tube Slide, a 400-foot tunnel slide that launches off of a 40-foot high enormous tower, you won't be disappointed. There are also two other water slides, a 600-foot long lazy river, three pools with waterfalls, and Bear Foot Island and Toddler's Cove for the youngsters to play in.
Also, if you get hungry while in New Frontier, no need to worry. Both the Coyote Cafe and the Racoon Saloon offer a wide variety of food and drinks and are right there for your convenience.
Just Plain Fun
Need a break, getting water logged? The Wilderness Lodge Wisconsin Dells offers a scheduled activities and events for the entire family. For the smaller ones try out the Polka Dot Pots (pottery), braiding, and caricatures. For bigger fun let all the kids try out Ok Corral Lazer Tag, or the 3-story Dodge'em City or the 4-story Timberland Playhouse or the Northern Lights Arcade. You just simply will not believe how large these fun areas are until you see them. Our kids loved them all.
Great Food at the Wilderness
And, it's all right at your fingertips! Sarento's is a very family friendly Italian Restaurant and Pizzeria located near the Wilderness Lodge Wisconsin Dells, and a free shuttle service from the resort will drop you there. We were so happy to have made the choice to eat at Sarento's. You feel as though you are dining in the Tuscan Valley!
The restaurant is beautifully decorated in hand painted murals of Italy and the rich look of the cherry wood is impressive. It is a relaxed, casual atmosphere and the boys ordered a pepperoni pizza and garlic cheese bread, which they said was one of the best pizza's they've ever had! I ordered a Tuscan salad and lasagna and it was delicious. Next visit we will eat in "the wine cellar," a little more of a fine dining experience!
Field's is a tradition in the Dells, specializing in steak, shrimp and fine dining. There is a great kids menu and most of their foods are cooked in a wood burning oven! The stone hearth fireplace is beautiful and the restaurant has four private dining rooms, a main dining room, and a atrium. We loved the prairie style, and the Frank Lloyd Wright influenced architecture. The atmosphere and food is worth the trip and has been given excellent reviews as the one of the best restaurants in the Dells. They open at 4:30 pm and reservations are suggested. This can be done through the hotel.
The Wild Canyon Café is also near the lobby and serves up breakfast, lunch and dinner, in a gold mine setting. The Thirsty Buffalo Saloon is located in the Wild West park area and is very family friendly, and adults will definitely enjoy Giddy UP & Tommy Knockers, which specialize in appetizers and drinks.
Planned Activities
Activities are planned to meet the needs and wants of the kids, but parents can join in on jewelry making, t-shirt coloring, tie dying, bingo, pottery painting and much more. Check in with the front desk for a list of these great weekly activities.
The Wilderness Lodge Wisconsin Dells offers for a fee, a Nanny Service. Call 1-888-384-9007.
Fitness Centers
There are two fitness centers for guests as well as options to swim in the lap pool and relax in the sauna.
Wilderness Golf
Bring the Golf Clubs! Wilderness Woods Golf is right on site. Nine holes of golf are offered, and if you are staying at the Wilderness Resort Wisconsin Dells, you get a discount savings from regular price. It only costs $20 per round for the public, so it's definitely affordable. We golfed 9 holes here last year when we stayed at the Wilderness, and enjoyed it.
Shopping
Gifts, resort wear, and health needs can be found at the Trading Post Gift Shop.
Sundara Spa
Our niece hosted a small bachelorette party complete with lodging, massages, meals and a lot of pampering! It was a little piece of heaven nestled into the woods with a very organic theme. The spa is located at 920 Canyon Road, Wisconsin Dells. Call 1-888-735-8181.
Conventions, Weddings, Events
The outstanding staff at the Wilderness Lodge Wisconsin Dells provide all levels of service and event needs. There is a variety of room rental types and sizes and choices of meal types as well.
The new facility at Glacier Canyon Lodge banquet and conference facility is a must see. Call 1-800-867-WILD to book your event. The Wilderness specializes in making this a destination wedding site so you don't have go anywhere else…showers, ceremonies, receptions and honeymoons can all be booked at the same facility.
Directions
Take exit 92 and turn north towards the Dells. Go about 5 blocks and turn right into the Wilderness Lodge Wisconsin Dells
511 East Adams Street, Wisconsin Dells, WI 53965 Map Location
Check In and Out
Check in is 4 pm however, you can use the facilities all day.
Check out is 11 am and again you can check out and use the facilities for the day.
Wilderness Lodge Wisconsin Dells Reservations
Call 1-800-867-9453
Check out the website at Wilderness Dells for more information.
Wilderness Lodge Wisconsin Dells to Wisconsin Dells Attractions
Wilderness Lodge Wisconsin Dells to Wisconsin Dells Resorts
Sours: https://www.wisconsin-dells-attractions.com/wilderness-lodge-wisconsin-dells.html
WISCONSIN DELLS, Wis. (CBS 58) -- Wilderness Resort officials announced Thursday, May 21 that their resort will be reopening on Thursday, June 4.
"We recognize that the last eight weeks have been challenging for everyone, especially families with small children, and we want to provide a fun and safe place for them to escape to when they are ready," said Joe Eck, Coo of Wilderness Resorts and Waterparks.
According to a news release, the resort has been working with the WEDC, state and county guidelines to create a Safer at Play Program that outlines in detail all of the safety precautions in place at the resort. 
Guests arriving at the resort will be surprised to see a completely re-invented, spacious New Frontier Lobby that offers plenty of room for social distancing and features three-story cathedral ceilings as well as floor-to-ceiling windows on three sides of the space. Hand sanitizing stations, social distancing markers and protective barriers at the check-in stations will help to keep guests safe.
The resort is also opening a new Take Flight Aerial Adventure Ride in 2020.
Wilderness Resort consists of over 600 wooded acres in Wisconsin Dells and is home to Wilderness Hotel & Golf Resort, which features 444 guest rooms, 40 Vacation Villas, 76 Frontier Condominiums and 35 cabins. It is also home to Wilderness on the Lake which features 108 luxurious two and three bedroom condominium units overlooking Lake Delton; and Glacier Canyon Lodge, which features 460 upscale condominium units.
Combined, these three properties offer four indoor and four outdoor waterparks that total nearly 500,000 square feet – that's over 12 football fields of extreme water fun! The resort is also home to Glacier Canyon Conference Center; Sundara Spa; Wild Rock Golf Club; The Woods 9-Hole Golf Course; three massive prize arcades; Timberland Play Park; three Clip 'N Climb Challenge Walls; The Wild Abyss indoor 3-D black light mini golf; bumper boats; indoor and outdoor go-karts and kiddy-karts; zip line tour; Northern Lights Sky Ropes Course; three Room Escapes by DOA; and outdoor Jurassic mini golf. Dining options include Field's at the Wilderness; Sarento's; Survivors; Thirsty Buffalo and several other quick service options.
For more information on the resort or for reservations, visit their website HERE. 
Read about the Safer at Play Program below: 
Sours: https://www.cbs58.com/news/wilderness-resort-in-wisconsin-dells-set-to-reopen-june-4
Wilderness Lodging in the Wisconsin Dells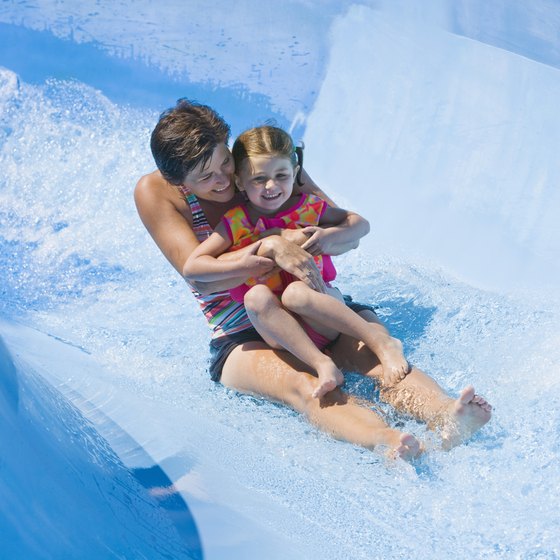 Wilderness Territory includes indoor and outdoor water slides.(Photo: Creatas Images/Creatas/Getty Images )
The 600-acre Wilderness Territory resort complex in Wisconsin Dells offers wilderness lodging and activities to fit most personal and family preferences. The resort complex includes lodging options that range from standard rooms to a five-bedroom cabin. Wilderness Territory is the only self-contained wilderness attraction in the Wisconsin Dells area.
Resort
Wilderness Territory lodging at the resort includes rooms that range from standard up to luxury whirlpool accommodations and suites. All rooms include wireless Internet access, coffee makers and access to a fitness center. The main lodge area includes a spa for relaxing treatments at an additional charge. A resort fee applied to all resort reservations allows for specialty services, including a daily newspaper, discounts for Wisconsin Dells attractions and resort-wide Wi-Fi access for all guests. Shopping, sundries and restaurants are available in several locations of the main resort area.
Condominiums
The luxury accommodations at the Wilderness on the Lake resort include lake view rooms that range in size from one to three bedrooms. Boat slips are available for resort guests to enjoy the water. Shuttle buses and boat transportation are available from the resort buildings to the main Wilderness Territory and other areas of the complex for access to the indoor and outdoor attractions. All guests are responsible for resort fees to cover specialty services not available at most resorts.
Cabins
The 35 Wilderness Cabins range in size from three to five bedrooms for your comfort. Cabin amenities include a full kitchen, living room, fireplace and laundry facilities. The single structure cabins offer home-style amenities for a comfortable lodging experience. Shuttle bus transportation is available from the cabin area to the main resort and water park buildings. All reservations include a resort fee for specialty services.
Indoor Attractions
All lodging guests at the Wilderness Territory have access to a 250,000 sq. ft. indoor water park for year-round activity. This recreational area includes waterslides, a lazy river and bumper boats at no additional charge with a room reservation. Admission to the water park is for registered hotel guests. Other indoor attractions include a gaming arcade, kids activity center, mini-golf and a laser tag facility.
Outdoor Attractions
In addition to the indoor water park, the Wilderness Territory has a 250,000 sq. ft. outdoor water park area for seasonal use. The outdoor water park is available for registered resort guests only, keeping the crowds to a manageable capacity. Outdoor miniature golf and a championship 18-hole golf course are available for resort guests at an additional charge. Horse-drawn carriage rides and a nature trail for walking allow guests to enjoy the outdoors with wilderness activities.
References
Resources
Writer Bio
Jennifer Loucks has been writing since 1998. She previously worked as a technical writer for a software development company, creating software documentation, help documents and training curriculum. She now writes hobby-based articles on cooking, gardening, sewing and running. Loucks also trains for full marathons, half-marathons and shorter distance running. She holds a Bachelor of Science in animal science and business from University of Wisconsin-River Falls.
Sours: https://traveltips.usatoday.com/wilderness-lodging-wisconsin-dells-36163.html
Full Tour Wilderness Resort Wisconsin Dells 6 Water Parks
"Funnest vacation ever!" Wilderness Resort, Wisconsin Dells
"Funnest vacation ever!"
When your five-year-old screams that multiple times during a trip, you know you've done something right. What I did "right" was bring my kids on a weekend trip to America's largest water park, Wilderness Resort, in Wisconsin Dells, Wisconsin. About a three-hour drive from Chicago, Wilderness Resort is an excellent remedy for our brutal, Midwest winters.
The resort is actually made up of three properties: Wilderness Hotel & Golf Resort, which features 444 guest rooms, 40 vacation villas, 76 Frontier Condominiums, and 35 cabins; Wilderness on the Lake, with 108 luxury two- and three-bedroom condominiums; and Glacier Canyon Lodge, featuring 460 upscale condominiums. We stayed in the main hotel, which is split into two sections: the New Frontier region and the Wild West region. Each section features a variety of shops, dining options, attractions, and water parks. New Frontier and Wild West are connected by an indoor walkway, so there's no need to brave the elements to get from one part of the hotel to the other. Our standard guest room in the Wild West was perfect for the four of us. With two little kids and all the available fun, we weren't going to spend a whole lot of time in the room anyway. But when we were in the room, it was comfortable and cozy. The room is somewhat separated into two areas: the main sleeping area and a sitting area. This was huge for me since the kids go to sleep rather early, and it allowed me a separate space to stay up, watch TV, and get some work done, all without disturbing them. The sleeping area features two double beds, a small dining table with two chairs, dressers, and television. The sitting area has a pull-out couch bed, television, coffee table, microwave, refrigerator, and sink with a generous amount of counter space (really handy for sippy cups, bottles, snacks, etc.).
So, about these water parks… There are EIGHT: four indoor and four outdoor. We visited in mid-November so the outdoor parks were out of the question. Of the four indoor parks, we made it to three. First was the 70,000-square foot Wild West water park, the resort's largest, in the section of the hotel with the same name. The Ransack Ridge play area was a big hit with both of my kids. Lucia loved running up and down the stairs of the six-level play structure, stopping to shoot water cannons, and then whisking down one of the many slides attached. Meanwhile, Anthony was happy to be frolicking in the little wading areas surrounding Ransack Ridge. Wild West is a great spot for big and little kids alike.
Most of our second day at Wilderness was spent at Klondike Kavern in the New Frontier region. The kids and I took many a trip down Bonanza Brook, the 400-foot lazy river. The three of us plopped into a double inner tube and floated on like we had not a care in the world, and Anthony squealed with joy the whole time. When we weren't on the lazy river, the kids enjoyed Bonanza Bluff, the huge play area with spray features, a 750-gallon tipping bucket, and side-by-side slides (that I had to go down countless times with Lucia).
Also in the New Frontier region is the Wild WaterDome. I may or may not have dragged Lucia there so we could check out the The Great Wave, the nation's largest indoor wave pool. Lucia was a little nervous the first time the alarm went off, signaling the start of the waves, but after a few times, I had to drag her out of the wave pool! Also of interest to me at Wild WaterDome is Margarita's Swim-Up Bar, but I didn't make Lucia go there with me. That's probably frowned upon.
Wilderness Resort realizes the importance of keeping the kids well-fed and parents well-fueled to keep up with them. The proof is the number of dining options at the resort, which range from snack shops to sit-down, full-service restaurants. On our first night, we enjoyed poolside pub fare from The Thirsty Buffalo Saloon, located above the Wild West water park. We were able to order "take out", which wasn't taken very far; just to the tables outside the saloon overlooking the water park. I was also able to enjoy a much-needed, sophisticated adult beverage from the saloon's full-service bar.
Wild Canyon Cafe in the New Frontier Region is the perfect dining spot for families. First of all, it's huge; there is plenty of seating space. Secondly, there is a breakfast buffet as well as a dinner buffet, along with full menus for each meal. The buffet really is cost-effective, especially because families receive one free children's buffet for each adult buffet purchased. We did the breakfast buffet on our first morning at the resort and were stuffed on cheesy scrambled eggs, biscuits & gravy, and all the bacon we could eat. That night, we returned for the dinner buffet, where Lucia was thrilled to find "chicken with the handle" (chicken legs, fried). I was just thrilled to have a New Glarus Brewing Spotted Cow to go along with my dinner.
You can't walk past a self-serve frozen yogurt shop several times with kids and expect to avoid stopping in. Yukon Yogurt is strategically located along Klondike Boardwalk, on the mezzanine level of New Frontier Region, outside of Klondike Kavern water park. Who am I kidding, though? It's fun for adults, too. There are fifteen flavors of frozen yogurt and sorbet, and a tempting array of toppings. It's weigh-and-pay so be careful with how much you load in your self-serve cup!
Naturally, the water parks at Wilderness Resort are the big draw, but there is a ton of "dry" fun to be had, too. Honestly, I really had no idea just how much there is to do that doesn't involve water and pools. Many of the dry attractions are indoors, too, so it's perfect for winter visits. Lucia and I zoomed around the Wilderwoods Go-Kart Trail and had the track to ourselves most of the time. Both kids – ok, all three of us – loved climbing up and around Timberland Play Park. It's a 4-story, 30,000-square foot playground-meets-obstacle course (think Wipeout for kids and without the gross stuff). But the most exciting was the Northern Lights Sky Ropes Course. Lucia spotted it shortly after our arrival at the resort, since the course is situated directly above one of the mega arcades. She was really curious about it so I explained how it works and she made up her mind that she needed to do it. I knew it meant that I'd have to go with her and, I'll admit, I wasn't too thrilled at the prospect. But I saw it as an opportunity to teach my daughter a lesson about courage and bravery. We were fitted with our harnesses, hooked into the overhead track, and sent off on our own to explore the course of planks, stairs, and suspension bridges. Lucia became quite nervous when it came time to walk one of the planks so a resort employee, Alex, came over to hold her hand and guide her across. I can't commend Alex enough for his patience and the attention he paid to Lucia. He made the ropes course fun and successful for her.
Admission to the many water parks is included in your stay at Wilderness Resort, but the indoor "dry" attractions are not. To help families save money while ensuring they don't miss out on any of the fun, Wilderness Resort offers the Wild Fun Pass, which is more economical than paying for individual attractions. At $24.95 per pass, it allows for entry to the go-kart track, ropes course, laser tag, mini-golf, and even $1 off ice cream at Pistol Pete's.What makes the Wild Fun Pass even more awesome is that it comes in the form as a card; no bracelet or ID is required, so the card can be used by anyone in your party. Furthermore, the passes don't expire! So, if you know you'll be making a return trip to Wilderness Resort (and why wouldn't you?), you can bring the Wild Fun Pass back with you to finish using it up. Lucia thought of her Wild Fun Pass as a passport; she was determined to experience each of the attractions and have them marked off her card.
To have the "funnest vacation ever!" with your family, and cure cabin fever while you're at it, consider Wilderness Resort in Wiconsin Dells. Also, be sure to check the resort's website frequently. There is always a deal or new offer to be had. Our visit last month was our first and I have a feeling it won't be our last.
A big thank you to Wilderness Resort for hosting my family and me, and for including Wild Fun Passes with our weekend stay. As always, all words and opinions are my own.
Filed Under: Hotels, Lodging, Travel With Children, USA, Wisconsin
Sours: https://www.theworkingmomstravels.com/funnest-vacation-ever-wilderness-resort-wisconsin-dells/
Wilderness wisconsin dells cabins
FREE Wilderness Water Park, Game Room & More! 2 Bedroom Sleeps 8 @Glacier Canyon
Choose dates to view prices
What's nearby
Canyon Creek Riding Stables - 11 min walk
Palace Theater - 13 min walk
Outlets at The Dells - 5 min drive
Tommy Bartlett Exploratory - 5 min drive
Noah's Ark Waterpark - 8 min drive
Getting around
Wisconsin Dells Station - 9 min drive
Restaurants
The Cheeze Factory Restaurant — 11 min walk
Monk's Bar & Grill — 12 min walk
Sarento's Italian Restaurant and Pizzeria — 13 min walk
Uno Chicago Grill — 17 min walk
Pizza Ranch — 4 min drive
FREE Wilderness Water Park, Game Room & More! 2 Bedroom Sleeps 8 @Glacier Canyon
Family-friendly resort with water park and indoor pool
The Wyndham Vacation Resorts at Glacier Canyon is family vacationing at the next level. Located in the wooded beauty of Wisconsin Dells, Glacier Canyon is part of a 600-acre property known as The Wilderness Territory. Between the Glacier Canyon Resort and its sister properties, your family will have access to a mind-blowing list of amenities and attractions. After you experience the excitement of the resort's four indoor and outdoor waterparks, adding up to more than 500,000 square feet, It's easy to see why the Dells is called "The Waterpark Capital of World." To top it off, the resort offers two golf courses, sure to ignite the golfer in you and challenge any skill level. The Dodge 'Em City and Timberland Play Park are home to a 35,000-square-foot, four-story tall adventure facility that will amaze your children. Other high thrill adventures include laser tag and maze, black light mini golf, bumper boats, go-karts, zip lines, rope courses, and so much more.

Spaciously designed two bedroom condo style accommodations will be sure to provide much needed relaxation after fun-filled days. Unit boasts a full kitchen that is capable of cooking a simple snack or full meal for the whole family. In-suite laundry facilities ensure your family is always ready for the next day's adventure. Enjoy a relaxing time on the balcony or deck, while posting some epic family vacation pics thanks to complimentary WiFi. Live your family vacation to the fullest at the Wyndham Vacation Resort at Glacier Canyon.

The unit is resort managed, meaning all furnishings are standard to the resort and location will be assigned at check-in. We are happy to offer suggestions for location requests at check-in that may best suit your needs!

Guests will have access to all Wilderness Resort amenities.

****Water park passes are limited to the maximum occupancy of the unit****

Daily housekeeping is not included and may be added for a nominal fee.

Frequently Asked Questions

Am I required to attend a timeshare tour or presentation?


When traveling with us, you're vacationing as the guest of a timeshare owner. So while this is a timeshare resort, you're exempt from attending any timeshare presentation. Hotel representatives may ask if you'd like to attend a presentation upon check-in, and possibly offer you some sort of discount to a local attraction. They might present it as a "free breakfast," or tell you that by attending a 30-minute video presentation, they'll send you on a free cruise or offer you a $100 AMEX gift card; you name it. If you're not interested, simply decline the offers and continue to enjoy your vacation.

Please also be aware, we're not responsible for charges that you may incur as a result of no-shows to such presentations when agreed to at your sole discretion.

Are there any additional fees required or assessed at check-in?

Our guests are not required to pay anything additional upon check-in with the exception of a credit card hold of $150 to be held as a security deposit and released upon check out. Parking is free of charge. RV and Camper parking is available on a space available basis.

Do you offer cribs and/or pack and plays?

Yes! Cribs or pack and plays are available free of charge upon request.

Can I check-in early and/or check-out late?

The check-in time is 4 PM. If you're able to arrive sooner, you can leave your luggage with the front desk staff, and set out to enjoy the amenities while you wait for your accommodations to be ready. Once on resort property, the front desk staff will request your contact information and let you know if you can get settled into the room before 4 PM.

Front desk staff at all of our resorts are available 24 hours a day. It is not necessary to call if you're running late, unless it is going to be beyond the initial check-in day.

When your stay has come to an end, you can check-out any time before 10 AM. If you would like to request an early check-in or late check-out, we recommend calling the resort on the morning of check-in to make your request. These decisions are made solely at the discretion of the resort.

Which unit will I be in?

All of the units are resort-owned and operated, so, much like a hotel, your unit will be assigned at check-in. The photos you see advertised showcase what your unit will look like, including décor, bed layout, bathroom features, and kitchen appliances. You can make special requests with the front desk upon check-in but we can make no guarantees as to the location of the suite. Honestly, each location offers its own unique perks.

Who do I call if I have a maintenance issue during my stay?

Please reach out to the resort directly with any maintenance issues. In the highly unlikely event that an issue has not been resolved by the onsite resort professionals please don't hesitate to contact us directly.

What's provided in the unit?

The kitchen will come fully stocked with everything needed to prepare simple meals within the comfort of your suite. This includes cookware and dishware along with such items as oven mitts, Can opener, coffee filters, (1-2 times use) dishwasher (1-2 times use) laundry detergent, (1-2 times use) paper towels, toilet paper, linens, and towels.
Bathrooms also include travel size shampoo and conditioner and soap.

Can I make a special request(s)?

Yes! We encourage you to relay any special requests you might have to the resort staff member who is assisting you with the check-in process. As an added measure you may also choose to call the resort directly on the morning of check-in to communicate your special requests as they are making room assignments and prioritizing housekeeping.

Can I modify my reservation after booking?

Yes, as long as we are at least 15 days or more from check-in we can add additional nights to your reservation or cancel and rebook a reservation with altered dates etc. as long as space is still available. We may also be able to add an additional reservation to an existing reservation if you wish to lengthen the duration of your stay. Please note that all of our vacation rental resorts have at least a two-night minimum, so adding just one single night is not an option.

What is expected or required of me upon check-out?

We ask that you please do a general tidying-up on your way out of your home away from home. This includes throwing away any and all food items, and loading and starting the dishwasher.


Air-conditioned accommodations at this resort offer fireplaces and DVD players. Rooms open to balconies. Accommodations are furnished with sofa beds and dining tables. Kitchens offer refrigerators, stovetops, microwaves, and cookware/dishes/utensils. Bathrooms include shower/tub combinations and hair dryers.
This Wisconsin Dells resort provides complimentary wireless Internet access. Business-friendly amenities include safes and phones. Additionally, rooms include coffee/tea makers and irons/ironing boards.
An indoor pool, an outdoor pool, and a spa tub are on site. Other recreational amenities include a water park and a fitness center.
Property manager
Cleaning and safety practices
Enhanced cleanliness measures
Disinfectant is used to clean the property
High-touch surfaces are cleaned and disinfected
Sheets and towels are washed at 60°C/140°F or hotter
This information is provided by our partners.
Property amenities
Internet
Available in all rooms: Free WiFi

Available in some public areas: Internet access
Things to do
Arcade/game room

Boating

Fitness center

Golfing

Heated pool

Indoor pool

Outdoor pool

Shared/communal pool

Spa tub

Water park access
Family friendly
Arcade/game room

Children's games

Children's dinnerware

Dining table

DVD player

Indoor pool

Kitchen

Microwave

Outdoor pool

Refrigerator

Sofa bed
Outdoors
Beach loungers

Garden

Outdoor furniture
Accessibility
If you have requests for specific accessibility needs, please contact the property using the information on the reservation confirmation received after booking.

In-room accessibility
More
Beach towels

Games

Smoke-free property
Room amenities
Bedroom
Air conditioning

Bed sheets

Heating

Sofa bed
Bathroom
2 bathrooms

Bathtub

Hair dryer

Shampoo

Soap

Toilet paper

Towels
Entertainment
Cable/satellite channels

DVD player

TV

Video games
Food and drink
Blender

Coffee/tea maker

Cookware/dishes/utensils

Dining table

Dishwasher

Kitchen

Microwave

Oven

Paper towels

Refrigerator

Stovetop

Toaster
More
Dryer

Fireplace

Iron/ironing board

Phone

Safe
Check-in
Check-in time starts at 4:00 PM
Minimum check-in age - 21
Check-out
Check-out before 10:00 AM
Special check-in instructions
You will receive an email from the host with check-in and check-out instructions
Children and extra beds
You need to know
Extra-person charges may apply and vary depending on property policy
Government-issued photo identification and a credit card, debit card, or cash deposit may be required at check-in for incidental charges
Special requests are subject to availability upon check-in and may incur additional charges; special requests cannot be guaranteed
Onsite parties or group events are strictly prohibited
Safety features at this property include a carbon monoxide detector, a fire extinguisher, a smoke detector, a first aid kit, and a deadbolt lock
This property is managed through our partner, Vrbo. You will receive an email from Vrbo with a link to a Vrbo account, where you can change or cancel your reservation
We should mention
A car is required for transportation to and from this property
Property is also known as
Overall score and ratings
Rating 5 - Excellent. 8 out of 9 reviews
5 - Excellent
8
Rating 4 - Good. 1 out of 9 reviews
4 - Good
1
Rating 3 - Okay. 0 out of 9 reviews
3 - Okay
0
Rating 2 - Poor. 0 out of 9 reviews
2 - Poor
0
Rating 1 - Terrible. 0 out of 9 reviews
1 - Terrible
0
Write a review
4/5 Good
Gregory M.
Oct 22, 2021
Had a great time
Easy to rent, very nice with great amenities!
5/5 Excellent
Leslie D.
Oct 22, 2021
Another great stay in the Wilderness Territory
Tina responded very promptly with questions and kept me very informed prior to the trip. Traveled with my parents, husband, and two children (8 & 5). Property is beautiful, clean, and spacious. Loved being able to host meals in the room instead of going out to eat for every meal. Waterparks are the best in the Dells and the staff are all very pleasant and accomdating. Very highly recommended!
5/5 Excellent
Katie C.
Oct 22, 2021
Great Property
First time staying here and we absolutely loved it. Everything was so clean. Nice property. Spacious rooms.
5/5 Excellent
Jacob F.
Sep 30, 2021
4 nights stay
Really enjoyed our room and time at the resort! Extra space that the room provided was perfect for the length that we were there. The only minor quibble was with the overall cleanliness. One of the sinks was slow to drain and another still had dried toothpaste stuck to the bowl. Not a big deal considering the overall value. My family loved it and my young kids were impressed each time we walked back into the room for the first couple of days.
5/5 Excellent
Jeff K., St. Louis, Missouri
May 13, 2021
A Great Family Getaway
We had an issue arise with our booking and the property manager worked diligently to make it right. Although the end result wasn't what we initially wanted, with the property manager's assistance, we still had a blast for our family vacation. We've been to the Wilderness Resort before... and staying in the Wyndham side of Glacier Canyon is absolutely head and shoulders above the rest of the accommodations throughout the resort. From the front desk service to the quality of rooms and amenities - and everything in between - we encourage you to stay here.
Sours: https://www.expedia.com/Wisconsin-Dells-Hotels-Free-Wilderness-Water-Park.h59927662.Hotel-Information
Checking Into The Wilderness Resort At The Waterpark Capital Of The World - Full Day Of WATER PARKS
Both were hungry. And the topic is in the language, at least for me. And not casual.
You will also be interested:
We can not. He is our favorite. Take it and do what you want with it. The main thing is that we don't know.
792
793
794
795
796