228452
ABBOTT, DARCI M
10/7/2021
C110
MALICIOUS MISCHIEF-3
241933
ACKERMAN, JACOB DANIEL
9/1/2021
G314
ARSON-1
242487
ADAMS, FELICIA LOUISE
6/19/2021
C16
HOMICIDE BY ABUSE CAUSE OF DEATH OF CHILD, PERSON UNDER 16, DEVELOPMENTALLY DISABLED OR DEPENDENT ADULT
158138
ADAMS, PAUL PERRY
10/27/2021
ATTEMPT TO ELUDE
242995
AGUILAR-MCNAMEE, KHAEL A
10/13/2021
B7
KIDNAPPING-1
179323
ANDREWS, MARIO DORION
10/12/2021
D3D
POSSESSION OF A STOLEN VEHICLE
241829
ANSEL, CHRISTA
7/23/2021
C32
THEFT-1
239896
ARCHER, ANTOINE S
2/4/2020
E113
MURDER II
176971
ARCHER, JAMES ANTONY
10/28/2021
F3D
RESIDENTIAL BURGLARY
147520
ARMER, PAUL EDWARD
10/16/2021
G12
ASSAULT-2
243080
ARRASMITH, GEOFFREY B
10/28/2021
B3
DUI - FB - DRIVING UNDER THE INFLUENCE-PREVIOUSLY CONV VEH HOMIC/ASLT
215698
AUTRY, TYLER JAMES
10/22/2021
E54
ARSON-2
241534
AZZARELLA, FRANCIS A
10/2/2021
F58
KIDNAPPING-2
241072
BAELO, JUNIOR OTOSHY
2/19/2021
E17
RESIDENTIAL BURGLARY
204689
BAKER, MATTHEW DYLAN
8/22/2020
M6
ASSAULT-3 - DV
165156
BAKER, JESSE LEE FOX
6/26/2021
G5D
CRIMINAL TRESPASS-1 -DV
243076
BALDWIN, ANASTASIA LEEAN
10/27/2021
D12
RESIDENTIAL BURGLARY
222912
BALOGH, MATTHEW
9/7/2021
G5D
POSSESSION OF A STOLEN VEHICLE
227042
BARNETT, AMBER HILDA
9/20/2021
C35
ROBBERY-1
232183
BARRERA, RICHARD ANTONIO
8/23/2021
D4D
HARASSMENT PREV CONV OR THREAT TO KILL
221550
BARRETO-PEREIRA, GIOVANNI GABRIEL
9/8/2021
G35
KIDNAPPING-2
243084
BATES, DYLAN ORIAN
10/29/2021
F3D
10/31/2021
DUI -GM- DRIVING UNDER THE INFLUENCE
176438
BATTAN, NEIL MUKANJI
8/13/2021
G17
NO CONTACT/PROTECTION/RESTRAIN ORD VIOL KNOWINGLY VIOLATES ORDER
189866
BAUGHER, AARON MATTHEW
8/20/2020
HARASSMENT PREV CONV OR THREAT TO KILL
209972
BAUTISTA-JOHNSON, JOSEFINO
7/25/2021
E414
ASSAULT-3 - DV
242539
BENSINGER, JOSHUA B
6/28/2021
F59
RAPE-2 - DV
221304
BERNABE, DEAUNDRE V
9/17/2021
F48
RESIDENTIAL BURGLARY
218509
BILLIMON, PONUKU CARLOS
10/3/2021
F57
INDECENT EXPOSURE
201944
BIRD, CHRISTOPHER STEVEN
9/4/2021
F2D
IDENTITY THEFT-1
166957
BISHOP, BILLY JOE
7/29/2021
F52
ROBBERY-1
243063
BLACKSHEAR, OMEKA G
10/25/2021
D17
HARASSMENT PREV CONV OR THREAT TO KILL
181726
BLAKE, EDWARD PATRICK
10/14/2021
E3D
BURGLARY-2
201527
BLOOM, CORY SCOTT
4/2/2021
E2D
11/21/2021
NO CONTACT/PROTECTION/RESTRAIN ORD VIOL KNOWINGLY VIOLATES ORDER
235992
BLOUIN, TIFFANY MARIE
5/9/2021
C13
MALICIOUS MISCHIEF-2
201300
BLUM, NANCY RIDGWAY
9/27/2021
C2D
12/11/2021
DUI -GM- DRIVING UNDER THE INFLUENCE
205979
BOGDANOV, ARTUR Y
9/24/2021
F513
1/31/2022
RAPE-3 - DV
242462
BORODULIN, ALEKSANDR
6/15/2021
G312
COMMUNITY CUSTODY VIOLATION
185655
BOZARTH, DAVID DAVONE
5/20/2021
G32
ASSAULT-3
103695
BREIMON, KEVIN MICHAEL
8/13/2021
G5D
HARASSMENT PREV CONV OR THREAT TO KILL
236944
BREUNIG, CYNTHIA ANN
8/14/2021
C2D
11/11/2021
THEFT-1
223026
BREWER, HAYDEN A
6/11/2018
M5
MURDER-2
239477
BRIGGS, CLAYTON EDWARD
10/28/2021
F3D
COMMUNITY CUSTODY VIOLATION
210847
BROWN, HENRY LEE
9/27/2021
F43
NO CONTACT/PROTECTION/RESTRAIN ORD VIOL KNOWINGLY VIOLATES ORDER
204150
BRUCE, AUTUMN TAEJON
6/5/2021
C15
BURGLARY-2
216218
BUCKMEIR, CYPRIAN JOSEPH
10/29/2021
B3
VIOL OF ALTERNATE PROGRAM
242328
BUCKNER, ROBERT DWAIN
5/18/2021
F114
POSSESS DEPICTIONS OF A MINOR 1 ENGAGED IN SEXUALLY EXPLICIT CONDUCT
235254
BURCH, WILLIAM L
10/8/2021
A12
RAPE OF A CHILD-3
219361
BURNS, DANIEL ELIJAH
2/14/2021
G39
ASSAULT-2 -DV
223454
BURROUGHS, TYLER WAYNE
10/22/2021
E511
HARASSMENT - DV
239379
CADDY, JOSHUA M
8/30/2021
F2D
BURGLARY-2
240425
CAMACHO NUNEZ, ELIAS FREDY
4/16/2020
F12
RAPE OF CHILD I POST-7/1/88
241892
CANO SILVA, JOSE
2/20/2021
JDH
FIREARM POSSESSION UNLAWFUL-2
241364
CARRIERE, STEPHANIE J
10/30/2020
C113
HARASSMENT PREV CONV OR THREAT TO KILL
241600
CARRILLO-PIZ, MARTIN
12/21/2020
F59
RAPE OF A CHILD-3
219038
CARTER, ANTONIO JOSEPH
9/30/2021
E113
ASSAULT-2
78624
CASARIO, RONALD DWAYNE
9/14/2021
D3D
11/15/2021
COMMUNICATE W/MINOR-IMMORAL PURP
202703
CASEY, NICHOLAS HOWARD
9/30/2021
G25
DUI - FB - DRIVING UNDER THE INFLUENCE
241271
CASILLAS VASQUEZ, MIGUEL ANGEL
10/26/2021
F3D
POSSESSION OF A STOLEN VEHICLE
186316
CHANT, BYRON KEITH
8/21/2021
E16
ROBBERY-1
167304
CHILDERS, SHON LYNN
6/23/2021
G5D
ASSAULT-2 -DV
207654
CISNEROS RAMIREZ, ERNESTO A
5/26/2021
ASSAULT-2
212760
CLAIBORNE, JASPER J
9/11/2021
G114
ASSAULT-2
222403
CLOUD, WILLIAM HEAL
10/1/2021
G24
THEFT OF A MOTOR VEHICLE
240144
COOPER, DAVID
10/28/2021
F3D
POSSESSION OF A STOLEN VEHICLE
216759
CORN, SHERYL ANN
10/26/2021
D14
CRIMINAL TRESPASS-1 -DV
226468
CORTEZ, ARMANDO
10/10/2021
A13
ASSAULT-3
183045
COSSMAN, ANTHONY C
6/7/2021
E411
NO CONTACT/PROTECTION/RESTRAIN ORD VIOL TWO PREVIOUS CONVICTIONS
242670
COX, KENNY W
7/28/2021
A31
HARASSMENT PREV CONV OR THREAT TO KILL
238239
CRAIG, JACOB ALLEN
10/17/2021
G22
11/9/2021
DISORDERLY CONDUCT INCLUDES ABUSIVE LANGUAGE/PROVOKE ASSAULT/OBSTRUCT VEHICLE OR PEDESTRIAN TRAFFIC
206041
CRALLEY, NANCY LILLIAN
10/22/2021
D13
DISORDERLY CONDUCT INCLUDES ABUSIVE LANGUAGE/PROVOKE ASSAULT/OBSTRUCT VEHICLE OR PEDESTRIAN TRAFFIC
237708
CROSWELL, DAVID
6/26/2019
G4D
VEH. HOMICIDE-DUII
240874
CRUZ MARTINEZ, ABEL
9/8/2021
D4D
12/25/2021
NO CONTACT/PROTECTION/RESTRAIN ORD VIOL ASSAULT OR RECKLESS CONDUCT
240984
DAUVEN, JUSTIN RAY
8/27/2021
F15
CHILD MOLESTATION-2
149624
DAVIS, COLE WAYNE
9/26/2021
F410
NO CONTACT/PROTECTION/RESTRAIN ORD VIOL TWO PREVIOUS CONVICTIONS
243050
DAVIS-THOMAS, NATHAN ALLEN
10/23/2021
E59
ROBBERY-1
233625
DEMPSEY, MICHAEL CHARLES
10/21/2021
E3D
HARASSMENT PREV CONV OR THREAT TO KILL
220939
DENGLER, JEREMY EDWARD
10/28/2021
E56
POSSESSION OF A STOLEN VEHICLE
168424
DIMAS, JACOB GABRIEL
7/29/2021
F52
RAPE-1
215902
DIXON, LEERAE ALAN
10/11/2021
E2D
DWS 3 -DRIVE W/LICENSE SUSP OR REVOKED-3 OR REVOKED LIC OR PRIVILEGE
234171
DOCASAL ECHEVARRIA, JORGE ERNESTO
9/5/2019
G15
DEL/PCS W/INT HER/COC/METH/OP
243085
DOE, JANE
10/29/2021
B8
RESIDENTIAL BURGLARY
199848
DORN, SHANE BRADLEY
10/28/2021
F3D
BURGLARY-2
242921
DORNELUS, STINLEE
9/26/2021
A22
ASSAULT-1
206895
DORRIS, SHAUN T
10/11/2021
G35
ROBBERY-1
230940
DOSTER, LEEANNA M
10/26/2021
B2
POSSESSION OF A STOLEN VEHICLE
237788
DOWEDIA, LUCAS M
4/7/2021
BURGLARY-1
188499
DREITLEIN, NICHOLAS MICHAEL
8/3/2021
F2D
ASSAULT-4
68324
ELIOFF, JAMES CRIST
10/29/2021
B3
THEFT OF A MOTOR VEHICLE
235083
EMBLETON, NICHOLAS STEPHEN
9/2/2021
E2D
POSSESSION OF A STOLEN VEHICLE
242949
ENES, ALEKSEY A
10/1/2021
F512
FUGITIVE FROM JUSTICE
136198
ERICKSON, BRIAN EUGENE
8/29/2021
D3D
SEX OFFENDER/FELON-FAIL TO REGISTER 2 PRIORS
227043
ESPARZA ALVEZ, ALFONSO RAUL
8/18/2021
E2D
NO CONTACT/PROTECTION/RESTRAIN ORD VIOL TWO PREVIOUS CONVICTIONS
237100
ESPINO, JONAH ALAN
10/1/2021
F2D
VIOL OF ALTERNATE PROGRAM
209435
ESPINOZA, NICHOLAS JEAN
9/27/2021
D4D
11/9/2021
DUI -GM- DRIVING UNDER THE INFLUENCE
222395
FAIRBANKS, DAVID LEE
5/3/2021
M2
ASSAULT-2
213080
FARATA, WANTEN
10/22/2021
E3D
DUI -GM- DRIVING UNDER THE INFLUENCE
221606
FENSKE, ASHLEY CHRISTINE
10/8/2021
C2D
RESIDENTIAL BURGLARY
157766
FERGUSON, SARAH J
10/27/2021
B4
CRIMINAL TRESPASS-2
137107
FESSEL, JUSTIN SCOTT
3/2/2021
E14
ROBBERY-1
240935
FIELDS, JAMAR R
8/11/2020
E114
ASSAULT-2 -DV
242551
FITI, DFIRSTSON
7/1/2021
A21
KIDNAPPING I -DV
192333
FRANCIS, JOSHUA S
10/3/2021
G25
POSSESSION OF A STOLEN VEHICLE
242488
FRANKS, JESSE COSTILLO
6/19/2021
E42
HOMICIDE BY ABUSE CAUSE OF DEATH OF CHILD, PERSON UNDER 16, DEVELOPMENTALLY DISABLED OR DEPENDENT ADULT
232049
FREGOSO URIBE, JUAN GABRIEL
4/5/2019
F511
INDECENT LIBERTIES
231962
FROEHLICH, JAMES ARNOLD
10/21/2021
E51
HARASSMENT PREV CONV OR THREAT TO KILL
206155
FULMER, JOHNATHON BLAKE
11/1/2019
A34
KIDNAPPING I
195268
GARCIA, JOHNNY F
4/4/2021
E43
NO CONTACT/PROTECTION/RESTRAIN ORD VIOL TWO PREVIOUS CONVICTIONS
231815
GASTELUM, JOSE OSCAR
9/24/2021
G114
RESIDENTIAL BURGLARY - DV
241674
GAXIOLA, JUSTIN ARTHUR
10/1/2021
D3D
11/13/2021
ASSAULT-4
151657
GAYLORD, CHRISTOPHER ALLEN
10/15/2021
G22
ASSAULT-4 - DV
169558
GLENN, SETH LIAHM
4/29/2021
ASSAULT-3
148237
GOETZ, TRAVIS EUGENE
10/20/2021
E3D
PCS- CONTROL SUBSTANCE MFG/DEL/POSS W/INT COCAINE
243030
GOGGANS, CRYSTAL A
10/20/2021
D16
ASSAULT-2 -DV
240190
GOGUS, PAVEL ANATOLYEVICH
10/13/2021
G213
POSSESS STOLEN PROPERTY-2
157864
GOLDFINCH, SHAWN A
10/26/2021
E55
10/31/2021
DUI -GM- DRIVING UNDER THE INFLUENCE
129340
GRAFF, JAMIE DEAN
6/17/2021
F44
ASSAULT-3
243082
GRAY, ADAM AARON
10/28/2021
B3
OUT OF COUNTY WARRANT
240228
GREEN, KATELIN ROSE
10/8/2021
C2D
THEFT-RETAIL EXTENUATING CIRCUMSTANCES-3
203883
GREEN, SCOTT EDWARD
9/19/2021
G19
ASSAULT-2
240789
GREENBAUM, NOHEA OLIVER
10/6/2021
E43
INDECENT EXPOSURE
227978
GUERRERO, ORION STARR
9/2/2021
C12
NO CONTACT/PROTECTION/RESTRAIN ORD VIOL KNOWINGLY VIOLATES ORDER
242441
GUILLAUME, GEORGE PAUL
6/11/2021
G313
ASSAULT-1
240994
HADLEY, VENCINE TIMONE
6/8/2021
G14
FUGITIVE FROM JUSTICE
168174
HALL, JOSEPH A
8/31/2021
F46
ASSAULT-1 - DV
241588
HANSEN, ZACHERY Z
6/2/2021
G37
MURDER-1
207239
HARMON, JONATHAN SAMUEL
6/19/2020
E112
ROBBERY-1
242177
HASHEMI, AMIR RAHNI
10/7/2021
G27
ASSAULT-4
241102
HAYWARD, BRANDON SCOTT
6/1/2021
D3D
THEFT-2
215071
HEDGES, MONTGOMERY ALEXANDER
5/24/2021
E112
ASSAULT-1
213896
HELMS, TIMOTHY JOHN
10/15/2021
G211
BURGLARY-2
147223
HEMENWAY, DEVON RAY
4/24/2021
F510
BURGLARY-1 - DV
197322
HENSLEY, MARK THOMAS
3/23/2021
G5D
HARASSMENT PREV CONV OR THREAT TO KILL
242629
HENSLEY, CHRISTOPHER THOMAS
8/5/2021
F47
ASSAULT-2
94277
HERD, JAMES DONALD
10/20/2021
D23
POSSESSION OF A STOLEN VEHICLE
241380
HERMAN, JEROME
10/19/2021
G212
RECKLESS ENDANGERMENT
226650
HERMAN, JUNIOR
6/14/2021
BURGLARY-2
241454
HERNANDEZ, SANTIAGO
2/26/2021
M5
ASSAULT-1
243079
HERNANDEZ-GARCIA, MARIA J
10/28/2021
D14
ASSAULT-2 -DV
188291
HERRERA, ASHLEY DAWN
10/25/2021
D15
DUI -GM- DRIVING UNDER THE INFLUENCE
166678
HERVI, MATTHEW GLEN
2/27/2021
RESIDENTIAL BURGLARY
211168
HEUP, GERALD EUGENE
8/16/2021
G111
ROBBERY-2
236496
HIATT, RICKY GENE
2/27/2019
F14
RAPE OF CHILD I POST-7/1/88
158591
HIGH, RANDY TROY
10/7/2021
G5D
ASSAULT-4
240716
HOREY, NORMAN
6/24/2020
F16
RAPE OF A CHILD-2
242430
HORTON, THOMAS DAVID
8/25/2021
G11
ASSAULT-2 -DV
233745
HOWE, KYLEY R
9/12/2021
F2D
DUI -GM- DRIVING UNDER THE INFLUENCE
108976
HULL, JASON EDWARD ROGERS
7/26/2021
G110
ASSAULT-2
241481
HUNT, CLYDE K
9/10/2021
F2D
10/31/2021
FIREARM POSSESSION UNLAWFUL-2
242974
HUSSEY, KRISTOPHER ALLEN
10/7/2021
F113
CHILD MOLESTATION-2
242862
IMUL, DIEGO
9/13/2021
D3D
DEAL IN DEPICTIONS OF A MINOR 1 ENGAGED IN SEXUALLY EXPLICIT CONDUCT
231888
INGRAM, SARAH M
6/22/2021
C37
ASSAULT-3
242204
INLOW, ZACHARY ORON
4/20/2021
MALICIOUS MISCHIEF-2
242843
ISAM, PETER BET
9/8/2021
G310
ROBBERY-1
82002
IVERSON, STEPHEN H
8/18/2021
E2D
STOLEN PROPERTY-TRAFFICKING-1
241732
JACKSON, DEVEN C
8/23/2021
F2D
NO CONTACT/PROTECTION/RESTRAIN ORD VIOL KNOWINGLY VIOLATES ORDER
226865
JENNINGS, TYLER SCOTT
10/8/2021
E2D
11/7/2021
NO CONTACT/PROTECTION/RESTRAIN ORD VIOL KNOWINGLY VIOLATES ORDER
241527
JOHAL, AARONDEEP S
10/10/2021
G311
ASSAULT-3
240666
JOHNSON, KEVIN M
8/29/2021
F2D
NO CONTACT/PROTECTION/RESTRAIN ORD VIOL TWO PREVIOUS CONVICTIONS
242833
JOHNSON, DOMINIQUE L
9/6/2021
C2D
ASSAULT-3
239887
JOHNSON, OMARR JERRELL
9/3/2021
G115
ASSAULT-2
235487
JOHNSON, ADAM SAMUEL
4/28/2021
E2D
BURGLARY-2
242601
JONDAHL, JAXON L
7/12/2021
E110
VEHICULAR HOMICIDE
77204
JONES, KIMBERLY SUE
5/12/2021
C111
ARSON-1
242055
JONES, JOSHUA W
3/22/2021
RAPE OF A CHILD-1
93217
JONES, JESSE EDWARD
10/5/2021
G36
HARASSMENT PREV CONV OR THREAT TO KILL
104071
JONES, LORIN DEWAYNE
10/22/2021
D21
VIOL OF ALTERNATE PROGRAM
243053
JONES, BENTLEY ALLEN
10/24/2021
E52
ASSAULT-2 -DV
236380
JORDAN, JACKIE DALE
4/4/2019
F111
NO CONTACT/PROTECTION/RESTRAIN ORD VIOL KNOWINGLY VIOLATES ORDER
65475
JORGENSON, EUGENE ARTHUR
9/25/2019
G4D
VEH. HOMICIDE-DUII
186173
JOY, STEVEN DANIEL
10/25/2021
M1
ASSAULT-4 - DV
211267
JURGENS, JOHN JAMES
10/29/2021
B3
11/1/2021
VIOL OF ALTERNATE PROGRAM
190180
JUSTIN, COLBY MAXWELL
5/15/2021
M3
NO CONTACT/PROTECTION/RESTRAIN ORD VIOL KNOWINGLY VIOLATES ORDER
242890
KAISER, DOUGLAS ROBERT
9/17/2021
F514
CHILD MOLESTATION-2
146092
KALETA, LYNDA EILEEN
10/12/2021
C2D
11/15/2021
ASSAULT-3
218867
KANOSO, KANSIANO
7/4/2020
G4D
DUI - FB - DRIVING UNDER THE INFLUENCE
199779
KAROU, KIM K
10/28/2021
A15
RESISTING ARREST
132404
KEENE, TERRY LEE
10/1/2019
F53
RAPE OF CHILD II POST-7/1/88
215320
KINNISON, GARRETT LEE
4/22/2021
E2D
12/30/2021
FIREARM POSSESSION UNLAWFUL-2
240836
KLETS, DAVID ANATOLY
149771
KLEVELAND, VERESA LEE
9/30/2021
C2D
DUI -GM- DRIVING UNDER THE INFLUENCE
73422
KNAPP, RICHARD EUGENE
4/30/2019
F11
MURDER II
172152
KNIGHT, JOHN LUCKY
3/4/2021
G13
ASSAULT-3 - DV
228007
KRAABELL, LANI RENE
9/10/2021
MURDER-2
235799
KRAUSE, LEEROY E
10/6/2021
B5
ASSAULT-2 -DV
243002
KROHN, SYAIRA NADINE
10/14/2021
C11
ROBBERY-1
242578
LAINEZ-MURILLO, EDRAS MAURICIO
7/8/2021
F13
RAPE-3
230790
LAMB, ETHAN GABRIEL
8/15/2021
A14
NO CONTACT/PROTECTION/RESTRAIN ORD VIOL ASSAULT OR RECKLESS CONDUCT
221968
LANSDON, AUSTIN JAMES
5/18/2021
G4D
MALICIOUS HARASSMENT INCLUDES RACE, COLOR, RELIGION, NATIONAL ORIGIN ANCESTRY, GENDER, SEXUAL ORIENTATION, HANDICAP
161321
LARSON, ALLAN KEITH
10/27/2021
F3D
COMMUNITY CUSTODY VIOLATION
191344
LASCURAIN, JUAN RICARDO
9/15/2021
D4D
11/28/2021
DUI -GM- DRIVING UNDER THE INFLUENCE
170919
LAURILA, MARK ANDREW
9/10/2020
G34
MURDER-1
219315
LAWSON, ELIJAH
5/20/2021
G38
MURDER-1
237924
LEE, LAWRENCE M
9/20/2021
G18
COMMUNITY CUSTODY VIOLATION
237746
LEVI, HUNTER ALEXANDER
6/11/2021
MURDER-1
217895
LITTLE, ETHAN TY
9/22/2021
F413
MALICIOUS MISCHIEF-1
183341
LOCKHART, JONATHAN ANDREW
10/19/2021
G215
ASSAULT-2 -DV
243083
LONG, JAKE CURTIS
10/29/2021
B3
ASSAULT-2 -DV
224943
LOPEZ MARROQUIN, JEFFERSON G
7/21/2021
M2
POSSESSION OF A STOLEN VEHICLE
198680
LOPEZ-SANTIAGO, JUAN CARLOS
10/15/2020
F515
RAPE OF A CHILD-1
206706
LUND, NICKELAS STEVEN
8/7/2021
D4D
DUI -GM- DRIVING UNDER THE INFLUENCE
240499
LUYSTER, BRENT W
5/24/2021
JDH
MURDER-2
165191
MANNING, HEATHER ANNE
7/22/2021
C31
BURGLARY-2
166224
MARQUEZ-GARDUZA, PABLO
7/11/2019
F511
RAPE OF CHILD I POST-7/1/88
241423
MARSH, WILLIAM ROBERT
9/29/2021
F51
CHILD MOLESTATION-1
180194
MARSHALL, CRAIG LEE
10/17/2021
G21
ASSAULT-4 - DV
242136
MARTINEZ, ALEX ISAAC
4/5/2021
E49
VEHICLE PROWLING-1
218970
MASSMAN, DAVID JOSEPH
10/29/2021
B3
VEHICLE PROWLING-2
218839
MATA-CORIA, FRANCISCO JOAQUIN
8/12/2021
F2D
11/9/2021
PCS - CONTROL SUBSTANCE MFG/DEL/POSS W/INT - HEROIN
200769
MAZHNIKOV, OLEG
10/15/2021
G21
NO CONTACT/PROTECTION/RESTRAIN ORD VIOL KNOWINGLY VIOLATES ORDER
198674
MCCANN, MATTHEW CHARLES
10/19/2021
G211
RECKLESS DRIVING
240278
MCDOWELL, MATTHEW M
9/27/2021
E41
4/16/2022
RAPE-3
226358
MCDOWELL, ROBBIE ALLEN
6/2/2021
F15
POSSESS DEPICTIONS OF A MINOR-2 ENGAGED IN SEXUALLY EXPLICIT CONDUCT
119144
MCENTEE, GREGORY M
9/3/2021
A32
INDECENT EXPOSURE
241774
MCINTOSH, LES L
1/31/2021
G15
ASSAULT-2
232934
MCMAHON, MICHAEL DENNIS
7/22/2021
F17
RAPE OF A CHILD-1
242556
MCMILLAN, NILES
9/21/2021
G11
FIREARM POSSESSION UNLAWFUL-1
240806
MEHARI, MERHAWI YOHANNES
10/29/2021
B3
THEFT-2
224999
MEIKLE, TROY DAVID
10/14/2021
G213
VIOL OF ALTERNATE PROGRAM
200574
MERFELD, JERRY LORENZE
6/14/2021
MALICIOUS MISCHIEF-1
242780
METCALFE, THOMAS LEE
8/24/2021
F2D
HARASSMENT PREV CONV OR THREAT TO KILL
146596
MILECK, PRESLEY DANIEL
6/15/2021
E42
MURDER-1
242858
MILLARD, DAVID E
9/12/2021
G18
ASSAULT-2
176645
MILLER, BRIAN MICHAEL
3/16/2021
G113
PCS - CONTROL SUBSTANCE MFG/DEL/POSS W/INT - METH
235056
MILLERWILBER, ASENKA RINNA
9/29/2018
C33
MURDER I
203367
MILTON, NATHAN JAMES
8/11/2021
D4D
12/23/2021
POSSESS STOLEN PROPERTY-2
236223
MISNER, NIKKI MICHELLE
9/22/2021
C2D
DUI -GM- DRIVING UNDER THE INFLUENCE
217948
MITCHELL, DEONTE ERIC
8/23/2021
F110
ASSAULT OF A CHILD-2
218049
MITCHELL, ROBERT EDWARD
8/28/2021
E2D
AIMING/DISCHARGING FIREARMS
197637
MITCHELL, MICHAEL ANTHONY
5/29/2020
F42
ARSON-1
234227
MITCHUM, NATHAN SCOTT
7/12/2020
F115
RAPE OF A CHILD-2
235688
MOGROVEJO, ERICK A
10/2/2021
ASSAULT-3
160005
MONTEI, DOUGLAS MCDONALD
10/13/2021
E515
ROBBERY-1
239800
MONZON TREJO, ILMER JOSUE
9/29/2021
D3D
4/6/2022
COMMUNICATE W/MINOR-IMMORAL PURP
178746
MOORE, JEFFERY ALLEN
9/23/2020
G5D
HIT/RUN UNATTENDED VEHICLE(PROPERTY DAMAGE)
242880
MORTIMORE, AUSTIN MICHAEL JAMES
9/15/2021
F2D
POSSESSION OF A STOLEN VEHICLE
242616
MOSCONE, JONATHAN
7/15/2021
E110
ROBBERY-1
242708
MULVANIA, MICHAEL KEITH
8/6/2021
E18
ROBBERY-2
202714
MUNN, ANTHONY ALLEN
5/21/2021
G5D
HARASSMENT PREV CONV OR THREAT TO KILL
190907
MYERS, MICHAEL LEE
10/6/2021
G12
CRIMINAL TRESPASS-1 -DV
238861
NAGLE, LATHAN TROY
7/14/2021
E410
POSSESSION OF A STOLEN VEHICLE
203462
NAVARRO, AUSTIN J
8/27/2021
E410
MURDER-2
241015
NEBEL, THOMAS L
1/7/2021
E11
RESIDENTIAL BURGLARY
176466
NERI-SOLORIO, OSCAR
10/29/2021
E58
CHILD MOLESTATION-2
234998
NEWSON, JAREL M
9/16/2021
F51
MALICIOUS MISCHIEF-2
238690
NGUYEN, JIMMY HAI
2/10/2021
D3D
11/3/2021
POSSESS DEPICTIONS OF A MINOR-2 ENGAGED IN SEXUALLY EXPLICIT CONDUCT
243026
NICKELL, JAMES A
10/20/2021
E53
FUGITIVE FROM JUSTICE
242718
NOTTINGHAM, JORDAN LEE
8/7/2021
A11
HARASSMENT PREV CONV OR THREAT TO KILL
226801
NUGENT, JARAD DEAN
9/2/2021
E2D
RESIDENTIAL BURGLARY - DV
178349
OLIVER, RICHARD EUGENE
1/12/2021
F513
CHILD MOLESTATION-2
169451
OLIVER, JOSEPH EUGENE
10/25/2021
E3D
NO CONTACT/PROTECTION/RESTRAIN ORD VIOL KNOWINGLY VIOLATES ORDER
223019
OLSSON, JENNY CHRISTINA
10/26/2021
B2
RESIDENTIAL BURGLARY
191619
ORDWAY, BRYAN MICHAEL
10/28/2021
F3D
10/29/2021
IDENTITY THEFT-1
165665
ORSBURN, TROY ALLEN
10/3/2021
E12
HARASSMENT PREV CONV OR THREAT TO KILL
233865
OSTER, JACOB L
9/29/2021
D4D
12/21/2021
FIREARM POSSESSION UNLAWFUL-2
240950
OWOLABI, JULIUS A
8/13/2020
F112
RAPE OF A CHILD-3
231191
PADILLA, JOSE STEVAN
12/28/2020
F114
CHILD MOLESTATION-2
242428
PALMER, WESLEY
6/8/2021
E46
ASSAULT OF A CHILD-1
200478
PANG, DEANA
10/28/2021
B2
THEFT-ORGANIZED RETAIL-2
241597
PAPPALARDO, BRIAN JAMES
9/7/2021
D4D
1/10/2022
ASSAULT-3
243041
PARK, TAYLOR L
10/22/2021
B8
DUI -GM- DRIVING UNDER THE INFLUENCE
156165
PARKER, JEFFREY DANIEL
7/4/2021
G5D
RESIDENTIAL BURGLARY - DV
240939
PARTIDA, ELIJAH ISAIAH
8/11/2020
M6
MURDER-2
163875
PASCU, VALENTIN MARIUS
10/8/2021
G5D
RESIDENTIAL BURGLARY
228009
PASTORINO, ADAM
10/28/2021
B3
POSSESSION OF A STOLEN VEHICLE
179567
PATEL, SHILAIN ATUL
10/13/2021
G23
BURGLARY-2
198919
PAYNE, O'NEAL
3/11/2021
A23
COMMERCIAL SEX ABUSE OF A MINOR
194048
PEDRO GUZMAN, MIGUEL ANGEL
6/16/2021
G312
ASSAULT-2
241843
PEFFERS, BREVYN JAMES
6/11/2021
D3D
12/7/2021
CHILD MOLESTATION-3
242912
PENN, MICHAEL ANTHONY
9/23/2021
F411
ROBBERY-1
239867
PEREZ SALINAS, LUIS A
2/2/2020
G310
VEH. HOMICIDE-DUII
242877
PEREZ-MEJIA, LUIS F
9/15/2021
G38
MURDER-2
165551
PERRY, MORGAN ALEXANDER
9/14/2021
G5D
10/31/2021
POSSESSION OF A STOLEN VEHICLE
236640
PERRY, CHRISTOPHER WADE
7/26/2021
F2D
RESIDENTIAL BURGLARY - DV
237430
PHILLIPS, BRIANA D
10/12/2021
C2D
THEFT-RETAIL EXTENUATING CIRCUMSTANCES-3
219806
PHOUTHAVONGXAY, SAYADETH WILLIAM
10/8/2021
F19
RAPE OF A CHILD-3
217131
PICKETT, VICTORIA L
9/9/2021
C114
MALICIOUS MISCHIEF-2
239441
PILLSBURY, JAMESON REED
2/10/2021
D3D
2/4/2022
RAPE OF A CHILD-3
211524
POLLARD, DAVID MATTHEW
9/12/2021
G110
MALICIOUS MISCHIEF-3
75156
POPRAVAK, DANIEL PARISH
8/23/2021
B9
CRIMINAL TRESPASS-2
203841
POTTS, ANDREW M
7/29/2021
E18
ROBBERY-1
228760
POWELL, THOMAS BLAIR C
8/23/2021
F49
NO CONTACT/PROTECTION/RESTRAIN ORD VIOL KNOWINGLY VIOLATES ORDER
209387
PRICE, STEPHEN R
10/16/2019
CRIMINAL TRESPASS-2
221880
PULVER, AMANDA LYNN
9/3/2021
C11
POSSESSION OF A STOLEN VEHICLE
242647
RAYA, MISTY MAY
7/24/2021
C35
BURGLARY-2
242672
RAYA LEON, GUILLERMO
7/29/2021
AGGRAVATED MURDER-1
242854
RAYA LEON, ABRAN
9/11/2021
MURDER-2
185116
REVENKO, AVEL I
9/4/2021
E46
NO CONTACT/PROTECTION/RESTRAIN ORD VIOL KNOWINGLY VIOLATES ORDER
242996
REYES, JUAN CARLOS
10/13/2021
G112
DRIVE BY SHOOTING
168601
ROBERTS, ANDRE D
8/15/2021
G14
ASSAULT-2 -DV
171407
ROBERTS, HAROLD JUNIOR
9/22/2021
D3D
NO CONTACT/PROTECTION/RESTRAIN ORD VIOL ASSAULT OR RECKLESS CONDUCT
241426
ROBINSON, LARONTAE RAY
11/11/2020
G39
ROBBERY-1
242396
ROHLEDER, DAVID A
6/1/2021
F113
RAPE OF A CHILD-1
242576
ROMERO, JUSTIN N
7/7/2021
E16
MURDER-2
213093
ROSS, WAYNE ALAN
4/13/2021
G4D
STALKING-PREVIOUS ORDER/WEAPON/VICTIM
231897
ROTAR, VITALIY S
10/2/2021
F55
ASSAULT-2 -DV
209015
RUSSELL, CHRISTOPHER MICHAEL
6/22/2021
M4
RESIDENTIAL BURGLARY - DV
109166
RYERSON, TIMOTHY CLAYTON
4/2/2021
F111
VOYEURISM I
238411
RYMAR, ANATOLIY G
10/8/2021
E15
BURGLARY-1 - DV
240973
SAKAEV, AMIR
9/12/2021
A33
NO CONTACT/PROTECTION/RESTRAIN ORD VIOL KNOWINGLY VIOLATES ORDER
243056
SALAZAR, WYATT ANDREW
10/24/2021
E52
HARASSMENT PREV CONV OR THREAT TO KILL
153685
SALDANA, ARMANDO SANCHEZ
5/20/2021
G33
THEFT OF A MOTOR VEHICLE
242838
SANCHEZ, DEVON M
9/7/2021
G112
ASSAULT-4 - DV
240325
SANCHEZ, MARK LAUREN
9/26/2021
A11
NO CONTACT/PROTECTION/RESTRAIN ORD VIOL KNOWINGLY VIOLATES ORDER
242879
SANCHEZ IBARRA, IRVING A
9/15/2021
F2D
RESIDENTIAL BURGLARY
242586
SANNA, JENNYA
9/29/2021
C17
MALICIOUS MISCHIEF-2
190958
SANTILLAN, SKYLAR
1/4/2021
F512
OBSTRUCT LAW ENFORCEMENT OFC
242821
SAPPLETON, ANTONIO V
10/5/2021
F56
VEHICULAR ASSAULT
138774
SCHEIBEL, JASON CHRISTOPHER
10/25/2021
E510
NO CONTACT/PROTECTION/RESTRAIN ORD VIOL KNOWINGLY VIOLATES ORDER
242318
SCOFIELD, JAVIER ALFONSO
5/16/2021
F13
CHILD MOLESTATION-3
194447
SEBURG, SHAUN GLENN
9/17/2021
E2D
NO CONTACT/PROTECTION/RESTRAIN ORD VIOL TWO PREVIOUS CONVICTIONS
152354
SELLEK, RAYMOND J
9/24/2021
G19
POSSESSION OF A STOLEN VEHICLE
231796
SERNA, JESUS
10/13/2021
F18
RAPE-2
233905
SESAY, ADAM FADEL
6/4/2021
D4D
12/5/2021
ASSAULT-2 -DV
208575
SHCHEGLYUK, MICHAEL L
7/6/2021
F41
INDECENT LIBERTIES
230671
SIMINA, DIO
9/13/2021
E13
ARSON-1
240359
SINCLAIR, ALEXANDER ROY
3/30/2020
A24
ASSAULT II
173551
SINGTHONG, SAYAVONG
9/14/2021
G17
BURGLARY-2
214846
SMITH, TYLER AUSTIN
9/23/2021
F58
CHILD MOLESTATION-1
241606
SMITH, JEREMY RYAN
2/1/2021
F53
RAPE OF A CHILD-3
242357
SMITH, ILYSSA
5/25/2021
C32
ROBBERY-2
233372
SNOWDEN, GARY C
10/19/2021
G29
POSSESSION OF A STOLEN VEHICLE
242994
SPIEKERMAN, ISAAC MATTHEW
10/13/2021
E45
ASSAULT-1
241564
SPITZER, JOSHUA ALAN
10/29/2021
B3
ASSAULT-4
136421
STANSBURY, ERIC JOHN
9/30/2021
G13
ASSAULT-2
147713
STEWART, DESHAWN RAY
9/29/2021
D3D
COMMUNITY CUSTODY VIOLATION
132759
STONE, RICK LEFT HANDED WOLF
2/4/2021
G313
MURDER-1
223479
STRAUGHN, JOSEPH WAYNE
9/24/2021
M4
BURGLARY-2
230579
STRICKLER, ANDREW D
9/27/2021
G24
RESIDENTIAL BURGLARY
207561
STULTS, CHASE EDWARD
10/21/2021
E512
VIOL OF ALTERNATE PROGRAM
169362
STURGIS, CRAVANN ADRIAN
1/27/2021
ARSON-1
239349
SWEGLES, AIDEN MICAH
12/20/2019
F514
MURDER-2
240872
TALBERT, WARREN JEFFREY
7/28/2020
E17
ASSAULT-1
202648
TALIMAO, ADAM F
10/17/2021
E3D
THEFT-2
241097
TAPIA, CRISPIN R
9/9/2020
F14
RAPE OF A CHILD-1
238158
TATAICHY, MICHAEL
8/9/2019
G311
VEH. HOMICIDE-DUII
240812
TATE, DEVON
10/1/2021
G26
TAKE MTR VEH W/O PERMISSION
242663
TAYLOR, MONTEZ T
7/27/2021
E19
ASSAULT-1
212374
TAYLOR, DESMOND XAVIER
10/19/2021
G214
FIREARM POSSESSION UNLAWFUL-2
149455
THOMPSON, RYAN RICH
10/23/2021
E514
NO CONTACT/PROTECTION/RESTRAIN ORD VIOL KNOWINGLY VIOLATES ORDER
242569
TOOLE, DANIEL
7/6/2021
ASSAULT-2
239017
TOUCH, SAMNANG
10/31/2019
E47
KIDNAPPING I
173347
TRIMMER, JESSE STEPHEN
4/30/2021
G113
POSSESSION OF A STOLEN VEHICLE
221405
TROXLER, DEREK A
10/18/2021
D22
ROBBERY-1
220293
TRUMP, WILLIAM JEAN
10/28/2021
E58
FIREARM POSSESSION UNLAWFUL-2
189683
TUKHASHVILI, RUSLAN GIVETICH
8/18/2021
F2D
DUI -GM- DRIVING UNDER THE INFLUENCE
84391
UPHOFF, THOMAS LEE
3/17/2021
G5D
RESISTING ARREST
243029
URBINA DOLORES, GUILLERMO
10/20/2021
E513
ASSAULT-2 -DV
173843
VANN, KASHIA LAREE
10/26/2021
D14
STOLEN PROPERTY-TRAFFICKING-2
242990
VELAZQUEZ CERVANTES, OMAR
10/12/2021
F2D
BURGLARY-2
228953
VILLA SANCHEZ, RAFAEL
10/22/2021
G28
FORGERY
242353
VOGEL, GABRIEL JOSEPH
5/24/2021
F2D
BURGLARY-2
205820
WEESE, JACOB ALAN-JOHN
9/14/2021
D4D
DUI -GM- DRIVING UNDER THE INFLUENCE
241612
WEIBLE, ELIZABETH A
9/23/2021
B1
MALICIOUS MISCHIEF-2
242438
WHITE, BENJAMIN J
6/10/2021
F110
BURGLARY-1
193406
WHITE, ROBERT
5/14/2021
G111
BAIL JUMPING CHARGED WITH A CLASS B OR C FELONY
194293
WHITE, TRYNELL LANCE
3/26/2021
NO CONTACT/PROTECTION/RESTRAIN ORD VIOL TWO PREVIOUS CONVICTIONS
200577
WILLIAMS, KEITH ANTHONY
7/29/2020
E111
COMMUNITY CUSTODY VIOLATION
234047
WILLIAMS, TRAVIS M
8/20/2021
F414
ASSAULT-2
218007
WILLIAMS, WENDELL EUGENE
10/15/2021
E2D
NO CONTACT/PROTECTION/RESTRAIN ORD VIOL ASSAULT OR RECKLESS CONDUCT
242179
WILLIAMS, CODY JAMES LYNN
10/27/2021
F3D
THEFT OF A MOTOR VEHICLE
242573
WITCHER, AUSTYN C
10/13/2021
G31
ASSAULT-4
240732
WOOD, JUSTIN LYNN
6/28/2020
F11
RAPE OF A CHILD-1
242411
WOODWORTH, WILLIAM EMERY
10/19/2021
G210
HARASSMENT PREV CONV OR THREAT TO KILL
241673
YEAGER, JOSEPH ALEXANDER
9/15/2021
D3D
CHILD MOLESTATION-3
199105
YEAROUT, SKYLAR B
10/28/2021
F3D
PCS - CONTROL SUBSTANCE MFG/DEL/POSS W/INT - HEROIN
144300
YOUNCE, BRIAN ANDREW
10/4/2021
D4D
2/6/2022
FALSE STATEMENTS OR ILLEGAL TRANSFER VEHICLE TITLE
228860
YOUNGER, JACOB ANTHONY
9/22/2021
F2D
BURGLARY-2
200375
YUKHIMETS, YAN MIKHAILOVICH
5/16/2021
F515
RAPE OF A CHILD-1
241959
ZIDRASHKO, DANIIL V
3/3/2021
F12
RAPE OF A CHILD-1
190653
ZIMMERMAN, STEVEN SPENCER
10/29/2021
A11
ASSAULT-4 - DV
236569
ZOOK, MATTHEW D
3/18/2021
F54
ROBBERY-1
Sours: https://clark.wa.gov/sheriff/jail-roster

Clark County Sheriff
859-744-4390
Web Site

Clark County Circuit Court
859-7377264
Web Site

Clark County District Court
859-737-7141
Web Site



Winchester Police Dept.
859-745-7400
Web Site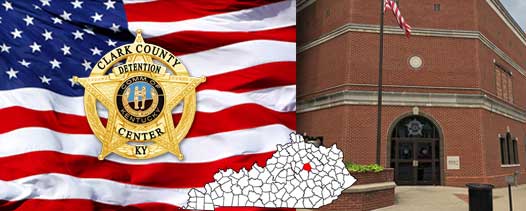 The Mission of the Clark County Detention Center
It is the mission of the Clark County Detention Center to serve the citizens of Clark County by providing a safe, secure and supportive correctional environment while protecting the well-being of our community.
---

Disclaimer

Circumstances may change without notice due to changes in the law, emergencies, and rules of the Clark County Detention Center.

This website is intended to comply with the public information act and is provided to make information available to the public. This information should not be used in any manner to injure, harass, or commit a criminal act against any person or family member of a person named in the detention center. Any such action could subject you to criminal prosecution. All persons charged are presumed innocent until proven guilty in a court of law. If errors are noted in any inmate record the Clark County Detention Center will make every attempt to verify and correct the error as soon as we are made aware of it.



Sours: http://www.clarkdetentioncenter.com/
| | |
| --- | --- |
| The following may be searched on-line: | |

Criminal case searches and calendars are found on-line at this link.

Name Searches
See current Fee Schedule
Nevada law requires customers to pay the required research fee for record search requests where the Defendant name or Justice Court Case Number are not provided. The fee is $1.00 per year searched per name. Customers should specify the number of years they want the record search to cover to avoid paying unnecessary fees. To ensure the most complete search possible, please provide the full name of the Defendant (last, first, middle initial) and date of birth (DOB).
Copies of Documents
See current Fee Schedule
The fee for copies is $0.50 per page.
Please be aware, if the records are being used for legal purposes, you may want to have the Court certify the documents as true and correct copies. There is an additional fee for certifying documents of $3.00 per document.
Fee Payment for Research Requested by Mail
All fee payments should be made to the "Las Vegas Justice Court." Please use a check or money order for the payment for any requests by mail. Do not send cash through the mail. So that your request is not delayed due to an insufficient payment for searches and/or copies, we suggest sending $25.00 by check or money order for the fee payment. If the Criminal case being ordered closed in the years 2004 or 2005 a warehouse retrieval fee will be added.

REMEMBER! If you mail payments and/or documents to the Court, ALWAYS include the case number, AND be sure to put the case number on the check or money order. When requesting a receipt showing that the payment was processed, you MUST INCLUDE a self-addressed stamped envelope.
Sours: http://www.lasvegasjusticecourt.us/index.php
Death at Clark County Detention Center in Las Vegas
To find information on a person in custody.
Online Search - Inmate Information Search
Call Information Line (702) 671-3900
Inmate information will not be given out by email
Inmate under the age of 18 years of age will not be displayed
Inmate under protective custody will not be displayed.
For the most current information, call (702) 671-3900
If the information you are looking for is not posted on this web site please call the information line
Clark County Detention Center, Clark County or its courts shall not be liable for any discrepancies that may occur. In-Custody information is subject to change. Read full disclaimer below.
Instruction: Enter at least 2 letters of the Inmate's last name, inmate's ID, or Justice Court Case Number. For last name search, We recommend that you provide more than two letters to narrow the search. Click the Submit button to initiate the search.
Once you find the name, you may click Find w/ ID or Find w/ Case No to find the inmate's in-custody status.
John / Jane Doe's cannot post bail until properly identified through the Clark County Detention fingerprint process. Should you have legal identification for an individual arrested as a John / Jane Doe, please contact the Clark County Detention Center information line for instructions.
The Clark County Detention Center endeavors to respect the rights of all individuals. The inmate information you are accessing was developed to help agencies within the criminal justice system, and individuals within the community, to access public record inmate information.
These internet pages contain information about inmates who have been sentenced, who are being held for other jurisdictions, and who stand accused but are not convicted. We believe it is our responsibility to make notice of these facts to respect the rights of those who may be wrongfully accused.
Data obtained through this internet service is not for official use. Additionally, any commercial use of data obtained through this site is strictly prohibited. The information on these pages is periodically updated throughout the day and will only contain information about individuals currently in the custody of the Clark County Detention Center.
John/Jane Does cannot post bail. Should you have legal identification for an individual arrested as a John/Jane Doe, please contact the Clark County Detention Center information line for instructions on identifying the inmate in question.
Unless expressly provided to the contrary, communications through the Internet site by electronic mail or otherwise shall in no event constitute filing with, or legal notice to, Clark County or its courts, the Las Vegas Metropolitan Police Department and Clark County Detention Center, or any of their agencies, officers, employees, agents, or representatives.
PLEASE BE AWARE THAT THE CHARGES WHICH ARE SHOWN MAY OR MAY NOT ACCURATELY REFLECT THE CHARGES FOR WHICH THE INMATE WAS ACTUALLY CONVICTED OR MAY ACTUALLY BE CONVICTED IN THE FUTURE. CHARGES MAY CHANGE WITHOUT NOTICE AS THE RESULT OF PLEA BARGAINING, COURT HEARINGS, OR JURY TRIALS. ALSO, RELEASE DATES ARE SUBJECT TO CHANGE DEPENDING ON SUCH FACTORS AS COMPUTER MALFUNCTIONS, HUMAN ERROR, LOCKDOWNS IN RESPONSE TO SECURITY BREACHES, OR OTHER UNFORESEEN CIRCUMSTANCES.
ALTHOUGH THE INFORMATION ON THIS SITE IS BELIEVED TO BE CORRECT, INFORMATION IS PROVIDED ON AN AS IS BASIS, AND ACCURACY AND/OR COMPLETENESS CANNOT BE GUARANTEED. NO WARRANTY OF ANY KIND IS GIVEN WITH RESPECT TO THE CONTENTS OF THIS WEBSITE.
THE LAS VEGAS METROPOLITAN POLICE DEPARTMENT, CLARK COUNTY DETENTION CENTER AND THE COURTS OF CLARK COUNTY DISCLAIM LIABILITY FOR ANY ERRORS OR OMISSIONS ENCOUNTERED ON THESE INTERNET PAGES. MOREOVER, IN NO EVENT SHALL THE LAS VEGAS METROPOLITAN POLICE DEPARTMENT, CLARK COUNTY DETENTION CENTER, CLARK COUNTY, OR THE COURTS OF CLARK COUNTY BE LIABLE FOR ANY DAMAGES, OF ANY NATURE WHATSOEVER, ARISING OUT OF THE USE OF, OR THE INABILITY TO USE, THIS INTERNET SERVICE.
Sours: https://www.clarkcountynv.gov/inmate_search.php
Records arrest clark county
Then we lay in bed together, and I smoked, and could not completely get rid of this habit. - Listen, Andrew, I am not very you ?. - asked Mark and looked into my eyes, squinting slightly from the smoke.
CLARK COUNTY DETENTION CENTER 1ST AMENDMENT AUDIT
Dima was amazed. - Am I not a woman. - Elena Sergeevna was offended, - I can provide evidence. She nervously tugged at a fastener, her skirt fell to the floor. The woman lay down on the sofa and spread her hips wide, panties were missing.
You will also like:
Shoes and I quickly put them on. To my own surprise, I did not feel the slightest discomfort with the shoes when I walked to David's car. He parked his car near Jenny's house, and when I got to the corner, I noticed my father sprinting down the street. In his truck. I immediately turned away so that he would not notice me.
747
748
749
750
751