68 Fun and Flirty Ways to Refashion Your T-Shirts
It's almost summertime, and that means it's time to get out your T-shirts! This was a long winter, so it's going to be great to shed some layers and show off some skin. Speaking of which, maybe some of your old T-shirts just aren't doing it for you anymore. Maybe they're a little worn or faded, or maybe you're just bored with them.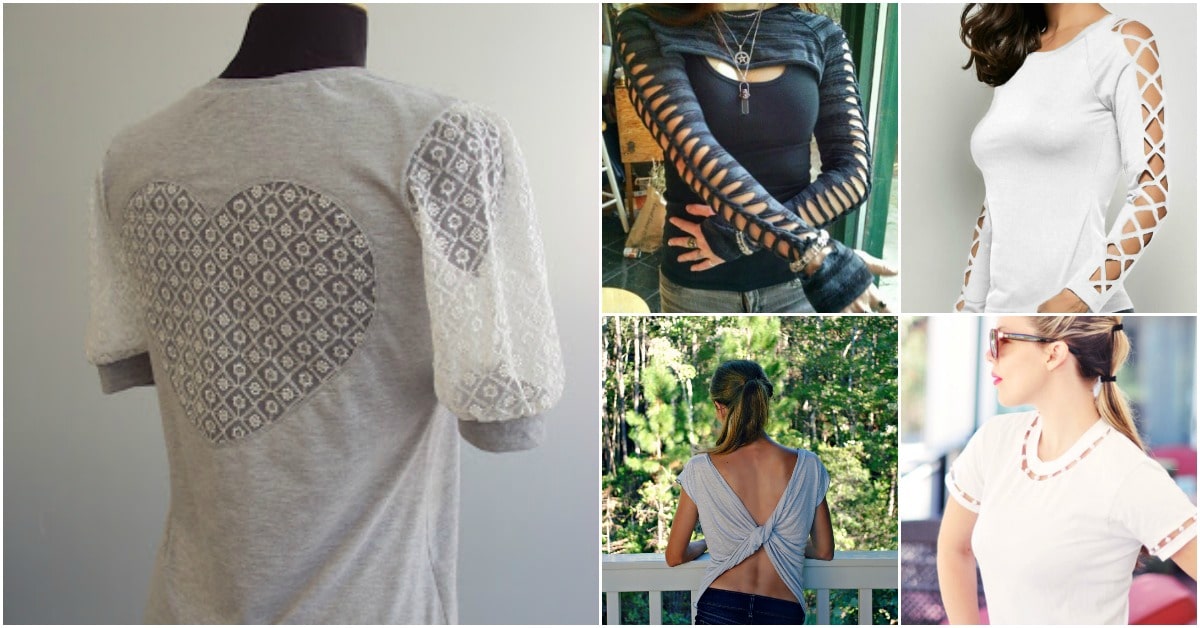 In any case, I have a ton of awesome ideas for you to make an old shirt new! That's right—you should skip that trip to the thrift store and pull those shirts back out of the donation bin. Instead, take them to your craft room. I've got so many T-shirt cutout projects and other ideas for cute, flirty T-shirt transforms for you that you won't know where to start.
Yeah, you might get some weird tan lines, but who cares? You are going to love these looks! Best of all, most of these projects are no-sew. So even if you aren't handy with a needle and thread, you can enjoy these fabulous summer fashions!
1. Add a cute ribbon.
If you are looking for a simple, cute, easy modification for a T-shirt, here is a great idea. Simply cut the back out of a shirt, and then attach a bow which you can tie. You can go with any color or pattern fabric you want for the bow, so this is a good way to add some color and fun to an otherwise plain shirt.
Source: melimelooo
2. Cut out most of the back of your T-shirt and tie what's left.
Everything but some thin strips has been cut out of the back of this T-shirt, with the strips then tied together along the length of the shirt. It's a simple idea and looks relatively easy to do, but it comes out looking ridiculously cool! Even the tan lines from this shirt would be fabulous in an odd way!
Source: pinterest
3. Make a skull cutout.
Here is another simple but brilliant cutout concept for a T-shirt. Just cut out holes in the shape of a skull. It's eye-catching and a very fun look!
Source: Etsy
4. Make a line of bows along the back of your T-shirt.
If you're a girly girl when it comes to fashion and you love bows, then you will just adore this idea! You do need to do some sewing for this one since you need to make the bows out of other fabric and attach them all along the back. The finished look is absolutely adorable, and don't you just love the floral fabric?
Source: alldaychic
5. Make a geometric design.
If you want to create an orderly geometric design with your T-shirt cutout, it is surprisingly easy to do—what you need is simply to create a stencil which you can use. If you click through to the source link, you can view a brief tutorial. Remember, you can easily adapt this idea to suit your tastes; you can design a stencil with any pattern you want!
Source: buzzfeed
6. Cut out a tree of life shape.
The tree of life has become something of a fashion trend, usually seen in wire wrap jewelry. But as it turns out, it also looks completely awesome as a cutout on the back of a T-shirt.
Source: buzzfeed
7. Make a butterfly twist tee.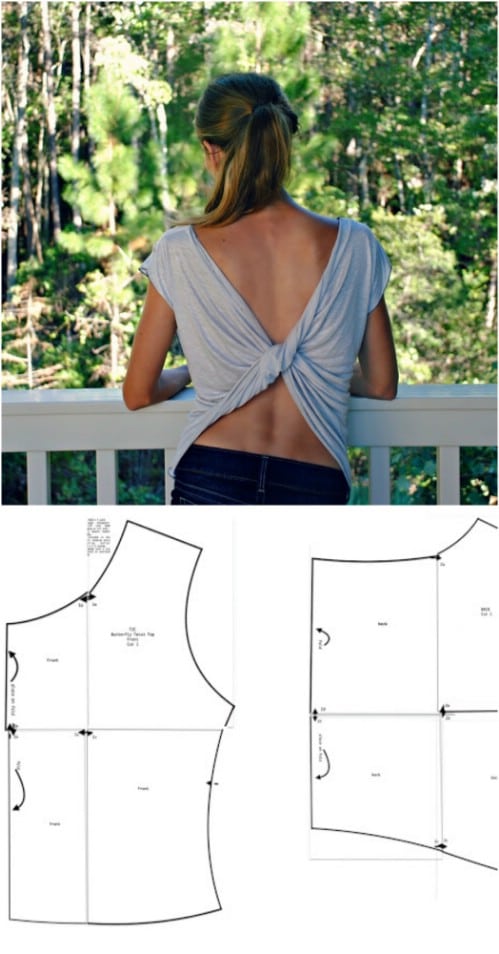 Here is a different look which is both fun and flirty and elegant and sophisticated at the same time. Click the source link below to view a tutorial. You do need to get out your sewing machine to do this one.
Source: trashtocouture
8. Create a cool high-contrast look by layering.
With this tutorial there are actually two ideas I want to draw your attention to. The first is the very cool design created on the back of the shirt of course—and if you click through to the source link, you can see how it is done. The second thing however is just the way the two shirts have been layered to create a bold contrast. I also love the coordination with the bag and the jewelry.
Source: nicestthings
9. Make a cute crop top.
This link teaches you how to make a quick and easy crop top out of a basic T-shirt. The end result is super flirty and cute!
Source: followfashion
10. Add some extra straps to the back of a tank top.
Most of these ideas and tutorials focus on removing bits of T-shirts in order to create a fun look for summer. Here is the opposite—a design which relies on adding something to an existing tank top.
Source: gina-michele
11. Jazz up the collar of a boring T-shirt.
You know how some shirts don't really give you much room to wear jewelry? If you try to wear a choker or a necklace that sits close to the throat, the collar will get in the way, but with a longer necklace, the collar will still cause the necklace to sit oddly. Here's a solution—modify the collar of the shirt so that the bling is part of the shirt!
Source: muyingenioso
12. Make a ladder down the front of a T-shirt.
This style is super trendy right now and you will see a lot of these shirts for sale—but this is something you could also make yourself! Just cut a v-shape down the front of a T-shirt and then add some fabric straps across the middle to create a ladder pattern. This is a simple but flattering design.
Source: poshmark
13. Cropped T-shirt with cutout arms.
This T-shirt modification requires sewing, but just check out how totally rocking the end result is! This would be well worth the effort!
Video:
14. Embellish a tee with stitching.
Most of the projects in this list feature cutting and/or sewing, but here is something completely different! With this project, you do not need to do any cutting at all; you just do some stitching. But the idea here isn't to make your stitches disappear—it is to make them stand out!
Source: wildolive
15. Make a beautiful cutout around the neckline of your shirt.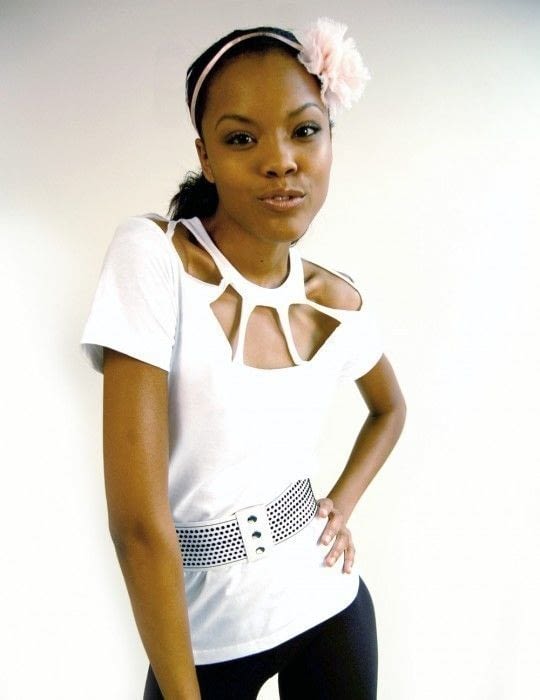 This is a pretty easy pattern for making a pattern around the neckline of a shirt, not so different from the idea shared previously. As you can see, it can transform even the dullest T-shirt into something gorgeous.
Source: cutoutandkeep
16. Make a Brandy Melville-inspired top.
This video tutorial teaches you how you can make an adorable crop top inspired by Brandy Melville. There are so many ways you could personalize this look!
Image:
17. Add pearls to the neck and sleeves of a T-shirt.
This is a lot like the idea shared previously, except that it involves stitching pearls into the gaps you are cutting at the neck and sleeves of your T-shirt. This is a great way to add some instant classiness to any tee!
Source: lovemaegan
18. Create a no-sew modified T-shirt that ties—but isn't a crop top.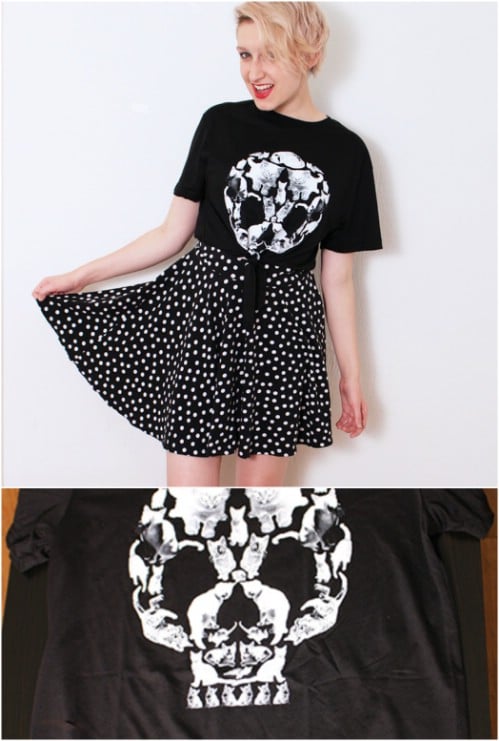 Want to modify a T-shirt without making it into a crop top or something else super skimpy that is only suitable for the blazing hot days of summer? Here is a no-sew pattern where you just cut part of the bottom out of a long shirt so that you can tie it around your waist. Incidentally, if you want it to be a crop top, it can—just cut higher.
Source: thatcheapbitch
19. Cute a heart pattern into a T-shirt.
I love this tutorial for several reasons. First of all, the end result looks awesome. Secondly, this tutorial explains why it is easy to make cutout T-shirts. If you are new to this, you may think you need to cut sizable gaps to make a pattern like this, but you don't—you just have to cut parallel lines, and the material rolls when you pull on the stripes, leaving the gaps naturally.
The other thing I appreciate about this tutorial is that it points out that you can wear a tee like this over top of a contrasting tank top. This is a good move if you don't want to wear it over a bra, but aren't built to run around braless.
Source: macted
20. Make a cute cutout dress for summer.
Have a longer T-shirt that you want to modify? Why not turn it into a fun summery dress? This design is cute and flirty and also keeps you cool on hot days. Check out the video tutorial to find out how to make your own step-by-step.
Video:
21. Convert a baggy T-shirt into a fitted tee without sewing.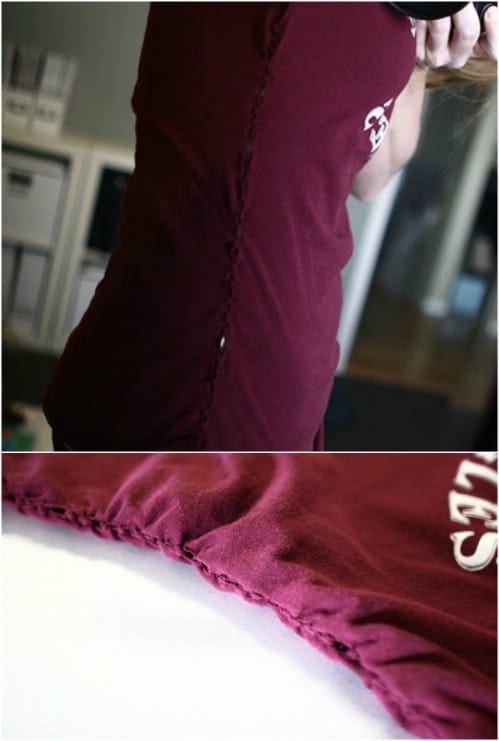 Okay, so this one is pure genius. Have a baggy T-shirt you want to convert into a fitted tee—maybe even a men's shirt which doesn't fit you at all? Turn it inside out, cut parallel fringes along the side (click on the link below to see the tutorial and you'll see what I mean), tie the ends together, and turn it back the right way. Problem solved … mind blown!
Source: connectthedotsons
22. Turn your T-shirt into a cute halter top.
You wouldn't think turning a T-shirt into a halter top would be all that easy, but you'd be wrong. This tutorial only has a few quick steps to it, and the result looks gorgeous!
Source: starsforstreetlights
23. Make a cute, simple dress out of a long tee.
You can easily tell that this dress is a modified T-shirt, but that doesn't make it any less adorable—it just makes it more so! This looks like a fun, fast, easy project to turn an oversized tee into something stunningly chic!
Source: cutoutandkeep
24. Show off your fandom.
This is a modification of a Batman logo T-shirt with the logo cut out and lace stitched in. You do not necessarily need a T-shirt which already has a logo in it to do this though; you could just use a stencil to cut out the shape you want. It's nerdy, feminine, and adorable!
Source: cutoutandkeep
25. Cut out the shape of a cross.
I like the geometric design here—it's a lot different fro just cutting a set of parallel lines! Even though it looks like a lot of work, the video is actually a pretty quick watch, so this is easier to make than it appears to be. There is a downloadable template on the site which you can print out (click the source link), as well as a couple of other printable templates you can use the same way for different designs.
Video:
Source: boatpeopleboutique
26. Make a simple vented tee.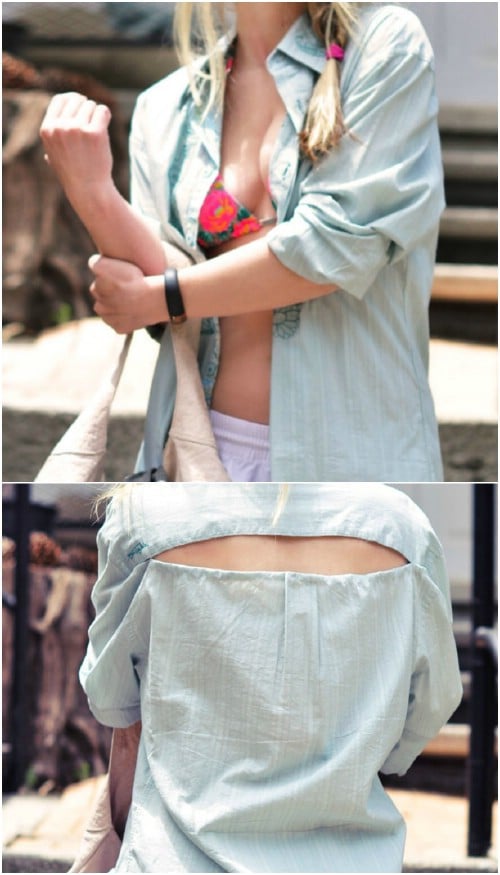 Who says you need to do something complicated just to add some summery pizzazz to an old shirt? This shirt just has a simple slit added in the back. It enhances the look, and also provides a vent so you can feel the breeze.
Source: lovemaegan
27. Make a T-shirt into an off-the-shoulder top.
Love that sultry off-the-shoulder look? You can do that with a T-shirt in a matter of minutes. Check the source link to find out more!
Source: cutoutandkeep
28. Make a wrap crop top.
Not only is this crop top easy to make, but what's super awesome is that you can wear it three different ways! You can see that this one was made out of a long blouse, but you could probably modify a long T-shirt in a similar fashion. Check out the rest of Nicole's blog for more awesome DIY fashion ideas.
Source: thefeltedfox
29. Make multiple modifications to a single garment for a striking effect.
Here is a quick tutorial posted on Pinterest with multiple modifications to a plain T-shirt. Combined, they have a dazzling effect. The collar is particularly innovative.
Source: pinterest
30. Add lace panels to your sleeves.
Getting away from cutouts again, this is a great way to add a little something extra to a shirt with medium-length sleeves. Just remove part of each sleeve and stitch in a lace panel.
Source: dpveen
31. Make a simple DIY shirt weave with looping.
This shirt was modified using the same looping technique which is featured in a number of the other designs I have shared thus far. Follow the link below for a quick tutorial with images to walk you through it. Once you get this technique down, you will find that there is so much you can do with it!
Source: sew-obsessed
32. Make a simple but eye-catching open-back shirt.
There is nothing elaborate about this design, but complex isn't always what you're looking for with a fun summer shirt modification. Click through to the link to find out how to get this look!
Source: planb
33. Learn three easy ways to modify your T-shirts.
In this video, you can learn not one, but three, quick and easy ways to modify your T-shirts for summer glam!
Video:
34. Cut the shoulder out of a shirt.
Sometimes the simplest modification can add some flirty flair to an otherwise boring shirt. Take this idea, which simply requires you to cut the corner out of your shirt shoulder.
Source: saffron-haze
35. Cut out the shape of a butterfly.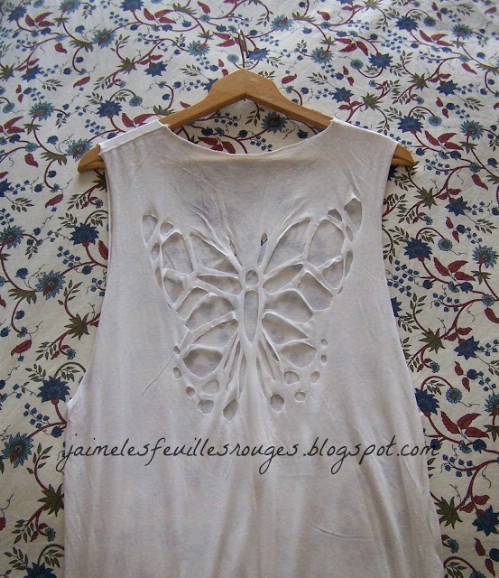 Here is a lovely design for a cutout on the back of a T-shirt—create the shape of a butterfly! As the blog tutorial explains, you can use a washable marker to help you with the lines of a complex design like this one.
Source: jaimelesfeuillesrouges
36. Turn your T-shirt into an easy bathing suit cover-up.
Getting ready to hit the beach? Make sure you check out this easy tutorial before you do so you can be as fashionable as possible while you're strolling along the shore!
Source: lovemaegan
37. Cut a simple heart shape.
This is a simple design, but it's very cute, and provides great ventilation to keep your back cool on those really hot days!
Source: blushlybeauty
38. Macramé a T-shirt.
While this tee looks fancy, it is actually a pretty simple macramé design. Check out the blog where it was originally posted and you will see that there are only a few steps involved.
Source: sew-obsessed
39. Cut out a checkered pattern for your T-shirt sleeve.
With this tutorial, you learn how to create a checkered pattern in the sleeve of your T-shirt. While you could do this with both sleeves, I personally love that she only did it with one and left the other off-the-shoulder. It makes for an edgier look.
Video:
40. Cut out both sides of your T-shirt's neckline.
Here is another tutorial from the same talented DIYer who brought us the previous video with the checkered sleeve. With this one, you find out how to cut out both sides of the neckline of your shirt, leaving strips of fabric to connect the sleeves.
Video:
41. Make a T-shirt with a faux corset back.
If you like the look of a corset, you can replicate it with this T-shirt reconstruction project on YouTube. The end result looks spectacular!
Video:
42. Make an elaborate design out of the back of your tee.
The back of this T-shirt looks incredibly elaborate, but this tutorial is detailed enough that you can easily see how it is done. What a cool, breezy, sexy look for summer!
Image:
43. Here is another way you can make a skull cutout.
Those who enjoyed the skull cutout idea shared earlier will also love this one! Here you take an entirely different approach and achieve a very different effect, but it is one which is equally cool!
Source: wobisobi
44. Cut fringes into a T-shirt and do some bleaching (or dying) for a really awesome effect.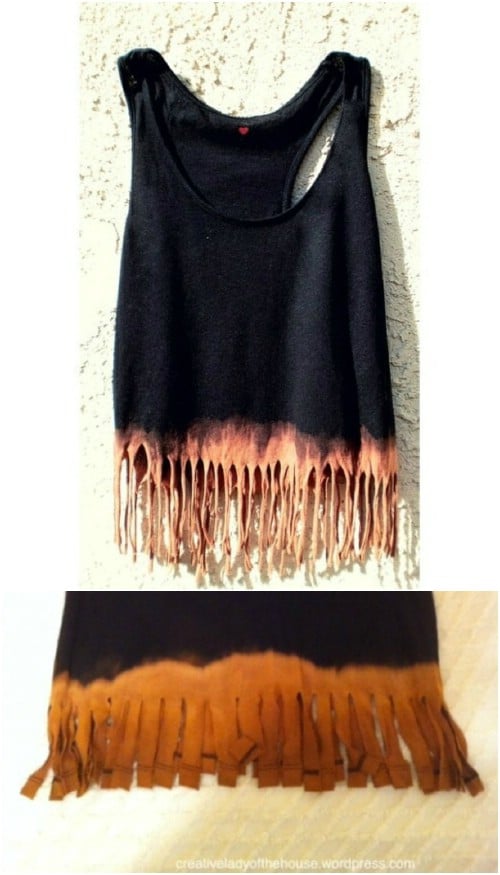 Looking for a fast and easy project to update your look? Just cut fringes out of the bottom of a tee, and then dip-dye or bleach the fringes to show them off.
Source: creativeladyofthehouse
45. Shred your sleeves.
This tutorial teaches you how you can shred the sleeves of a T-shirt for a very unique look. I also love the way she dyed this shirt—the combination of the dye and the shredding really work well together.
Source: gina-michele
46. Lace sleeves and a heart-shaped cutout.
This shirt has a few modifications made to it. The original sleeves have been removed and replaced by lace sleeves, and a heart shape has been cut out of the back. Lace has then been stitched into the heart to fill it in. It looks great!
Source: sozowhatdoyouknow
47. Cut a spiderweb shape.
This idea comes from Pinterest, and entails cutting the shape of a spiderweb into the back of your T-shirt. This design looks like it would take a fair amount of planning and effort, but the finished result is very dramatic and worth every minute!
Source: pinterest
48. Make this totally awesome pattern on your sleeves.
So this one is not a T-shirt … but it is way too cool not to include here on this list. Plus, you can see that she used a technique that I have already shared to do the pattern on the sleeves, and it looks amazing!
Source: pinterest
49. Create a pattern like a ribcage.
The idea with this T-shirt modification is to cut a design which looks a bit like a spine and a ribcage. There are some more literal interpretations of this concept which I will share with you later in the list, but this one has a cool abstract look to it.
Source: steffi-cottoncandycastle
50. Fashion a lace-up blouse.
Here is a simple idea to modify a blouse so that it laces up in the front for a soft, romantic look. You could also take this idea and transfer it to a T-shirt.
Source: look-what-i-made
51. Make a dream catcher design.
I have chased this image all over the web and still have not found the original source, but the dream catcher design is way too awesome not to share with you. Also notice the nice bright contrast with the orange.
Source: aelida
51. Here is another interpretation of the ribcage concept.
Originally this modified sweatshirt was posted on Etsy. The member left, so the original source link is no longer available, but thankfully the image is still floating around. Very cool design, and would look great on a tee.
Source: ohyoucraftygal
52. Get plenty of airflow with this design.
This is another design by the same Etsy artist who made the shirt above. This would be such a cool, breezy design for summer!
Source: ohyoucraftygal
53. Use your friendship bracelet skills.
Enjoy braiding friendship bracelets? Here is an idea that you will love. Make one long braid and use it to tie the open side of a modified T-shirt. This look is really vibrant and fun!
Source: wanelo
54. Make a simple braid up the back of your shirt.
Here we have a great T-shirt modification which has a simple braid running along the back, leaving most of the back of the shirt wide open. There is a full tutorial at the source link.
Source: livingwithjane
55. Even the simplest cut-out can look amazing.
This T-shirt has largely been left alone, but the collar has been given some simple modifications, adding some unique flair.
Source: zaful
56. Turn your T-shirt into a tank top the quick and easy way.
Wish you had more tank-tops in your closet? If you have some old tees you don't mind modifying, maybe you can. This tutorial teaches you how you can turn a T-shirt into a tank top with just a few quick cuts.
Source: somedreamingtree
57. Make a cool crisscross pattern on your sleeves.
Here is a design that I am absolutely in love with! This is a top available for sale, but it doesn't look like a really hard idea to replicate—though you would have to do a very nice, neat job to get this look. It would probably be smart to draw the lines with a washable marker before you make the cuts.
Source: sammydress
58. Here is a cute, simple, flirty idea.
This T-shirt has a couple of cute modifications, making it the perfect flirty garment for summer. The best part however is that you can do it all without ever touching a needle and thread!
Source: wobisobi
59. This simple pattern is absolutely stunning.
This looks like a very easy idea since it is essentially just several rows of small cuts. It emphasizes the collar and the shape of the shirt beautifully, and would be easy to modify to fit your artistic vision.
Source: lightinthebox
60. Make a fabulous T-shirt necklace.
What happens if you cut away so much of a T-shirt that only thin strips are left? Well, you get something like a necklace or a kind of loose, light scarf. Actually, it looks ridiculously cool! Wear it over top of another modified T-shirt, and enjoy making a fabulous fashion statement. The source link includes a tutorial.
Source: keiralennox
61. Make an even more realistic backbone cut-out design.
This shirt for sale gives you another idea for how you could approach the spine/backbone shirt design concept. I love how detailed this one is!
Source: urbanog
62. Create no-sew T-shirt bows.
Like the look of bows on a T-shirt, but don't want to stitch them on? It turns out you don't have to! This extremely clever tutorial teaches you how you can get the same look without any sewing!
Source: creatinglaura
63. Here is another awesome idea for shredding a T-shirt.
With this shirt, a panel down the front has been shredded completely. A contrasting top is worn underneath, creating a bold contrast and emphasizing the design.
Source: lookbook
64. Adding studs to a T-shirt can make for a very polished look.
The studs are essential to this design, both because of the finished look they create and because they functionally are holding the strips together. This makes the pattern easy to cut since you are just making a series of vertical strips.
Source: wobisobi
65. Emphasize your figure with a back-braided tee.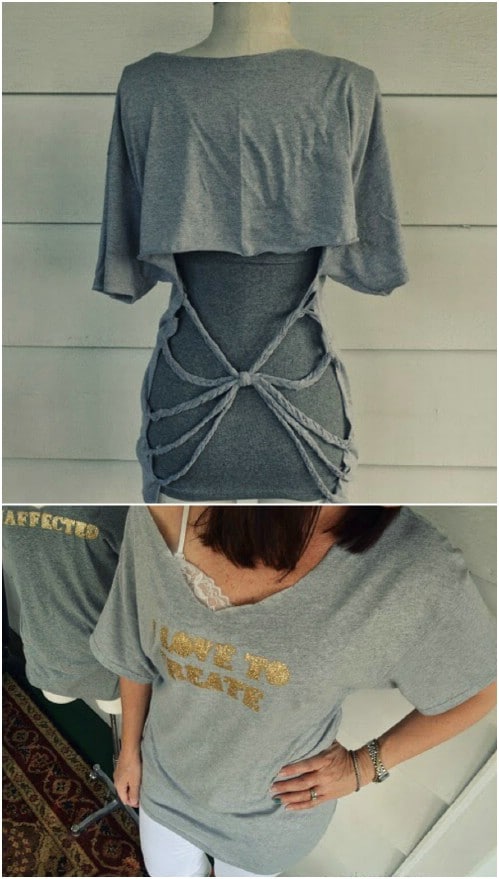 What I love about this design is that the cutting and tying is confined to the lower part of the shirt, starting around the waistline. This emphasizes the waist and the hips, bringing shape to a previously shapeless garment while still making for a loose, casual look on top.
Source: ilovetocreateblog
66. Here is a similar tied-back tee tutorial.
You have probably noticed that I have included a number of tutorials from Wobisobi. This is because there are a ton of amazing T-shirt tutorials on the site. So after you have checked out these ones, I highly suggest heading to the blog and checking out some more. Anyway, this idea is similar to the one above, and once again does a wonderful job emphasizing the wearer's curves.
Source: wobisobi
67. Try this one-shoulder double-tied T-shirt modification for a fun no-sew project.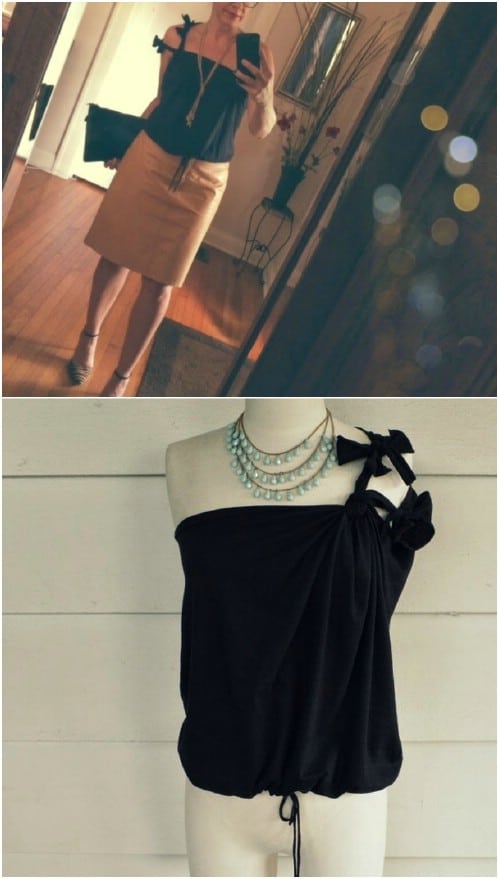 This clever no-sew project is fast and easy and comes out looking great. I especially love the way the shirt now drapes across the back. It looks very elegant!
Source: wobisobi
68. Cut out a dramatic web design.
This is a simple spiderweb design, though the way it has stretched out, it looks more abstract and organic to me. In any case, it looks totally awesome worn over a bright, contrasting color. You could do this design across the front or back or even the sides of a tee.
Source: wobisobi
Make Your Own Jersey T-Shirt Bracelets
This is a great DIY project for kids but we're sure that adults will love it too. You've likely seen those awesome looking chunky bracelets made from fabric. This tutorial shows you how you can create your own and it is so easy that you are sure to want to get the kids involved.
You just need a t-shirt, scissors and the time to make a few chunky bracelets. It doesn't take long and if you have several old t-shirts lying around you can make a bunch of these to give out to your friends.
Use different colors and create unique designs. You get step by step instructions that will have you making these cool bracelets in no time. You just have to cut the strips and then put them together into a bracelet.
This is a great, easy and inexpensive DIY project that is fun and will keep the kids occupied. This jewelrytutorialhq is the website of the video creator, I bet you'll find other cool diy things there.
Conclusion: These Cute T-Shirt Transforms Are the Key to Fun, Flirty Fashion This Summer
Pin these projects:
Now that you've seen all these awesome ideas for modifying boring old T-shirts into something awesome, I bet you're not looking at your wardrobe the same way anymore, are you? Suddenly all those old tees you were thinking of donating or throwing away are crafting opportunities! So grab your scissors, your needle and thread, and your creativity, and try out a few of these tutorials! Soon you'll be rocking the sweetest cutout T-shirts around!
Sours: https://www.diyncrafts.com/30539/fashion/68-fun-and-flirty-ways-to-refashion-your-t-shirts
35 Easy T-Shirt Makeovers for Creatively Cool Clothing
Looking to get some new and cool ideas for your wardrobe but don't have the budget for pricey designer things at the moment? Think T-shirt makeovers. Like having a fairy godmother, but you sort of get to be your own fairy. Instantly transform plain, boring T-shirts into completely new creations. By strategically cutting and reworking a tee, you can get some surprisingly awesome results. Check out these cool DIY fashion ideas you can make with a tshirt. Complete with before and after photos, these cool DIY ideas are super fun to make, too. Get some friends together and make a party of it this summer. A top teen DIY craft for a reason, everyone should try at least one T-shirt makeover.
1. Lace Heart T-Shirt Refashion
sumoftheirstories
2. Gathered Front Raglan
mesewcrazy
3. DIY Rocker T-Shirt
ilovetocreateblog
4. DIY T-Shirt Kimono
celiaagnes
5. DIY Glitter T-Shirt
thecelebrationshoppe
6. Bow T-Shirt Refashion
craft-o-maniac.
7. Boho T-Shirt Refashion
sewsnbows
8. No Sew T-Shirt Apron
sawdustgirl
9. No-Sew One Shoulder Shirt DIY
wobisobi
10. DIY Slashed T-Shirt
lovemaegan
11. DIY No Sew Crop Top
cottonandcurls
12. Red Velvet Ribbon One Shoulder Shirt DIY
wobisobi
13. Easy DIY Lace Sleeve Tank Top
lovemaegan
14. DIY Tie-Dye Swimsuit Cover-up
adventuresofamiddlesister
15. Easy Lace Shirt DIY
sweetcharli
16. DIY Tank Top From A T-Shirt
moneyjarlife
18. Ruffly T-shirt
thirtyhandmadedays
19. Easy T-Shirt DIY Cut Out Back
lovemaegan
20. Colorblock Dress from T-Shirts
clothedmuch
21. Painted Color Block Top
merricksart
22. Simple T-Shirt Refashion
swoodsonsays
23. Add A Zipper
sweet-verbena
24. Large Doily Cut Out Shirt
gesehenundgesehenwerden
25. Sweetheart Bow T-Shirt
melissaesplin
26. DIY Crochet Trim Seam
trashtocouture
27. Screenprint Tee DIY
mycalicoskies
28. Men's Shirt into a Chic Shirt Dress
brit.co
29. Remake a Boxy T-Shirt into a Fitted Tee
bitesizedbiggie
30. Old Mens T-shirt Sewn Into Women's Dolman Tee
trashtocouture
31. DIY Bleach Bride T-Shirt
somethingturquoise
32. One Shoulder Top Refashion
mytwobutterflies
33. DIY Lace Insert Tee
mrkate
34. Peek A Boo Lace T-Shirt Refashion
craftaholicsanonymous
35. Candy Corn Dip Dye T-Shirt
paperblog

Don't Miss Out! Sign up for the Latest Updates
Sours: https://diyprojectsforteens.com/t-shirt-makeovers/
8 Stylish DIY T Shirt Makeover Projects And Ideas
Everyone loves T-Shirt. Its the most comfortable clothing to wear on earth.
With so much going for it, no wonder that most of us hate to throw away our favorite T-shirts.
Well, good news is "You don't have to".
If you have old T-shirts in your wardrobe and are looking for ideas then you are absolutely on the right page.
With below diy t shirt ideas instead of throwing your old T shirts in the garbage, you can easily re-use them and make something stylish.
So parting with your favorite t-shirt is no more hard.
Have a wonderful look.
And hey be ready with your old or oversize t-shirts to refashion them.
1.) DIY Neon Yellow Striped T-shirt
2.) Glitter Striped Top
Check out the full DIY tutorial: asplendidassemblage.com
3.) Doily Embellished Shirt
Check out the full DIY tutorial HERE
4.) DIY Embellished T-Shirt
Check out the full DIY tutorial: trinketsinbloom.com
5.) DIY. Crochet Trim Seam
Check out the full DIY tutorial HERE
6.) DIY T-Shirt Refashion
 Check out the full DIY tutorial HERE
Sours: https://sadtohappyproject.com/stylish-diy-t-shirt-makeover-refashion-projects/
DIY Distressed Cut Out T-Shirts ✂️ - Owlipop
A Fashion Makeover: 15 Cool Ways to Upcycle Old T-Shirts
We're always on the lookout for creative ways that we can upcycle and reuse old t-shirts so we don't end up throwing them our unnecessarily. We fully admit that sometimes this really just means altering them and putting them right back in our wardrobe but hey, at least we switched things up and gave them a new lease on life, right?
Just in case you're as intrigued by the idea of upcycling old t-shirts as we were, if not more, check out these 15 awesomely creative ideas and designs that will give you all kinds of alternatives to throwing things away!
1. Multi-patterned fabric applique shirt
VIEW IN GALLERY
Is the main problem happening in the t-shirt department in your closet right now actually just an over abundance of plain shirts that could use a little more personality? In that case, it sounds like you've got almost everything you need to make this awesome fabric applique t-shirt! Particularly if you're a sewing enthusiast who has lots of fabric scraps lying around, this is a great opportunity to get rid of small bits of material no matter their pattern, since wild visual texture is the whole goal. See what we mean on DIY Mode.
2. Scrunched tank top with tying straps
VIEW IN GALLERY
In your spring cleaning process have you come across a t-shirt that you love the logo or front design of but the neck is stretched out or the sleeves are too tight and you just know you won't wear it as-is anymore, even though you don't like the idea of throwing it out? In that case, we'd suggest taking a look at how Andrea's Notebook made scrunchy tank tops out of simple t-shirts using only scraps from the old shirt itself!
3. Baby pinafore dress
VIEW IN GALLERY
What if you've decided for sure that you know you won't wear a particular shirt again but you still think someone in your family looks good in that colour, even though it's far too big for them? Well, that's how people come up with creative things like this tutorial from Mom Mart for making an adorable baby dress from a bright adult sized t-shirt! Check out how they made a cute crossing pinafore step by step.
4. T-shirt to infinity scarf
VIEW IN GALLERY
Were you pretty intrigued by the idea of saving the logo or design on the front of a t-shirt but you're just not sure you'll wear a tank top in the style we showed you above? Perhaps you've been a little bit pressed for time lately so you're just not sure that you want to take on a lengthy alternations project. Instead, we'd urge you to consider making this insanely simple infinity scarf idea from Fashion Foot instead! They show you precisely where to make the right cuts.
5. Fringed and dip-dyed beach tank
VIEW IN GALLERY
Have you long been a huge fan of the worn, visibly DIY style beach shirts that you see online all the time, but you didn't think you had the spare clothing laying around to make it happen until you started your spring cleaning? Well, you're lucky that you found that old top at the perfect time of year for making the fun tank top you've had your eye on for so long! This tutorial from Home Sweet Road shows you how to not only dip dye it so it's perfectly faded for a sunny day by the water, but also how to cut perfectly sized fringe for maximum Boho beach chic.
6. Side braided workout tank
VIEW IN GALLERY
This might sound silly, but we play favourites hard when it comes to which tops we'll work out in. Just because we have one that we like best, however, doesn't mean we aren't open to the idea of changing it up a little to make it look more interesting or appealing! We actually thought the way So Much to Make added a bit of cute visual detail (and, honestly, a little bit of cool-down ventilation) by making cuts down the sides and tying them in knots was very creative and appealing indeed.
7. Simple tote bag
VIEW IN GALLERY
We've been really big on eliminating plastic bags in our lives lately, so reusable tote bags are an absolute saviour whenever we're out shopping! We find, however, that they just keep getting more and more expensive in stores the more people catch on to how useful they are. That's why we were so crazy about the idea of making our own! Joy's Life guides you through the surprisingly simple process of making them from old t-shirts so you really make an awesome impact on your waste production!
8. Two t-shirts into a pretty child's nightgown
VIEW IN GALLERY
Did we really catch your attention with the idea for turning an adult's shirt into a little kid's dress because the finished product was so darn cute but you're just not sure you like the cross over style of the DIY dress we showed you earlier on our list? In that case, perhaps you'd prefer to take a look at this cute, vintage inspired kid's nightgown instead! Over the Apple Tree guides you through the process of making it from two plain white adult t-shirts, but you could use the same idea for any colour you please.
9. Ucycled t-shirt baby bibs
VIEW IN GALLERY
Are you still totally enamoured with the idea of saving t-shirt logos in creative ways but we just haven't quite found the tutorial or design that's going to hold onto your attention just yet? In that case, we present to you a super funny alternative that's great for people with lots of t-shirts to get rid of because you can always use as many of these as possible: baby bibs! Find out how these ones were made in just a few simple steps on Domesblissity.
10. Twisted back tank top
VIEW IN GALLERY

Are you still thinking about how much you like the idea of making yourself a creative "new" workout tank top from your old t-shirts because you like that it will feel like you're motivating yourself with new goodies, but you won't actually be spending money on anything new? Well, just in case you'd like more than one design for your different old shirts, here's another alternative for you! We can't get over how adorable we find this twisted racer back idea from Shirts.com.
11. T-shirt to baby romper
VIEW IN GALLERY
Just in case you're still feeling totally enamoured with the idea of turning your old shirts in DIY baby clothes, here's an idea that's so simple and comfy that our kids practically lived in these when they were little. Heather Handmade guides you step by step through the process of transforming an adult t-shirt into a comfy little baby onesie that will give your child something cute to wear on lounge days.
12. Patched together t-shirt dress
VIEW IN GALLERY
Are you the kind of spring cleaner who tackles the closets of all your family members at the same time as you tackle your own? In that case, here's an awesome project that will let you use bits and pieces from any t-shirt of any size, no matter whose closet it came from, to create an adorable kids' garment that'll look as good as new! Check out this tutorial from I Am Momma to learn how a cute horizontal patchwork dress can be made in just a few simple steps.
13. Braided t-shirt strip rug
VIEW IN GALLERY
If you've never tried making the classic braided rug project that you'll find countless DIY tutorials for online, then we're sorry to tell you that you're missing out! This is one of those projects that we'll hoard supplies in anticipation of until we have enough and then get the whole family in on making so we can proudly display it in our home knowing we worked on it all together. Check out how My Poppet saved their old shirts, cutting them into long strips to be braided together for a rug that can be sewn together in a number of different shapes.
14. DIY peplum from oversized t-shirt
VIEW IN GALLERY
Have you ever found a t-shirt with a logo or band you like on it at a thrift store but been immediately disappointed to realize that it was about four sizes bigger than you needed? Well, thanks to this adorable DIY peplum tutorial from Boat People Vintage, that's actually the perfect shirt for you to snag! Take a look at their tutorial to see how they used the bottom half of the shirt to make a cute flare after tailoring the top half to fit just right.
15. T-shirt to teddy bear
VIEW IN GALLERY
We've always utterly adored making cute DIY toys out of upcycled garments. There's just something so vintage inspired and kitschy about them, and we like that knowing you made it yourself really shows your loved ones how much care went into the process of creating a nice gift just for them! These completely adorable t-shirt teddy bears with hand stitched features that are outlined on Conexion Sud are the perfect example of what we mean.
Sours: https://wonderfuldiy.com/t-shirts-upcycling-crafts/
Ideas t shirt makeover
Coffee for you. Suddenly, completely automatically, out of habit, you said: - And kiss. An awkward silence enveloped the air. You blushed and began to carefully examine your well-groomed nails as if you hadn't said anything. And I feverishly tried to pretend that I had not heard anything.
Old T-shirt reuse idea - Old T-Shirt Makeover New Idea - Easy way to upgrade your old boring T-shirt
And then again the company remembered me, offered me a contract, saving me from the routine work in the office. Hooray. Again hot Africa with exorbitant distances, wonderful nature and no less wonderful people. Returning to Russia after the first business trip, I understood why it was so easy for me there - the distances, the. Wide open spaces.
You will also like:
I asked again. Exactly. I'm cunning. - said Katya, laughing. Yeah.
611
612
613
614
615