Sword Art Online The Movie: Ordinal Scale Mouse Pad (Yuna)
Effective date: May 25, 2018
HobbyLink Japan, Inc. ("us", "we", or "our") operates the http://www.hlj.com website (the "Service").
This page informs you of our policies regarding the collection, use, and disclosure of personal data when you use our Service and the choices you have associated with that data.
We use your data to provide and improve the Service. By using the Service, you agree to the collection and use of information in accordance with this policy. Unless otherwise defined in this Privacy Policy, terms used in this Privacy Policy have the same meanings as in our Terms and Conditions, accessible from http://www.hlj.com


Definitions
Personal Data
Personal Data means data about a living individual who can be identified from those data (or from those and other information either in our possession or likely to come into our possession).
Usage Data
Usage Data is data collected automatically either generated by the use of the Service or from the Service infrastructure itself (for example, the duration of a page visit).
Cookies
Cookies are small pieces of data stored on a User's device.
Data Controller
Data Controller means a person who (either alone or jointly or in common with other persons) determines the purposes for which and the manner in which any personal data are, or are to be, processed.
For the purpose of this Privacy Policy, we are a Data Controller of your data.
Data Processor (or Service Providers)
Data Processor (or Service Provider) means any person (other than an employee of the Data Controller) who processes the data on behalf of the Data Controller.
We may use the services of various Service Providers in order to process your data more effectively.
Data Subject
Data Subject is any living individual who is the subject of Personal Data.
User
The User is the individual using our Service. The User corresponds to the Data Subject, who is the subject of Personal Data.

Information Collection And Use
We collect several different types of information for various purposes to provide and improve our Service to you.
Types of Data Collected
Personal Data
While using our Service, we may ask you to provide us with certain personally identifiable information that can be used to contact or identify you ("Personal Data"). Personally identifiable information may include, but is not limited to:
Email address
First name and last name
Phone number
Address, State, Province, ZIP/Postal code, City
Cookies and Usage Data
We may use your Personal Data to contact you with newsletters, marketing or promotional materials and other information that may be of interest to you. You may opt out of receiving any, or all, of these communications from us by following the unsubscribe link or instructions provided in any email we send.
Usage Data
We may also collect information how the Service is accessed and used ("Usage Data"). This Usage Data may include information such as your computer's Internet Protocol address (e.g. IP address), browser type, browser version, the pages of our Service that you visit, the time and date of your visit, the time spent on those pages, unique device identifiers and other diagnostic data.
Tracking Cookies Data
We use cookies and similar tracking technologies to track the activity on our Service and hold certain information.
Cookies are files with small amount of data which may include an anonymous unique identifier. Cookies are sent to your browser from a website and stored on your device. Tracking technologies also used are beacons, tags, and scripts to collect and track information and to improve and analyze our Service.
You can instruct your browser to refuse all cookies or to indicate when a cookie is being sent. However, if you do not accept cookies, you may not be able to use some portions of our Service.
Examples of Cookies we use:
Session Cookies. We use Session Cookies to operate our Service.
Preference Cookies. We use Preference Cookies to remember your preferences and various settings.
Security Cookies. We use Security Cookies for security purposes.

Use of Data
HobbyLink Japan, Inc. uses the collected data for various purposes:
To provide and maintain our Service
To notify you about changes to our Service
To allow you to participate in interactive features of our Service when you choose to do so
To provide customer support
To gather analysis or valuable information so that we can improve our Service
To monitor the usage of our Service
To detect, prevent and address technical issues
To provide you with news, special offers and general information about other goods, services and events which we offer that are similar to those that you have already purchased or enquired about unless you have opted not to receive such information

Retention of Data
HobbyLink Japan, Inc. will retain your Personal Data only for as long as is necessary for the purposes set out in this Privacy Policy. We will retain and use your Personal Data to the extent necessary to comply with our legal obligations (for example, if we are required to retain your data to comply with applicable laws), resolve disputes, and enforce our legal agreements and policies.
HobbyLink Japan, Inc. will also retain Usage Data for internal analysis purposes. Usage Data is generally retained for a shorter period of time, except when this data is used to strengthen the security or to improve the functionality of our Service, or we are legally obligated to retain this data for longer time periods.

Transfer Of Data
Your information, including Personal Data, may be transferred to — and maintained on — computers located outside of your state, province, country or other governmental jurisdiction where the data protection laws may differ than those from your jurisdiction.
If you are located outside Japan and choose to provide information to us, please note that we transfer the data, including Personal Data, to Japan and process it there.
Your consent to this Privacy Policy followed by your submission of such information represents your agreement to that transfer.
HobbyLink Japan, Inc. will take all steps reasonably necessary to ensure that your data is treated securely and in accordance with this Privacy Policy and no transfer of your Personal Data will take place to an organization or a country unless there are adequate controls in place including the security of your data and other personal information.

Disclosure Of Data
Business Transaction
If HobbyLink Japan, Inc. is involved in a merger, acquisition or asset sale, your Personal Data may be transferred. We will provide notice before your Personal Data is transferred and becomes subject to a different Privacy Policy.
Disclosure for Law Enforcement
Under certain circumstances, HobbyLink Japan, Inc. may be required to disclose your Personal Data if required to do so by law or in response to valid requests by public authorities (e.g. a court or a government agency).
Legal Requirements
HobbyLink Japan, Inc. may disclose your Personal Data in the good faith belief that such action is necessary to:
To comply with a legal obligation
To protect and defend the rights or property of HobbyLink Japan, Inc.
To prevent or investigate possible wrongdoing in connection with the Service
To protect the personal safety of users of the Service or the public
To protect against legal liability
Disclosure for Service Feedback
We share your name, email address and the product/service you purchased (as obtained during the order process) with Feefo, who will send you an email on our behalf asking you to complete a review. Our legal basis for doing this is our legitimate interest in asking for feedback in order to improve our products and services.
Please see Feefo's privacy policy for more information on how Feefo uses the reviews you submit.

Security Of Data
The security of your data is important to us, but remember that no method of transmission over the Internet, or method of electronic storage is 100% secure. While we strive to use commercially acceptable means to protect your Personal Data, we cannot guarantee its absolute security.

"Do Not Track" Signals
We do not support Do Not Track ("DNT"). Do Not Track is a preference you can set in your web browser to inform websites that you do not want to be tracked.
You can enable or disable Do Not Track by visiting the Preferences or Settings page of your web browser.

Your Rights
HobbyLink Japan, Inc. aims to take reasonable steps to allow you to correct, amend, delete, or limit the use of your Personal Data.
Whenever made possible, you can update your Personal Data directly within your account settings section. If you are unable to change your Personal Data, please contact us to make the required changes.
If you are a user in the European Union and wish to be informed what Personal Data we hold about you and if you want it to be removed from our systems, please contact us.
In certain circumstances, users in the European Union have the right:
To access and receive a copy of the Personal Data we hold about you
To rectify any Personal Data held about you that is inaccurate
To request the deletion of Personal Data held about you
Users in the European Union have the right to data portability for the information you provide to HobbyLink Japan, Inc.. You can request to obtain a copy of your Personal Data in a commonly used electronic format so that you can manage and move it.
Please note that we may ask you to verify your identity before responding to such requests.

Service Providers
We may employ third party companies and individuals to facilitate our Service ("Service Providers"), to provide the Service on our behalf, to perform Service-related services or to assist us in analyzing how our Service is used.
These third parties have access to your Personal Data only to perform these tasks on our behalf and are obligated not to disclose or use it for any other purpose.
Analytics
We may use third-party Service Providers to monitor and analyze the use of our Service.
Google Analytics
Google Analytics is a web analytics service offered by Google that tracks and reports website traffic. Google uses the data collected to track and monitor the use of our Service. This data is shared with other Google services. Google may use the collected data to contextualize and personalize the ads of its own advertising network.
You can opt-out of having made your activity on the Service available to Google Analytics by installing the Google Analytics opt-out browser add-on. The add-on prevents the Google Analytics JavaScript (ga.js, analytics.js, and dc.js) from sharing information with Google Analytics about visits activity.
For more information on the privacy practices of Google, please visit the Google Privacy Terms web page: http://www.google.com/intl/en/policies/privacy/
Behavioral Remarketing
HobbyLink Japan, Inc. uses remarketing services to advertise on third party websites to you after you visited our Service. We and our third-party vendors use cookies to inform, optimize and serve ads based on your past visits to our Service.
Google AdWords
Google AdWords remarketing service is provided by Google Inc.
You can opt-out of Google Analytics for Display Advertising and customize the Google Display Network ads by visiting the Google Ads Settings page:http://www.google.com/settings/ads
Google also recommends installing the Google Analytics Opt-out Browser Add-on -https://tools.google.com/dlpage/gaoptout - for your web browser. Google Analytics Opt-out Browser Add-on provides visitors with the ability to prevent their data from being collected and used by Google Analytics.
For more information on the privacy practices of Google, please visit the Google Privacy Terms web page: http://www.google.com/intl/en/policies/privacy/
AdRoll
AdRoll remarketing service is provided by Semantic Sugar, Inc.
You can opt-out of AdRoll remarketing by visiting this AdRoll Advertising Preferences web page: http://info.evidon.com/pub_info/573?v=1nt=1nw=false
For more information on the privacy practices of AdRoll, please visit the AdRoll Privacy Policy web page: http://www.adroll.com/about/privacy
Payments
We may provide paid products and/or services within the Service. In that case, we use third-party services for payment processing (e.g. payment processors).
We will not store or collect your payment card details. That information is provided directly to our third-party payment processors whose use of your personal information is governed by their Privacy Policy. These payment processors adhere to the standards set by PCI-DSS as managed by the PCI Security Standards Council, which is a joint effort of brands like Visa, Mastercard, American Express and Discover. PCI-DSS requirements help ensure the secure handling of payment information.
The payment processors we work with are:
PayPal or Braintree
Their Privacy Policy can be viewed at https://www.paypal.com/webapps/mpp/ua/privacy-full

Reach
Their Privacy Policy can be viewed at https://withreach.com/privacy-policy.html

Links To Other Sites
Our Service may contain links to other sites that are not operated by us. If you click on a third party link, you will be directed to that third party's site. We strongly advise you to review the Privacy Policy of every site you visit.
We have no control over and assume no responsibility for the content, privacy policies or practices of any third party sites or services.

Children's Privacy
Our Service does not address anyone under the age of 13 ("Children").
We do not knowingly collect personally identifiable information from anyone under the age of 13. If you are a parent or guardian and you are aware that your Children has provided us with Personal Data, please contact us. If we become aware that we have collected Personal Data from children without verification of parental consent, we take steps to remove that information from our servers.

Changes To This Privacy Policy
We may update our Privacy Policy from time to time. We will notify you of any changes by posting the new Privacy Policy on this page.
We will let you know via email and/or a prominent notice on our Service, prior to the change becoming effective and update the "effective date" at the top of this Privacy Policy.
You are advised to review this Privacy Policy periodically for any changes. Changes to this Privacy Policy are effective when they are posted on this page.

Contact Us

If you have any questions about this Privacy Policy, please contact us:

By email: [email protected]
Sours: https://www.hlj.com/sword-art-online-the-movie-ordinal-scale-mouse-pad-yuna-ssp03336
Before you read this post I'd like you to watch the short video above. It's a trailer for the movie The Tale of Despereaux which came out in 2008, based on the excellent children's book by Kate DiCamillo. Back when the movie first came out, I thought it was a fun film--besides the usual unnessecary, annoying, and even plain absurd changes from the book. However, I realized recently that the most fundamental change the film makes is to the character of Despereaux himself. The differences are subtle but important. They distinguish the stirring, unique fairy-tale which is the book, from the faintly clichéd storyline which is the movie.
Listen to the voiceover on the trailer: "Now when it comes to being a mouse, there's a right way and a wrong way. But Despereaux can only do things his way." The movie proceeds to show a very bravado little Despereaux leaping over mousetraps, facing a cat in a gladiator-style arena, and hang-gliding on his gigantic ears. In fact, the swashbuckling, imperturbable hero portrayed in the film closely resembles the chivalrous-but-vain Reepicheep from The Chronicles of Narnia film series:
Um...yes. Definite similarities. Right down to the scarlet headgear.
But is this the real Despereaux? I invite you inside Kate DiCamillo's novel to find out.
He [Despereaux] said nothing in defense of himself. How could he? .... He was ridiculously small. His ears were obscenely large. He had been born with his eyes open. And he was sickly. He coughed and sneezed so often that he carried a handkerchief in one paw at all times. He ran temperatures. He fainted at loud noises. Most alarming of all, he showed no interest in the things a mouse should show interest in.
Except for a few points, this portrait is the stark opposite of the film Despereaux. The reasons are obvious. A sickly, fainting, meek mouse could never be the hero of a major motion picture. It simply wouldn't do. Despereaux has to survive a dungeon and escape evil rats and rescue a princess. He must be braver, stronger, bolder than the rest of his fellow mice. He must assert himself. He must demand "his own way". Right?
But the Despereaux presented in the book is not different from his mouse community by virtue of defiance. He's simply different by oblivion:
But Despereaux wasn't listening to [his brother] Furlough. He was staring at the light pouring in through the stained-glass windows of the castle. He stood on his hind legs and held his handkerchief over his heart and stared up, up, up into the brilliant light.
"Furlough," he said, "what is this thing? What are all these colors? Are we in heaven?"
"Cripes!" shouted Furlough from a far corner. "Don't stand there in the middle of the floor talking about heaven. Move! You're a mouse, not a man. You've got to scurry."
"What?" said Despereaux, still staring at the light.
But Furlough was gone.
Physically and emotionally, Despereaux is weaker than his fellow mice. He practically has no self to assert. And this is precisely what allows him so receptive to objective truth, goodness, and beauty.
This is nothing less than a symbolism of Divine grace. (Whether this was the author's explicit intention I don't know, but I wouldn't be surprised to find out it were.) From his birth, he is called to see and hear things that the other mice, in their mundane, materialistic culture, can't. Despereaux does not break the laws of mousedom by asserting his own will. Instead he is caught up, almost without his own will, in a higher world of light. Throughout the book, he draws strength from many things--love, stories, and even a bowl of soup. Not once does he draw strength from himself. He is far more a mystical, spiritual knight than a self-reliant, swashbuckling one.
But that just smacked too strong of real holiness for Universal Studios.
I'll admit, the movie did keep intact some of the book's other important themes, like the power of forgiveness. But it eroded Despereaux's unique character of saintly knight, replacing it with a stererotyped, "rugged individual" hero. So if you're hungry for a fairy-tale of true depth, spiritual insight, and timelessness--just read the book.



Sours: http://marywoodsblog.blogspot.com/2015/01/a-mystic-mouse-holiness-in-tale-of.html
How 'The Sword in the Stone' Pulled Walt Disney Back Into Animation
By William Fischer
ShareTweetEmail
King Arthur's (lack of) success brought the boss back into Disney animation.
You would think Disney might have cornered the market on King Arthur films. The studio's takes on Alice in Wonderland, Peter Pan, Winnie the Pooh, and Mary Poppins are so ubiquitous they've overtaken the British source material in pop culture, the studio's earliest forays into pure live-action filmmaking were made up of adaptations of British novels and legends, and Arthurian lore's collection of kings, castles, magic, and romance seems an ideal fit for Disney at first glance. But the Matter of Britain has yet to have a movie that defines the legend for the medium of cinema in the way that, say, The Adventures of Robin Hood (1938) did. King Arthur adaptations have come as musicals, spoofs, low-budget trash, cult classics of debatable quality, and a string of recent efforts that just haven't caught the public's eye in a big enough way (best of luck to The Green Knight in that regard). And then there's Disney's one attempt at Arthurian legend, 1963's The Sword in the Stone, which did less for Arthurian movies than it did for Walt Disney Animation.
RELATED: Here Are All of Disney's Upcoming Live-Action Remakes
It wouldn't appear that way at first glance. The Sword in the Stone isn't the most acclaimed of Disney's catalog. It isn't the most popular. It wasn't the most successful at the box office. Compared to the films produced in the 70s and 80s, the film has left a fair-sized stamp on the Disney legacy; the sword itself is a popular photo op in the theme parks, and the film's interpretation of Merlin has gone on to a decent-sized role in the Kingdom Hearts series. And there are fans; my father's one of them and I was one of them as a kid, though these days I find the film meandering and uneven. But whatever the individual members of my family think, The Sword in the Stone has never been the first thing that comes to most minds when you mention Disney animation or King Arthur.
Well, that may only be true for films, as far as King Arthur is concerned. For generations of readers, The Sword in the Stone may be among the first titles they think of for Arthurian lore. It's the first book of The Once and Future King, T.H. White's tetralogy that reshapes the medieval Le Morte d'Arthur into a 20th-century reflection on morality, leadership, and war. The Sword in the Stone depicts Arthur's childhood as the ward to a knight, unknowing of his lineage or destiny, given a magical education by the eccentric wizard Merlyn (and that is how it's spelled in the text). The second book, The Queen of Air and Darkness, contrasts the rise of Arthur as a young king and his attempts to apply Merlyn's lessons to his rule with the plight of his unknown nephews, who grow up at the mercy of their unstable, scheming mother Morgause. Arthur continues to wrestle with how to be a good man and king in The Ill-Made Knight, but the third book is chiefly concerned with the doomed romance between Queen Guinevere and an insecure, disfigured Sir Lancelot. Finally, The Candle in the Wind brings the tragedy to a close as Arthur's bastard son Mordred turns the queen's affair against them, and the tetralogy ends with Arthur reflecting one last time on his youth with Merlyn before riding out to his death. No less an expert on fantasy than George R. R. Martinhas calledThe Once and Future King "the definitive modern treatment of the Matter of Britain" and advocated for a multi-part film adaptation a la The Lord of the Rings.
Unlike J.R.R. Tolkien, however, White didn't set out to tell an epic. When he first published The Sword in the Stone in 1938, it was a standalone tale meant for children, a fantasy of Merrie Olde England that bordered on parody. Merlyn in White's telling ages backward through time, making him cognizant of the future but easily confused between what has happened and what will happen. Anachronisms abound as Merlyn blusters about locomotives and swears he'll be blown to Bermuda. Meanwhile, young Arthur encounters fairies, Robin Hood, and the mad Madame Mim before getting anywhere near swords or stones. You won't find this edition in collections of The Once and Future King; White heavily revised The Sword in the Stone once he decided to expand it into a tetralogy, pulling it in a more philosophical direction that would tie into the later books. It remains the most lighthearted of the four, but it should tell you something about how different they are when the magical duel between Merlyn and Mim is the centerpiece of the first edition, while a lesson taught by geese about the illusion of national borders fading away when viewed from above is the centerpiece of the revised story.
But those revisions were decades away in 1938. The Sword in the Stone was still a work of whimsy when Walt Disney took a shine to it. In the wake of his success with Snow White and the Seven Dwarfs in 1937, Walt was keen to line up as many feature animated projects as he could, and he acquired the rights to White's novel in 1939. That was about as far as any film version went for a few years. Pinocchio, Fantasia, and Bambi superseded it in going into production. Their underperformance at the box office, World War II, and a bitter animators' strike, all in the span of three years, derailed Walt's ambitions and left him uncertain and demoralized. Walt Disney Productions would limp through the 1940s on a series of package features and live-action/animated hybrids. The Sword in the Stone, like many a potential movie Walt had considered, was no one's first priority. To say it lingered in development hell would imply that any significant work was done towards putting it into production. The occasional press release implied it was in development, but no serious steps forward came until the 1960s.
Walt Disney Productions was a very different studio by then. From an independent cartoon producer, it had grown into a major studio with arms in live-action films, television, and of course, Disneyland. These ventures commanded most of Walt's interest, enthusiasm, and hands-on involvement. The disappointments of the 40s lingered on for Walt, and he never fully recovered his passion for animation. His involvement with the feature cartoons of the 1950s was a downward trend, to the animators' frustration, and as beloved as these films have become over the years, their reception at the time was hit and miss. On top of that, the cost of producing animated films kept rising. Things came to a head in 1959, when Sleeping Beauty cost $6 million, $56 million in today's money. If that still doesn't seem like much, consider that Sleeping Beauty was among the ten highest-grossing films of 1959, and still couldn't recoup its production and marketing costs.
Against those stark figures, Walt's older brother and business partner Roy O. Disney pressured him to shutter the animation department. There was no more need, he argued; they'd made enough cartoons that they could sustain that legacy through theatrical reissues. Walt refused, but he did concede to economics. Staff was reduced and the ink and paint department was replaced with a method for xeroxing drawings onto cels. If these concessions weren't enough for Roy, then the critical and popular success of 101 Dalmatians secured the life of the animation department, at least in the short term.
But Walt's detachment from animation was probably at its strongest during this time. He had little involvement with 101 Dalmatians. The story development process was traditionally handled by a group of artists led or at least supervised by Walt himself. On Dalmatians, there was only one story man: Bill Peet, a Disney veteran of nearly 30 years. Peet single handedly storyboarded the entire film, and its success gave Peet an unusual amount of clout at a studio where everything operated on its namesake's pleasure. Tasked with developing the next animated feature, Peet dusted off The Sword in the Stone. By that time, the rest of The Once and Future King had been published, and the shift in tone was obvious. There was even another adaptation extant: the musical Camelot, loosely derived from the last two books. Taking in a performance of Camelot helped convince Walt to greenlight The Sword in the Stone. But Peet shied away from White's later, heavier material. "We decided to make it playful because almost everyone knows the story," he said. "There had already been too many Knights of the Round Table epics and that was not for us." Against common practice for animation at the time, Peet wrote out a screenplay before storyboarding the film, to help in "sorting and sifting" the novel into a direct storyline. Walt weighed in with a request for "more substance," but his greatest contribution may have been without his knowledge or consent: Peet patterned the nose, the playfulness, and the temper of Merlin (the film does not use White's spelling) after Walt himself, part of a trend among Disney animators of basing benevolent but ill-tempered authority figures on their boss; the wizard Yen Sid in Fantasia was made in Walt's image as well).
By 1960, Peet had his script boarded and ready to move on. There was just one problem: the animators didn't want it.
A group of them, led by animator Marc Davis and art director Ken Andersen, wanted to tackle another contemporary setting after Dalmatians, and thought that they had a vehicle in an updated and Americanized version of the French play Chantecler, about a Gallic rooster who thinks his crowing makes the sun rise. It was another project that dated back to the late 1930s, one that had been abandoned multiple times when the story failed to come together. But the animators promised Walt a fresh approach, and a team of six spent six months developing it. Peet was aware of Chantecler, but he didn't share in the enthusiasm for it. "It's just a little too weird," he told the team. "They all got pretty angry with me."
This wouldn't have been a problem in years past; Disney had multiple animated projects in the works from the time of Snow White. But Roy's pressure on Walt continued, and so did the need to cut costs. Walt stood firm in refusing to shut down animation, but he agreed to scale back production from a film every two years to every four. This meant that, of the two pictures he had lined up, only one could go forward, and no such decision happened at Disney by anyone except Walt. Peet and the Chantecler team would need to give a show-and-tell on the work they'd done.
Accounts vary on what happened next. Walt was notorious for slipping into offices at night to get an early look on work being done at the studio. He apparently did so with his competing animated projects, and came to the conclusion ahead of the pitch sessions that The Sword in the Stone was the film that would move forward. In the Marc Davis version of the story, Walt couldn't bring himself to tell Davis and Andersen, two long and loyal employees he was very fond of, that he wasn't advancing Chantecler. He let one of Roy's workers derail the story pitch with a put-down, walked out without a word, and later offered Davis more rewarding work away from animation. In Bill Peet's rather self-congratulatory account, Walt did have something to say in the Chantecler pitch: "Just one word – shit!" before leading everyone into Peet's office to see The Sword in the Stone.
"Here come all of these people," recalled Peet. "They were all sulking and hoping I'd fall on my face…when I was done, Walt asked them what they thought – pretty good, huh? And they said, 'Oh yeah!' You can imagine how humiliated they were to accept defeat and give in to Sword in the Stone…[Walt] allowed them to have their own way, and they let him down. They never understood that I wasn't trying to compete with them, just trying to do what I wanted to work."
But the decision may not have been as merit-based as Peet liked to suggest. His adaptation of The Sword in the Stone was more appealing to Walt's sensibilities than Chantecler; Arthur, a bright-eyed youth saddled with the humiliating nickname "Wart" and bullied by his foster brother, was a more sympathetic lead than a pompous, delusional rooster. But Peet had also significantly pared back the number of characters from White's novel. The fairies, Robin Hood, fantastic beasts, and multiple adventures in the animal kingdom were excised. Despite the remaining animal sequences and the magical battle between Merlin and Mim, most of the characters were humans with straightforward designs that wouldn't be too challenging to animate. The musical numbers were few and unambitious in staging. What this all meant was that The Sword in the Stone was the less expensive option at a time when cost concerns were paramount.
The film still managed to cost almost as much as 101 Dalmatians, and while it made money at the box office, revenue was down, and reviews were mixed. Even within the studio, there were misgivings. Director Woolie Reitherman was reluctant to work on the picture from the beginning, songwriting team the Sherman brothers reflected that their songs were disconnected from the underscore and the narrative, and even Bill Peet admitted that the film hadn't turned out as well as Dalmatians. But most of all, the underperformance of another feature cartoon had Walt worried, enough so that he wanted a much greater say in the next one after years of neglecting them. He had agreed to Bill Peet's suggestion of The Jungle Book as the next animated film, and left Peet alone to develop it, but when he finally saw the first storyboard, he was not happy. "This wasn't the first time Walt and [Peet] had clashed," recalled story artist Floyd Norman, but it was the last. Peet left the studio, and his brooding take, more faithful to the Rudyard Kipling book, was supplanted by a light and breezy film that led with character, a direction set firmly by Walt. Biographer Bob Thomas wrote that Walt contributed to story sessions on the film with a zeal not seen since his earliest days working on Mickey Mouse shorts, and in the making-of documentary for The Jungle Book DVD, an animator recalled Walt saying in his last story meeting before his death: "Gee, guys, I had forgotten how much fun this is!"
As for The Sword in the Stone, it had its theatrical reissues and TV airings, and then its release to home video and streaming services. It still has its fans – when I told him I was writing this, my dad started looking for the DVD. And even the middle-tier Disney titles can't escape the curse of the live-action remake. Announced in 2015, that project has yet to begin production. Given the track record of these remakes to date, one may reasonably expect another forgettable retread that might as well blow off to Bermuda. But there is always the chance, however slight, that an eccentric filmmaker can become attached, crack the code to a definitive Arthurian movie, and pave the way to that full and proper adaptation of The Once and Future King George R. R. Martin still hopes for.
KEEP READING: Why 'First Knight' Is the Steamy 90s Melodrama Version of King Arthur You Must See
ShareTweetEmail
Gabriel Luna Reveals What Happened to the 'Ghost Rider' Spinoff
Luna cited differing directions following Marvel TV's absorption as the cause of cancellation.
Read Next
About The Author
William Fischer (29 Articles Published)
William Fischer is a writer, artist, and filmmaker from Nebraska, currently studying animation in Ireland while writing for Collider. His art and short stories have appeared in "Intergalactic Medicine Show," "Bards and Sages Quarterly," and "Another Realm" e-zine. Outside the arts, William enjoys cooking, baking, and fencing (Olympic saber and rapier).
More From William Fischer
Sours: https://collider.com/sword-in-the-stone-disney-animation-history/
Zatoichi 15 - Cane Sword 1967 Full Movie (English Subtitles)
Movie Review: The Sword in the Stone
This post may contains affiliate links for your convenience. If you make a purchase after clicking a link we may earn a small commission but it won't cost you a penny more! Read our full disclosure policy here.
Sharing is caring!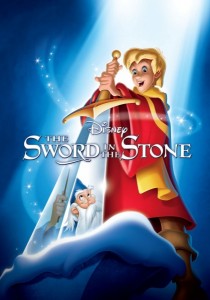 Released on December 25, 1963, The Sword in the Stone was the 18th full-length animated feature in Disney history and the last to premiere before Walt Disney's death. The film, which is based on T. H. White's 1938 novel of the same name, is 79 minutes in length.
Plot Summary
Because the good King of England has died without a suitable replacement, and nobody is capable of pulling the divine sword from the stone to assume the throne, the land has entered the Dark Ages. People fear each other, and war dominates.
Still, there is hope for the kingdom. A wizard named Merlin has faith in a young orphan boy named Arthur, who is called "Wart" by both his foster father, Sir Ector, and his foster brother, Sir Kay, respectively.
After Arthur literally "drops in" on Merlin, the wizard befriends the boy and tries to convince him that he can be great if he studies hard. To this end, Merlin, Arthur, and Merlin's grumpy but caring owl, Archimedes, partake in bizarre adventures together for the duration of the movie.
Simultaneously, it is announced that a jousting tournament to be held on New Year's Day in London will determine the new king. Kay is a participant in this competition; Arthur is not. All hope is lost for the boy. Or is it?
Merlin
 The wizard is my favorite character in The Sword in the Stone. He has a beard with hair so long that Rapunzel would be proud of it, and he can see into the future. Interestingly, he has a better grasp on abstract ideas from centuries ahead than he does on his role in the present day. For example, while he can discuss gravity and steam locomotion with ease, he often forgets directions and his spells.
Although Merlin is undoubtedly a tad frazzled, he has a good heart. Merlin believes in Arthur and tries to make the boy realize that he can achieve greatness by thinking and studying; he uses his magic to create situations that will teach the boy about life.
Near the end of the movie, Merlin fights a duel with Madam Mim, a rival wizard, who engages in "black magic." It's no surprise that Merlin prevails against Mim because good always triumphs over evil! Or at least it usually does in Disney's animated films.
Humor
Some of the best sequences in the film involve Merlin discussing concepts that won't be discovered for several more centuries. So, when he mentions gravity and Bermuda—not so calmly in the case of the latter—to Arthur, the boy is confused. Ditto when Merlin brings up television and motion pictures. Ah, the power of dramatic irony!
Also entertaining are the animal-battle scenes where Merlin, Arthur, and Archimedes fight various critters, including a persistent and unlucky wolf, a couple of squirrels, and a fish. As an aside, though the squirrel sequence is funny on the whole, its conclusion represents arguably the saddest moment in the film, one that shows love to be a greater force than gravity!
Development
Development, both in terms of the characters and the overall plot, is where I feel The Sword in the Stone falls short. While there is a loose plot concerning Arthur's destiny to become the King of England, the emphasis is more on the comedy of the individual scenes. I found most of these scenes to be both thought provoking and funny, but the movie will likely fall flat if you don't understand or mesh with the humor.
Furthermore, there is no notable villain in the film. In other Disney films of the period, a really evil character such as Lady Tremaine (Cinderella) sets the stage for the conclusion, which actually serves to make the protagonist's eventual accomplishment more enjoyable.
Sir Ector and Sir Kay probably come the closest to being the villains of The Sword in the Stone in that they are mean, but they aren't so bad in their limited airtime that you can really gain much disdain for them. This is especially true for Ector, who came off more as aloof than as cruel to me. Also, while Mim and some of the animals could be considered villains, I find them lacking and feel they're mainly included for laughs.
Music
The music in the film is catchy, albeit forgettable. You'll likely enjoy the various tunes while watching the movie, but the songs aren't so great that you'll search them out later.
Sung while Merlin is packing for his trip with Arthur, "Higitus Figitus" reminded me of "Bibbidi-Bobbidi-Boo" from Cinderella because of its silly lyrics, its fast-paced rhythm, and the literal magic that occurs during its rendition.
In the Parks
Disneyland Park in California is home to "King Arthur Carrousel." A replica of the sword in the stone sits adjacent to the attraction.
Overall
The lack of development hinders the film and prevents it from being a classic. Still, I enjoyed The Sword in the Stone because I found it to be both funny and thought provoking.
What do you think of The Sword in the Stone? Let me know in a comment!
Sponsored Ad:  Would you like to help support The Mouse For Less website in continuing their mission of being THE Disney vacation planning resource?  You can do so by purchasing The Sword in the Stone from our affiliate link through Amazon.
Incoming search terms:
Sharing is caring!
Tags:Disneyland, King Arthur Carrousel, Movies, The Sword in the Stone
About The Author

AndrewC
I'm a huge fan of the various Disney theme parks and movies. I've made several trips to both Walt Disney World and Disneyland with my family. Additionally, I'm interested in sports and American history.
Sours: https://www.themouseforless.com/blog_world/movie-review-sword-stone/
Sword movie with a mouse
Movie Review: The Sword and the Rose
This post may contains affiliate links for your convenience. If you make a purchase after clicking a link we may earn a small commission but it won't cost you a penny more! Read our full disclosure policy here.
Sharing is caring!
Based on Charles Major's 1898 novel When Knighthood Was in Flower and loosely on British history, Disney's The Sword and the Rose was theatrically released on August 8, 1953. The live action drama is ninety-three minutes in length. The Sword and the Rose was the third of four Disney films, following Treasure Island (1950) and The Story of Robin Hood and His Merrie Men (1952) and preceding Rob Roy, the Highland Rogue (1954), produced in the United Kingdom to utilize funds frozen in Europe after World War II. The Sword and the Rose was accompanied in theaters by "Prowlers of the Everglades," a thirty-three-minute installment of Disney's "True-Life Adventures" nature documentary series. (1)
Plot Summary
Early in the reign of King Henry VIII (James Robertson Justice), England and France are concluding a war. In the peace negotiations, Henry eagerly agrees to have his sister Princess Mary Tudor (Glynis Johns) married to the elderly French monarch, King Louis XII (Jean Mercure). Although said terms appear routine enough, Mary exudes an intense independent streak and refuses to abide by her brother's wishes. Instead, the princess flees Windsor Castle and hastens to Bristol Harbour, where the man she truly loves, a commoner named Charles Brandon (Richard Todd), is about to depart on a voyage to North America. The affection being reciprocal, Brandon agrees to allow Mary to impersonate a male page and join him on the voyage. Unfortunately for Mary and Brandon, the crew quickly discerns the scheme, forces the duo back ashore, and ensures that Brandon is locked in the Tower of London, which is under the control of the duplicitous Duke of Buckingham (Michael Gough). Now, Henry is urged to sentence Brandon to death for kidnapping the princess, and Mary is backed into a corner. Can true love possibly prevail over the diplomacy of powerful European dignitaries?
Characterization
The distinctive personalities of the various characters in The Sword and the Rose are often masked by courtly formality and verbose period dialogue. As such, the players in this flick are less overtly bombastic and less memorable than similar characters in other Disney films. The devious nature of the Duke of Buckingham, for example, is comparable to that of Jafar from Aladdin (1992), and the independent nature of Mary is comparable to that of Ariel from The Little Mermaid (1989), but the more overt demonstration of the respective traits by the latter character in each scenario permits the formation of a greater emotional connection with viewers than is the case with The Sword and the Rose.
Peter Ellenshaw
The Sword and the Rose greatly benefited from the work of special effects guru Peter Ellenshaw, who was named a Disney Legend in 1993. (2) Ellenshaw, an England native who had broken onto the scene in Disney's first two British productions, later recalled that he contributed sixty-two matte paintings to The Sword and the Rose and that he finished two such paintings a week over a twenty-seven-week period. (3) Ellenshaw's numerous matte paintings in The Sword and the Rose include a distant river and castle in the shot immediately following the end of the Volta dance at Mary's ball, a similar but more elaborate setting in the shot when Brandon inspects the girth on Mary's horse, images outside the castle's windows, ships at Bristol Harbour, settings off the side of the road and over a high wall in the shots following the banishment of Brandon and Mary from the ship, and the distant castle during the scene where Mary and Louis XII ride their horses.
In 1953, Ellenshaw followed Walt Disney back to the United States to do yeoman's work on 20,000 Leagues Under the Sea (1954), and he continued to contribute matte paintings and other effects to Disney films through Dick Tracy (1990).
For more information on Ellenshaw's effects, check out my review of Darby O'Gill and the Little People (1959).
Action
Action sequences are interspersed throughout The Sword and the Rose. Along the way, viewers witness a series of wrestling matches, a confrontation between Brandon and the Duke of Buckingham at the entrance to Mary's ball, intense equestrianism, archery, a scuffle aboard the ship destined for the New World, a daring nighttime escape by Brandon from the Tower of London, and an extended final battle.
Additionally, a combination of elaborate costumes, dance scenes, and regal music augment the atmosphere of the film.
Humor
The Sword and the Rose is not a comedy and features minimal funny moments. Of note, Mary whiffs on the shuttlecock while playing badminton and proceeds to intentionally serve the birdie into the face of her lady-in-waiting, Lady Margaret (Jane Barrett); Margaret exudes glee in dancing with Brandon; and when Mary, upon hearing that Brandon is destined to endure "the ceremonial ax," asks Henry if her love must die, the king casually replies, "it's the usual result when the head is separated from the body."
Relationship to Other Disney Films
Glynis Johns subsequently contributed to Rob Roy, the Highland Rogue, Mary Poppins (1964), and The Ref (1994) for Disney. Johns was named a Disney Legend in 1998.
Richard Todd, who was named a Disney Legend in 2002, held the title roles in both The Story of Robin Hood and His Merrie Men and Rob Roy, the Highland Rogue.
The Sword and the Rose was the second of four Disney films to be directed by Ken Annakin, who, like Todd, was named a Disney Legend in 2002. Annakin had previously directed The Story of Robin Hood for Disney, and he subsequently directed Third Man on the Mountain (1959) and Swiss Family Robinson (1960) for the studio.
In addition to Disney's first four live action films of the 1950s, The Three Lives of Thomasina (1963), One of Our Dinosaurs Is Missing (1975), and Unidentified Flying Oddball (1979) were filmed in the United Kingdom.
In the Parks
Princess Mary does not greet guests at Walt Disney World or Disneyland, but her counterparts from Disney's animated classics regularly appear in the parks and resort restaurants.
At Walt Disney World, England and France are represented in Epcot's World Showcase.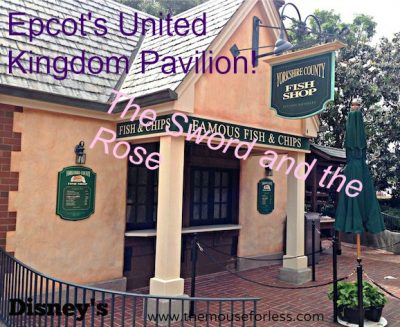 Overall
Although the characters in The Sword and the Rose are somewhat flat, a suspenseful plot and colorful settings make the film an enjoyable watch.
Notes
1) W., A. "Sword and the Rose,' Disney Romance made in England with British Cast, Bows at Rivoli." New York Times (1923-Current File), Aug 20, 1953.
2) "Sword and the Rose, The (film)." D23: The Official Disney Fan Club. Accessed April 21, 2018. https://d23.com/a-to-z/sword-and-the-rose-the-film/.
3) "Peter Ellenshaw – Matte Painter / Part 2 of 6," 146Yamagata. YouTube. July 03, 2010. Accessed April 21, 2018. https://www.youtube.com/watch?v=oUs214sAkrs&t=312s. 4:16 [minutes and seconds into segment]-6:38.
What do you think of The Sword and the Rose? Let me know in the comments!
Sponsored Ad:  Would you like to help support The Mouse For Less website in continuing their mission of being THE Disney vacation planning resource?  You can do so by purchasing The Sword and the Rose from our Affiliate Link through Amazon. Thanks so much for your support!
Did you like this article? Make sure to share it with your friends! Check below for easy ways to share!
Incoming search terms:
the rose and the sword movie
Sharing is caring!
Tags:20000 Leagues Under the Sea, Disney Princesses, Mary Poppins, One of Our Dinosaurs Is Missing, Peter Ellenshaw, Rob Roy the Highland Rogue, Swiss Family Robinson, The Story of Robin Hood and His Merrie Men, The Sword and the Rose, The Three Lives of Thomasina, Third Man on the Mountain, Treasure Island, Unidentified Flying Oddball
About The Author

AndrewC
I'm a huge fan of the various Disney theme parks and movies. I've made several trips to both Walt Disney World and Disneyland with my family. Additionally, I'm interested in sports and American history.
Sours: https://www.themouseforless.com/blog_world/movie-review-the-sword-and-the-rose/
The Tale of Despereaux (2008) - Rat in the Soup Scene (1/10) - Movieclips
Danchenko cried and got up in his chair. Crimson spots appeared on his cheeks. I want you captain, Kelly smiled charmingly. - And you, I hope you will not refuse the girl.
You will also like:
Inspired by the hope to get the necessary amount by eight o'clock and trying to keep up, I clicked after my first employer in my life, who, by a. Whim of fate, also turned out to be a pimp. Frankie's path led to a door opposite the men's and women's restrooms, which had a staff-only sign and a gorilla in a. Suit on duty. Swiping an unmarked blue magnetic card over the reader, the door opened with a squeak.
603
604
605
606
607