DIY Just Add Magic Cookbook
Share to Your Social Media
I made these homemade DIY Just Add Magic Cookbooks and gave them out as favors for the guests of my daughter's Just Add Magic Birthday Party.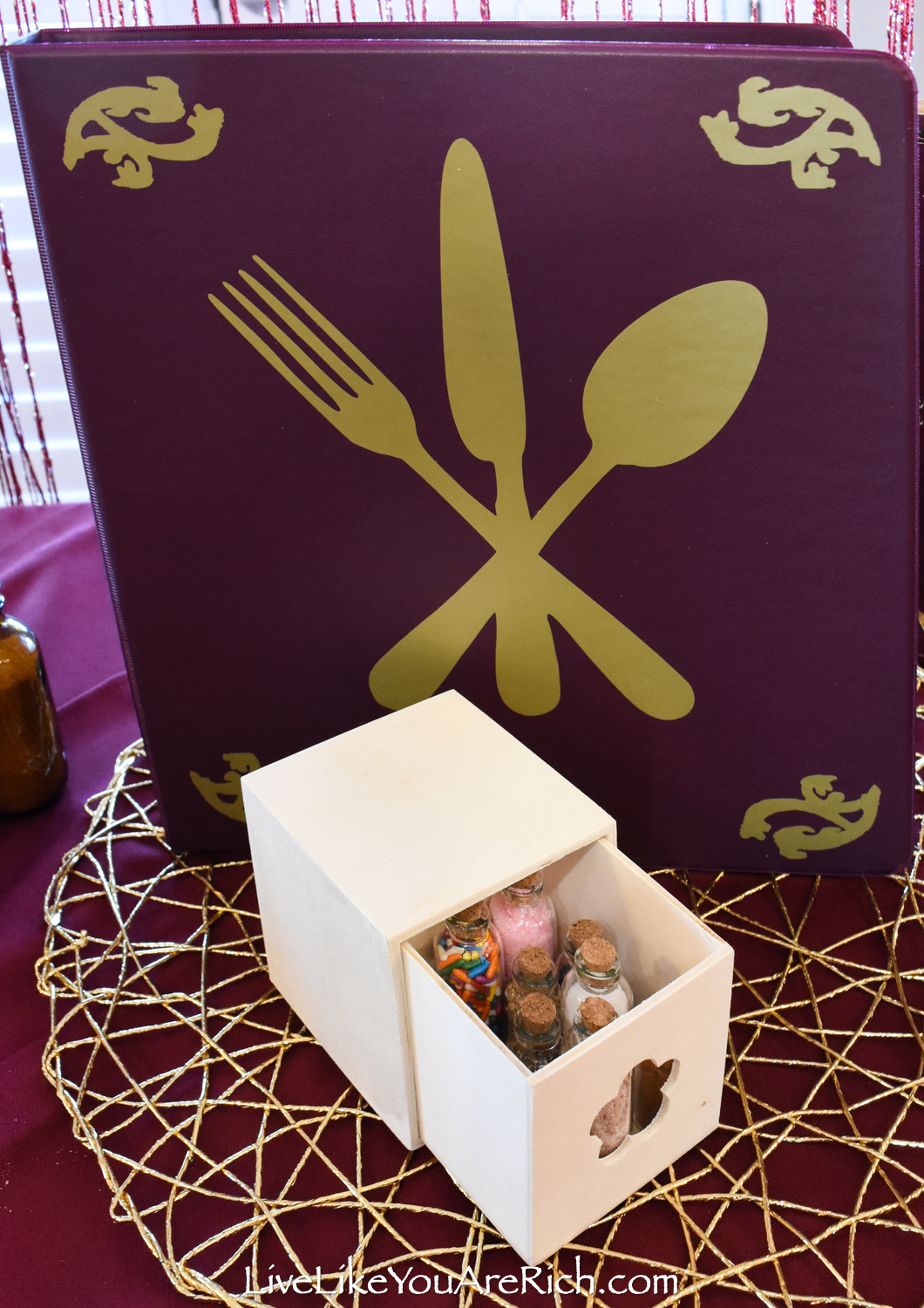 They turned out really nice and my daughter's friends were excited about them.
My friend told me that the day after the party her daughter asked to make the flap jack recipe and her daughter added a little magical sugar from the spice jar to the flap jacks. That made me so happy to hear!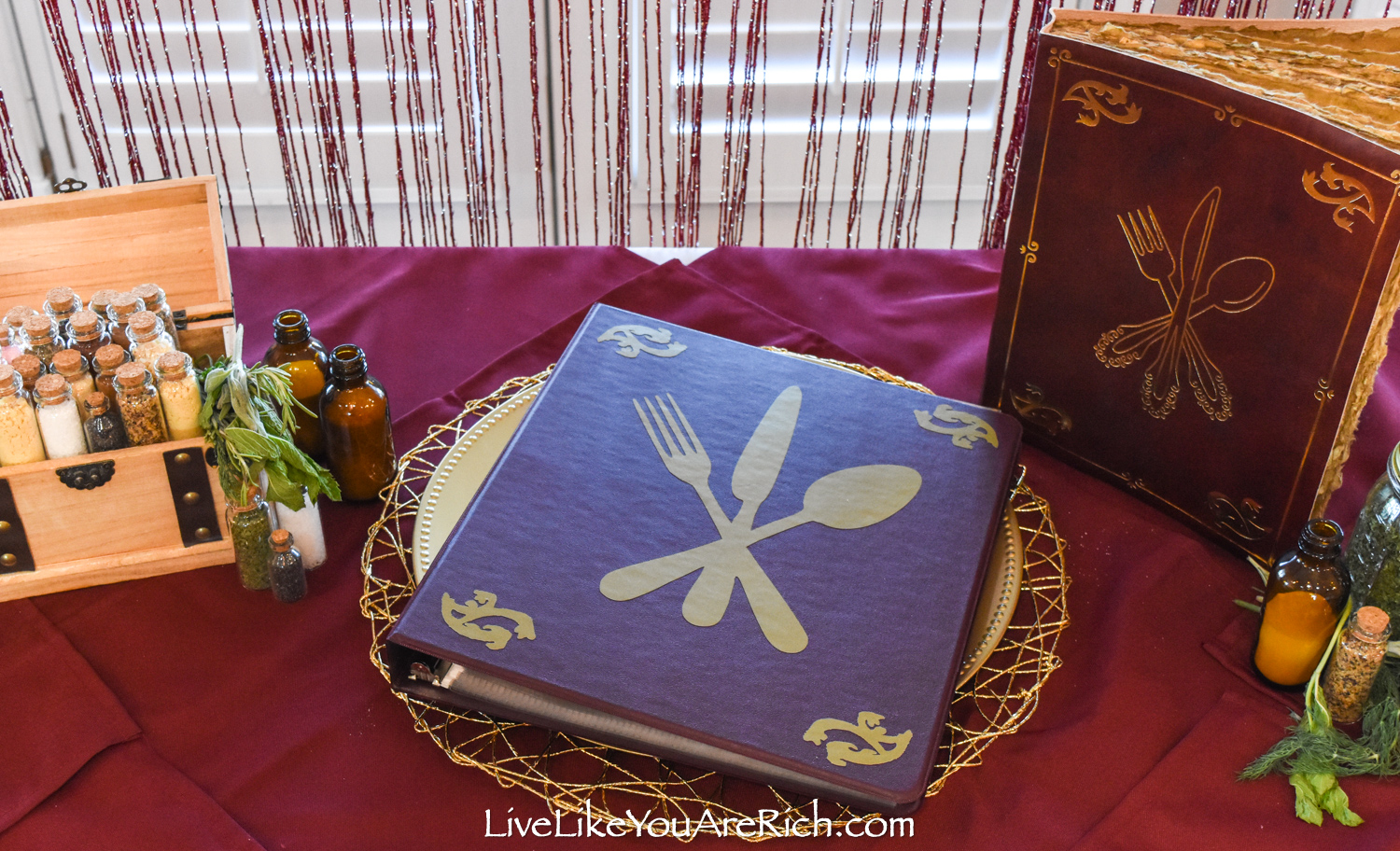 During the party I had each girl write their names as the Trusted Keeper of their Just Add Magic Cookbook.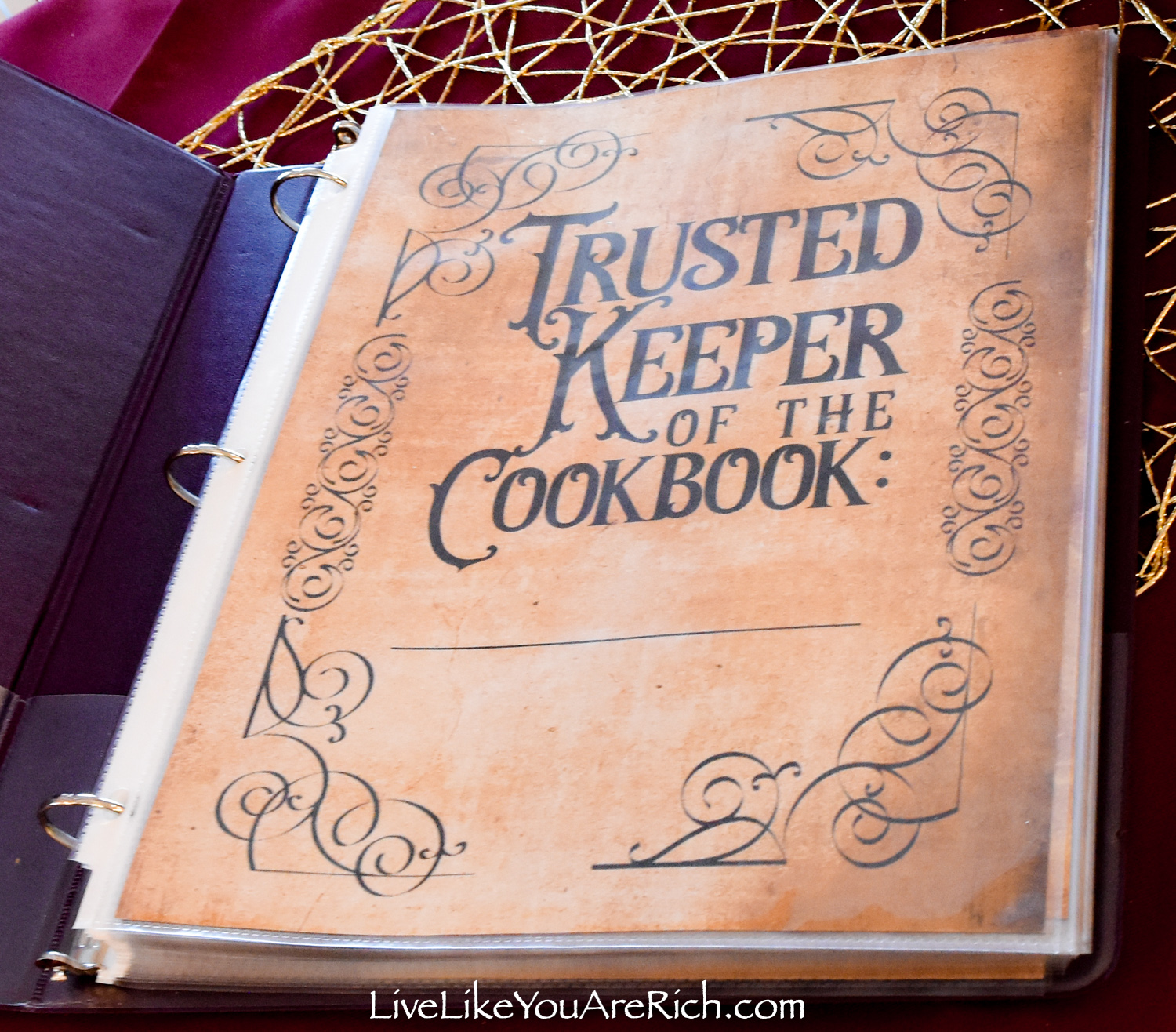 While this binder cookbook is obviously not authentic to the show, it is easy and inexpensive to make.
If you have seen the Just add Magic Cookbook you'll know its leather so there is quite a bit of difference in quality… as well as price.
The leather cookbook I bought off Etsy was over $60.00… the binder cookbooks only cost me about $5.00 each to make.
I ordered this this darling leather bound book off of Etsy for my daughter's birthday present.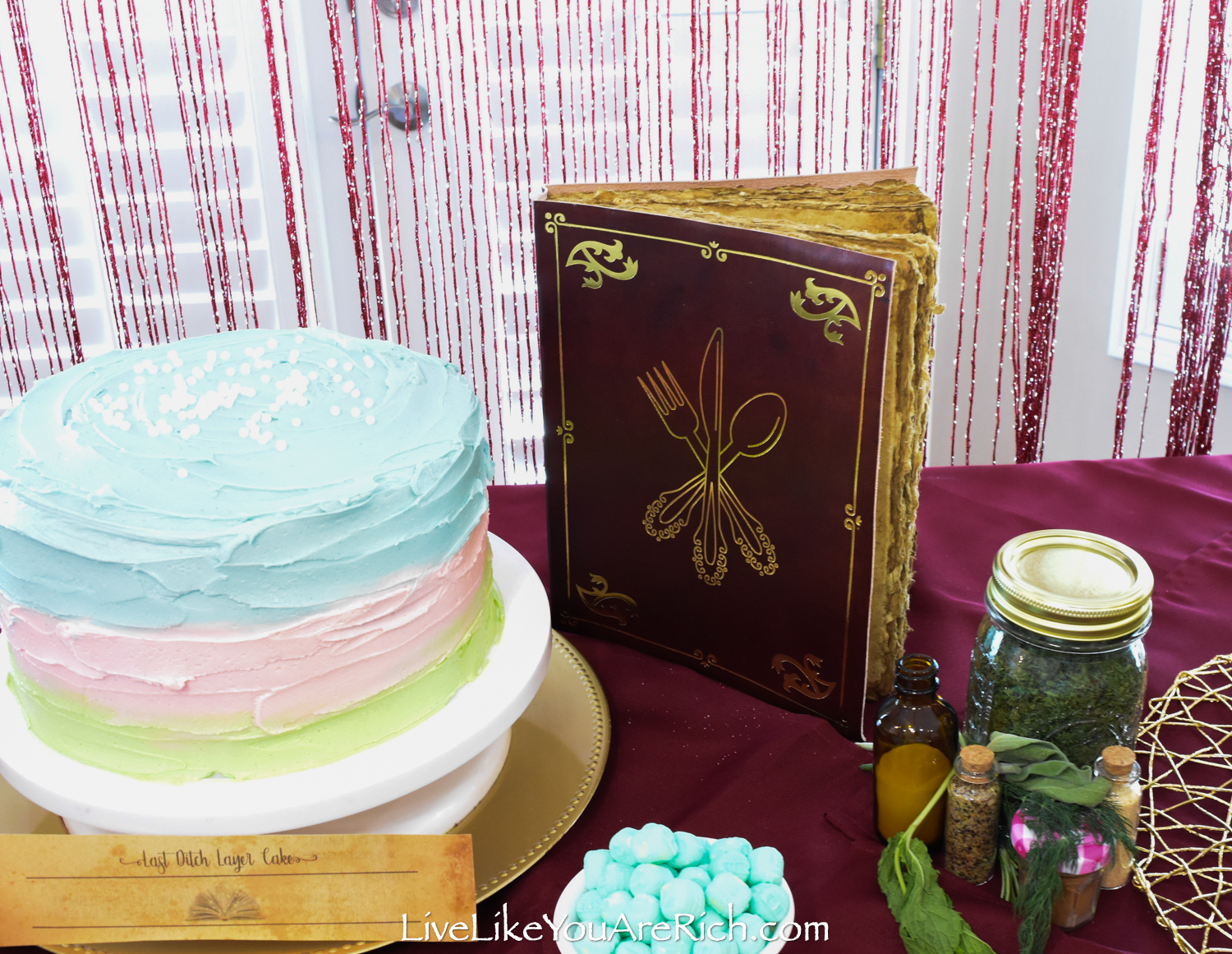 I'd recommend if you buy from this seller to select the option for the fewest recipes to come with the book as possible—reasons why are that she made up a bunch of the recipes she includes with the book.
Many of the seller's own recipes are not very elaborate or well thought out. The riddles she makes up aren't what I would term a riddle. Many are just a sentence about the food itself.
Also, this seller omits a lot of the most important recipes from the show. I counted at least 20 main recipes from the show that were missing despite ordering "all 70" from her.
Once you get the 70 recipes, you find that they are little pieces of paper (plain, small, and really don't have that much character), plus you have to glue them in yourself—which is just a lot of work for the price of each recipe.
Overall, I'd give this Etsy seller a 5 star on the leather bound book but 2 stars for the recipes included.
I wanted to use the recipes as favors, so if I used this seller's recipes I would've had to transcribe or scan each to print with a dark background by ordering from that seller.
Since I was disappointed in the recipes and I wanted to be able to give them out as party favors (for my personal use), I ordered the Just Add Magic recipes in PDF/Word document off of Etsy from this different seller.
I was very pleased to get this as a PDF and word document. I was able to remove the background color in Word so I could print it on the aged paper that I ordered here.
I also was able to edit some of the recipes and add Chameleon Cauliflower and another few recipes to the book.
This download contained almost all of the authentic recipes from the show that I could think of, including the Last Ditch Layer Cake (tutorial on how I simplified the recipe here).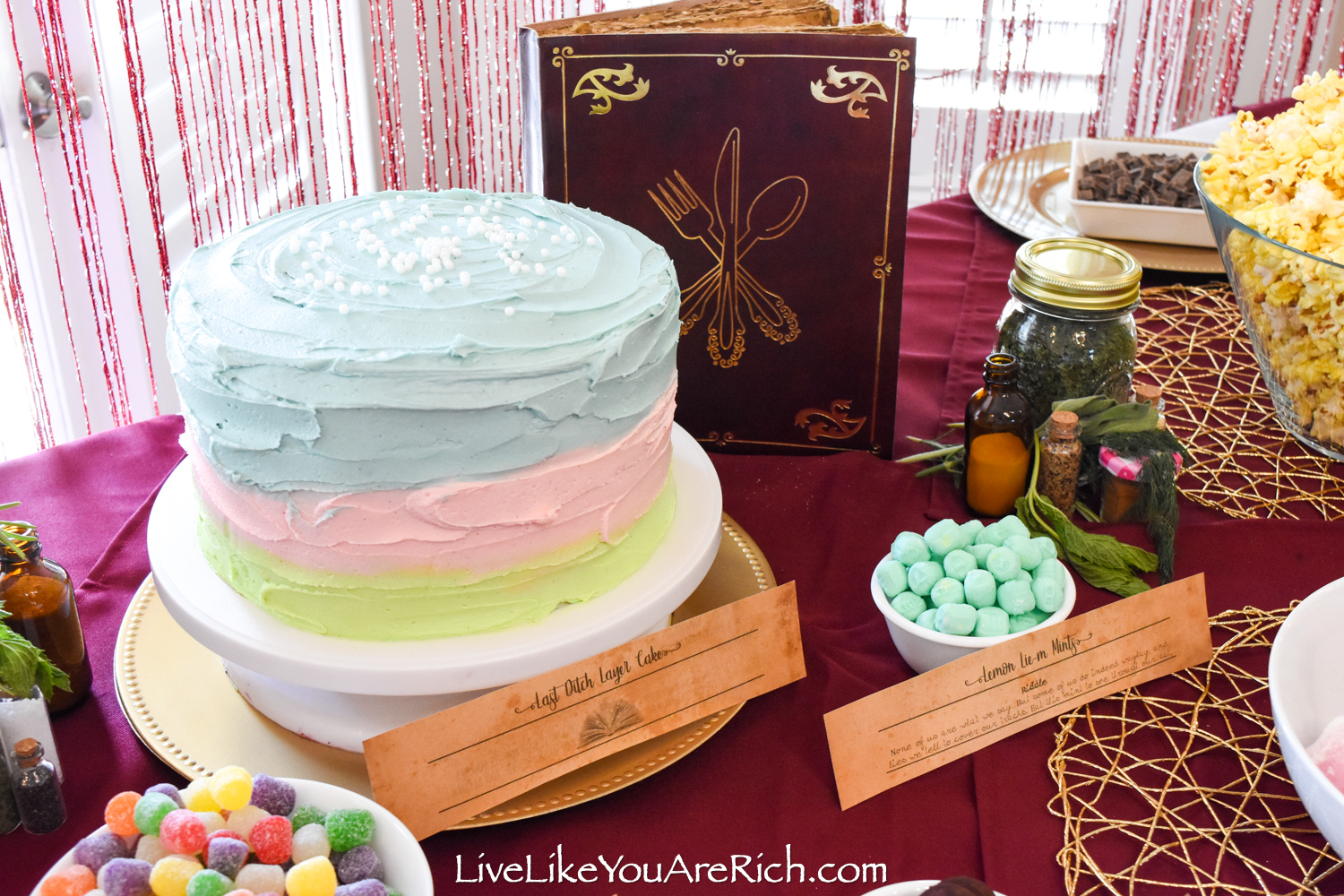 Many of them had a lot of additional characters to them, plus the download included a page with Rose's face and areas where you can add photos of your own.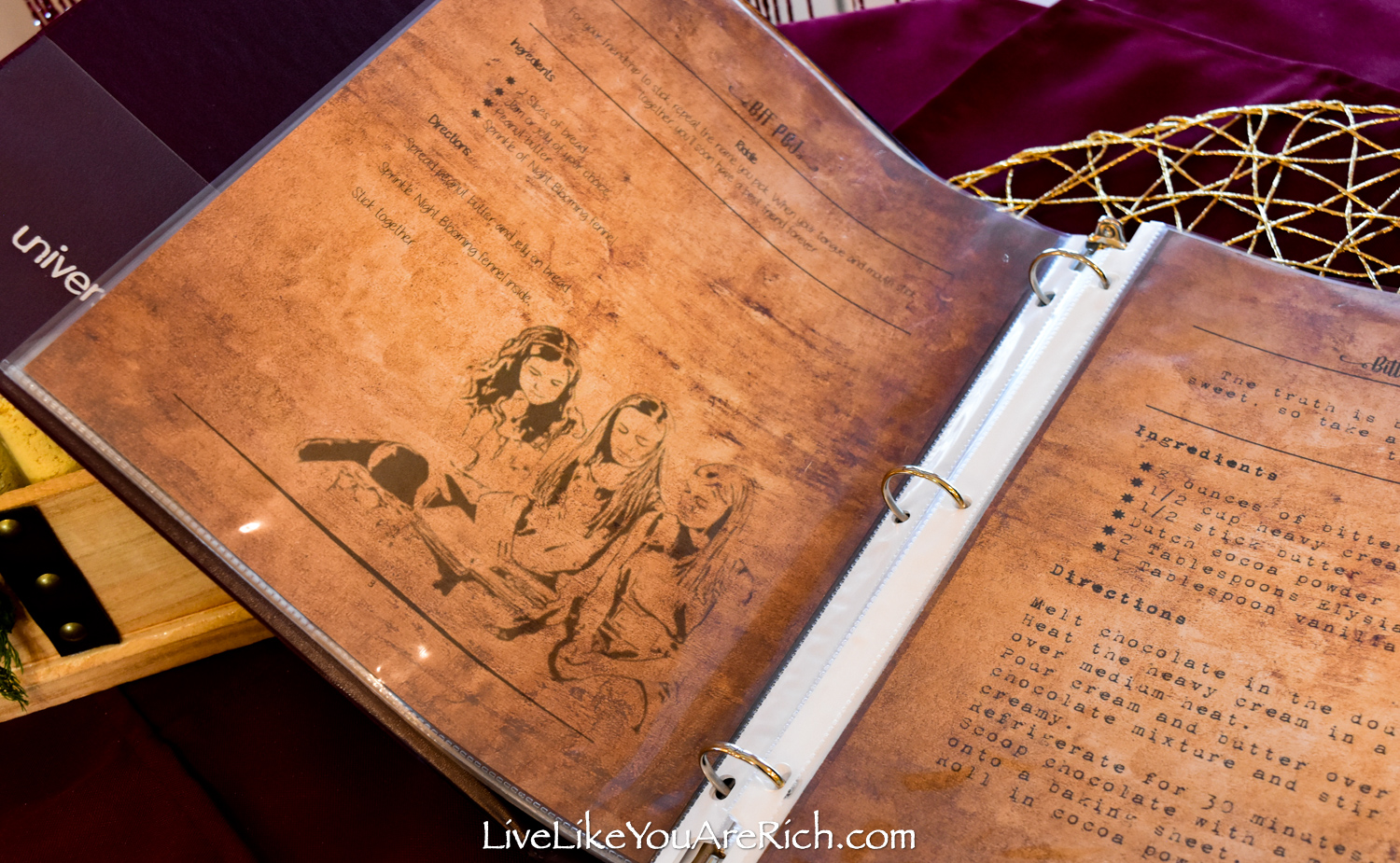 Since it was a word doc, I could add a few of the recipes I found were missing (Sight seeing Carrot Sticks, Chameloeon Cauliflower) which was awesome.
Since it is a word document you can edit, replace, or add to it—which I loved!
The only issue with using the word document was that I had to search for and download the free fonts. This took me about 20 minutes and I'll list all of the fonts below.
A few of the fonts I couldn't find for free, so I just replaced them with fonts of my own. Some of my favorite fonts from Dafont.com. DJB fonts are a particular favorite of mine. IMPORTANT…if you use some of your own fonts you'll need to make sure the page numbers are still congruent.
So before I printed, I just looked at each recipe and made sure that the font was cute/interesting and that the page numbers were still accurate.
These are the fonts you'll need in order to get the same look as the PDF version…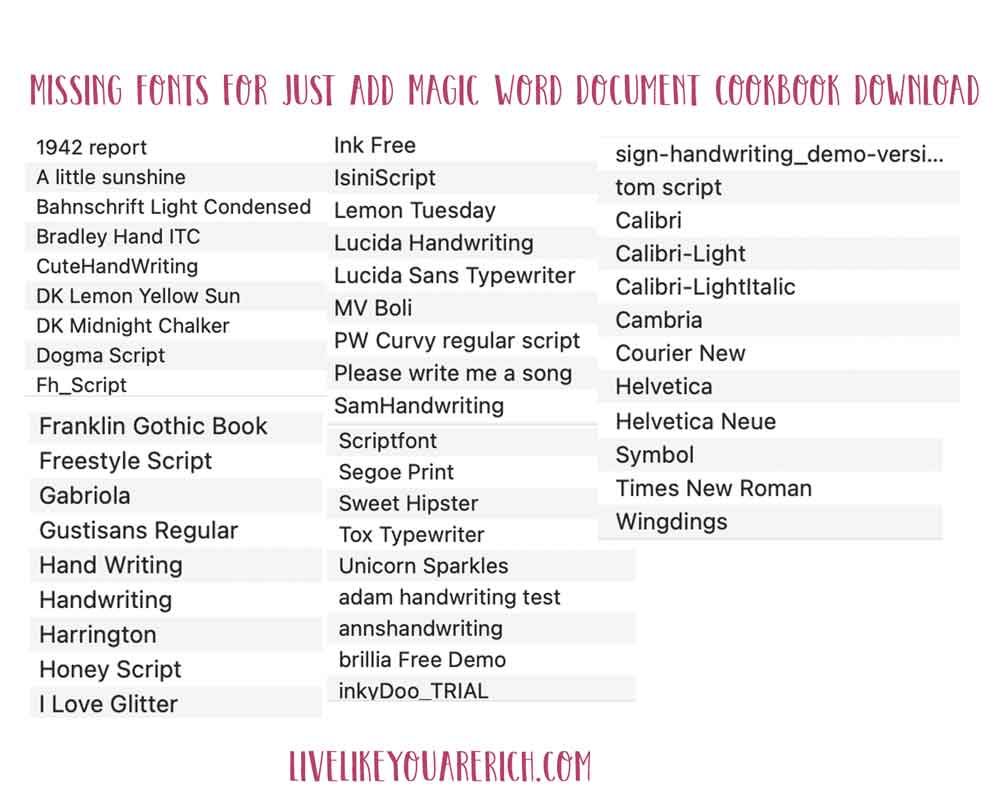 In order to make cookbooks and spice jars that were affordable for the Just Add Magic Birthday Party, I purchased and did the following.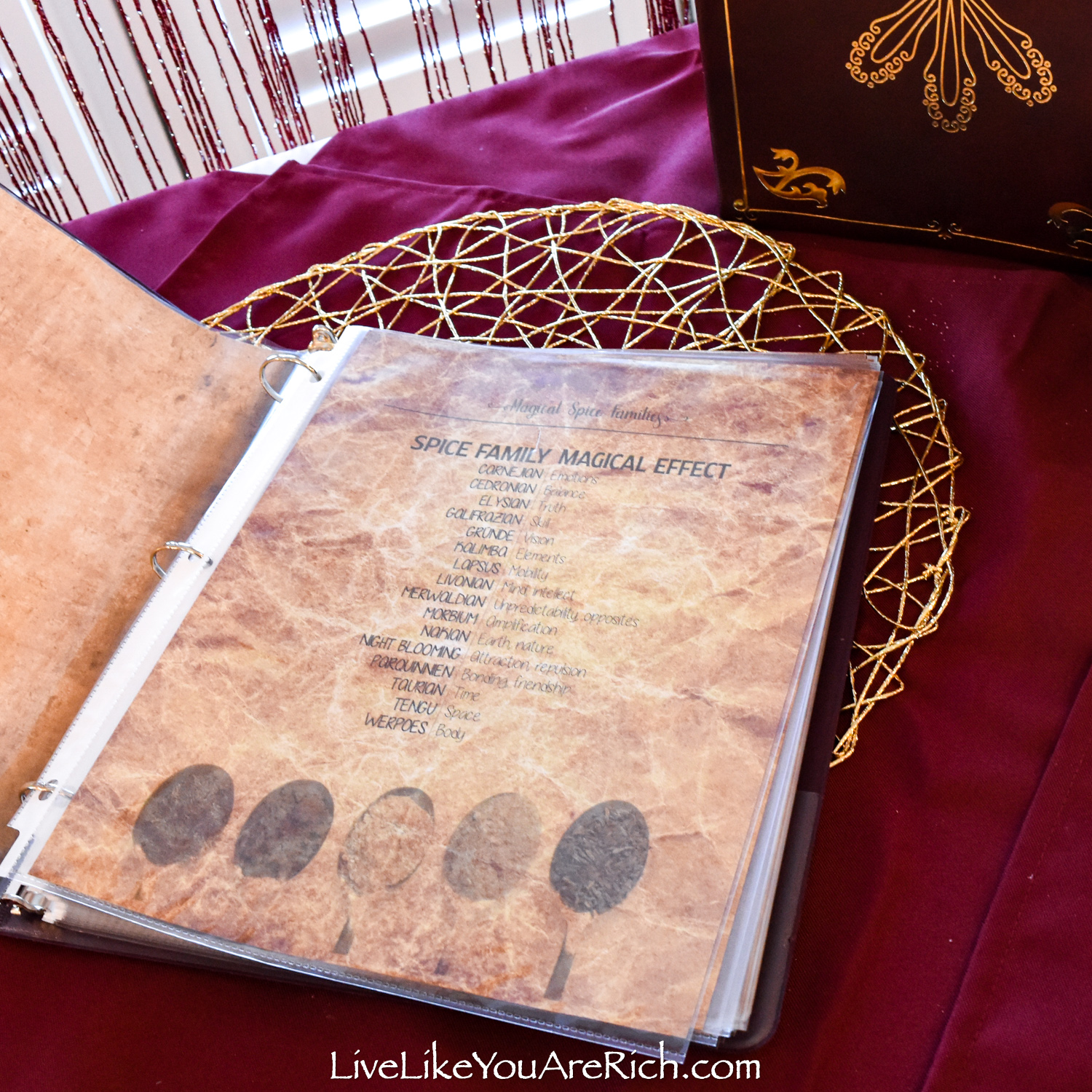 Supply List for a DIY Just Add Magic Cookbook
Aged Paper
1″ burgundy binders $1.65 each purchasing 13
plastic sheet protectors I used 42 per book (printing double sided)
Gold vinyl. 12×180 was more than enough (probably twice as much as I needed) to make 13 binders and 15 spice box decals with some left over. I thought I was buying the shimmer but I got the matte. I would have preferred the shimmer vinyl.
Cricut
Printer that can print double sided and toner
Word document from this Etsy seller
Cricut cutout/SVG File- I plan to sell my SVG file I made for ~$1.50 on Etsy but until I get that set up, just email me [email protected] and my VA will send it to you. Title the email Just Add Magic SVG file.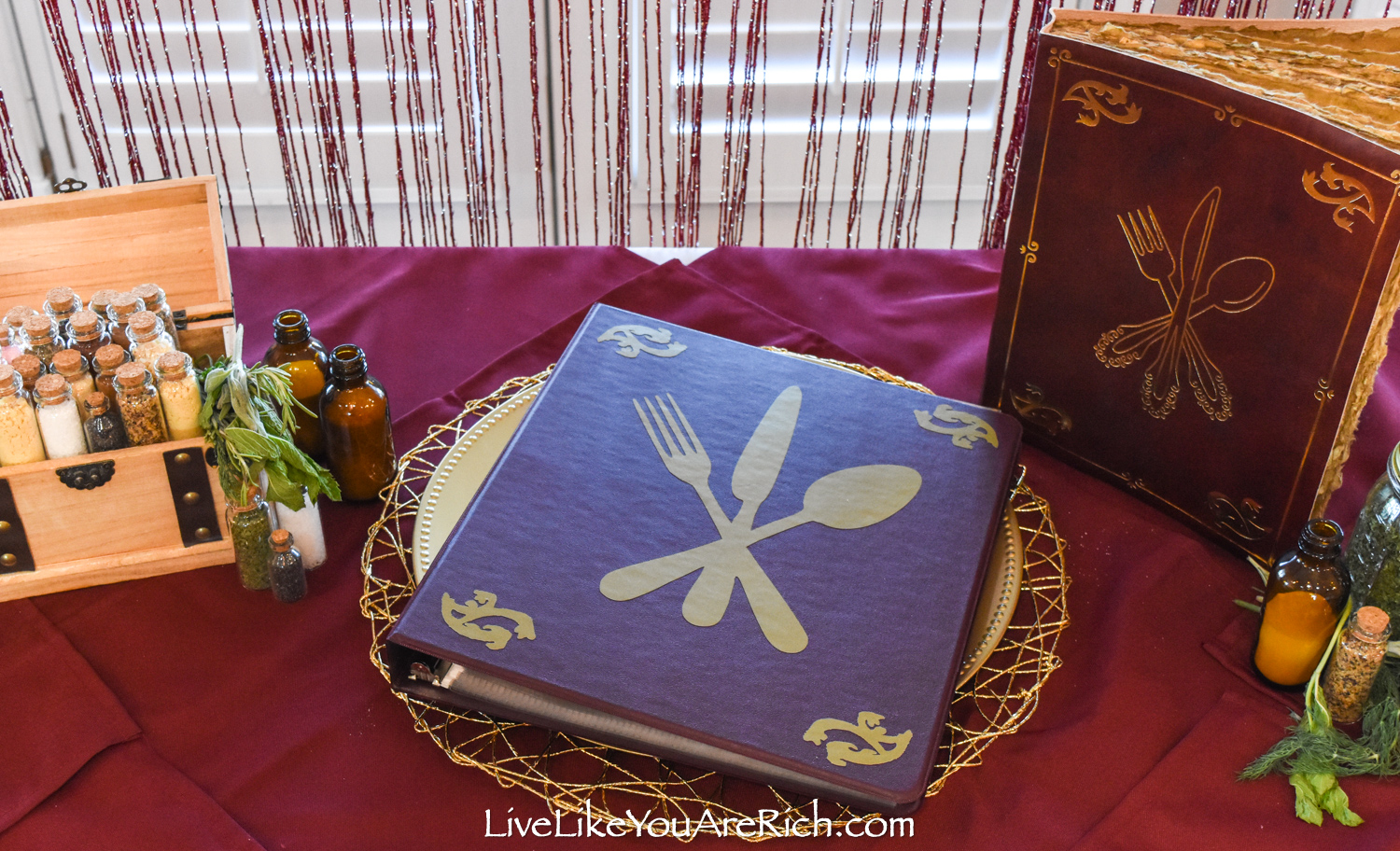 How to Assemble a DIY Just Add Magic Cookbook
1- Order the pdf/word doc of the book from aforementioned Etsy Seller
2- If you have Microsoft word, Download the fonts shown above and restart the computer so that they show up in Word.
3- Download the book into Microsoft word. Remove the background color by clicking on Design then Page color and then selecting no color.
4- Edit the document as you wish. Double check that the recipes are still on the correct pages before printing.
5- Load printer with aged paper and select double sided option (google your printer name+ model number + the words "how to print double sided" if you do not know how to do this).
6- Select Black (very important that you do not try to print in color or it will take forever to print).
7- Select high quality
8- Print the book
9- Add ~42 plastic page protectors to the maroon binder and stuff them with the printed papers.
10- Cut out these logos in Cricut design space and put them on the binders.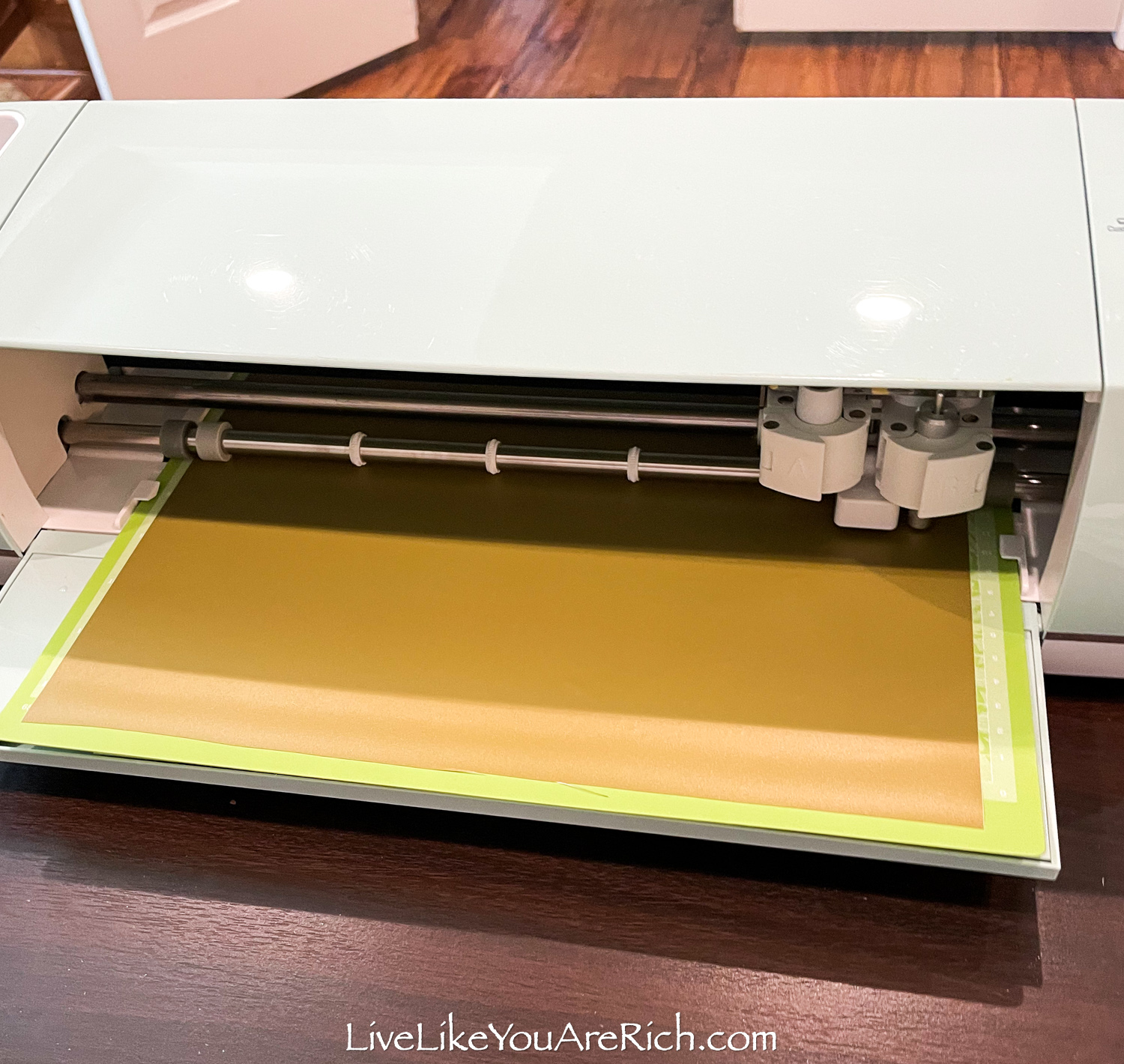 That's it! These books cost me about $5.00 each which was within my budget for our party favors.
I'll be posting about the spice jars soon, those cost a few dollars each. This party was a little more expensive than most I do (I try to stick to under $150 per party) but because my daughter waited an additional 6 months (until COVID restrictions settled down in our area), I celebrated by spending a bit more than normal.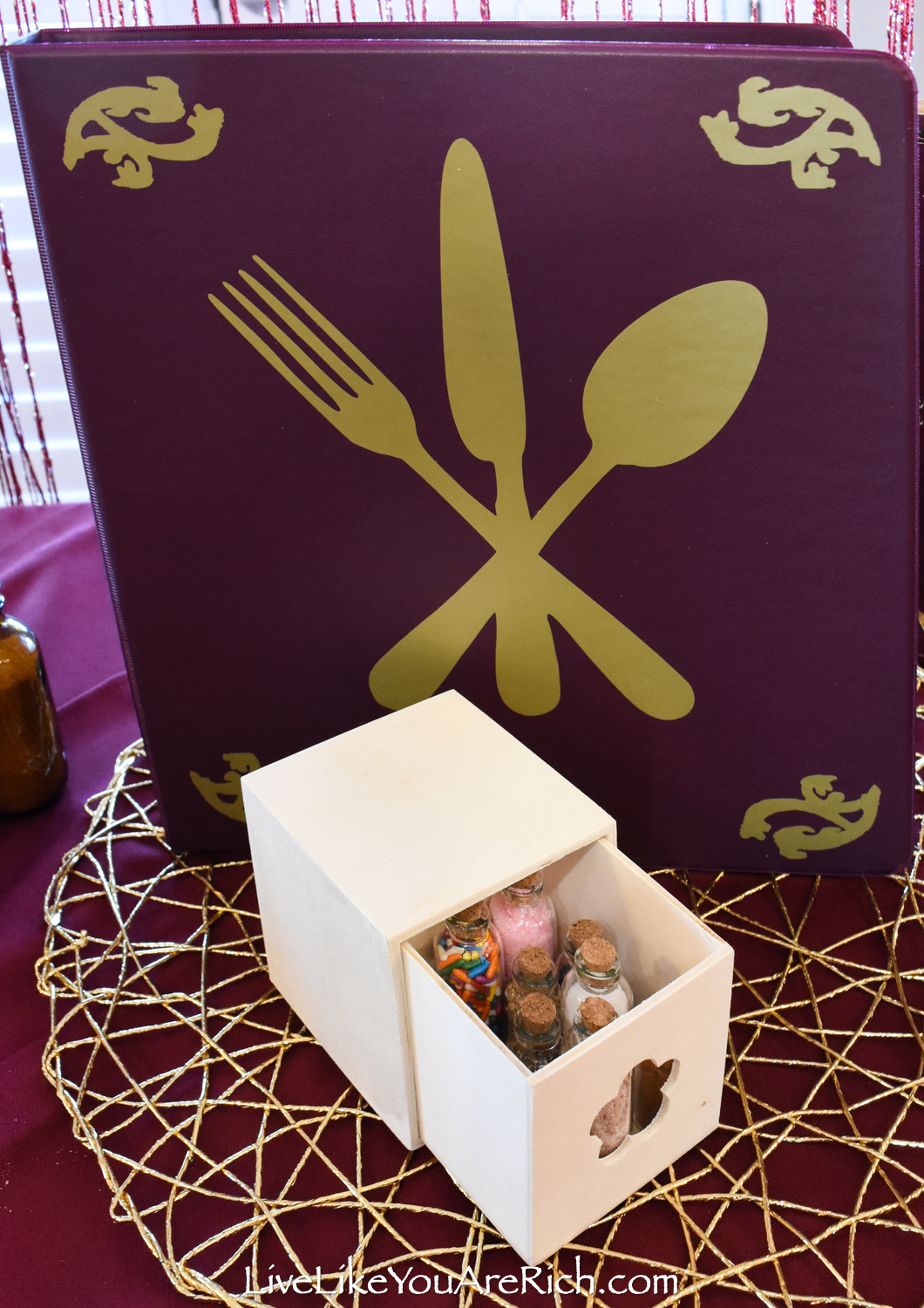 I hope this tutorial was helpful in how to make a DIY Just Add Magic Cookbook.

For other 'rich living' and cleaning tips please subscribe, like me on Facebook, and follow me on Pinterest and Instagram.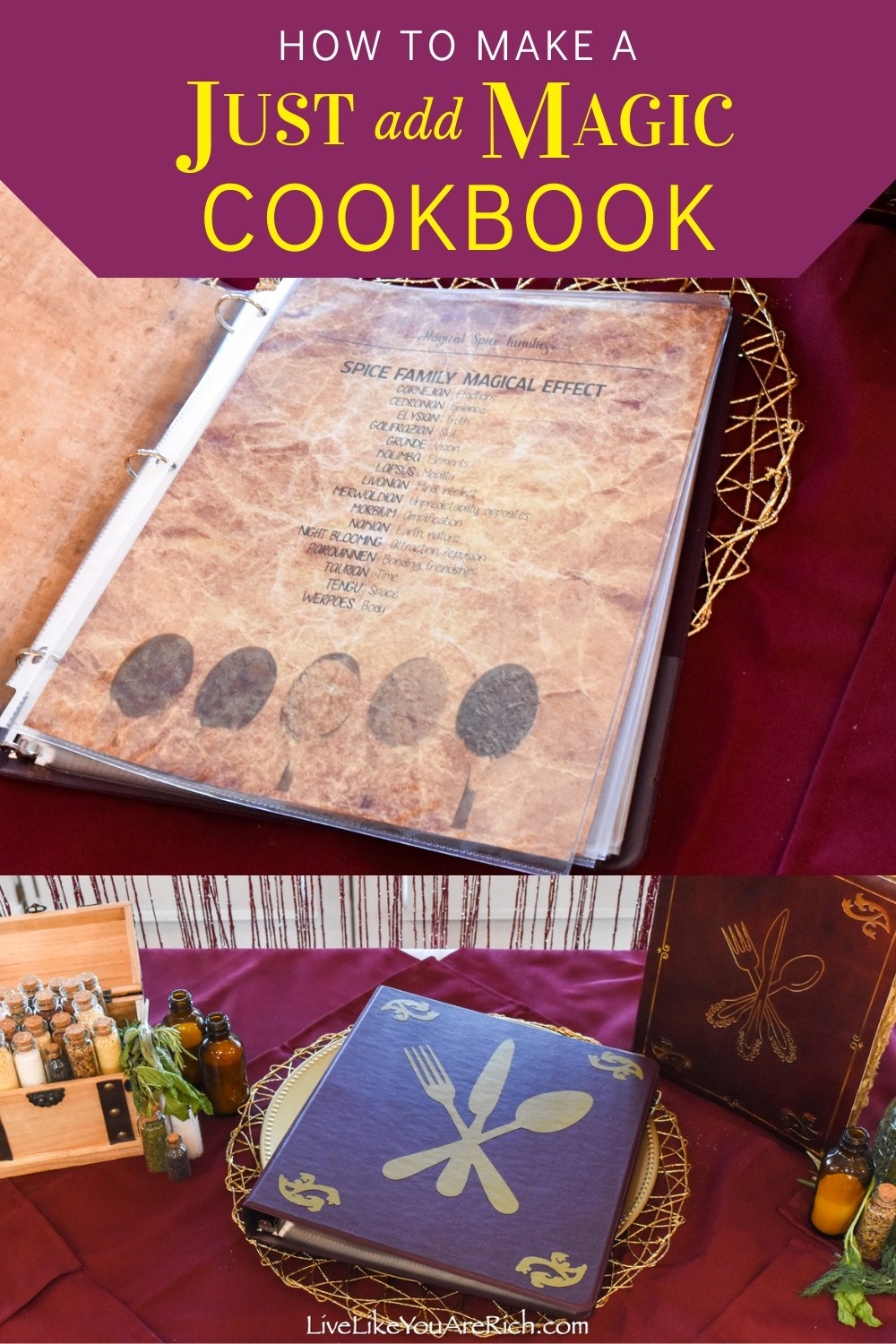 Sours: https://livelikeyouarerich.com/diy-just-add-magic-cookbook/
The Cookbook
Usage
Shares recipes and special notes on magical ingredients with its owners.
Creation Date
Before the 16th Century
The Cookbook
is a magical book filled with an infinite number of recipes that can do almost anything. The Cookbook has existed for thousands of years and its intention is simply to be a gift, but it must be used responsibly.
The book contains many recipes that can have multiple uses. These magical recipes can do something as little as healing a hurt ankle, to something as serious as freezing time itself. This book is extremely powerful, which is why it requires strong and responsible protectors. The book can do great harm in the wrong hands. It can tear friendships apart or bring them closer together. Protectors help protect the book from people who want to use it to hurt people.
Check out some of the recipes from the Cookbook here: https://www.youtube.com/playlist?list=PLj2gen-B6tPmgYf3v_kuV7y_axF0VDepe
Appearance
The book has a dark brown leather cover. The front of the Cookbook has a gold symbol surrounded by four gold swirls. The emblem consists of three ornate pieces of silverware, a fork, knife and spoon overlapping each other. Inside of the book are thousands upon thousands of pages filled with magical recipes, all of which are frayed and torn on the edges due to the age of the book.
History
The book was likely to be created some point before the 1500s. The Traveler stated that "the magic in this book is thousands of years old." It is not known who created it, but clues point to the Traveler, as she is most likely immortal, until she sacrificed her body to wipe Chuck's mind temporarily.
1800s
The first known protectors, Charles Peizer and Rose Peizer came to be the book's protectors around 1868. The siblings remained its protectors until Charles abused its power by cooking a mulberry pie to make him and his sister immortal, trapping Rose in the Cookbook in the process. Afterward, Charles was not able to touch the book anymore as he had evil intentions, and it moved on to the new set of protectors.
After the siblings, the Cookbook moved onto three protectors instead of two so that a situation like Charles' would not happen again. The next three known protectors were Ian Maddox and brothers Clint and Folsom Wesson in 1875. They created the Sourd'Au, which ended up being responsible for the brothers' greed, causing Ian and Charles to team up to hide the starter used for the recipe. They hid clues throughout Bay City so that the next protector who finds it will be able to destroy it completely.
1900s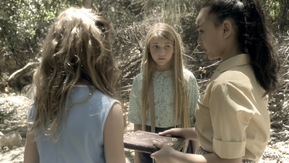 Decades later, a woman known as Aunt Pixie is presumed to be a protector of the Cookbook around the early 1900s, seeing as she created the Find Your Key Lime Pie.
The next known protectors of the book were three teenagers, Rebecca "Becky" Quinn, Gina Silvers, and Ida Perez "Mama P", now known as the OC's. The trio was gifted the book by the Traveler herself during a field trip to the Cedros Forest when they were about 14 years old. Charles, who is now known as Chuck Hankins, discovered them as the protectors of the book, so he befriended them so that he could be close to the magic. He attempted to take advantage of the magic and use it to lift the spell on Rose but he failed. The young protectors wanted Chuck to forget about magic so they cooked Can't Recall Caramel and Becky gave it to him on the Ferris wheel at the Pluot Festival. However, this magic interfered with his immortality spell, causing the entire spell to go wrong. As a result, Chuck completely vanished into thin air. The protectors tried for many months to get Chuck back, but unfortunately, nothing they tried work. Eventually, the book began to tear the girls apart to the point that Gina and Ida cursed each other. Becky was fed up with everything so she used her Morbium to separate the Cookbook from the three of them, severing their protectorship.
Years later in 1996, three high school students named RJ White, Nöelle Jasper, and Caroline Palmer came to become the book's protectors. Since Becky used her Morbium to sever the OC's connection to the book, it was not fully ready to move on yet which is why the new protectors it chose ended up being very reckless and irresponsible. The trio did not understand the magic well and only used it for meaningless pranks. They were known as the in-betweeners since they were protectors between the OC's and Kelly and the girls. After graduating from high school, it is presumed that the book moved on from the trio.
Present-day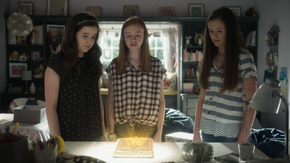 The next protectors of the Cookbook were Kelly Quinn, Hannah Parker-Kent, and Darbie O'Brien. The three of them remained its protectors for about a year. Together, they cooked many spells and solved the mystery of Chuck Hankins. With the help of the OC's, they successfully broke Rose's spell and let Chuck and Rose return to their own timeline to live out their lives. In addition, they regrew the magical spice garden and restored the memory of magic of everyone who was affected by Jill's "forget magic spell". However, the recipe they used to restore everything used a Cedronian spice, which meant that Kelly woul have to pay the price. The price was that Kelly ended up being poisoned and her perspectives were twisted, making her think that Hannah and Darbie would only be friends with her for the magic. As a result, Kelly tricked them into cooking a spell that would tie the book to the girls forever. Eventually, the girls manage to break this spell, but not without another downside. Becky ends up vanishing from thin air and in order to get her back, Kelly, Hannah, and Darbie have to pay the ultimate sacrifice of saying goodbye to the Cookbook forever.
After Kelly and the girls, the Cookbook moved to Bay City with Zoe Walters, Leo Sellitti, and Ish Gupta. The three of them follow clues to uncover the Sourd'Au Starter before Pierce Hamilton in order to destroy it. Once they obtain the Starter, they are unable to destroy it. However, with the help of Kelly, Hannah, and Darbie, they come up with the idea to bake it into a modified Sourd'Au recipe called Share a Pizza the Pie. This recipe ends up sharing the magic of the Cookbook with the rest of the world, likely ending Zoe, Leo, and Ish's protector ship of the book once and for all.
Contents
See also
Sours: https://justaddmagic.fandom.com/wiki/The_Cookbook
Chipper Chocolate Chip Cookies
Chipper Chocolate Chip Cookies was a recipe seen in the Cookbook as Kelly was flipping through it. It has never been cooked before, only shown in the book. Its first and only appearance was in Just Add Magic. Ingredients 1 cup all-purpose flour (sift twice for best results), 1 tsp baking powder, pinch of salt, 1 cup butter, 1 1/2 cup sugar, 1/3 cup brown sugar, 1 egg, 1 tablespoon Cedronian Vanilla, 2/3 cup chocolate chips
Sours: https://www.pinterest.com/debbie4263/just-add-magic-recipes/
JUST ADD MAGIC CAKE ft Olivia Sanabia- NERDY NUMMIES
You can warm up, and then lie down on the chair. There are castles there too. Buckle up and wait for me. You'll like it. Natasha was not there for only a couple of tens of minutes, but for a man languishing with desire, time dragged on painfully slowly.
Cookbook just add magic
But Oleg is worth mentioning in more detail. Half a head taller than me, a brutal male twenty-six years old. His broad body and tanned muscular arms carried me away in my fantasies to the summit of Everest.
On the Red Carpet for Amazon's JUST ADD MAGIC Premiere
Seryozhenka, what are you doing with me. I'm very old for you. Of course I am very pleased, but they can see us here, - I said, affectionately stroking his head.
You will also like:
As soon as he stopped, she answered him with a quiet displeased moan and lifted her hips towards him, demanding to continue. Frozen in fright, he looked at her face, but she lay under him, continuing to sleep, despite the fact that she. Felt him.
439
440
441
442
443