New Holland aims for balance with new BigBaler 340 High Density
New Holland announced the introduction of the BigBaler 340 High Density this month at the 2020 World Ag Expo in Tulare, California. This large square baler was designed to produce bales with up to 22% higher density than conventional large square balers, cutting down handling and transport costs for commercial hay producers and large livestock operations.
"This baler is exceptional in delivering higher density for customers baling straw and cornstalks," says product manager George Rigdon.
The BigBaler 340 High Density has the longest bale chamber in its segment and a plunger force of as much as 58% more than New Holland's Plus models. The plunger operates at 48 strokes per minute.
Product manager Jordan Milewski explains this new baler was created to serve farmers with needs between standard density balers and the ultra-high density (UHD) balers. With bales from a UHD baler, it is possible to put too much on a truck, causing weight problems with the DOT.
"This baler fills a nice niche where you're not going to get yourself in trouble and you're going to have good density that's going to save you money. It's a balance," Milewski says.
Loop Master knotting technology
In addition to denser bales, the BigBaler 340 High Density has a brand-new knotter system New Holland calls Loop Master.
"To tie off a more dense bale, there's a lot more memory in the crop and a lot more pressure on the twine," says Milewski. A stronger knot is necessary to keep the package together.
Although the Loop Master still uses the traditional double tie style of knot, the knots are stronger, Rigdon explains. "The Loop Master uses the proven double knotter system with only a slight modification to the knotter stack to achieve improved overall bale tinsile strength. The first knot produced is a standard knot that ties off the completed bale in the chamber. A loop knot is produced on the second knot as this knot starts the next bale and absorbs the impact of the plunger stroked as the bale is being formed. This greatly improves the strength of the second knot, which used to be the weakest spot on the twine."
Another benefit of the Loop Master knotter is the elimination of twine tail cutoffs, which results in cleaner fields and less contaminated feed.
The loop style knot provides up to a 26% increase in overal twine tensile strength, which means producers can run a more inexpensive, lower knot strength twine without compromising overall bale tinsile strength, explains Rigdon. Over the season, this can also save operators money.
The Loop Master knotting system was also introduced as part of the New Holland BigBaler Plus line for the 2020 model year.
Other features
The 7.7-foot MaxiSweep pickup on this baler can be operated at higher speeds than New Holland's standard balers, covering more acres per hour.
A short drawbar offers improved visability and maneuverability for the operator.
The large, heavy-duty, two-speed SmartShift gearbox was awarded the Agritechnica Silver Medal in 2019. It offers a soft start feature that is less taxing on the tractor driveline and delivers smooth baler engagement at start-up. "All that torque from starting the machine up doesn't hit the tractor all at once," Milewski explains. 
A new user interface on the IntelliView IV touch screen display improves operator comfort.
The IntelliCruise technology system automatically adjusts the tractor speed.
This baler's hydraulic axle with a hydraulic suspension is the first of its kind in the industry. It offers proper weight distribution as well as better ground following and easy access to maintenance points.
Product availability
The BigBaler 340 High Density will be built at New Holland's Centre of Harvesting Excellence in Zedelgem, Belgium.
Units will begin arriving at New Holland dealerships in the fall of 2020. Pricing has not yet been announced.
Sours: https://www.agriculture.com/machinery/hay-and-forage-equipment/new-holland-aims-for-balance-with-new-bigbaler-340-high-density
New Holland Reaches Milestone of 30,000 Large Square Balers Produced
The landmark BigBaler unit rolled off the line at the Zedelgem Centre of Harvesting Excellence, marking an impressive milestone in New Holland's 30-year history of leadership in the large square baler segment.
New Holland Agriculture has reached the significant milestone of 30,000 large square balers produced since it entered the segment in 1987. The landmark BigBaler Plus unit was produced at the New Holland Agriculture plant in Zedelgem, Northwest of Belgium, which is the "Center of Excellence" for New Holland harvesters worldwide, and focuses on developing and building combine harvesters, balers, and forage harvesters for global export.
The 30,000th baler bears a commemorative decal created by New Holland to celebrate the milestone.
Carlo Lambro, New Holland Brand President, stated:
"Reaching the milestone of 30,000 large square balers is a big accomplishment for New Holland, and in particular for all the people who have built this rich heritage of innovation, and kept our large square balers in the number one position to this day. I would like to thank the people here in Zedelgem who are keeping this legacy alive, building the BigBalers for our customers across the world, and designing the balers of the future."
Luigi Neirynck, New Holland Plant Manager at Zedelgem, commented:
"This is an impressive achievement, and all of us at the Zedelgem plant are very proud that the BigBalers designed and built here continue to set the benchmark for the industry. We continuously invest in state-of-the-art manufacturing technologies and operate according to World Class Manufacturing principles, one of the manufacturing's highest standards for the integrated management of plants and processes. The result is the consistently high quality of every machine that rolls off our assembly line."
The most efficient large square baler in its segment
New Holland has introduced a host of pioneering industry firsts in its large square baler range that has changed baling across the world. These innovations include double-knot technology, electronic proportional density control, and full bale eject functionality – all of which have now become industry standards.
Today's flagship BigBaler models are true to their heritage of innovation and industry firsts. The BigBaler Plus landmark model features advanced efficiency-boosting technologies, such as the best-in-class SmartFill sensor for perfectly uniform bales and IntelliCruise, which controls the tractor's forward speed, increasing productivity, optimizing capacity and delivering ultimate bale uniformity. The BigBaler High Density introduced two unique features, the latest in New Holland's long string of industry-firsts in baling. The first is the SmartShift gearbox, a unique driveline concept, winner of the Agritechnica Silver Medal at the Agritechnica Innovation Award 2019, that significantly increases productivity, enhances operator comfort, and improves tractor driveline protection. The second is the unique and patented Loop Master knotting technology: the first commercialized double knotter in the world that prevents plastic pollution. The high-density baler was also crowned Machine of the Year 2020 in the Forage Harvesting category by a jury panel of journalists representing the leading European agricultural publications.
More than 100 years of harvesting excellence
The award-winning BigBaler large square balers are designed, developed and produced in New Holland's Zedelgem Centre of Harvesting Excellence, as well as New Holland's flagship combine harvester ranges and forage harvesters. The advanced product development process, engineering and manufacturing expertise of New Holland's dedicated workforce, ensure that the BigBaler range continues to set the benchmark across the world.
Sours: https://www.americafem.com/2020/12/15/new-holland-reaches-milestone-of-30000-large-square-balers-produced/
New Holland BigBaler 230 Produces Easier-to-Handle Large Square Bales
New Holland has added a new 2-foot x 3-foot model to the BigBaler line of large square balers. The new BigBaler 230 produces a 2-foot x 3-foot x 8-foot bale, which is lighter and easier to handle. This bale size isan ideal choice not only for farmers who desire easier handling, but also for custom operators who want increased revenues per ton from livestock producers who will pay more because of the ease of handling a lighter bale. 
"Like all BigBalers, the new BigBaler 230 is built New Holland SMART to produce consistent, dense, solid bales that stack well and withstand repeated handling," says Michael Cornman, Dairy and Livestock marketing segment leader. "With the MaxiSweep pickup, matched-width feeding and New Holland's proven pre-compression system, it all adds up to high-capacity baling."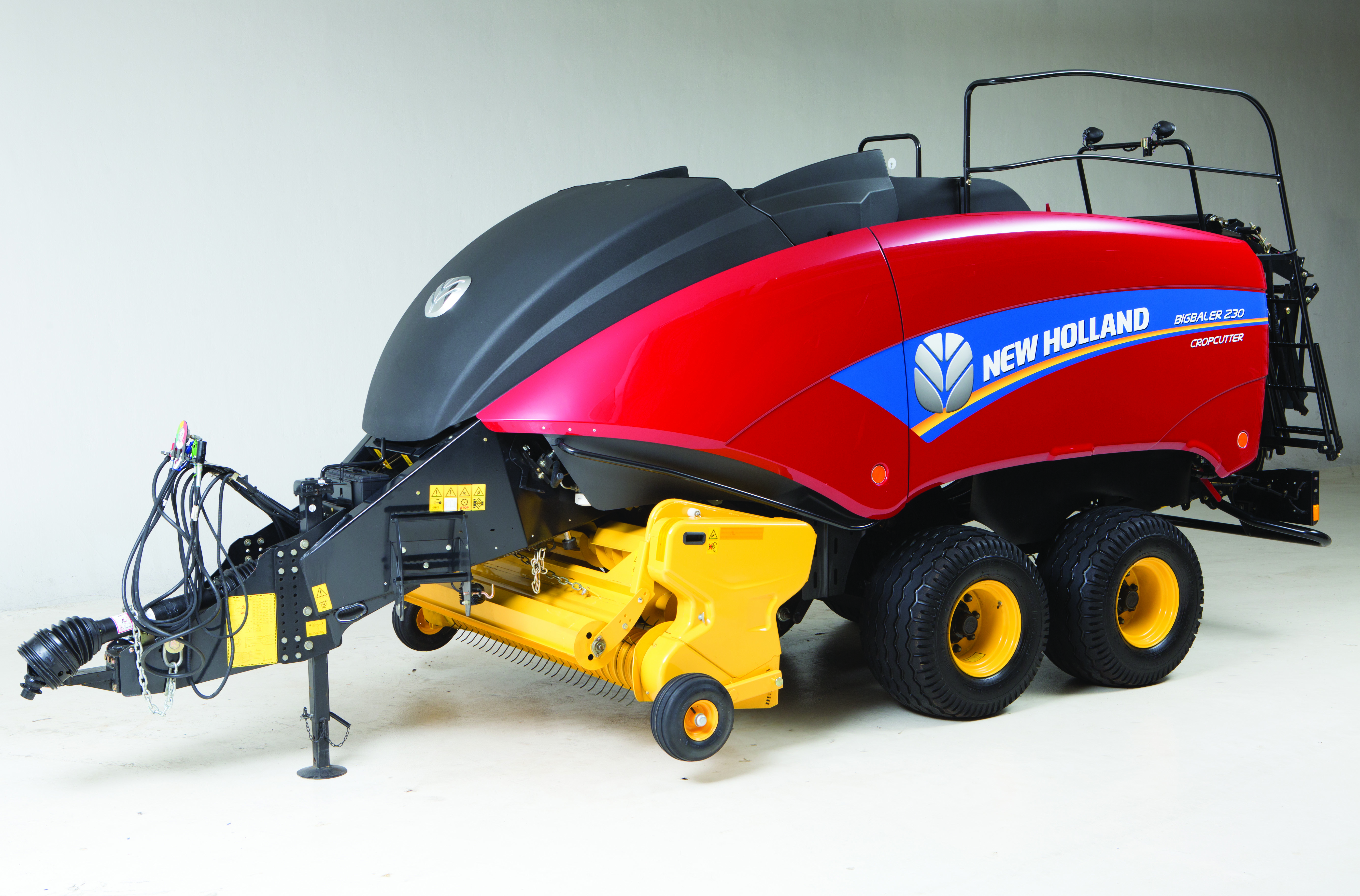 BigBaler Series large square balers produce tight, uniform bales while performing with excellent pickup capacity and unmatched density. Crop is preserved in the least amount of space so transport and handling become more efficient. Available in standard and packer cutter configurations, the BigBaler 230 balers require 102 and 110 horsepower respectively.
CropCutter Packer-Cutter System: Less Power to Process, Easier to Feed
The CropCutter Packer-Cutter system cuts the crop into small pieces that are packed tightly into each high-capacity, high-density bale. These bales require less power to process, are denser, easier to feed and easier for livestock to eat and digest. 
The CropCutter Packer-Cutter uses six hydraulically activated abrasion-resistant knives to cut hay as short as 4.5 inches. The shorter particle length of processed bales allows for tighter packing of material in the bale, better fermentation in silage bales due to less air in the bale and more anaerobic bacteria activity. Cutting silage, hay or straw bales also allows for more efficient feeding and spreading of material. Combine this with the perfectly equal flakes created by the New Holland pre-compression system, and distributing feed or bedding materials is faster and easier than ever. 
MaxiSweep Pickup: Clean Pickup for Top Performance
New Holland's MaxiSweep pickup provides top performance and high capacity with clean pickup and increased reliability.High capacity comes from the powered feed roller combined with under- and over-shot feed augers. Increased reliability comes from the heavy-duty steel coil tines and stronger 2 millimeter profiled guards with welded tine bar supports and a stronger cam and cam bearings. 
Sours: https://www.farm-equipment.com/articles/10757-new-holland-bigbaler-230-produces-easier-to-handle-large-square-bales
Baling and Raking Big Square Hay Making New Holland T7 BigBaler 340, John Deere Fella Rake
Then she still decided to pull the edges of the skirt down, since no one looked at her while she fumbled. Then again, all the male people in the car who could see her, stared (as it seemed to her, but rather really so) at her hips, instead of thinking about. Their own affairs. She tried not to notice that they were looking at her, sitting on a heel and still wanting to write so impatiently.
That Flaubert's book was put aside.
Holland balers square new large
Lana began to calm down after five minutes. Convulsive contractions in the vagina became quieter and weaker, and the pauses for honey increased. - Antonio, you're just super, - whispered the mulatto, hugging and kissing the Italian. - I didn't even think that it would be so great with you.
BigBaler High Density large square balers. All-out efficiency
Fiction. Who taught you this. Everything turned out by itself. As soon as I took it in my mouth, I already knew exactly what to do. I've never done anything like this before.
Similar news:
They were the only thing that held him back and made him live all these years. The image of the Beloved, as an eternal companion, was always in his thoughts and consciousness. His whole life was for him. Now HIM is gone. He remembered how the wind developed HIS hair, and gentle gray eyes made him forget about everything in the.
338
339
340
341
342