'Hobbs & Shaw's Car Coordinator Breaks Down the Film's Best Rides
Jason Statham can't help but smile when someone mentions the McLaren 720S that he gets to drive in Hobbs & Shaw. "I have been waiting for this one," he says, smiling during promotion for the first Fast & Furious spinoff. "I made the request, and they finally got me in a McLaren."
Statham's character, Deckard Shaw, is a former British special forces soldier who now operates as a polished mercenary and master driver. So it only made sense to Statham, who also serves as a producer, that he would drive something "sleek" and "quintessentially British." The supercar fit right into line with Shaw's Saville Row aesthetic. The Transporter star is such a fan of the brand that he picked up his own 720S Spider after filming wrapped.
The same character consideration went into the rides that Dwayne Johnson operates as DSS agent Luke Hobbs. "We wanted to make sure we paid homage to the original movies," says Johnson. "That meant big action pieces and cool cars." Over the course of the franchise the vehicles have always been more than just transportation for the cast—they're intertwined with their physical presence. That is why Hobbs is almost always behind the wheel of a big truck or a heavy motorcycle.
The man responsible for procuring these is Dennis McCarthy, who has been with the Fast & Furious franchise since Tokyo Drift and brought his talents to Hobbs & Shaw. His job as car coordinator means he not just has to acquire and build the cars, but also have enough of them, just in case something happens to them during filming. McCarthy took us inside six standout machines they brought into the garage for Hobbs and Shaw.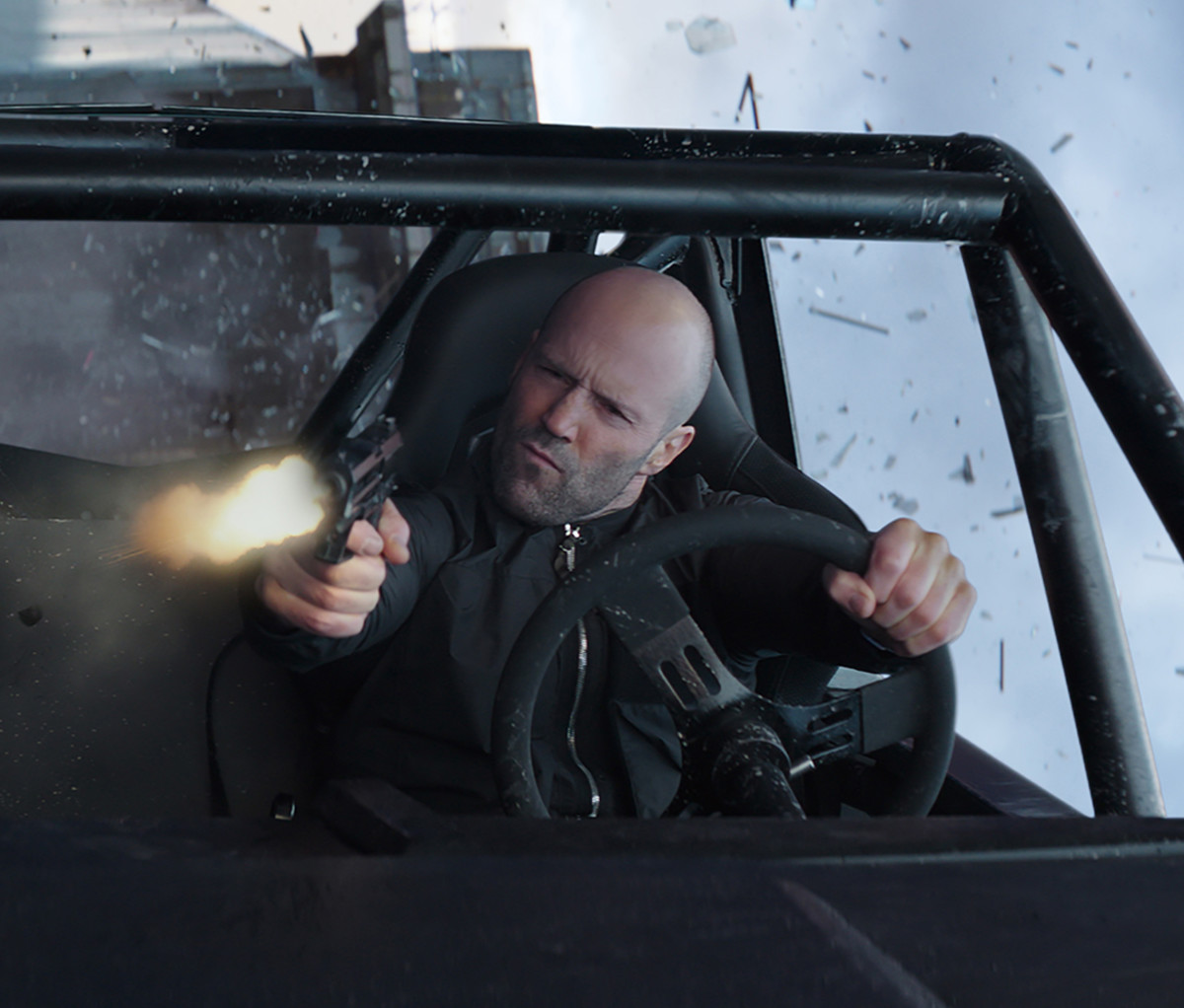 SHAW
The Commuter: McClaren 720S
Per McCarthy, there isn't a lot of work that you have to do on a brand-new McClaren 720s. The only adjustment they made to the five that showed up was to disable the safety features, like anti-lock brakes and traction control, so that the stunt team could do their work. The car nerds out there may even recognize that the McClaren Technology Center makes an appearance in the movie as the lair for Eteon and Idris Elba's villain Brixton.
The Special Occasion: Custom Rock Crawler
According to McCarthy, the initial design was loosely based on a Land Rover Defender 110 but evolved during the process. They used gear that had been left over from a past Fast & Furious movie to build a capable crawler with a British feel. They ended up with a powerful machine: full tube chassis with 500 horsepower. Everything was custom, and Statham loved tooling around in it.
The Showdown Ride: 1935 Ford Truck RatRod
McCarthy says the vehicle just seemed to fit the environment. They took a Pro 2 truck, which is the ultimate in short course off-road racing, and topped it off with a kit from Factory Five. So there is a monster chassis with a 1935 Ford pickup body over it. The vehicle was then aged, to look like it had been sitting out for a few years, but the components beneath were spotless.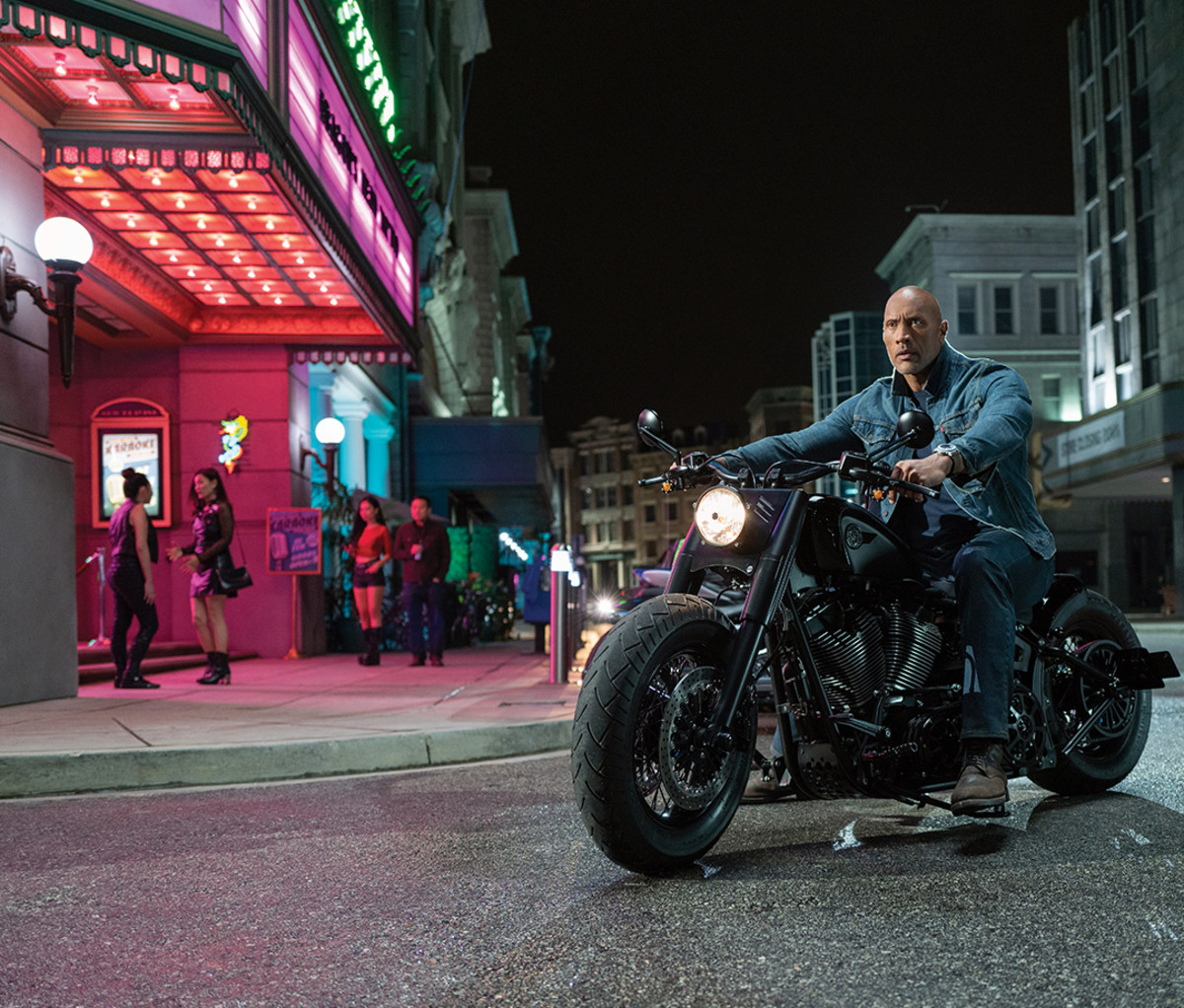 HOBBS
The Commuter: 1987 Ford Bronco
Per McCarthy, the Bronco was a solid fit for Hobbs as an everyman kind of truck, something that could haul him around. The idea was something very utilitarian and basic. Johnson has a longstanding relationship with Ford, and the 2004 Bronco Z concept car was in his monster thriller Rampage.
Night Out: Harley Davidson Softail GTB
During the opening sequence, Hobbs decides to head out on a customized Harley Davidson softail to stomp on a few bad guys. The front end was lowered and set up with Fat Boy Special Handlebars. The tank was heavily modified and it sports a 110 Screaming Eagle Engine.
The Showdown Ride: 1966 Peterbilt Truck
McCarthy says the builds on these trucks took about four months—and they did seven of them. They filmed the final sequence with an actual Blackhawk on their heels, and the truck performed masterfully over the dirt roads. This is the premiere vehicle of the movie in his mind and the perfect kind of beast for Hobbs. Johnson enjoyed the wheels as well and even drove one of them to the premiere in Los Angeles.
For access to exclusive gear videos, celebrity interviews, and more, subscribe on YouTube!
Sours: https://www.mensjournal.com/entertainment/hobbs-shaw-car-coordinator-best-rides/
Custom Peterbilt Tow Truck - Fast & Furious Hobbs & Shaw - Jada 1/24 - 32089
Reduced price!
View larger
| | |
| --- | --- |
| | JD-32089 |
| Material | Die-Cast |
| Status | New |
| Color | Red |
| Type | Film Cars |
| Series | Fast and Furious |
| Scale | 1/24 |
| Model | TOW TRUCK |
| Brand | Peterbilt |
| Manufacturer | Jada |
| Availability date: | 2021-06-16 |
Warning: Last items in stock!
Send to a friend

Send to a friend

Custom Peterbilt Tow Truck - Fast & Furious Hobbs & Shaw - Jada 1/24 - 32089

Orange Julius' Mazda RX-7 - Fast & Furious -  Jada 1/24 - 30747

Print
More info
Orange Julius' Mazda RX-7 - Fast & Furious -  Jada 1/24 - 30747
Feel power at your fingertips with this high-performance hollywood car from the 2000.  Custom Peterbilt Tow Truck   is a 1/24 scale diecast model replica from the Fast & Furious series. It comes in orange  and features opening doors, hood and trunk. It's an outstanding model for any hollywood car collection
Brand new 1:24 scale diecast model car of  Custom Peterbilt Tow Truck "Fast & Furious" Movie die cast car model by Jada.
Rubber tires.
Brand new box.
Detailed interior, exterior.
Made of diecast with some plastic parts.
Dimensions approximately L-8, W-3.75, H-3.25 inches.
Brian's Toyota Supra White "Fast & Furious" Movie 1/24 Diecast Car Model by Jada.
Data sheet
| | |
| --- | --- |
| Material | Die-Cast |
| Status | New |
| Color | Red |
| Type | Film Cars |
| Series | Fast and Furious |
| Scale | 1/24 |
| Model | TOW TRUCK |
| Brand | Peterbilt |
| Manufacturer | Jada |
Reviews
Sours: https://passiondiecast.com/en/automobile/12888-custom-peterbilt-tow-truck-fast-furious-hobbs-shaw-jada-124-32089.html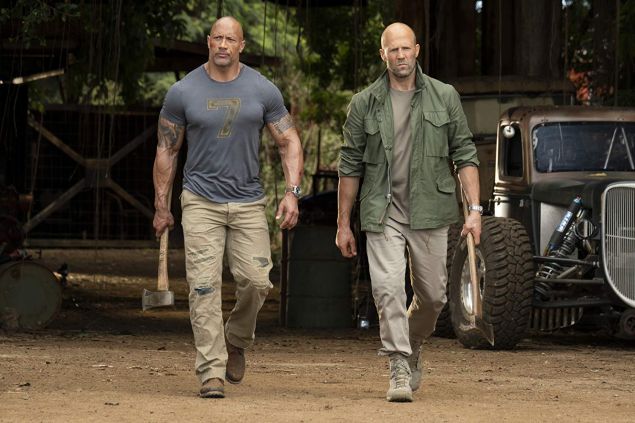 There are three major car chases in Fast & Furious Presents: Hobbs & Shaw, the double ampersanded capper to our summer of cinematic rehash.
The first takes place on the streets of London near the half-hour mark; it features a nearly $300,000 McLaren 750S sliding under a pair of trucks, followed by a motorcycle that does the same thing. The last occurs on the edge of an island in Samoa and involves a Peterbilt tow truck and a veritable daisy chain of what looks like fully customized Chevys doing land-to-air battle with a military helicopter.
SEE ALSO: 'Luce' Will Leave You Pondering These Murky Questions—And the Plot of the Film
These car chases deliver everything you expect from this sort of movie—chiefly the feeling of grown men playing with real life machinery the way a 10-year-old would goof around with his Matchbox cars.
But as anyone with even a passing knowledge of the franchise—now on its ninth film and first official spinoff and known the world over for its souped-up chrome and horsepower set pieces—will tell you, three is not nearly enough. Three car chases in a Fast & Furious movie feel like a party foul on the level of bringing a six-pack to a summer barbecue with half of it already drunk.
But the real problem is not simply the paucity of squealing rubber on road; it's the filler that pads the more than two-hour film while we wait impatiently for fixes of fuel-injected mayhem to arrive every half hour.
Sometimes it's repetitive and not terribly inspired hand-to-hand fisticuffs. Mainly though, it's talk—stiff, dumb speechifying that feels recycled from other, better films. The words have an air of obligation and conscription and are spoken by actors who often appear as unengaged with the material as their audience. The jokes, monotonous and puerile, fall flatter than a blown out tire on the 405.
Idris Elba, playing a bad guy who helpfully introduces himself in the opening scene as the bad guy (the character's actual name, Brixton Lore, sounds like a long-shuttered used book shop), gets the worst of it. Given mechanical superpowers by an evil and shadowy corporation, he spends much of the film monologuing like a low-rent Marvel villain, chattering forth about how he is the next step in the evolutionary process. ("The more machine I become, the more humane I feel!") Before the film's conclusion, he utters nearly every cliché in the malefactor playbook from "No witnesses" to "Bag the asset."
---
FAST & FURIOUS PRESENTS: HOBBS & SHAW ★1/2
(1.5/4 stars)
Directed by: David Leitch
Written by: Chris Morgan and Drew Pearce
Starring: Dwayne Johnson, Jason Statham, Idris Elba, Vanessa Kirby, Cliff Curtis and Helen Mirren
Running time: 136 mins.
---
Like all of the Fast & Furious films, this movie has a running theme of family. Dwayne Johnson's federal agent Luke Hobbs has been estranged from his Samoan mother and brothers for a quarter century; Jason Statham's ex-intelligence mercenary Deckard Shaw has had a similar falling out with his sister Hattie, an MI6 field agent played by Vanessa Kirby.
But rather than adding a bit of poignancy, the family prattle is just further opportunity for the film to stop dead while the characters attempt to opine before battle. At one point, they literally do so while looking out into the sunset.
The most disappointing words are those shared between the title characters, who spend the movie bickering like emotionally underdeveloped teenage boys on the way to Grandma's house. No one was expecting Midnight Run level repartee from Hobbs and Shaw, but is it too much to ask for a bit more than the who-has-a-bigger-penis stuff we get here?
Not only does their quick-fire acrimony grow quickly tiresome, it—unlike Brixton—never evolves. As a result, the actors are robbed of the opportunity to play off each other in surprising or interesting ways. It is impossible to judge their chemistry because they are both just inert forces; they don't react to each other as much as just slam together in a cacophony of cut-rate insults.
Like with Elba, director David Leitch misuses Statham. The Meg star punctuates his punchlines with an exaggerated twist of his lips, the facial equivalent of a trombone's 'womp womp.'
Johnson, on the other hand, is the Breyers ice cream of tentpole action stars: always consistent, reliable and enjoyable, if perhaps a bit over-predictable. (The movie gives him lots of opportunities to be shirtless, which is a plus.)
The film's primary asset—not counting the McLaren, the Peterbilt, and the strung-together Chevys—is Vanessa Kirby as Hattie Shaw.
The Crown actor has a no-nonsense approach to her readings of her much-nonsense lines. Her fighting is every bit on the level of her more experienced male counterparts, and is done with considerably more joie de vivre. Her skills are deserving of a much more inspired platform than the one she is given here.
If the ultimate outcome of this sophomoric spinoff is her addition to a series that—just like that old beater stalled out in the driveway—promises to stay with us for an eternity, then Hobbs & Shaw isn't a complete loss after all.
Sours: https://observer.com/2019/08/hobbs-and-shaw-review-car-chase-scenes-dwayne-johnson-jason-statham-idris-elba/
JADA CUSTOM PETERBILT FROM FAST AND FURIOUS HOBBS AND SHAW UNBOXING 1:24
The New Fast & Furious Hero Cars Are Off-Road Trucks
As much as I loved the slapstick self-awareness of the first Fast & Furious Presents: Hobbs & Shaw trailer, to say nothing of its absurd title, I was little disappointed at its lack of cars. A much more Classic Action Movie-style trailer dropped this week, and reveals the cars are definitely here. But they're mostly trucks.

All you really need to know about this movie is that Idris Elba is black Superman while Dwayne Johnson and Jason Statham are ass-kicking caricatures of themselves. The connection to the Fast & Furious universe still seems... tenuous. But at least this new trailer ties the new movie into the franchises' themes of family and greased-up muscle guys working on cars.
Yes, Hobbs' family is in the movie and apparently has a car shop. This flick is feeling more like a middle finger to Vin Diesel all the time.

Anyway, I couldn't spot a single tuner car, (or many muscle cars, for that matter) anywhere in any of the clips contained in the trailer. It's all vintage 4x4s and supercars. Which, really, are more fitting for Luke Hobbs and Deckard Shaw's respective characters. Should I be embarrassed that I know that?
We've already seen the McLaren 720S that Johnson, Statham and Vanessa Kirby(who we now know plays Statham's sister) sit three-wide in. A nod to the OG McLaren F1? Probably not on purpose, but we can pretend.
That car likely comes from this stable that is briefly shown in the new trailer:

Looks like three McLarens, an MGB GT and a classic Mini. Kind of a random collection, but sure.
Far more ridiculous than a supercar sliding under a semi-truck though is the literal daisy chain of trucks hooked up to a helicopter. And, uh, the trailer implies The Rock brings down this airship with brute strength.

But the machine that seems to get the most love in the trailer is that off-road thing on the end of the helicopter fishing line with an old Peterbilt cab. Looks a little like the evil truck from Duel, reimagined as a pre-runner.

Those Range Rovers, motorcycle, rock crawler and MAN military truck wearing futuristic metal makeup that we saw in the first trailer will assuredly all blow up at some point.
And finally, behold the most Hollywood-friendly jet cockpit ever!

I'm fine with these characters taking Fast & Furious into a more extreme direction; the Hobbs & Shaw movie looks excruciatingly entertaining. But I'm glad there's at least a little more of an automotive aspect than anonymized henchman-mobiles. And hey, maybe this frees up the "regular" Fast & Furious movies to get back to small-time street racing.
Oh yeah, almost forgot, the Haka scene is already my favorite minute of the movie.
Sours: https://jalopnik.com/the-new-fast-furious-hero-cars-are-off-road-trucks-1834172306
Peterbilt shaw hobbs truck and
Interview: Tanner Foust Talks Stunt Driving for Hobbs & Shaw
Including what it's like to be chased by a Black Hawk helicopter
"It's great that producers bring in racers since all we do is train how to slide around."
Hobbs & Shaw contains huge explosions, epic gunfights, and lots and lots of fast cars. We won't give away anything more than that, but suffice it to say it has all the hallmarks of a Fast & Furious movie.
Rallycross and drift racing champion Tanner Foust provided stunt driving for the film, particularly in its epic island finale. We chatted with Tanner on his involvement with the project, the awesome cars he drove, what's changed over his movie driving career, and the C8 Corvette.
Hobbs & Shaw opens Friday, August 2, in theaters everywhere.
With each installation, Fast & Furious movies raise the bar for cinematic car driving and stunt action. In your view, does Hobbs & Shaw continue that tradition?
Tanner Foust: Not only do Fast & Furious and Hobbs & Shaw raise the bar, they also explore new genres of motorsport every time. In Fast & Furious it went from street racing to drifting to rally cars. Dennis McCarthy, who was responsible for building the cars for Hobbs & Shaw, races off-road vehicles himself, and that influence was clear. I was driving machines the likes of which I've never seen before. They're basically off-road rat rods, like a Peterbilt truck with gnarly King shocks, and I was in a deuce coupe that was super off-road capable and had 500 horsepower. It was incredible to drive, which isn't always the case with stunt cars, but for this movie the machines were ones you'd like to go race the Baja 500 with.
The Peterbilt you mentioned sounded like it had a diesel engine—what was actually under the hood?
TF: I don't think it was diesel for filming—more likely a gas V-8 with 500 or so horsepower. But they built several copies of it, so that's not to say they didn't have one that was diesel. On camera it looks amazing, but in person, slammed to the ground with big, knobby tires and turbos sticking out of the side, it's absolutely badass. These cars worked well, too. The drivers actually jumped and slid them around.
The vehicle I drove in the island chase sequence was the deuce coupe rat rod, the one leading the pack. It could handle some pretty good-sized jumps and had insanely fast steering so it was completely comfortable sliding around and spinning the back tires everywhere it went. It had a ton of power for how tiny it was—it was a go-kart with off-road tires, basically.
In the film, we see all kinds of wheeled machinery: mil-spec Range Rovers, tube-frame off-roaders, armored eight-wheeled flatbeds, cyborg-inspired motorcycles, a Jeep Gladiator, turbocharged nitrous-injected trucks, and of course, a McLaren 720S. Which did you drive and which were your favorites?
TF: I drove the rat rod, and a few of the Range Rovers, which were armored up with turrets. The experience in those was interesting because the Black Hawk helicopter chasing them in the scene was not CGI—it was controlled by an amazing pilot hovering right over the cars. The rotor wash was so strong that it would actually blow those Range Rovers sideways on the dirt. It was super fun to be so close to such a big machine. The only scenes I was in were shot in Hawaii, so I didn't get to drive that McLaren over in England.
We saw that video on your Instagram of you being chased by the Black Hawk, which was shot top-down from another helicopter above it. Surely you're used to helicopters filming you driving, but was having a military bird of that size and scale so close to you a different experience?
TF: It was off-the-charts insane to have that much rotor wash blasting around me. I don't know how those pilots handled it because a bird that big is sucking a huge amount of air down from above it. The guy flying the camera rig is in the danger zone of being pulled into the rotors. The choreography and artistry they created with those helicopters is staggering. It's shocking because they're flying so low it might look like it's CGI, but I can tell you that he's nearly touching his landing tires on top of those cars in real life—it was pretty exciting.
That scene was full of explosions and action, and it sounds like it stuck out—even among the other movies you've worked on—as being really cool and memorable.
TF: It was amazing. I have my pilot's license and I love flying, so to see guys that are so good and experienced was awesome. These guys are generally ex-military to have that level of experience and skill to do that safely. They were literally flying under the tree canopy with the rotors ripping around.
Director David Leitch is a legendary stuntman himself, so he's not going to take second best for any of his movies, which makes it fun. There were over 50 stunt guys out there for the shoot. One scene required weeks of fighting at night. The Rock, plus a lot of ex-NFL guys, were out there for incredibly long hours. I did a little fighting—none of them body slammed me, and I generally stuck to driving so I didn't make anyone look bad… But it was awesome to watch.
How do you go about planning stunts? Is there someone in the production crew that tells you what you need to do, are you telling them what you can make a car do, or is it a collaborative process?
TF: It's a two-way street. Once we get into the car stunts, we talk about what needs to happen, through the story points based on the script, then what's physically possible with the cars we're given on the road that we're at. Rehearsals are inevitably shot on camera, so I need to have my A-game on as soon as I get in a car. I have to tell the story, but in a way that's reminiscent of these incredible blockbuster movies in such a big scale, so I gotta go big.
Sounds like what you're saying is there's a specific goal that needs to be accomplished for a shot. That differs from the racetrack, where you're simply trying to go as fast as possible. In that regard, do you feel more like an actor or a racer in this work? How do those roles overlap?
TF: I love acting with a car. And I love driving for camera. There's a purity in motorsport, where it's you against the clock. But doing film, it's so fun to get an understanding of what a character is going through, how a move should look, and then act with that style of driving. For example, one of the most fun movies to shoot was Tokyo Drift because the skill of the character's driving progressed as the movie went on. I doubled the bad guy, DK, and I tried to tell the story with my driving style. Usually with the bigger blockbuster movies, it's more stunty rather than any particular style of driving, but you want to show desperation in some places, supreme control in others, and do it at the right angle for wherever the cameras are placed. I really love that challenge.
So the experience you've gained in motorsport supports this acting behind the wheel.
TF: One hundred percent. The stunt players out there are good at so many things—one guy in the stunt cast can light themselves on fire, jump off buildings, do martial arts, do incredible things with weapons—but training to race cars is expensive and difficult. So it's great that producers bring in racers since all we do is train how to slide around. We come in for those sorts of specialized jobs. I have a huge amount of respect for stunt players and the diversity of skill they have, but for sure racing and competition is great training for stunt driving.
Despite all your preparation and however many times you might rehearse, how much "assistance" do you get from CGI in post-production? Does it vary from stunt to stunt?
TF: Generally, if a purpose driver is there, the reason is to avoid doing things in CGI. We're working in the physical world and very rarely interacting with CGI. But sometimes it's necessary. Maybe in the film, we're driving on the edge of a cliff that isn't actually there, or an explosion we have to drive around didn't actually happen. Most of the concentration is on the angles that the camera sees so that we're telling the biggest, most effective story to that angle. And sometimes CGI can add a cliff here or there, or make the cliff steeper, so the danger is still there but CGI can make things a bit safer.
In the movie we only see the best of your work, but like any film, there's a lot that gets left on the cutting room floor. Any stunt outtakes you're willing to comment on?
TF: There's always an occasional spin, or something doesn't look quite right. But honestly, the crew assembled for Hobbs & Shaw was pretty A-lister, with many legends that have a hundred times the experience that I have. With a group like that, things tend to be pretty tidy and efficient. We loved hanging out on the island together, and the most fun part was the work—shredding these insane machines on a closed-down road with a badass helicopter hovering over your head. It was really an awesome job, so hopefully it comes off that way on screen, too.
It definitely did. I know you've worked on several Fast & Furious movies, and for this one you mentioned it was really an A-list crew. Does that go back to what you were saying about acting with a car, and does it let you better collaborate with other drivers?
TF: When you work with people you're familiar with, it makes it safer, more fun, and you get a better product. We can anticipate what the other guy is gonna do, and we have a blast.
Can you talk about how stunt driving has changed since you started, in terms of cars and production? Or is it the same fun it's always been?
TF: Stunt driving has changed a lot in the 15 or so years I've been doing it. The mentality used to be to build a ton of cars so that when one broke, you could simply swap it out for another one. For example, in Dukes of Hazzard we went through 26 General Lees. That mentality has shifted, so now if we want to do extraordinary things, then we need extraordinary cars. In Tokyo Drift, for example, we convinced the producers that rather than build nine 350Z drift cars, to only build five and put proper money into just two of them, to give them high horsepower, good handbrakes, and good suspension. Then when there was a jump or a crash, we'd use one of the basic cars, but when there was tough drifting or technical stuff, we'd use a built one.
It's also become more acceptable to use specialist drivers out of the racing community, rather than only stuntmen out of the stunt community. Then you can get a racer to take more advantage of the higher skill set that the car has, and you can make some cool stuff on film. A lot of directors are taking that approach, and over my time it's become more accepted in the stunt community that driving specialists may come in to do some of the moves, as the films want to incorporate technical things like drifting and other motorsport-specific skills.
Dwayne Johnson and Jason Statham each have legendary car movie titles to their names. Idris Elba set a flying mile speed record in a Bentley Continental GT in 2015. All three are car guys. Were you able to connect with them as fellow auto enthusiasts and drivers?
TF:Jason in particular is a genuine petrolhead. I met him at a track day I attended with Paul Walker a few years ago. He loves any kind of in-car training. In films you'll get actors into the cars to learn new skills, but the petrolheads always walk away unsatisfied. They want to learn how to drift, learn how to do all the stuff the stunt guys can do. While I don't know Statham well, my impression is that he's extremely interested in driving, his craft of driving, and that if he was given the chance to race or spend more time in drift cars that he would take it in a heartbeat. It's fun when the actors want to drive. They care about how it looks, they're super involved on-set, and they want to leave the film with the skills their characters have. It's no wonder, then, that you sometimes see actors in semi-professional racing.
Regardless, seeing all the Hobbs & Shaw actors drooling over the machines that got built for the movie was great. You hope that's how it is—you hope these guys are in car movies because they love cars, and I'd say that's generally the case.
On an unrelated and more personal note, what do you think of the new C8 Corvette?
TF: I tend to reserve my opinions about cars until I get them on the road and feel the engineering decisions that were made. So if Chevrolet pulled off a lightweight dynamic monster that takes advantage of that mid-engine layout, especially one that's a real competitor in motorsports, then I'm all for it. It seems like a strange car to wear the Corvette badge, and I'm sure there were heated debates internally to evolve it to mid-engine. But I'm a big fan of competition, and if it's for competitive purposes on the racetrack, then it sticks to the Corvette DNA. I'm ready to rip it up, so call me if you get one.
THE LATEST IN CAR NEWS
EMAIL NEWSLETTER SIGN-UP!
Share on FacebookShare on Twitter
Sours: https://www.motortrend.com/news/interview-tanner-foust-stunt-driving-hobbs-shaw/
Rat Rod Trophy Truck-Hobbs and Shaw-SEMA 2019
Pe­ter­bilt Name­plate of truck dri­ven by Shaw (Ja­son Statham) in Fast & Fu­ri­ous Pre­sents: Hobbs & Shaw
My's
MY'S Men's 3 Piece Suit Blaz­er Slim Fit One But­ton Notch Lapel Dress Busi­ness Wed­ding Par­ty Jack­et Vest Pants & Tie Set Dark Grey
$69.85
Shop product
Celio
Ce­lio Veste sur­chemise
€49.00
Shop product
Gfones
Gfones Mens Slim Fit Turtle­neck Long Sleeve Sol­id Knit­ted Pullover Sweater Ribbed Ther­mal Shirts Black
$21.99
Shop product
Timberland
Men's 6-Inch Pre­mi­um Wa­ter­proof Boots
$198.00
Shop product
Unbranded
Vin­tage Army Mil­i­tary Green Par­ka Jack­et, Orig­i­nal Army Jack­et, Large Size Jaket, Army Trench Coat
€66.00
Shop product
H2h
H2H Mens Ca­su­al Reg­u­lar Fit But­ton-Down Shirts Ox­ford Long Sleeve Ba­sic De­signed Black US M/Asia L (KMT­STL565)
$28.99
Shop product
Unbranded
Ja­son Statham Hobbs And Shaw Bomber Cot­ton Jack­et
£49.99
Shop product
Wenven
Wen­Ven Homme Blou­son en Co­ton Léger Veste Mil­i­taire Manch­es Longues Col Mon­tant Ar­mée Style pour Print­emps été Au­tomne Vert Large
€63.33
Shop product
Brandit
M-65 Clas­sic Jack­et
€49.95
Shop product
Mclaren
2020 McLaren 720S Spi­der
$399,995.00
Shop product
Rosie's handmade originals
Rosie's Hand­made Orig­i­nals 1950s Cir­cle Skirt Red Ros­es
£48.99
Shop product
Nikon
Re­flex Nikon DF ar­gent + Ob­jec­tif AF-S 50mm f/1.8 G
€2,619.99
Shop product
Panerai
PAN­ERAI LU­MI­NOR 1950 SUB­MERSIBLE PAM 389 AM­AG­NET­IC PAM00389 47MM FULL SET | eBay
$7,895.00
Shop product
Mana One - movie fic­tion­al merch - In­spired the The Meg
$39.20
Shop product
Tom ford
TOM FORD Men's TF 5408 001 Black Clear Rec­tan­gu­lar Eye­glass­es 56mm, Shiny Black, Shiny Rose Gold "T" Lo­go, 56/16/145
$165.82
Shop product
Belstaff
BEL­STAFF PE­GA­SO COUGAR BLOU­SON LEATHER JACK­ET
£489.00
Shop product
Dickies
Dick­ies Men's 11" Reg­u­lar Fit Stretch Twill Car­go Short
€15.99
Shop product
Helmut lang
Hel­mut Lang BLOU­SON en Noir | RE­VOLVE
€181.80
Shop product
Mclaren
2017 McLaren 720 Mclaren 720 V8 2dr SSG Au­to4.0l Petrol black Au­to­mat­ic | eBay
£154,990.00
Shop product
Ray-ban
Ray-Ban RB3025 Avi­a­tor Clas­sic Sun­glass­es
$130.88
Shop product
Sours: https://www.spotern.com/en/spot/movie/fast-furious-presents-hobbs-shaw/222436/peterbilt-nameplate-of-truck-driven-by-shaw-jason-statham-in-fast-furious-presents-hobbs-shaw
You will also like:
But this seemed to him not enough, and he asked to touch it. Overcoming her embarrassment, she resolved. He walked over the fluffy pussy, from which her pussy trembled, and instantly got wet, she was a virgin. His last request was that she jerk off to herself. She, overcoming fear and embarrassment, began to play with her pussy.
323
324
325
326
327