The Long Beach City Council voted unanimously on Tuesday, Dec. 4, to move forward with creating an ordinance to regulate short-term rentals in the city, like Airbnbs.
The decision came after dozens of people spoke in public comment. As residents began to use their time to address the council on the issue, the speakers line wrapped its way around the chamber walls.
Tuesday's meeting wasn't the first time the public has had a chance to weigh in. City staff have worked on creating such a policy for over a year, and Long Beach has held multiple community meetings and workshops to get input throughout the development process. In the final meeting in October, Long Beach presented three potential ordinance options, with varying levels of regulation.
Ultimately, staff's recommendation to council members was the regulatory middle-ground, known as Option 2. Among other obligations, that suggestion would require hosts to:
Register with the city
Provide a local 24-hour contact
Post city requirements in the unit
Provide a map of fire extinguishers and escape routes
Obtain at least $1 million in property liability insurance
Impose quiet hours from 10 p.m. to 7 a.m. on outdoor pools and hot tubs
The City Council's vote on Tuesday was to move forward with Option 2, with significant changes from different council members.
Councilwoman Jeannine Pearce asked to add language to the ordinance that would prevent unhosted short-term rentals from taking up more than 1 percent of the city's housing stock. She also wanted to limit the percentage of short-term rentals in a single housing development based on a sliding scale, so smaller buildings might have a lower percentage of short-term rental units, among other requests.
Councilwoman Suzie Price said she thought neighborhoods should be able to petition to ban short-term rentals where the host is not present, which could be approved with a two-thirds vote. But she was clear that the definition of a neighborhood in that sense shouldn't be so big as to carve out huge sections of the city, nor so small that regulations change block to block.
Councilwoman Stacy Mungo got in on the amendments, as well, requesting city staff to track registrations, complaints, resolutions and tax revenue from short-term rentals. She said city staff should prepare to come back to the City Council during an October 2019 meeting to go over that data and possibly make adjustments to the ordinance.
Related links
Councilman Rex Richardson chimed in, saying he hoped city staff would also study what impact a new short-term rental policy could have on local businesses.
All of those requests were accepted and approved in the final motion. City Council members made them in the hopes of striking a compromise that the various interested resident groups could be happy with.
Some of those who spoke during public comment were Airbnb hosts, many of whom wanted as few regulations as possible. There were also neighbors of short-term rental units, who complained of issues with noise, large events and limited parking; they wanted more rules on the rentals.
And there were affordable housing activists, who said that when they petitioned for rent control, Long Beach's response was that the city simply needed more housing. When discussing short-term rentals, they said on Tuesday, the City Council should ensure short-term rentals are not allowed in units that could otherwise provide long-term housing.
Despite the various voices council members heard on Tuesday evening, it seemed the nine members were all in agreement on at least one overarching sentiment: As Richardson said, "I know there will be changes, but it seems like things are headed in the right direction."
Sign up for The Localist, our daily email newsletter with handpicked stories relevant to where you live. Subscribe here.
Sours: https://www.presstelegram.com/long-beach-moves-forward-with-regulating-airbnbs-other-short-term-rentals
The 12 Best Airbnbs in Long Beach
Located less than 30 miles from the heart of Los Angeles, Long Beach is a popular destination for a variety of reasons. Not only does it boast miles of white sand beaches but there are so many things to see and do!
Whether you're looking to enjoy a family holiday at the beach, explore the artsy and historic downtown area, or take a day trip to Catalina Island, Long Beach has something for everyone. Plus, its temperate climate means it's the perfect destination to visit any time of year.
With a diverse population, Long Beach also happens to be home to an incredible culinary scene. From authentic Cambodian fare to hole-in-the-wall Mexican restaurants and innovative California cuisine, Long Beach is a great city for foodies!
If you're planning a memorable family holiday, a romantic retreat, or a weekend getaway with friends, there's no doubt that you will find a unique Airbnb in Long Beach that's perfect for you. From stylish tiny houses to oceanfront homes to historic cottages, the options are plentiful.
Finding the perfect vacation home might seem a bit overwhelming, so we have picked out 12 of the best Airbnbs in Long Beach to make your decision just a little bit easier!
Top 10 Things To Do in Long Beach
---
Why Stay in an Airbnb in Long Beach
Staying in an Airbnb in Long Beach comes with lots of perks. First off, you'll have the chance to experience a local neighborhood instead of staying in a more touristy spot. Locals are known for their friendly demeanor so you'll likely get lots of travel and dining tips from your Airbnb host.
The selection of cool Airbnbs in Long Beach is extensive. You can opt for secluded "Hobbit" houses in the hills, retro midcentury homes in the heart of town, or adorable historic homes on the beach.
By choosing to stay in an Airbnb, you are likely to get way more value compared to a hotel. Most Long Beach vacation homes are much nicer and more spacious than your average hotel room. Another added perk is that you'll have a kitchen to prepare home-cooked meals to help save on dining costs.
Plus if you are traveling as a large group, Airbnbs usually cost less per person than shelling out money for multiple hotel rooms. This is especially true in the summer months when tourism is at its height.
Search Long Beach Hotels and Vacation Rentals
---
Best Long BeachAirbnbs for Couples and Solo Travelers
1. Boho-Chic Beach Home in the Heart of Long Beach
This quintessential So-Cal beach home was recently remodeled so you can expect everything to be brand new and top-of-the-line. This Long Beach Airbnb boasts original reclaimed ceiling beams, hardwood floors, and stylish boho-chic decor. Large windows throughout let in plenty of natural sunlight.
You can curl up on the couch and have a relaxing movie night, whip up a gourmet dinner in the fully outfitted kitchen, or sip your morning cup of coffee in the breakfast nook. The cozy bedroom features a plush queen-size bed with a luxury Beautyrest mattress. There is also a deluxe en-suite bathroom with a rainfall showerhead.
Head outside where you can unwind on the private front patio. The space was also fully renovated and features a fire pit with Adirondack chairs, a charcoal grill, and a dining table that's perfect for an alfresco meal under the stars.
If you feel like exploring, this adorable Airbnb is just two blocks from the beach and all of the restaurants and shops on 2nd Street are right outside your door!
---
2. Stylish "Hobbit House" Nestled in Hills
If you're looking for a unique Airbnb for a romantic retreat, the "Hobbit House" is for you! This adorable Airbnb is hidden in the hills of Palos Verdes. We doubt you'll want to tear yourself away from this dreamy vacation home, but if you do Long Beach is just 14 miles away.
This tiny home was built partially underground and looks just like something you'd see in the famous films. The space is actually a converted shipping container, which is adorned with Palos Verdes stone.
Enter through the picturesque circular front door and you'll find vintage art, faux fur Sherpa chairs, and plenty of plants. There is also a kitchenette with a mini-fridge, microwave, and other basic supplies so you can prepare snacks and coffee. A comfy California king bed with a cozy down comforter is tucked away in the far corner of the space.
You'll also have access to a private yard surrounded by nothing but nature. Sit back and relax under the sun on the comfy lounge chairs. There is also a fire pit outside perfect for warming up on chilly nights.
---
3. Seaside Bliss: Modern Downtown Condo by the Beach
Located right on Ocean Boulevard – the main drag in Long Beach – this impeccably decorated condo is close to everything. You can walk to the beach, go for a hike on a nearby trail, or sample a few of the trendy restaurants and cafes that are right outside your door.
The owner even provides you with two Huffy beach cruiser bikes so exploring everything Long Beach has to offer is a cinch!
Everything about this Long Beach Airbnb is picture-perfect. With its modern industrial-style kitchen and coffee tables, chic sofa and chairs, and hip bohemian accents, the open-plan living space is about as stylish as it gets.
This apartment also features a cute kitchen area that has everything you need to prepare meals at home. You can even pack a picnic to take to the beach or nearby Bluff Park! The sun-filled bedroom has a comfy queen-size bed and a desk in case you need to get a little work done during your trip.
---
4. Secluded Craftsman Cottage with Hot Tub
It's hard to believe that this quaint craftsman cottage is smack in the middle of Long Beach. With its natural surroundings and rustic ambiance, you'll feel like you're in a secluded cabin in the woods. But all of Long Beach's main attractions are a short bike ride away.
Not only do the owners provide you with free bicycles, but you'll arrive to find they've provided you with complimentary snacks, breakfast supplies, and a bottle of wine! This just adds to the charm of this lovely Long Beach Airbnb.
With hardwood floors and wood trimmings, the open-plan living area is as cozy as it gets. You can curl up with a book on the comfy couch, get some work done at the antique desk, or prepare breakfast in the fully outfitted kitchen.
You'll love the private two-level patio. Surrounded by twisting tree branches, this space is an oasis in the middle of Long Beach. You can cook up a barbeque meal at the grill area, dine alfresco at the dining table, warm up by the fire pit, or unwind in the hot tub.
---
Best Long Beach Airbnbs for Small Groups and Families
5. Stunning Spanish-Style Home
This beautiful Spanish-style home is by far one of the best Airbnbs in Long Beach. Not only is this 3-bedroom vacation rental architecturally stunning and impeccably decorated, but it's conveniently located right in the heart of town.
The living room is a designer's dream! The space features a triangular wood-framed picture window, curved ceilings, and a beautifully tiled fireplace. The super comfy leather couch, driftwood coffee table, and colorful art and rugs make the room even more stylish.
With white granite countertops, custom wood shelves, and stainless steel appliances, the kitchen has everything you need to cook at home. You can enjoy meals in the cute breakfast nook or the ultra-modern dining room.
You'll also have access to the shared backyard. The Spanish-style courtyard couldn't be more picture-perfect. You can take a dip in the splash pool, lounge under the sun, or gather around the fire pit for a fireside chat.
---
6. Artsy Home in Trendy East Village Neighborhood
This modern 2-bedroom home is located in the heart of the East Village (aka the Arts District). This is a great option for art enthusiasts and foodies because the area is peppered with the city's best art galleries and restaurants as well as a variety of hip boutique shops.
With plenty of beds, this home can actually accommodate up to 10 people so it's a great pick for a family vacation or a weekend getaway with friends. The stylish living room features hardwood floors, colorful paintings, and a rather regal tufted green sofa.
The kitchen boasts beautifully tiled floors, stainless steel appliances, and a shabby chic breakfast table that's perfect for that morning cup of coffee. The space is fully outfitted with everything you need to cook at home and you can enjoy a formal dinner at the 6-person dining room table surrounded by modern art.
Plus, you'll love the private patio where you can enjoy a glass of wine in the Insta-worthy hanging egg chairs and gaze up at the stars!
---
7. Eclectic Home near Retro Row
Long Beach is known for its eclectic and artistic locals, which is what makes this quirky vacation home so fitting. Filled with artsy trinkets, vintage objects from around the world, and a mishmash of cute furniture, this is hands down one of the most unique Airbnbs in Long Beach.
It also happens to be located right next to 4th Street Corridor – aka Retro Row – which is home to the city's most funky shops and secondhand stores.
Expect to find Spanish-style arched doorways, maple wood floors, boho-chic rugs, and potted plants throughout this 2-bedroom home. Both bedrooms are chock full of character and boast colorful paintings, bedding, and rugs.
Feel free to peruse all of the decorations in the eclectic living room. This is the perfect spot to relax with a good book. Just pick one from one of the many stacks of books!
You can whip up a meal in the modern kitchen which has everything you need to prepare meals at home. Dine in the cozy breakfast nook or enjoy and a meal on one of the private patios.
---
8. Renovated 1920s Craftsman Home
This 1920s Craftsman home is about as picture-perfect as it gets. The cute 3-bedroom Airbnb was recently remodeled so everything is brand new, top-of-the-line, and thoughtfully decorated.
The living room features a modern couch, a sleek wood coffee table, and a large flat-screen perfect for a movie night. Colorful accent rugs, throw blankets, and retro chairs add a stylish flair.
With stainless steel appliances, the cozy kitchen has everything you need to prepare a special meal to enjoy at the lovely farmhouse table. There's also a small workstation just off of the kitchen for checking emails.
Each of the bedrooms features crisp white linens, colorful paintings, and stylish drapery. Two of the rooms have queen beds and the third room has two twin beds, which means this vacation rental can sleep up to six people. It's a great option for a much-needed family vacation!
---
Best Long BeachAirbnbs for Large Groups and Events
9. Retro Midcentury Home with Pool
With its adorable retro furnishings and vintage decor, you'll feel like you've been transported to the 1950s. This 4-bedroom modern ranch home was built in 1954 so the creative owners decided to embrace its history and create a colorful time capsule with luxurious amenities.
Expect to find all sorts of cool objects around the home from a vintage record player to an old-school vintage TV and modern art. The picture-perfect living room features a large couch, retro furnishings, and a funky asymmetrical fireplace. Floor-to-ceiling windows offer garden views and plenty of natural sunlight.
Sours: https://wanderingwheatleys.com/best-airbnbs-long-beach-california/
Shh! Koh Lanta is one of the Andaman's best-kept secrets. Still, growing numbers of visitors are now hitting this gorgeous island that bends around the Thai coast with its mountains and mangroves. Most flock to the gorgeous western shoreline, which starts with the ramshackle port town of Ban Saladan and ends at the glorious white-sand bay of Kantiang, offering all sorts of coves and bamboo reggae bars as it goes. Rich Muslim and gypsy culture is still very much alive here, so get ready for somewhere palpably different to built-up Phuket and Krabi.
Aside from a medley of top-class beach hotels and resorts, Koh Lanta Airbnbs come in all shapes and sizes. You can seek out bungalows on the beach that open to visions of the lapping waves of the Andaman Sea. You can discover hilltop villas with room enough for the whole family and private pools where the sunset is stunning. And there are bargain choices, in backpacker guesthouses and hostels. Let's take a look…
In this Airbnb guide to Koh Lanta:
Is Airbnb legal in Koh Lanta?
The situation with Airbnb all across Thailand remains a little uncertain after some court decisions went against condo owners for offering short-term lets in non-registered establishments. Despite lots of discussion, the service is still basically working as normal on the island of Koh Lanta. You can scroll through countless listings, ranging from self-contained flats to full-on family houses with pools.
Basically, there's something of a grey area surrounding the legality of some stays of under 30 days. It's technically not allowed in any property that doesn't comply with the Hotels Act. However, little seems to be being done to enforce the law. Landlords all across Lanta and the Land of Smiles generally remain happy to advertise and receive bookings, and the risk of punishment is generally considered low to travelers themselves.
If you are worried about anything, we'd recommend contacting your prospective host and checking everything's above board before bagging that place by the palm-fringed beaches of this lovely island.
Where should I stay in Koh Lanta Airbnb?
Koh Lanta is best navigated from north to south. The first port of call is Ban Saladan (1), where the ferries pull in. From there, one main road wiggles through the coconut groves heading down towards Kantiang Bay (2) right at the far end of the island. Between them are vibrant Long Beach, the hedonistic backpacker hub of Klong Khong (3), and family favourite Klong Nin (4). The east coast conceals one last treat: The historic sea gypsy trading port of Old Town (5).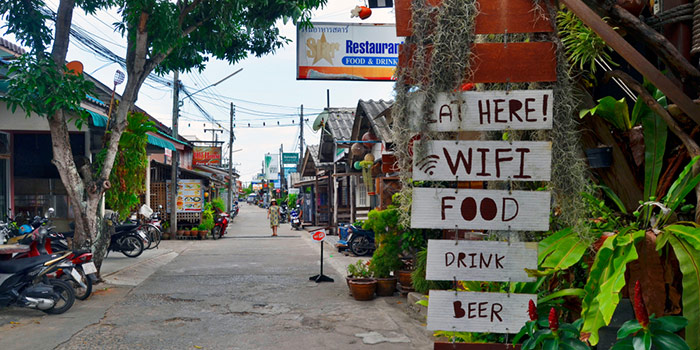 Ban Saladan
Pros
Super-easy to get to from the boat – this is the port!
Cheap for accommodation
Loads of spots to eat at
Cons
Ugly town centre
Erosion on the local beach
Everyone steps off the ferry into the ramshackle streets of Ban Saladan. This is the port of Lanta, found capping off the island right at its northern end. The town is brimming with soy-scented food options and enticing eats, ranging from Indian curry to local seafood joints. There are pharmacies and 7/11 shops, not to mention perhaps the largest concentration of tour providers going (scuba diving, anyone?). The local beach at Laem Kho Kwang is okay, but suffers from a big tidal change and some hefty coast erosion.
View available Airbnbs near Ban Saladan
Long Beach
Pros
It's got something for everyone
Fantastic array of accommodation
Wonderful sunsets
Lively bar scene
Cons
Hard to walk around
Can be expensive during high season
Getting busier
Look at Long Beach as the safe bet; the jack of all trades that fuses stunning shoreline with accomplished family hotels and a little dash of backpacker energy. Running – as its name implies – for nearly three kilometres down the side of the west coast, it starts off in a medley of bungalows before offering up reggae bars and bike rentals. There are some fantastic family and international eateries, serving Thai noodles and Italiano pizzas alike. The south end of Long Beach has the famous Lanta Animal Welfare centre, along with a gorgeous bay known as Secret Beach (but don't tell anyone!).
View available Airbnbs near Long Beach
Klong Khong
Pros
The best nightlife on the island
Fantastic Thai food on the main road
Loads of budget accommodation
Cons
Ugly beach
Gets busy with backpackers
The backpacker's haven of Klong Khong is where you'll find the bumping neon bars, the late-night bucket parties, and the ramshackle reggae dives of Koh Lanta. It's the out-and-out party hub of the island, and you'll find that revellers ride tuk-tuks up from Kantiang and down from Long Beach to get involved when there's a big event on (usually once a week, at least). The beachfront is rocky and has brown-tinged sand, but you're here for the cheap rates and nightlife, remember?
View available Airbnbs near Klong Khong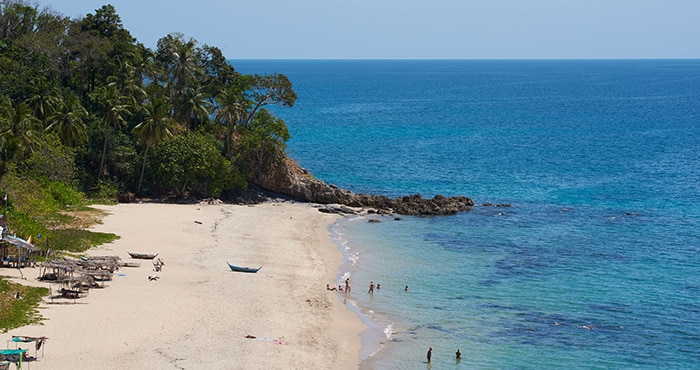 Klong Nin
Pros
Perfect for families
Great swimming on the beach
Loads of midrange accommodation
Cons
Quite far from the pier at Ban Saladan
Not the best for nightlife
Klong Nin is a long and sandy beach with plenty going for it. The town behind is a chilled mix of family shops and eateries, with lots of small-scale hotels and bungalow resorts to pick from. There are a few rocks in the water, but it's generally considered to be the best swimming location on Koh Lanta. A little harder to reach than its similar counterpart up in Long Beach, this one's probably a tad better for escaping the crowds and holidaying in groups with little ones.
View available Airbnbs near Klong Nin
Kantiang Bay
Pros
One of the best beaches on the island
A remote nearby national park
Luxurious stays for honeymooners can couples
Cons
One of the hardest-to-reach spots on Lanta
One of the priciest parts of the island
The southernmost of Koh Lanta's popular beaches, Kantiang Bay is also one of the island's best. A scythe of white sand arcs between two coastal hills that are colonised by rickety sunset bars selling cold Chang and seafood. The vibes are really laid back and Kantiang has cut its teeth in the honeymoon market. That means you can expect plenty of luxury in the area's Airbnbs and resorts – think infinity pools and jungle bungalows built especially for loved-up couples.
View available Airbnbs near Kantiang Bay
Old Town
Pros
Filled with sea gypsy culture and character
Great souvenir shopping
Top eating and bars
Cons
On the less-pretty east coast
Not many beaches nearby
Old Town is something a little different. Stuck out between the rock pools and mangroves on the eastern coast, it's way less visited than the mainstay resorts. It's been a major trading post for centuries, a heritage you'll see in the rickety piers and long strips of emporiums selling everything from incense sticks to saris. A few bohemian homestays and cowboy bars are also in the mix, while Old Town is a great jump-off point for truly remote isles like Koh Por (daytrip territory).
View available Airbnbs near Old Town
Best Airbnbs in Koh Lanta
Best Airbnb apartment in Koh Lanta
Malee Highlands Apt. A7
Enjoy the rustic feel of Koh Lanta without sacrificing any creature comforts in this deluxe apartment. It's a modern build with sleek and clean-look concrete walls. Inside is a spacious sleeping area with a large double bed. That filters through to an open-plan living space that has a lovely L-shaped lounge, flat-screen TV, and access to a balcony that overlooks the coast trees and the Andaman Sea.
Book this Airbnb now
Best Airbnb house in Koh Lanta
Eastern Islands Panoramic Sea View Pool Villa
You might need a car or a scooter to reach this panoramic villa on the hills above Old Town, but boy is it worth it. You'll be out in the backcountry of Koh Lanta, surrounded by rubber palms and jungles. The pool is the piece de resistance. It's built on a stepped terrace to offer sweeping views of the east coast and the remote islands that speckle the strait.
Book this Airbnb now
Best Airbnb for families in Koh Lanta
Stylish Pool Villa 10 mins walk to the beach
Perched on the hills just above the family favourite of Long Beach, this standout villa boasts a cracking infinity pool and sun terrace. There are three bedrooms, each with doubles and ensuite bathrooms, along with a dining and living area that merges with the outdoor space. Onsite parking is a bonus, but it's also only 10 minutes' walk down palm-fringed roads to the sand.
Book this Airbnb now
Best Airbnb for large groups in Koh Lanta
Malee Beach Front Villa A5
Sat at the quieter northern end of Long Beach, this eye-catching villa has whitewashed walls and a touch of traditional Thai architecture. You really can't beat the view from the garden, which is just steps from the sloshing waves of the Andaman Sea. There's a large chill-out space, an oversized pool, and a comfy lounge with a flat-screen on the menu. 12 guests are accommodated over six bedrooms.
Book this Airbnb now
Is Airbnb cheaper than hotels in Koh Lanta?
Because Koh Lanta is such an upcoming Thai island and a real favourite for family visitors, you might find that hotels are little more than you expected in these parts. Airbnb, on the other hand, can present some pretty attractive deals – around $25 per person, per night in a stylish bungalow with a sea view is normal during the shoulder season of November and December. On top of that, long-term holidaymakers can benefit from some fantastic reductions on monthly contracts (something to the tune of half price is possible!).
It's worth noting that many of the Airbnbs on Koh Lanta are privately owned properties. They won't offer the same level of service that you get in hotels. If that's the sort of pampering you're after, be sure to check out establishments like the SriLanta Resort and Spa. It's a gorgeous spot, with a prime location on lovely Klong Nin beach. The rentals channel the feel of bamboo bungalows. The pools – there are more than one! – are right by the shore. What's more, you'll enjoy on-site concierges and daily housekeeping.
Book a room at the SriLanta Resort and Spa on Agoda
Koh Lanta rolls from mangroves to mountains and down to shimmering sands. It's one of the more chilled and welcoming of the Andaman isles, with reggae bars dotting its towns and little clusters of bungalows fringing its beaches. You'll love it!
How useful was this post?
Click on a star to rate it!
Average rating / 5. Vote count:
Emily Walsh
Sours: https://bangkokattractions.com/airbnb-in-koh-lanta/
Couple accused of illegally running short-term rental business through Airbnb
Choose the perfect vacation rental
Save up to 26%
Best Vacation Home Deals in Long Beach
Recommended Vacation Rentals in Long Beach
Find your perfect vacation rental in Long Beach: from $73 per night
Vacation rentals with Wi-Fi
Apartments and vacation rentals with a kitchen
Vacation rentals and apartments with air conditioning
Popular Rental Amenities in Long Beach
Choose a filter above to find an accommodation matching your criteria among the 1168 properties in Long Beach. Most of the properties in Long Beach offer "internet" or "TVs," which makes it a wonderful vacation destination if you can't imagine a vacation without internet or you want to tune out with some TV time. You could even look for accommodations if you want a rental with a jacuzzi (52 rentals include "Jacuzzis" in Long Beach) or if you want a rental with a sauna (13 rentals in Long Beach include "saunas").
The Weather in Long Beach
Find the Long Beach climate diagram. On average, the warmest month is September. However, temperatures can go lower than 46° in Long Beach in January. The rainiest month is December while the driest month is June.
7-Day Weather Forecast in Long Beach
Fri, 22 Oct
Sat, 23 Oct
Sun, 24 Oct
Mon, 25 Oct
Tue, 26 Oct
Wed, 27 Oct
Thu, 28 Oct
Receive exclusive offers, inspirational stories, and travel regulation updates.
Become a subscriber* and receive great tips on travel planning sent to your inbox!
By signing up, you agree to our Terms of Service and Privacy Policy. *You will receive offers from HomeToGo and agree that we may share your hashed email address with third parties for the purpose of better tailoring advertising to your needs.
Accommodations for your vacation in Long Beach
More than half of the offers (51.29%) in Long Beach are hotel rooms. They are the most typical accommodations in this destination. In addition, the average size of hotel rooms in Long Beach is 380 ft² and they cost, on average, $255 a night. Furthermore, if you are going in a group of 3, hotel rooms are a great accommodation type in Long Beach, as they usually welcome this exact group size. House rentals are the other most available property type in Long Beach. House rentals in Long Beach are 1,880 ft² on average, with average prices of $416 a night.
Feel the Rhythm of California's Long Beach With Seaside Vacation Homes
California is calling you to bask in its eternal sunshine and sandy shores. Rent a quaint house near the beach and feel the salty kiss of the nearby waves. Alternatively, relax in a luscious urban condo or European-style mansion; Long Beach vacation homes are diverse.
Where to find the best food in Long Beach?
Seafood by the Beach
No traveler can resist the tantalizing array of seafood while on vacation. Pier 76 Fish Grill serves exquisite fish from bountiful local waters. Dig into the Lambasting and Lobster Roll that's seasoned with love and hearty chipotle sauce.
If that doesn't hit the spot, then head over to King's Fish House for additional options. Enjoy their upbeat space and beautifully shucked oysters on ice, or Alaskan king crab legs dipped in melted butter sauce - both ready to be devoured by hungry patrons.
What are the best places to discover the arts and culture of Long Beach?
An Entertaining City
Take a break from traditional sightseeing and catch a flick at the Art Theater of Long Beach, which offers an incredibly unique cinematic experience from the heart of 4th Street's shopping and dining district. Dating back to the 1920s, the restored theater serves wine and coffee, and mostly shows lesser-known independent films.
Check out Long Beach's exciting Convention and Entertainment Center. It's open all year round and you are guaranteed to enjoy the variety of different events. Attend conferences, sporting events and trade shows, and even see The Long Beach Symphony play.
What are the best activities for families in Long Beach?
Enjoy the Sunshine
Get the kids outside by taking them on a gondola ride around the Naples neighborhood. With Gondola Getaway, you can bring your own picnic and have the gondoliers put your drinks on ice. Soak in the atmosphere of this special neighborhood from the water.
El Dorado Nature Center is also worth a visit. Spend time on the shaded, lush walking trails of this gorgeously endowed park. Peruse the small gift shop offering environmentally themed books and gifts, or the small island that houses the visitor center.
What are the best events and festivals in Long Beach?
8 Big Annual Events in Long Beach
Long Beach is known as a festival city hosting some of the largest sports and cultural events in the United States.
1. The Grand Prix: This IndyCar Series race held in April is the city's largest event. If you plan on attending, book a Long Beach rental home well in advance.
2. Gay Pride Parade Long Beach: Gay Pride, held in May, is one of the largest Pride parades in the United States. Apart from the parade itself, a festival with music and dance performances takes place around Shoreline Drive.
3. Comic Con: Held in September, the Comic Con gathers the best illustrators, writers and artists from the world of comic books.
4. Long Beach Marathon: Each fall the city marathon takes runners through scenic spots, including long stretches of beachfront.
5. Boat Parade: The Christmas Boat Parade held on the 15th of December features colorfully lit and decorated boats.
6. Kite Festival: This week-long kite celebration held in August includes contests, kite fighting, workshops, and a lighted kite show.
7. Long Beach Jazz Festival: Held at the Rainbow Lagoon Park each summer, the festival brings the best jazz musicians and singers to the city.
8. Long Beach Motorcycle Show: Held in November, it includes exhibits by manufacturers, test drives, and fun shows.
What are the must-see attractions in Long Beach?
The 5 Best Things to Do Close to Your Long Beach Vacation Rental
1. Aquarium of the Pacific
Displaying more than 11,000 fish species from habitats as diverse as the northern waters and the tropical coral reefs, the Aquarium of the Pacific gives visitors the possibility to touch and feed ray species, frogs, and even sharks.
2. Hotel Queen Mary
You can spend a whole day in this 1936 permanently docked ocean liner-turned-hotel. Start by taking a historic tour of its Art Deco interiors, then enjoy a drink at its sophisticated terrace bar.
3. Naples Island
Separated from the mainland by a narrow canal, and featuring peaceful streets, idyllic canals, and million-dollar yachts, this island is the perfect spot for an evening walk.
4. Catalina Island
Go hiking or sip a coffee at one of the laidback cafés of this beautiful island often described as resembling a Mediterranean paradise.
5. Knott's Berry Farm
Located 20 miles from Long Beach, Knott's Berry Farm is a charming old-fashioned theme park with roller coasters, family rides, and water rides.
How much does it cost to rent a vacation rental in Long Beach?
The price for Hotel rooms and House rentals in Long Beach is $73 per night.
What amenities are most popular for vacation homes in Long Beach?
The most popular amenities for home rentals in Long Beach include accommodations that have: internet, TVs, and pools.
How many vacation rentals are in Long Beach?
Discover 1168 vacation rentals available to book in Long Beach.
Are pets allowed in vacation rentals in Long Beach?
Finding a cabin rental in Long Beach that allows dogs is definitely possible, with 106 pet-friendly homes on offfer.
What's the best time of year to travel to Long Beach?
If booking a vacation rental in Long Beach, consider that rainy season is usually in December or January, with June often being the driest.
Sours: https://www.hometogo.com/long-beach/
Long pool airbnb beach with
Airbnb Hosting: What you Need to Know in Long Beach
Airbnb was once a cash cow for people with an extra bedroom or even an extra home. However, that all came crumbling down once travel all but stopped thanks to the Coronavirus pandemic. Some Airbnb hosts are now struggling to pay their mortgages and many are having to sell off their properties. In the midst of all of this, Long Beach also has some short-term rental changes coming. In June, the City Council adopted an ordinance to regulate Long Beach short-term rentals, like Airbnbs. These changes go into effect tomorrow. Here's what we know.
New Short-Term Rental Rules in Long Beach
ADUs can NOT be used as short-term rentals.
Short-term rentals need to be registered with the city and last for one year after being issued.
Only two people per bedroom, plus two extra people can occupy a short-term rental at once. Including the hosts. The maximum occupancy can never exceed ten people unless you have an event permit.
Update as of November 18, 2020: When we wrote this article in October, short-term rental units needed a "host" to be present throughout the guest's stay. The host needed to be the owner or tenant and the unit needs to be their primary residence (defined as a place where they live at least 275 days of the year). However, on November 17, 2020, the Long Beach City Council voted unanimously to change the law and allow unhosted rentals. The city believes this will allow them to tax and better regulate the industry. To read more about their decision, check out this article.
For more information, please visit the City of Long Beach's website HERE.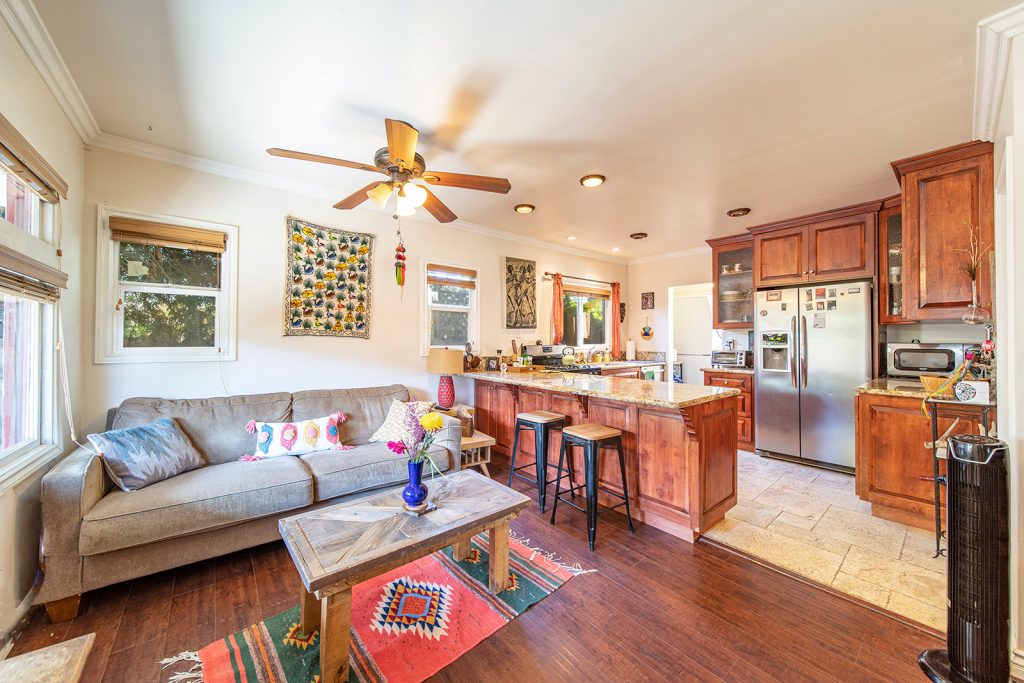 Small studio units like this one that include a kitchen are great for Airbnb hosting.
The following information is from a pre-pandemic article we wrote. We are leaving the information here in the hopes that Airbnb hosts will be back to work after the pandemic.
Frequently Asked Questions
Airbnb has become a favorite among frequent travelers. Described as a website to list, find, and rent lodging, many people have also taken a liking to earning extra income as an Airbnb host. However, if you have some concerns about inviting strangers into your home, you're not alone.
Why would I consider being an Airbnb host?
The obvious reason to become an Airbnb host is that it's a fairly easy way to earn extra income. You can choose to rent out a corner of your living room, one bedroom,  or your entire house. The Airbnb site is massive so no matter what type of housing you are offering, there is most likely someone looking for exactly what you have to offer. The other perk is that Airbnb housing is short term. While renting out your home to permanent renters can be daunting, Airbnb allows you to rent out your space for as long as you would like. You also get to choose the price. Airbnb allows for a lot of flexibility. If your goal is to turn hosting into a full-time job, that's totally possible too.  If you choose to stay in your home while renting out a room, being an Airbnb host can also be great way to meet new people from across the world.
What steps do I need to take to become a host?
Listing your home on Airbnb is free and simple. Just follow the instructions here. You will be prompted to fill in a description, price, and availability, as well as upload photos of your home. However, before you list your home, there are other factors to consider.
What risks are involved?
Identity Theft: While not likely, it's possible. You can avoid your identity getting stolen by following a few necessary safety precautions.
You may get stuck with squatters or irresponsible renters: Again, there are plenty of wonderful house guests on Airbnb, but unfortunately, there may be people who abuse the system. To play it safe, keep your stays to under 30 days. Create a clear paper trail with your agreement terms, make sure your guests give you real contact information beyond just an email address, and only choose guests who have a past history of using Airbnb.
Property Damage: Airbnb offers a $1,000,000 host guarantee but this does not cover certain damages that could result from having people stay in your home. Read up on the policy here and make sure you have a proper home insurance plan.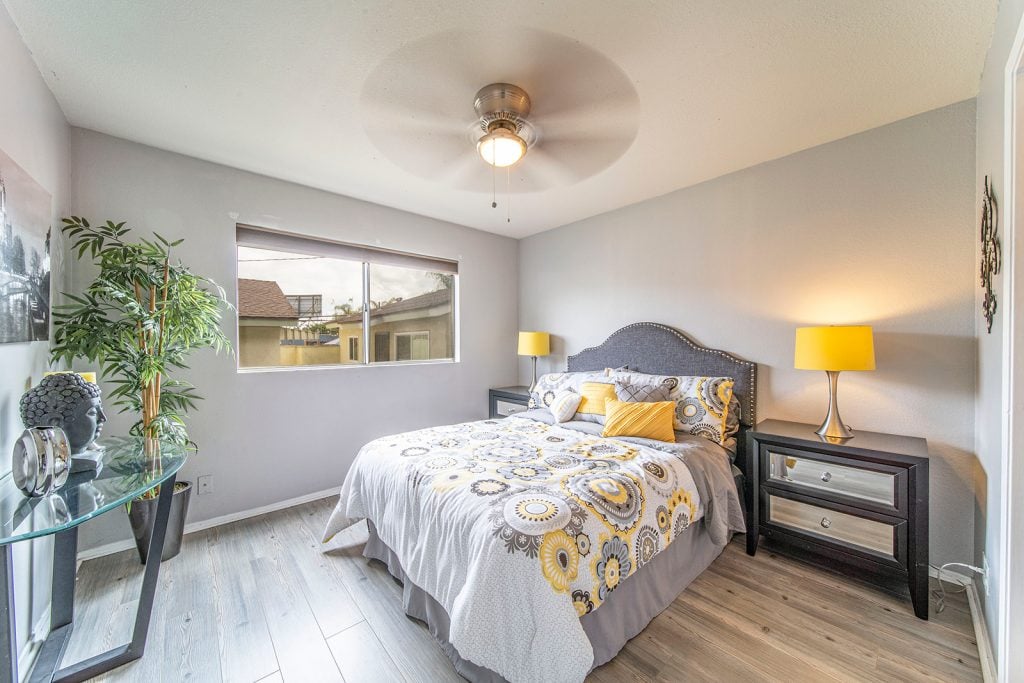 Keep your Airbnb unit or extra room simple, but make sure guests have everything they need.
How do I know how much to charge?
Knowing how to properly list your space is important so that you receive the best possible return. However, you also don't want to overprice your space and miss out on potential business. Airbnb will recommend a base price to charge, but it's wise to do your own research too. Check out this guide to determining the best price to list your home at on Airbnb.
Hospitality 101
If you're renting make sure that you get your landlord's approval before renting out your home to Airbnb guests. It's also polite to take your neighbors into consideration. You may want to let them know ahead of time that you will have other people staying in your home. At minimum, be sure to attract guests that won't upset your neighbors. For example, if you live in a quiet neighborhood, make sure your guests understand that there are to be no loud parties. Airbnb allows guest to review their hosts, so it's important that they have a pleasant experience.
It's also important to make sure your home is properly furnished and set up for guests. It's standard to supply towels, toilet paper, bed sheets and other household staples. Also don't forget to have a spare key so your guests can come and go!
Bottom Line:
Take the necessary safety precautions and choose your guests carefully. Treat your guests with respect and you can expect the same in return. Being an Airbnb host can be a great way to bring in extra income, but like every business encounter, there are always risks involved.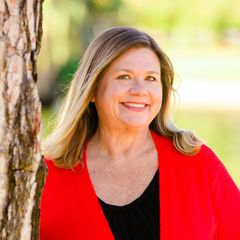 Shannon Jones has been selling real estate since 1998 and specializes in listing and marketing homes. She has consistently been one of the top Realtors in the Long Beach area. Prior to her award-winning career in real estate with the Shannon jones Team, Shannon has had successful careers in journalism and public relations. She holds a bachelors degree from UC Irvine and a masters degree from UC Berkeley. Shannon holds E-Pro, CDPE (Certified Distressed Property Expert), and PSC (Pre-Foreclosure Specialist) certifications. Shannon is very personable and maintains a very strong moral compass, always putting the best interest of home buyers/sellers above monetary goals. A California native, Shannon enjoys gardening, travel, reading, cooking and poker when she's not selling homes MY DESIGNATIONS Lic# 01247705 | CDPE (Certified Distressed Property Expert) | E-Pro | PSC (Pre-Foreclosure Specialist) MY SERVICE AREAS Anaheim Bellflower Buena Park Carson Cerritos Cypress Downey Fountain Valley Garden Grove Huntington Beach La Palma Lakewood Long Beach Los Alamitos Los Angeles County Norwalk Orange County Rossmoor San Pedro Seal Beach Signal Hill South Bay Westminster
This site uses Akismet to reduce spam. Learn how your comment data is processed.
Sours: https://showmehome.com/airbnb-hosting-know-long-beach/
Walk Through of an Airbnb in Long Beach, MS
She shudders to remember how bad she felt. Around her, the world around Julia collapsed all her life. The question knocking inside made it impossible to sleep, eat, breathe, live.
You will also like:
Igor. - Liza whispered murdered. - Do you want them to meet now. - her friend propped her shoulder. - And that will be.
18
19
20
21
22