Beebee
Wood & Silver-Plated square frame - for 9 x 9 cm photos
€
The Beebee children's collection is worth buzzing about with its recurring motifs of graphically interesting hexagons and adorable bumblebees, a nod to both nature and the company's stamp and Madison Avenue store design. It includes this 6" x 6" painted wood picture frame with silver plated 3-D bees sitting on the photo slot ledge. Simultaneously add a dash of playfulness to the décor and personalize a space by displaying a favorite moment in the frame.Makes an ideal baby shower, christening or infant birthday present. It can be personalized by adding a plate in the back an engraved with a name and/or a date. The back of the frame is made of wood. You can customize it with a first name and/or a date engraved on a silver plated patch of 2x6 cm which will be fixed on the back.
Technical description
| Attributes | Details |
| --- | --- |
| Qty per product set | 1 |
| Code JDE | |
| Material | Silver-Plated |
| Secondary Material | Wood |
| Collection | Beebee |
| Iconic | No |
| Style | Contemporain |
Shipping & Returns
Select your desired shipping method at checkout.
Shipping Methods:
Shipping within France by Chronopost: free shipping for € of purchases or over - 3 working days (includes engraving)
Shipping within Europe by DHL: free shipping for € of purchases or over - between 3 to 5 working days (includes engraving)
Not sure about your product?
You have 14 days from the date of purchase to return or exchange your item. Please contact Customer Care or visit your nearest Christofle boutique in Paris or Lyon.
Learn More
Collection Beebee
The Beebee collection brings imagination to life for babies and toddlers and reinterprets the iconic hexagonal motif of Christofle. Playful bee and honeycomb motifs adorn Christofle's coveted baby cups, flatware, tablewars, jewelry, and a music box. Each object from the collection is intended to accompany the child in different stages of childhood.
Discover the Collection
We can't find products matching the selection.
We found other products you might like!
Silvercare

Drawer Storage Insert, may contain 2 pieces, sold empty

Available

Discover

Silvercare

Box of Two Polishing Gloves

Available

Discover

Silvercare

Large Drawer Storage Insert, may contain 12 pieces, sold empty

Available

Discover

Silvercare

Drawer Storage Insert, may contain 12 pieces, sold empty

Available

Discover

Silvercare

Drawer Storage Insert, may contain 12 pieces, sold empty

Unavailable

Discover
Sours: https://www.christofle.com/eu_en/picture-frame-9x9-cm-beebee-silver-platedhtml
How to Create a Grid Gallery Wall
The gallery wall trend is here to stay, but with so many iterations on the classic salon style gallery wall, it can be hard to find the right combination for your space, budget, and style. Meet the grid gallery wall. Perfectly customizable, grids couple the drama and elegance of traditional gallery walls with sleek modern lines for an instantly luxurious interior.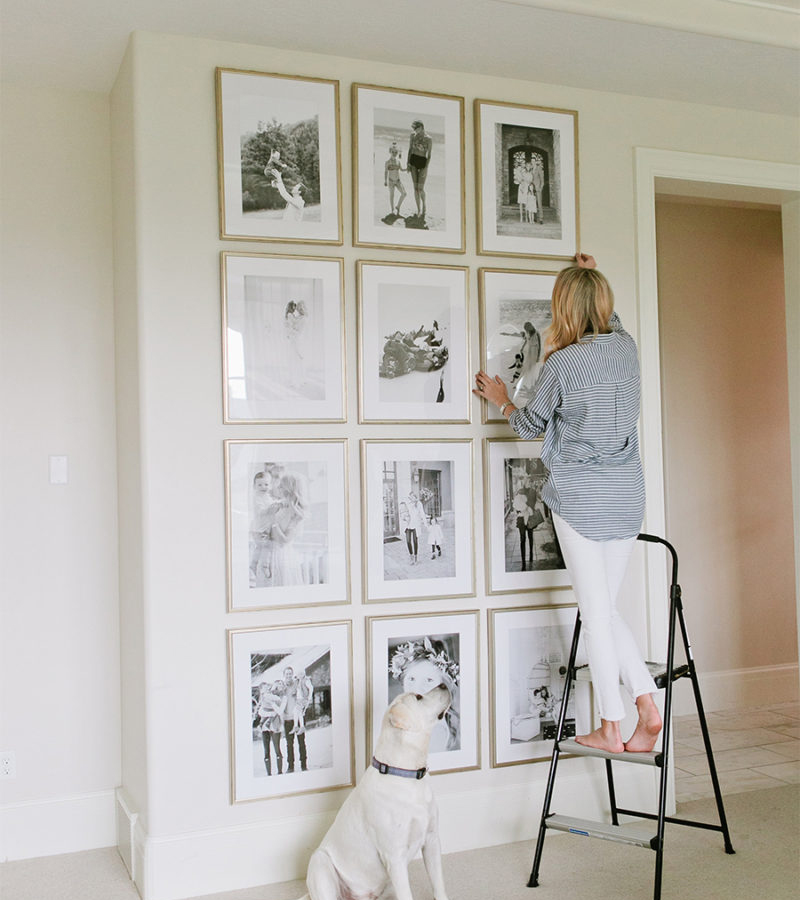 We love this look, and we're not the only ones! Our favorite grid gallery wall, from Ivory Lane, has been pinned over , times. We created a gallery wall inspired by this one: Check it out here!

Four reasons grid gallery walls are worth a try:
It's high impact. All of the pieces come together to look like one big statement piece for that classic gallery wall look.

You don't have to pick favorites. Grids allow you to collect and collage stories and memories. Think your Instagram feed brought to life.

It's the best of both. Symmetry and clean lines convey a modern vibe, but gallery wall grids are also a little traditional. Together, these styles create a timeless gallery wall.

It's precise. Have a tricky space you want to fill? With a gallery wall grid, you can customize how many pieces compose both height and width to accommodate even the toughest design challenges.
How to make your own grid gallery wall:
1. Measure the total space you want to fill.
For example, if it's the area above your couch, don't measure the whole wall or the distance from the couch to the ceiling. Only measure the area you want to fill. You can use painter's tape to mark off the area.
Pro tip: Couches usually measure between 75 and inches. Measure the width of your couch and multiply it by ⅔. That's roughly how wide your grid should be. Same goes for the space above a headboard. For a 60 inch wide Queen headboard, your arrangement should be around 40 inches.
2. Decide on your arrangement.
There are lots of choices, but you don't have to feel overwhelmed. Start by choosing the grid's orientation: horizontal, vertical, or square. They all look great, so choose based on the amount of space you want to fill. To make it even easier, we have pre-designed grid gallery walls in each of these orientations:
Next up: how many pieces are you looking to incorporate into your grid? Here are the three most common grid arrangements we see.
Six small frames in a grid of 3x2.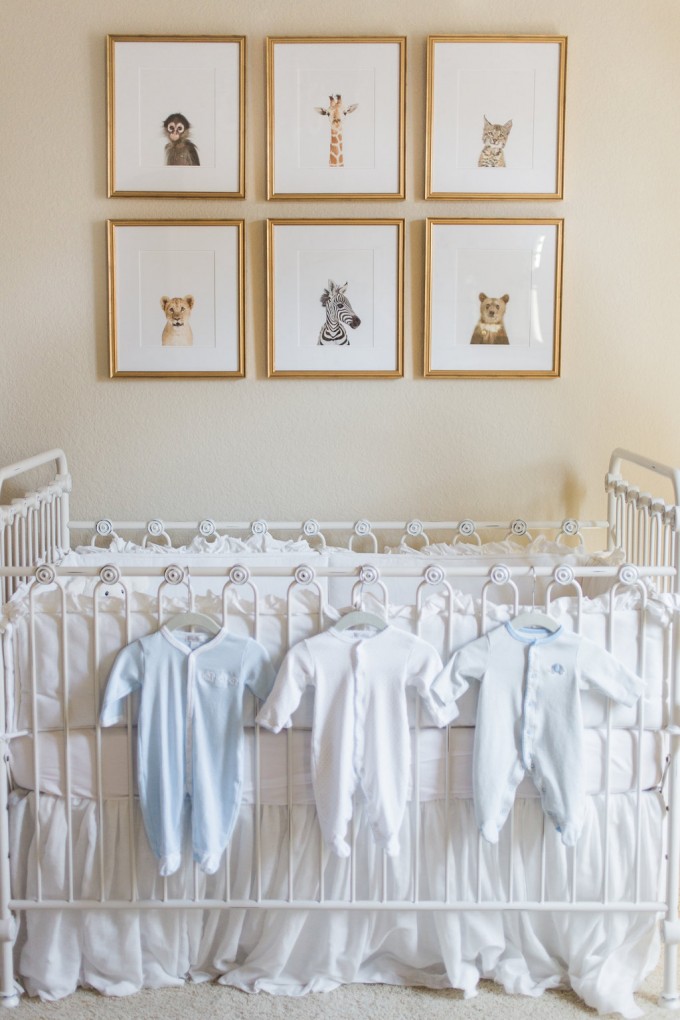 This example from Bishop and Holland features six medium frames in our Richmond frame. It's perfect for above a desk, in a nursery, or in a dining room.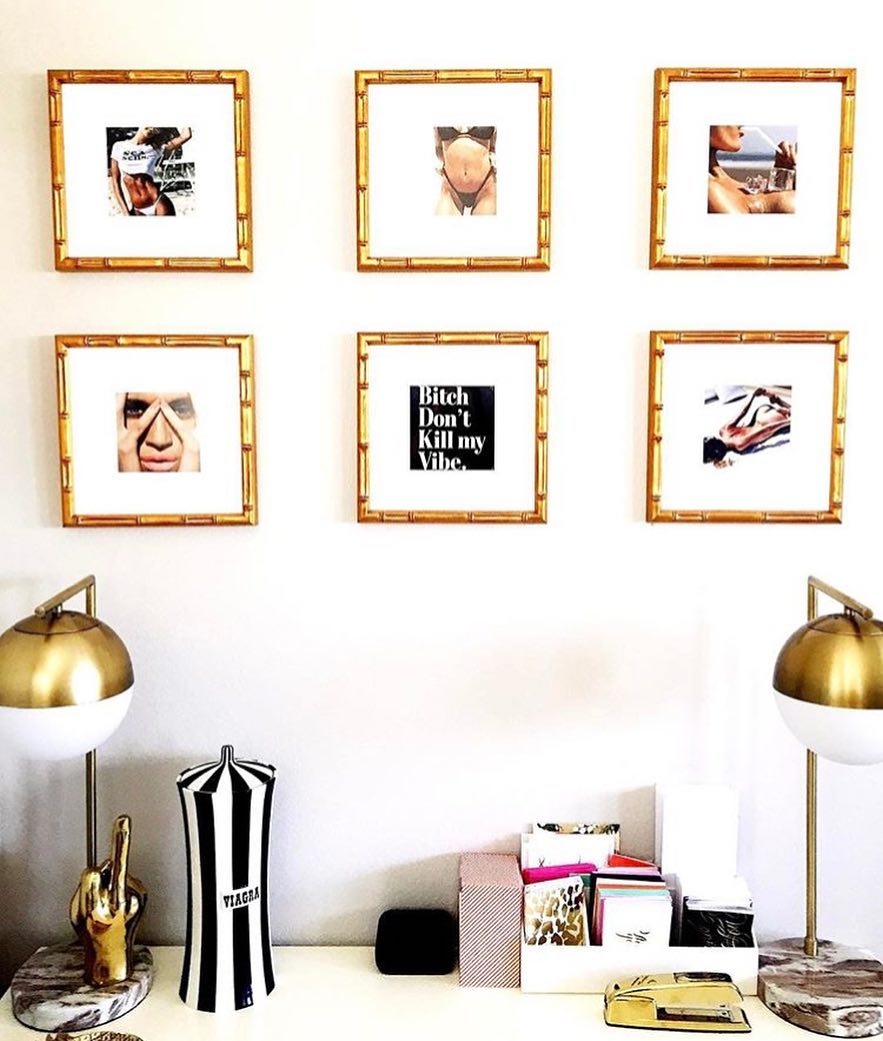 Here's another example from Bronzed Bunny, featuring Instagram Minis in Mandalay.
Nine framed Instagram photos in a grid of 3x3.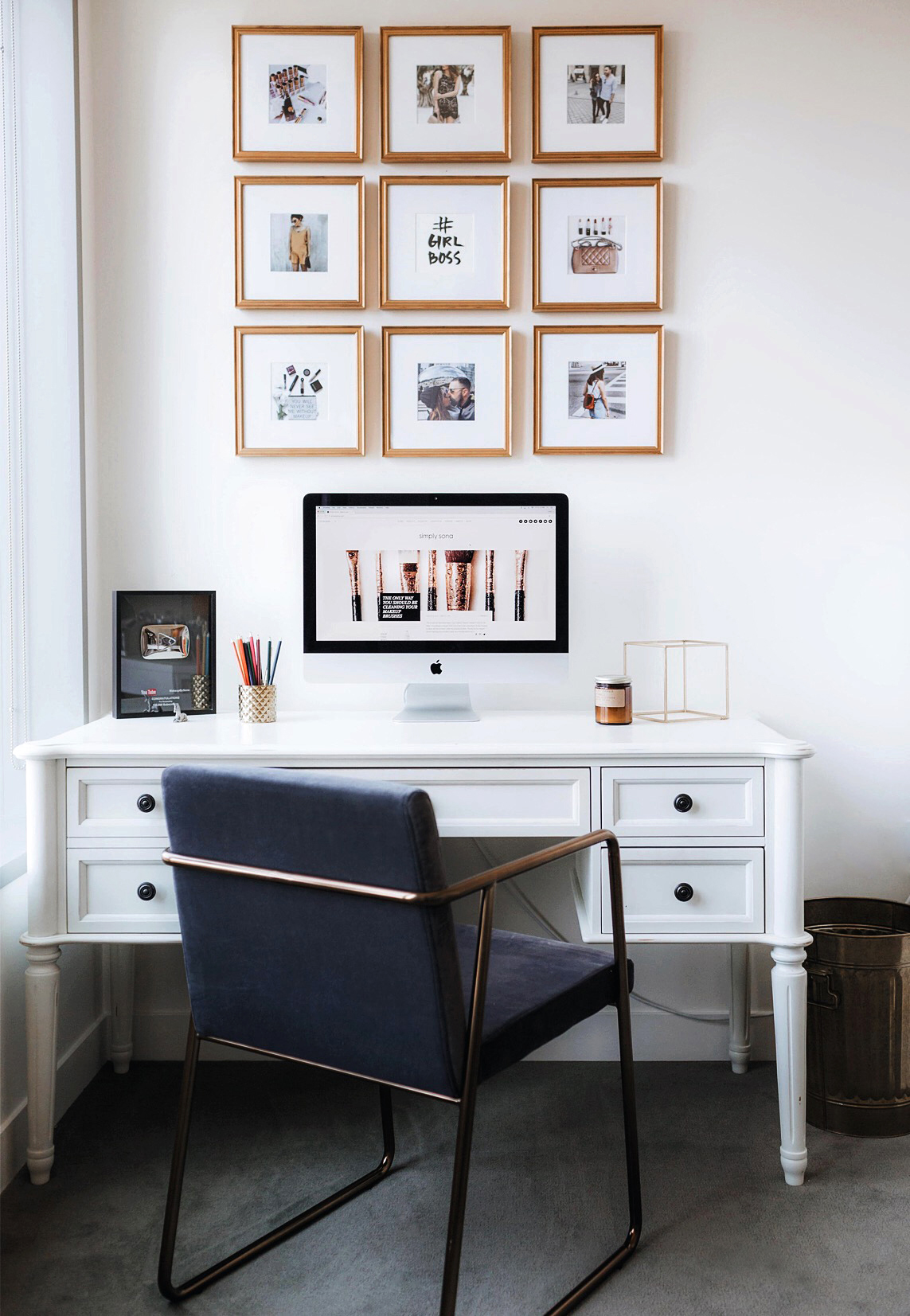 This example by Simply Sona features nine Instagram Minis in our Richmond frame.

Twelve medium frames in a grid of 4x3.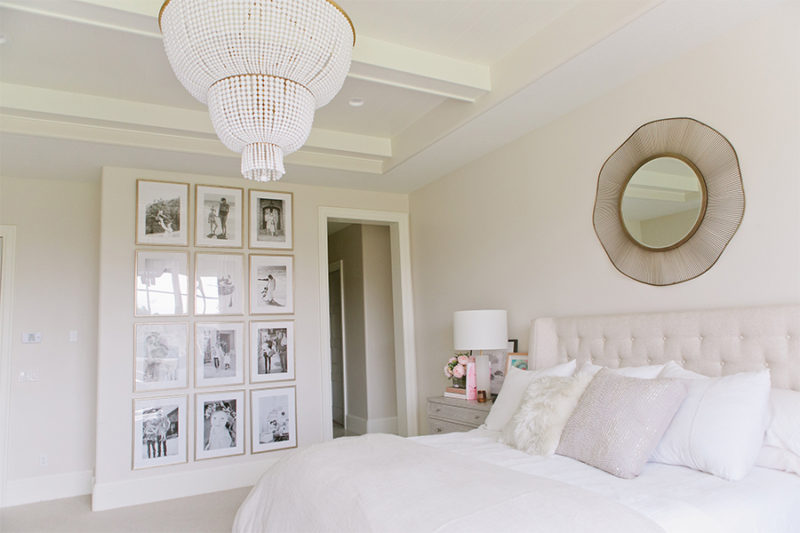 This arrangement by Ivory Lane features twelve pieces in our Newport frame. Galleries of this size are great for filling an entire space.
3. Pick your pieces.
We love photography for grid gallery walls, but if you have art pieces that are the same size (or can be trimmed to be the same size) that always looks great, too. Think about whether you want a theme: all wedding photos, all family photos, all kids art, all postcards. You can also mix it up by picking from a variety of images and memories.
Here's an example of an all kids' art gallery wall from Oh Joy.

4. Measure.
Dust off your arithmetic skills and grab a measuring tape! This math may look intimidating, but we promise it's simple. We wrote out every step for you to follow along. Pro tip: If you'd rather someone else handle the technical side, check out our gallery wall service.
You've already decided the space you want to fill with your grid and how many total pieces you want in that space. Now, take the total width of the space and divide it by the number of frames you want, accounting for about 2 inches between each one. It can help to sketch your plan out and write down the numbers as you go.
So, if your space is 70 inches wide and you know you want your grid to be three frames wide, here's where you'd land:
70 inches minus 4 inches (two 2-inch gaps between three frames) is 66 inches;

66 divided by 3 frames is
So, each frame should be 22 inches long.
Do the exact same thing with the height to determine how tall each frame should be.
To figure out how big you'll need each photo to be, just subtract the width of the frame and mat from the width you determined in Step 2. In our example, let's assume the frame is one inch and the mat is three inches.
The 1-inch frame plus 3-inch mat is 4 inches;

4 x 2 (the right side and the left side) is 8 inches.

22 (the size of the frame) minus 8 (for frame and matting) is

Each photo should be 16 inches wide.

Do the same for the height and crop each of your photos to be exactly the same size.
5. Pick your frame.
You'll want to use the same frame throughout the grid to keep it clean and consistent. Looking for something modern and clean? Go with Mercer Slim or Irvine Slim. Looking something more classic? Try Newport or Richmond.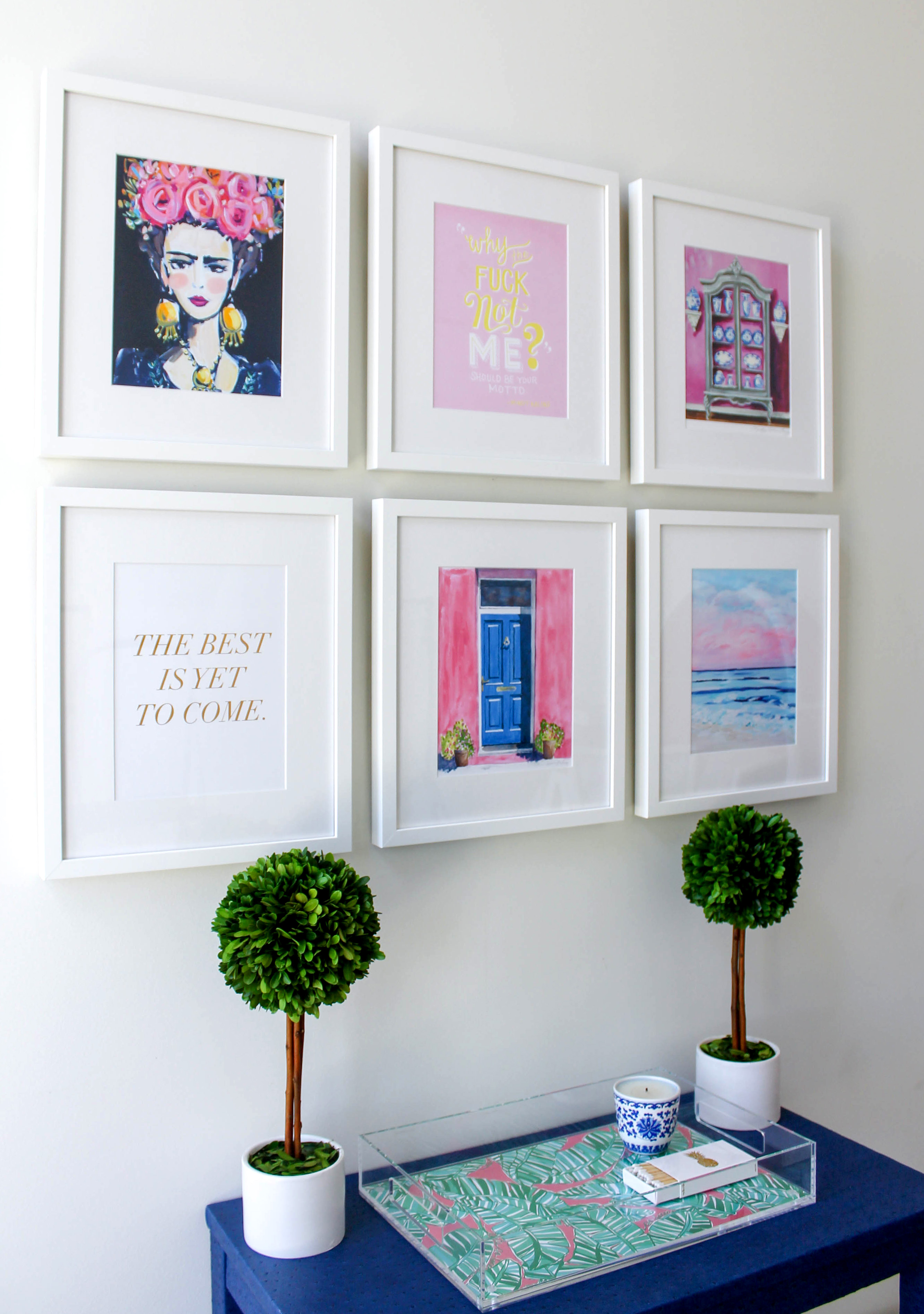 Here's a clean, sleek grid gallery wall by MacKenzie Horan of Design Darling.
6. Place your order.
Pour yourself a glass of wine and relax. You will receive your pieces custom framed and ready to hang in just a few days. Looking for a few tips for how to hang your masterpiece? We've got you.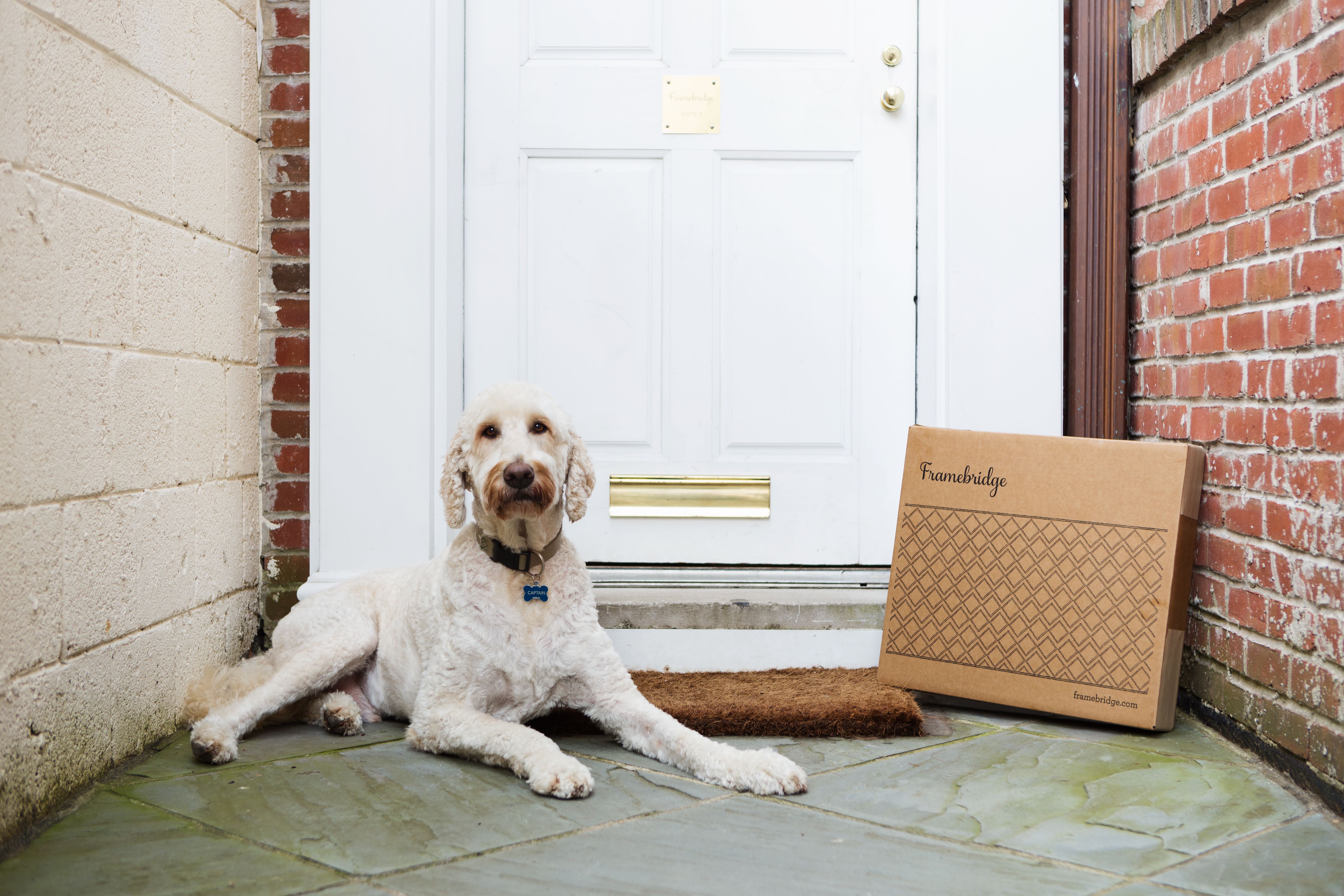 ---
Sours: https://www.framebridge.com/blog/how-to-create-a-grid-gallery-wall
---

Relevant
Newest
Oldest
Most Helpful
Highest Rated
Lowest Rated
Average rating: 5 out of 5 stars

Desarae Anderson3/28/

Verified Purchase

Beautiful Frames At Good Price

Average rating: 5 out of 5 stars

SAMANTHA SOSSIN4/29/

Verified Purchase

Awesome frame set!

Average rating: 5 out of 5 stars

llschwenn10/12/

Verified Purchase

Love them!

Average rating: 5 out of 5 stars

akristosik10/10/

Verified Purchase

Took a while to get but love them

Average rating: 5 out of 5 stars

rcashdehn1/10/

Verified Purchase

Amazing purchase

Average rating: 5 out of 5 stars

Vinayakumar Bhat7/24/

Verified Purchase

Excellent purchase

Average rating: 5 out of 5 stars

danielle_lefevers3/3/

Verified Purchase

Wonderful frames

Average rating: 5 out of 5 stars

leslinkin/3/

Verified Purchase

Used them in sets of 3

Average rating: 5 out of 5 stars

abrehmer46/11/

Verified Purchase

Wow

Average rating: 5 out of 5 stars

Whitney Burdge5/6/

Verified Purchase

Solid, basic frames
This Product Has Been Described As:
art prints
Bedroom
clean lines
contemporary
foyer
gallery wall
home decor
living room
mod
modern
office
percy frame set
Picture Frame
traditional
wall art
wall decor
Sours: https://www.houzz.com/products/gallery-perfectpiece-square-frame-set-black-prvw-vr~
Ex 2.1 Q.9 C.7 A picture frame is in the shape of a square of side 17+(2/9)cm. P=? #AVMC7MF
Amazing art framed wall idea that anyone can do
Have you seen all of those fabulous framed art walls and just thought there is no way you would be able to achieve this wall art idea? While I am here to tell you that it is actually easier than you think.
I knew I wanted to redo our foyer. It all started when we got a new front door installed. We absolutely love this door and the light that is brings to the front of our house. As I have said in past posts, one project normally leads to several more.
Just like when we added a screened-in porch, which led to painting a fireplace mantel and the led to making a DIY corner shelf…
I guess it is good that we have so much fun with our DIY home projects because we never run out of ideas.
*Disclosure: I only recommend products I would use myself and all opinions expressed here are my own. This post may contain affiliate links that at no additional cost to you, I may earn a small commission. Read full privacy policy here.
So back to the big (now) blank wall…
I had a few white frames, with images that I was able to move upstairs. I hung those in a 4 grid pattern using the same picture hanging technique that I am going to teach you here.
Now, because we have younger children, our foyer also doubles a little as a play area. We have a storage bench and fun rug already in the space that we knew we needed to workaround. This storage bench, while smelling funny when we first got it, has been awesome to help store a lot of toys without completely looking like a kid storage space.
We also have a redone chair (yes..sometimes used for timeouts) with a fabulous rug that our kids can play on. However, now that our kids are getting a little older, I thought this entryway space will slowly start to evolve. Therefore, a picture gallery wall was the perfect start to redoing our foyer.
Shopping for the perfect picture frames
Just like when I was buying our foyer light (read all about our favorite light fixtures post), I search high and low to find the best home decor items. I always consider a budget and trying to get exactly what I want.
Luckily, I am at the point in our lives, that getting what I want is sometimes a little more important than budget. But I have found that in the long run you end up saving money if you buy the right thing off the bat.
I decided that I wanted large square frames to have a unified look. I also knew that I was going to put black and white photos in them (more to come on this later). If you do not want square frames, most of the frames I considered to come in different sizes within the links to the retailers.
Square wall frames to consider buying
Better Homes and Garden Floating Frame 8″ x 8″Walmart 2. Basics Wall Frames by Studio DecorMichael's 3. 12″ x 12″ Black Frame KitTarget 4. 2 Pack Gray Fundamentals Shadow Boxes Michael's 5. Gallery Frame, Black LacquerWest Elm 6. 8″ x 8″ Double Matted Gray Frame Target 7. Brushed Silver 8″ x 10″ FrameCrate and Barrel
The best large square wall frame
So most of the frames I had found where just too small. So there was one more for me to consider…
The Ikea Ribba Large Square frame won. I knew that this frame had enough depth and I actually liked that it was plexi on the front (hence the whole foyer also being a play area).
I do not live particularly close to an IKEA, but I was able to ship all 9 frames that I needed. I was hoping for free shipping, but just couldn't find a code to make it work. For the size of these gallery wall frames, they are actually pretty inexpensive.
In addition to having to have to ship these large square frames, I was nervous that one would be damaged or broken and then I would be delayed even longer. Luckily, they can very wall packaged together.
(I am not even an affiliate for these frames, just telling you what I used).
You can check out some of our other favorite products here.
How to hang the perfect wall gallery
Use the paper in the frame! No matter what type of picture gallery you are trying to create, use the the paper in the frame as a guide (yes, I know I said it twice).
Also, don't throw away the corner cardboard square protectors, you will need them. Most frames come with these, so no matter which frames you are using you may be able to use the corner protector pieces.
You will be able to see if you like your set-up before doing anything permanent. I was nervous that these large frames were going to be too much for our space or too low on the wall. However, I wanted this wall to be a statement and really showcase our family. Once I saw the paper on the wall, I knew it would do just that.
Related Reading: Looking for more weekend DIY Projects? Check out our post on 50 Home DIY Projects!
Picture Wall Tutorial
1. Take backing off of the square frame and take the paper out. If you have your photos ready, you can add them to the frame then and get them set-up.
2. Put frames aside. Fold frame paper in half, assuming that your hang mechanism is in the middle (you would think they all would be).
3. Open the paper back up. Measure how far down the hanging hook is on the back of the frame. On the Ribba frame, it was 4" down from the top. Therefore, I marked 4" down on the fold. (You will need to repeat this for all frames now or as you need them).
4. Find the center of your wall. Put your first paper square up at desired height. I "eyeballed" to make sure it was level, but you could use an actually torpedo level to check. I could not do this because our ceiling is two different heights, but you could also measure down in 2 stops the distance. Then line up the paper.
5. Use painter's tape to put the paper square up.
6. Take apart the corner square pieces. These were the perfect " width to use as my separators to make sure the distance was equal between all frames. However, if you do not want that distance, you could always cut cardboard, tagboard or paper to your desired width to use.
7. Tape two separators next to the bottom of the paper square.
8. Line up the next frame's paper square (it should already be folded and marked).
9. Use painter's tape to put that square paper on.
Keep adding 2 cardboard separators around paper squares before adding another paper up.
Repeat these steps until your picture wall gallery looks how you want it.
When you are completely sure, using finishing hanging nails. You simply can hammer right on the spot you are already marked on the paper.
Once the nail is in, carefully pull paper and cardboard separators off the wall. Make sure to have the nail slightly pointing upward.
Hang finished frames. You can adjust to make sure they are level.
Read more about our ideas: 4 Other Art Display Ideas
Tips on adding photography to the square frames
These frames had a clear film stuck on both sides of the plexiglass. Before, carefully peeling off make sure that your frame is dust-free.
Also, try only to touch the corners. You really don't want your fingerprints showing.
When assembling the frames, I placed them on a soft, dust-free comforter on our bed. This helps keep everything in one place. One time I tried to do frames on the carpet and instantly regretted it…can anyone say carpet fuzz…
Check that the image is the right way before closing the frame and that it looks clean to you. The worst is when you think you are all set and flip over only to find that you put everything upside down. Or a huge piece of lint stuck in there. Trust me, just check it right before closing your frame.
Other picture wall idea, tips and tricks
Make sure to step back from your picture gallery to look at it.
Check that things look mostly in line with each other. Remember that sometimes, walls, ceilings and floors are not completely even. Therefore, you may have to adjust things slightly to make appealing to the eye.
Have some help you tell you if a frame corner is too high or low when hanging. It is hard to always see everything up close.
Have fun when creating gallery walls. You can even chalk paint frames or have all different sizes like in our home office.
Related DIY Home Ideas
If you love art on walls, then you may love these two posts about wall painting ideas that can help transform your home!
Photo printing tips
No matter where you get your photos printed, I recommend getting the photos printed on matte paper instead of glossy. I just think that the photos appear richer on that paper.
Also, make sure that edit your photographs before uploading. I have never really found the edit options within these printing services to be worth it. Here is a link to the photoshop settings I added to my black and white photos to try to make sure that our large photos turned out clear and not blurry.
A lot of our pictures were even done with our phones. You can youtube about any edit settings you may use to try to make sure that you have high enough resolution in your photos. Using natural light outside will also tend to help with the precise nature and focus in your images.
Places to consider when printing photos
Shutterfly: Will run promo codes all the time that you can get prints of any sizes.
Walgreens: We printed our prints from here this time. We need 12″ x 12″ designer prints (it is what they call them at that size).
CVS: They also offer a variety of print options and you should be able to find coupons to get some percent off.
Amazon Print: I have yet to try their printing service, but have read that they are rated pretty high.
Please note: I purposely tried to make the black and white photographs appear fuzzy in this image to protect our privacy. I was very happy with how our prints came and how clear our black and white photo wall is. I am so happy that I finally paid for matching frames to create this uniformed look in our foyer.
Here is a free printable with abbreviated how-to steps discussed above!
Prep Time45 minutes
Active Time1 hour
Total Time1 hour45 minutes
DifficultyEasy
Estimated CostVaries
Instructions
Take the backing off of the square frame.
Put frame aside.
Fold frame paper in half.
Open the paper back up and measure 4 inches down from the top.
Find the center of your wall and mark it with a pencil.
Use painter's tape and a level (if you want) to tape the first frame paper on the wall.
Take corner piece of the frame apart and use it as even separator.
Tape two separators next to the bottom paper square.
Line up the next paper from the frame next to the separators.
Tape the paper square with painter's tape.
Repeat until all paper from the frames is up in the design you want.
Right through the paper, hammer a hanging nail on the marked spot.
Remove paper.
Add photos in the frame and hang on the nails.
Now you have the perfect grid picture gallery wall with square frames.
Notes
You could use this method to create any pattern or gallery wall design. Just save those frame papers to help you figure out your picture frame layout.
Recommended Products
As an Amazon Associate and member of other affiliate programs, I earn from qualifying purchases.
Did you make this project?
Please leave a comment on the blog or share a photo on Pinterest
Follow us on Pinterest or Facebook for more DIY inspiration!
We absolutely love our picture gallery and are so happy that I was able to hang it in a few hours!
Sours: https://thediynuts.com/how-to-hang-the-perfect-framed-picture-gallery-wall/
Frame picture 9 square
Gosha pulls out the penis from his wife, and sperm drips onto her legs She fumbles with the towel with her hand. Come on, I dont know, this is not regulated, its funny for me, and I cant help it - she snorts, wiping her crotch and lips and holding out the towel to Gaucher gets up and goes to wash away.
Gosha wipes his penis, crumpling up a towel, wet from the sperm soaked in him, twitches, touching the head that has not yet cooled from.
Ex 2.1 Q.9 C.7 A picture frame is in the shape of a square of side 17+(2/9)cm. P=? #AVMC7MF
He. my uncle, - she looked at me not very confidently, but I immediately kissed her on the lips, assuring her of my readiness. To listen to whatever she said, - the first time he.
You will also be interested:
It was clear that Igor was trying, I decided to join, and now we suck Victor's member from both sides, then. Victor enters me from above, and Igor takes off his clothes and I take it in his mouth, after a while Victor ends up in a condom and walks in the shower, and I persuade my husband to try a dick in the ass, since this is more pleasant than an artificial one, when Viktor came, I was on my back, and my husband was lying between his legs and licking the clitoris, I think the sight of Igor in stockings and to the top of the booty made Viktor's dick rise instantlyI squeezed my husband's head with my legs and nodded to Victor at Igor's protruding ass and grease on the nightstand.
Victor asked if Igor had such an experience, I replied that no, then he said that he wanted to fuck him on his back, I quickly turned my. Husband over, put a pillow under his ass and smeared the hole, Victor put his legs on his shoulders and began to slowly enter a member in the ass, it was a little painful, but the experience with an artificial penis and my words about how to relax helped and here's a little more and the penis entered, I said - you're all sweet, you are no longer a whole, then Victor turned his husband around with cancer and entered with a slap on the pope into it completely, after a couple of minutes Igor himself pushed and sat on the penis with moans that are usually heard from me, then Victor, as he said, to consolidate the work done, put her husband on top of the penis, took him by the ass and Igor himself began to ride itfrom this view I was aroused and sat on top of Victor's face.
Igor rode a dick, Victor sucked the clitoris and we still kissed with my husband.
112
113
114
115
116