Google's Pixel Buds A-Series are kind of unusual, in that they're new but not exactly an upgrade. They look and sound very similar to last year's Pixel Buds 2, which debuted at $179 but are now selling for less. However, instead of adding new features -- like active noise canceling -- they've actually lost a few. Why? They only cost $99: The "A" stands for affordability. That new lower price is the real story here and what makes these a bonafide true-wireless value, particularly for Android users. They're available for preorder now and ship June 17.  
Like
Lower price
Virtually the same likable design and sound as Pixel Buds 2 but weigh slightly less
Hands-free Google Assistant
Very good sound for the price
Excellent call quality
Compact charging case
IPX4 sweat-resistant (splashproof)
Don't Like
No swipe controls for volume up/down
No real feature upgrades vs. earlier model
Average battery life
As I said, lookwise, not much has changed. They feature the same likable design as the Pixel Buds 2, with the integrated sport fin and relatively discrete look. They don't stick out of your ears as much as many buds do and not only did they fit my ears securely but I found them comfortable to wear.
What's different? 
There are some small differences, however. The Pixel Buds 2 were already relatively lightweight, but these are even a tad lighter -- Google says the Pixel Buds A are "about 20% lighter across the earbuds and the case" compared to the Pixel Buds 2. Along with Clearly White, they come in a new Dark Olive color and incorporate slightly different materials and aren't two-tone. The inside of the buds have a glossy, as opposed to matte, finish and its color matches the color of the outside of the buds. Additionally, the inside of the case also has a glossy finish and its color matches the color of the buds.
The other thing you'll notice is that the nozzle that you attach the ear tip to is now made of plastic instead of metal, which presumably is more durable. Also, the Pixel Buds A have two charging pins as opposed to three and they're missing a sensor. I was worried that meant they had no ear-detection feature (that's the feature where your music pauses when you pull the earbuds out and resumes when you put the buds back in), but it turns out that Google's engineers were able to optimize in-ear detection in the Buds A with one IR sensor, according to a spokesperson. So no issue there. 
The case is the same -- it's nice and compact -- but unlike the Pixel Buds 2, the A-Series doesn't have wireless charging, just USB-C charging. These are also missing the swipe for volume control feature -- you can't run your finger across the bud to adjust volume, you now have to use the volume controls on the device you're streaming from or access Google Assistant by simply saying "Hey. Google," then tell it to raise or lower volume. For Android users Google Assistant is always-on, listening for your voice commands like Siri does with the AirPods, so you don't have to tap a button to access it (unless you turn off the feature). 
Lastly, the A-Series doesn't have the Attention Alerts feature that detects certain ambient sounds, like a baby crying, dog barking or an emergency vehicle siren, and alerts you while you're wearing the buds. I have a feeling that not too many people bothered with that experimental feature, but a lot of people liked the swipe to control volume feature -- it's one of the Pixel Buds' signature features. Personally I can live without it for the price reduction. 
Similar performance
Like the Pixel Buds 2, the Pixel Buds A are equipped with Bluetooth 5.0, but they're powered by a new chipset. When the Pixel Buds 2 first came out, there were widespread complaints that the wireless connectivity wasn't rock solid -- people were getting some dropouts -- and while subsequent firmware upgrades improved performance, Google appears to have addressed any connectivity issues with the A-Series. I had almost no dropouts during my testing time, although like every other true-wireless earbud these aren't completely infallible. 
As far as I can tell, they sound the same as the Pixel Buds 2 -- or very close to them anyway. To get optimal sound, you do need a tight seal, but you should be able to get one with one of the three included eartips. These are comfortable earbuds and they do stay in your ears well and can be used for sporting activities, including running. They have an IPX4 water-resistance rating, which means they're splashproof, the same as the AirPods Pro.
They sound quite good overall, with ample bass that's not loose or bloated and have decent clarity with a bit of sparkle in the treble. They don't have the more refined, richer, more open sound of higher end earbuds like the Sennheiser Momentum True Wireless 2 or Sony's WF-1000X series, but their sound measures up well against other earbuds' sound at his price. There's a bass boost mode along with an adaptive sound mode that raises and lowers volume according to the amount of ambient noise around you, but the EQ options in the app are limited.
They support streaming using the AAC codec, which both Apple and Android devices use for audio streaming, but not AptX streaming.
CNET TVs, Streaming and Audio
Get CNET's comprehensive coverage of home entertainment tech delivered to your inbox.
They should work well for a variety of music genres, but I did notice they were a bit challenged when I hit them with some complicated rock tracks where a lot of instruments were playing. Again, they lacked the more refined and articulate traits of higher-end buds, but most people should be quite happy with their sound.
I did think these were really good for making calls. To test call quality, I hit the streets of New York and made calls while traffic was passing. The buds did a very good job reducing a lot of background noise during calls and callers said they could hear my voice clearly. For calling, they measured up well against the AirPods Pro, so they seem top-notch in that department.
Battery life remains slightly underwhelming for non-noise-canceling earbuds. They're rated at five hours at moderate volume levels and you can get an extra 19 hours from the charging case. 
Note that there's no multipoint Bluetooth pairing that gives you the option to pair the buds with two devices simultaneously -- such as computer and a smartphone -- so you can seamlessly switch between the two when a call comes in. That's a somewhat rare but useful headphone feature. However, you can pair these with multiple devices, just not two at the same time. 
Pixel Buds A: Final thoughts
As I said, this is a little bit of an unusual product because it's next-gen but not really an upgrade for owners of the previous model. But I think it's a smart move by Google. As it tries to expand its audience for its true-wireless earbuds, this sub-$100 price is where it needs to play.
You've got Samsung's Galaxy Buds Plus selling for around $100 these days and, even though they've been out a while, they remain a good value at that price with very good sound (they have a little more bass than the Pixel Buds) and excellent battery life. The Anker Liberty Air 2 Pro and Amazon Echo Buds are priced around $130. Both those models feature active noise canceling and sporadically go on sale for $100, so they're also direct competitors that deliver comparable sound (I like the Anker Liberty 2 Pro's sound slightly better). None of those models have hands-free Google Assistant, however.  
So while I don't know if the Pixel Buds A are necessarily any better than those competitors, when you factor in their strong design and solid performance, they're a very good value at $99 and a top pick for Android users. True, they work with Apple devices, but they lack certain features like hands-free Google Assistant or an iOS companion to upgrade the firmware. So Apple users should take a pass unless they also have an Android device.  
Sours: https://www.cnet.com/tech/mobile/pixel-buds-a-series-review-headphone/
The best Pixel 5 headphones: Google, Sony, Samsung, and more
The Google Pixel 5 arrived late last year, and it's sans-headphone jack, as expected. It's hard to know what headphones are best, and most compatible with your new handset. Rather than have you scour the internet for the best Pixel 5 headphones, we've compiled a list of our favorites. Whether you're a jet-setter, remote worker, or athlete, our list includes something for everyone.
Buying the right headphones and earbuds for your Google Pixel 5 phone
The Google Pixel 5 doesn't have a headphone jack, hence why all of our picks in this list are Bluetooth. All of the headphones listed support wired listening, though, so you can always use a USB-C dongle for high-resolution playback.
In order for your Pixel 5 to communicate with your earbuds, both devices must share the same Bluetooth codecs; in other words, they must speak the same language for data transmission to occur. If you want to stream consistent high-quality audio from your Google Pixel 5, the headphones your using must support aptX or LDAC. AAC is technically a high-quality Bluetooth codec but Android OS gets tripped up when encoding it.
Another thing to bear in mind is that true wireless earbuds, which make up most of our top picks, aren't built for the long haul. The constant charge and deplete nature of the battery cycle hastens the degradation process. Apple is pioneering a fix for this with its battery optimization software. iOS 14 allows for AirPods and AirPods Pro headsets to hold off on fully charging in the case until a user is about to remove them.
The best Pixel 5 headphones
The Google Pixel Buds are the clear and best choice for most Google Pixel 5 smartphone owners who want to make the most out of Google Assistant.
The Sony WH-1000XM4 noise-cancelling headphones are great for frequent flyers and pack plenty of software that works on Android and iOS.
The Samsung Galaxy Buds Plus have some of the best battery life we've tested among true wireless earbuds.
The Jabra Elite Active 75t are great true wireless workout earbuds that are just as at home in the gym as they are in the office.
The Sony WF-1000XM4 are Sony's complement to its over-ear noise-cancelling headphones, but these earbuds are much more portable.
Google Pixel Buds: The best Pixel 5 headphones for most
The Google Pixel Buds are the best companion for your Google Pixel 5 smartphone, because they work seamlessly on Android, specifically with Google devices. The Pixel Buds (2020) afford plenty of advanced software features like hands-free Google Assistant access and live Google Translate.
The earbuds supply six hours of playback on a single charge, and nearly 24 hours of playtime when you account for the case's battery capacity. Microphone quality is very good, so you can use these true wireless earbuds for personal and professional calls all the same.
The earbuds rely strictly on touch controls to adjust the volume, control media playback, and answer calls. You can disable touch controls in the Pixel Buds app. Both earbuds support automatic ear detection which pauses playback when the buds are removed and resumes playback when they're reinserted. If you want something that is silly simple to use, get these Pixel 5 headphones.
Check out our full review to learn more about the Google Pixel Buds.
Sony WH-10000XM4: The best noise-cancelling headphones
The Sony WH-1000XM4 are for listeners who want some of the best noise-cancelling headphones around. The XM4 improves active noise-cancelling (ANC) performance compared to the WH-1000XM3 and supports multipoint connectivity. This means you can connect to two devices at once, which is great for monitoring incoming phone calls while streaming a video from your laptop.
Sony also included a new AI-powered feature called speak-to-chat. This automatically pauses music playback once the microphones sense your voice, so you can carry out a conversation without removing the headset.
Compare: Sony WH-1000XM3 vs Sony WH-1000XM4
Sound quality is extremely important in any set of headphones, especially when they cost as much as the Sony WH-1000XM4. Sony didn't fail us here; in fact, it improved upon sound quality from the previous model. The WH-1000XM4 has a neutral-leaning frequency response, so all genres of music will sound close to how the artists and engineers intended straight out of the box. Of course, you can always fiddle with the sound in the Headphones Connect app which is free on iOS and Android.
Check out our full review to learn more about the Sony WH-1000XM4.
Samsung Galaxy Buds Plus: The best true wireless battery life
The Samsung Galaxy Buds Plus are perfect for Samsung smartphones and are great for the Google Pixel 5, too. Battery life is exceptional: the Galaxy Buds Plus last over 11 hours on a single charge, and they support fast charging. Three minutes in the case yields one hour of playtime. You can also charge the case wirelessly atop any compatible Qi charging pad.
These buds may not pair as seamlessly to your Google Pixel phone as the Pixel Buds, but they reconnect immediately when you open the charging case. Samsung includes nifty features with its Galaxy Buds Plus, the most headline-worthy being integrated Spotify access. You may directly access Spotify-recommended playlists from the earbuds' touch panels.
These earbuds aren't the most durable on the list seeing how they warrant just an IPX2 rating, but they're perfectly fine for casual exercise and surprise spring showers. If you want a compact pair of earbuds that place comfort and functionality first, get the Samsung Galaxy Buds Plus.
Check out our full review to learn more about the Samsung Galaxy Buds Plus.
Jabra Elite Active 75t: The best for athletes
Active users should get the Jabra Elite Active 75t because they're IP57-rated. This means the earbuds can resist both dust and water; in fact, they can even be submerged for up to 30 minutes without damage. They also have a slip-resistant fit.
You can play music for over seven hours straight (ANC off) before you need to recharge them in the case. Fast charging is supported: 15 minutes in the case supplies you with one hour of playback. Microphone quality is also good thanks to the four-microphone array. Clear call audio is relayed even in poor conditions (e.g., a busy coffee shop).
They aren't just for athletes though: Jabra added noise-cancelling to its Elite 75t series earphones via a free over-the-air (OTA) update in September 2020. This grants you the choice to enable noise-cancelling in loud conditions, and if you feel the noise-cancelling isn't enough, you can always pick up the Jabra Elite 85t.
Sony WF-1000XM4: The best premium, portable pick
If you like everything about the Sony WH-1000XM4 except for its size, get the Sony WF-1000XM4. These are some of the best portable noise-cancelling true wireless earbuds you can buy. Noise-cancelling true wireless earbuds are becoming more and more common, but Sony stands out as its ANC is best-in-class.
The earbuds amplify bass notes, so you'll enjoy that familiar "oomph," though you may find that your music doesn't sound as detailed as you're accustomed to. Fortunately, you can easily fix this in the OS-agnostic app by slightly lowering the bass and midrange response. You can also take advantage of Sony 360 Reality Audio on certain platforms like Tidal or Deezer.
Battery life is quite good for this flavor of true wireless earbuds, clocking in at seven hours and 43 minutes of playtime with ANC enabled. The case provides an extra two charge cycles, so you should get around 24 hours of on-the-go playtime before you need to recharge it.
Check out our full review to learn more about the Sony WF-1000XM4.
Best Pixel 5 headphones: Honorable mentions
Amazon Echo Buds (2nd Gen): Amazon debuted its active noise-cancelling tech with these unassuming earbuds, and it's quite good for the price, outperforming the Sony WF-1000XM3 and Apple AirPods Pro.
Apple AirPods Pro: AirPods aren't just for iPhone users, and the AirPods Pro have proven their worth many times over. If you don't mind that the AirPods Pro may only be updated with an iOS or iPad OS device, then these noise-cancelling buds are for you.
Beats Powerbeats Pro: Listeners who want a more secure fit than traditional in-ears offer should consider these Beats earphones. The ear hook design keeps the buds stable during vigorous movements, and they're IPX4-rated to survive any workout.
Bose Noise Cancelling Headphones 700: Perhaps Sony's design didn't do it for you; in that case, feast your eyes on the Bose Headphones 700. These depart from Bose's previous designs in favor of a more elegant appearance. Microphone quality is very good and you may choose from 11 levels of ANC intensity.
Bose QuietComfort Earbuds: These are yet another pair of solid noise-cancelling earbuds that sound great and fit comfortably. The touch controls perfectly register taps and swipes nearly every time.
Google Pixel Buds A-Series: While the Google Pixel Buds (2020) are our top pick, the more affordable Pixel Buds A-Series are solid earphones for a more palatable price. You do miss out on some features like wireless charging though.
Microsoft Surface Headphones 2: Microsoft stepped into the wireless audio game a bit late, but exceeded expectations with these headphones. The onboard controls are genius, and noise-cancelling is quite good. Plus, these have the best implementation of multipoint connectivity that we've experienced.
Sennheiser PXC 550-II: If you want a lightweight, affordable pair of noise-cancelling headphones, get the PXC 550-II. Microphone quality is very good and the compact, portable design makes these a game-changer for frequent flyers.
The BestAudio, Google, Google Pixel 5, Samsung, Sony
Sours: https://www.androidauthority.com/best-pixel-5-headphones-1163088/
Pixel Buds A-Series review: Google's cheaper but good earbuds
Google's latest AirPods competitors, the Pixel Buds A-Series, get a big price cut and a slightly more comfortable design.
The new Bluetooth earbuds take a cue from Google's cheaper but great A-Series phones, cutting a few features to cost £100 (US$99) – a full £80 cheaper than their predecessors.
Not that you would know the A-Series were any cheaper. The earbuds have the same design as 2020's Pixel Buds, complete with low-profile fit and subtle "G" branding.
The earbuds are slightly smaller and the stabilising wing is a little softer, which makes them a bit more comfortable to wear than their predecessors. Three sizes of silicone tips are supplied to ensure a good seal in your ears but the earbuds also have small pressure-releasing vents that prevent the "plugged-in" feeling some do not like with normal earbuds.
Case and battery
As with all true-wireless earbuds, the case is just as important as the earbuds, offering secure storage so you don't lose them while charging them. The A-Series case is excellent. Small, smooth and easy to pocket, holding the earbuds in place with strong magnets and a lid that closes with a reassuring snap.
You get up to five hours of playback or 2.5 hours of talk time from the earbuds per charge. The case can charge the earbuds up to 3.8 times for a total of 24 hours of music.
Specifications
Water resistance: IPX4 (sweat)

Connectivity:Bluetooth 5.0, SBC, AAC

Battery life: 5 hours listening/2.5 hours talk, up to 24 hours with case

Earbud dimensions: 20.7 x 29.3 x 17.5mm

Earbud weight: 5.1g

Driver size: 12mm

Charging case dimensions: 47 x 63 x 25mm

Charging case weight: 52.9g

Case charging: USB-C
Sustainability
Google does not provide an expected lifespan for the batteries in the earbuds or case. Batteries in similar products typically last for at least 500 full-charge cycles while maintaining at least 80% of their original capacity. Like the majority of true wireless earbuds, the Pixel Buds are not repairable, making them ultimately disposable.
The case is made with some post-consumer recycled plastic, part of Google's commitment to including recycled materials in all its products launching from 2022. The company publishes environmental impact reports for some of its products but not the Pixel Buds, and will recycle all Pixel devices free of charge.
Connectivity, controls and Google Assistant
The A-Series support Google's Fast Pair with Android devices but can be paired with Apple devices and Windows PCs, too. They support Bluetooth 5 with the universal SBC and AAC audio standards used by most devices. They only connect to one device at a time but each earbud can be used on its own. The Bluetooth connection to a Samsung Galaxy S21 Ultra and iPhone 12 Pro was solid at home and on a fairly quiet street. Testing in congested areas was not possible, however, because of the Covid-19 situation in the UK.
The outside surface of the earbuds is touch-sensitive for gesture controls. Tap once to pause/play, twice and thrice to skip track. When used with an Android phone, tapping and holding activates Google Assistant, allowing you to issue commands and ask questions that are answered when you remove your finger.
There is no gesture for volume control. Used with an Android phone, the earbuds automatically turn up and down the volume by a small amount based on background noise but, otherwise, you have to reach for your phone or ask Assistant.
With an Android phone, Google Assistant can also be activated with the "Hey Google" wake word, and can read messages and notifications, send replies, perform real-time translation with Google Translate and all the other things the voice assistant can do on a phone.
Sound and isolation
They might be cheaper but the A-Series sound just as good as their more expensive predecessors. Clear, balanced and full sound with excellent separation of tones and detail make them ideal for most music genres. They have a "bass boost" setting but lack really deep low notes, so bass-lovers might want to look elsewhere.
Because of their vented design, the A-Series lack any real sound isolation. That's good for awareness out on the street but terrible for blocking out distractions. They provide slightly more isolation than Apple's AirPods or Microsoft's Surface Earbuds, but not much.
Call quality was good on both ends of the call but leaked a little background noise into the call, while the lack of isolation made it harder to hear the caller on the street.
Price
The Google Pixel Buds A-Series cost £99.99/US$99 in white or dark olive and are available in the US and due to go on sale in the UK in the near future.
For comparison, the Pixel Buds cost £179, Apple AirPods cost £159, the AirPods Pro cost £249, the Samsung Galaxy Buds+ cost £99, the Galaxy Buds Pro cost £219, Microsoft's Surface Earbuds cost £199.99, the Anker Soundcore Liberty Air 2 Pro cost £129.99 and the Jabra Elite 85t cost £219.99.
Verdict
The Pixel Buds A-Series offer everything that was good about Google's previous earbuds for just over half the price.
That makes them some of the best-sounding true wireless earbuds you can get for under £100. The case is good, the battery life is decent, they don't stick out far from your ears and have some fancy features with Android phones but also work fine with Windows PCs and Apple devices.
The lack of a volume control gesture is a little annoying, and some may not find the stabilising wing comfortable for extended periods. You cannot replace the battery either, which makes them ultimately disposable and loses them a star.
Pros: small, stable, open fit with eartip, good sound, good case, solid battery life, good gestures, Fast Pair, Google Assistant, USB-C, AAC.

Cons: not much sound isolation, no noise-cancelling, no volume control gesture, can't connect to two devices at the same time, stabiliser wing not adjustable, battery not replaceable.
Other reviews
Sours: https://www.theguardian.com/technology/2021/jun/21/pixel-buds-a-series-review-google-cheaper-but-good-earbuds
Top 5 Best Wireless Earbuds for Pixel 3 Reviews in 2020 - Most Popular Collections
Google Pixel Buds (2020) review
The Google Pixel Buds (2020) may invoke a skeptical eyebrow raise, after all, many consumers are wary of tech companies' data privacy policies. But the Pixel Buds (2020) gets a lot right as a premium set of earphones. This set of true wireless earbuds blows the original traditional wireless Pixel Buds out of the water, but it comes at a cost.
Editor's note: this post has been updated on July 12, 2021, to add a section in alternatives about the new Pixel Buds A-Series.
Who should buy the Google Pixel Buds (2020)?
Android users can take advantage of the Pixel Buds because it's so easy to use with a modern Android device.
People that use Google Assistant should pick up Google's debut true wireless earphones.
Meet the Google Pixel Buds (2020)
The small, white charging case is well-built and super portable.
I've said multiple times in past reviews that nailing the charging case is arguably the most important aspect of a good pair of true wireless earbuds. A cheap or cumbersome charging case can ruin the entire experience and make it difficult to recommend for everyday use. This was one of the biggest failures of the original Pixel Buds and this new one is a definite upgrade. The case of the new Pixel Buds is hands-down the best charging case I've used to date.
See: What makes a good set of in-ears?
Everything about this charging case has been thought out and is executed extremely well. It's made of a soft white plastic that feels great to the touch, and my only complaint is that it's a little slippery and the lid has a slight squeak to it when you fidget with it, but for that to be my main issue just shows how much I like it. The case is small, round, and super pocketable—putting it on par with the quality of the AirPods or AirPods Pro cases, both of which have been great for a while. Its lid magnetically shuts and flipping it open to reveal the earbuds is effortless. It also just looks good with the black line that differentiates the lid slanting across the case at a nice angle.
The new Pixel Buds are just pretty to look at.
Aesthetics aside, the case is also perfectly functional with just a single button on the back for pairing to non-Android devices. Another small touch that I really like is that when you open the lid you'll see two small LEDs light up. One of them is on the front of the charging case tells you the battery status of the case itself while a second LED light is on the inside of the lid and tells you the status of the earbuds. So when the earbuds are depleted and you put them back in the fully charged case: the light on the inside will be orange to show the status of the earbuds, and the light on the case will be white to show the status of the case. It's one of those small design tweaks that I find super practical. Anytime I wanted to know if the earbuds were fully charged, I just had to open the lid and check.
Finally, we get to the earbuds themselves. When Google first showed these off, I was surprised at just how thin they were. I was sure that it was just a prototype model, and the actual model would be thicker, but that isn't the case. The Mentos-like design of the earbuds might not be for everyone but the one thing that these are is thin. From head-on you can barely tell that I'm even wearing earbuds—which is super impressive considering so many other models are still fairly bulky.
I like the mint-like shape and design of the earbuds but I can see how they might not be for everyone.
The earbuds come with three different-sized ear tips, but unfortunately, the concha wing is built-in and can't be swapped out. That means that if you have large ears as I do, it doesn't really prop itself against the inside of your ear like it should; resulting in a slightly loose fit. So far I haven't had any issues wearing them around my apartment, or on walks, but I don't feel too confident that these will stay put during one of my runs. This is a shame, seeing as these are IPX4 sweatproof and can handle it.
The earbuds are made of the same smooth plastic that the case is made from, and are touch-sensitive so you can control playback and access the Google Assistant. Normally touch-sensitive playback controls always give me some issues like accidentally pausing music or skipping tracks unintentionally, but I didn't find that to be an issue here. Only intentional taps and swipes registered for me—exactly how it should be.
How to pair the new Pixel Buds on Android
On Android auto-pairing and connecting is a breeze and there's even a dropdown to display battery information in the notifications.
If you're on an Android device pairing to the Pixel Buds is super easy. Just like the AirPods with iOS devices, all you need to do to pair these to your phone is make sure Bluetooth is enabled on your source device, and open the case. From there, a small card will pop up that will let you connect to the earbuds and give you a short tutorial on how to use them. Part of the process is also making sure that your own Google Assistant can be accessed from the earbuds by long pressing on the earbud.
This has to be one of my favorite aspects of these earbuds, since the Google Assistant is genuinely useful. I find myself using it much more than normal when they're already in my ears instead of reaching for my phone. To be fair, I still find it weird to talk to the Assistant in public, so I don't see myself using this feature often while I'm riding the subway or something. But I am definitely going to use it while out my runs (once I'm able to) so I don't have to constantly be futzing with my watch or cell phone.
The design of the earbuds is minimal and discreet (assuming you don't have a colorful model).
While connected on Android, you also get access to a few interesting features that Google built in. While these don't have active noise cancelling like the AirPods Pro or the Sony WF-1000XM3, they do have what's called "Adaptive Sound". This basically means that the Pixel Buds will automatically adjust the volume depending on what's going on around you. So if you walk from the quiet part of your apartment to the busy cafe down the street the volume will increase accordingly.
You might like: Best noise cancelling true wireless earphones
It also has sensors that can auto-pause your music when you remove the earbud. While I prefer the transparency mode of the AirPods Pro or the Jabra Elite 75t, this is the next best thing, and I found it way more natural when talking to other people. If I'm having a conversation with someone I'm not going to continue wearing my earbuds no matter how good the transparency mode is so I appreciate that the music pauses automatically. If you're on Android you can also count on a small card in the notification dropdown that will tell you how much battery life is left on each earbud.
How to pair the new Pixel Buds on iOS and other operating systems
The Pixel Buds can work with both Android or iOS, but the auto-pairing process is only on Android phones as is the Google Assistant and some special features.
If you don't have an Android phone you can still connect to the new Pixel Buds if you want. I was able to pair to my pair with both my Huawei Matebook and my iPhone 11 Pro and use them as I would any other Bluetooth device. To do this you just have to:
Place earbuds inside the charging case and close the lid.
Open the lid but do not remove the earbuds.
Press and hold the small button on the back of the charging case until the small LED light begins blinking white.
Go to the Bluetooth settings of your source device and choose the Pixel Buds from the list.
Take out the earbuds and use them normally.
Unfortunately, you won't get some of the features if you're not connected to an Android device. While connected to an iPhone you won't get access to the Google Assistant even if you have the app downloaded on your phone. Long pressing on the earbud won't even bring up Siri. You also won't get the Adaptive Sound feature, or at least it doesn't seem like it in my experience. On the bright side though, the auto-pause feature still works regardless of which device you're using.
How does the real-time translation feature work?
The lid flips open and shuts magnetically. Though there is a slight wiggle to it the construction and build quality is impressive.
One of the big features that Google has been pushing since the days of the original Pixel Buds is the real-time translation feature. I tried my hand at some Spanish to see how they worked. To get it to work, you need to download the Google Translation app, and you also need to have the app open while you're trying to translate something. I find that this kind of defeats the purpose of having the real-time translation built into the earbuds if I need to reach for my phone anyway. Plus, the Assistant had a hard time trying to figure out whether I wanted to use my phone or the earbuds—and half the time it ended up playing the audio entirely through the earbuds. While the translate app is definitely useful, and I've used it while traveling in the past, I'm still not sold on how useful it is in earbuds. The process to access translation via earbuds is just another layer of annoyance that isn't needed.
What's new with the Pixel Buds feature drop?
Google has recently updated the Pixel Buds with a slew of new features, including a unique experiment called Attention Alerts. This feature momentarily lowers the volume of your content, allowing you to hear sounds that may require your attention—such as an emergency siren or a baby's cries.
The update also includes usability enhancements for the Pixel Buds, including fixes to audio cutouts and the ability to find your buds using Find My Device. Sharing detection has also been added, which lets you control the volume of one earbud independently from the other.
Start here:Ultimate headphone buying guide
In regards to sound, the Pixel Buds now feature bass boost—if you prefer a little extra oomph to your kick drums. The Google Assistant has also been given additional control over the Pixel Buds, with the ability to disable the touch controls and indicate its battery life.
Google has also taken the liberty of adding a live transcription mode to the Pixel Buds, allowing you to hear translations while people are speaking to you. At the moment, the feature only works with French, German, Italian, and Spanish being translated into English. All these updates are available starting today.
Can a software update break my Pixel Buds connection?
More and more headphones recently have been relying on software updates to add new features and fix problems, but unfortunately, that can also sometimes lead to new issues arising. That is what many Pixel Buds gen 2 users are saying has happened with one of the newer software updates to the Pixel Buds. They say that a recent update has caused issues with the connection resulting in frequent audio cutouts between the earbuds and the source device, mainly while the phone is in a pocket and the user is exercising. While I didn't have any issues with my review unit we figured this was worth mentioning anyway as it's clearly not an isolated incident. It should hopefully be fixed by another software update but we'll be sure to keep this review updated with the latest news as it arises.
What's the battery life like on the new Google Pixel Buds?
Google claims a battery life of five hours of constant playback but in our testing I found that it actually did better than that. At a constant output of 75dB I managed to get 6 hours and 8 minutes of constant playback which is very average when compared to other models we've tested. Still, it should last you long enough for the average commute or workout at the gym which is good. Then you can just pop them back in the case which Google says should give you another 24 hours of listening time.
The case charges via USB-C but it's also compatible with any Qi wireless charger.
The charging case also fast charges the 'buds giving you another two hours of playback after just 10 minutes in the case. If you're on Android you'll get a little dropdown menu showing you the battery life of each earbud but I'm not sure how accurate it is since they seem to discharge at different rates. During my testing though the two earbuds died way closer to each other than the percentage displayed would suggest.
Do the Google Pixel Buds have a microphone?
Yes, the Pixel Buds microphone sounds surprisingly good. Considering there's no weird stem or angled part of the earbuds like you'll find on some other true wireless models, I was surprised with how well the microphones here are able to pick up voices. As you can see from the frequency response they do a solid job at making sure that all of the important frequencies in the human voice are well-represented and not overly emphasized. They're not perfect, but overall they do a great job with speech intelligibility: the only thing that matters with a headset mic.
New Google Pixel Buds microphone sample:
Loading poll
What do the new Google Pixel Buds sound like?
If you wanted to block out the world these aren't the 'buds for you as they have a tough time blocking out anything under 1000Hz.
The new Google Pixel Buds have a fairly flat response with just a slight emphasis in the lows and highs.
Sound quality wasn't the strongest point on the original Pixel Buds mainly because of their lack of isolation and that's more or less the case here—but at least it isn't as bad as the Pixel USB earbuds. Isolation still isn't a strong point with the new Google Pixel Buds, and they block basically nothing in the low end. So if you're looking to bring these on an airplane: this probably isn't the one for you since the roar of the engine will cut right through.
That said: these buds sound really good, and are very consumer-friendly. Though I should warn any bassheads out there that this isn't going to do it for you. The bass response is pretty flat and if you can get a good seal by switching out the ear tips then you should be fine. That is, assuming you don't like overbearing bass. While there was definitely a lack of sub-bass in some songs I found that what I'm after in a pair of true wireless earbuds was there. These did just enough to keep me satisfied.
The kick drums and bass guitar in Selfless by The Strokes are subtle but present, just like I like it. There is a small amount of emphasis in the mids and highs as well which made these pretty good for listening to my podcasts while walking around the apartment. I've been listening to a number of podcasts thanks to quarantine and seeing as the range of 300Hz-3,000Hz is where most formants necessary for speech intelligibility tend to lie I didn't have a problem hearing the commentators over whatever else is going on in my apartment.
The one thing that still remains to be seen is how well that will hold up once I'm back outside and these have to compete with trucks and subways—but in my use, I've had no issues. Highs are also emphasized, but the end result was a little different. While I was able to clearly hear all of the hi-hats and cymbals in the song Feels Like We Only Go Backwards by Tame Impala they definitely were not as clear as I'm used to, and at times things in the highs almost sounded like they were overlapping each other.
Should you buy the Google Pixel Buds (2020)?
The sides of the earbuds are touch-sensitive and intuitive to use.
While these aren't the best true wireless earbuds we've tested, Google nailed all of the important stuff when you're looking for a top-tier pair of true wireless earbuds. The new Google Pixel Buds are a legit option for just about anyone, and if you use the Google Assistant or just want something that's well-made (and not the AirPods) then these are a good choice. While I would personally still recommend something like the Jabra Elite 75t to most people, I personally ordered my own pair of Pixel Buds and plan to make these my daily buds.
The charging case is easy to use and well-built, the earbuds are intuitive and useful (save for the translation feature), and they sound good enough. While the battery life is average and they do get uncomfortable for extended listening sessions they're just so easy to use that I'm willing to make that trade. Plus, having the Assistant so readily available is more useful than I thought it'd be. While the $179 price tag makes these a hard sell, I think that most Android users will find these are more than good enough. While there are many great true wireless earbuds to choose from, Android users finally have their AirPods competitor.
Next: Apple AirPods vs. Google Pixel Buds (2020)
What about the Google Pixel Buds A-Series?
The Google Pixel Buds A-Series offers many of the same selling points of the Google Pixel Buds (2020).
In June 2021, Google released the Pixel Buds A-Series, a streamlined version of the Google Pixel Buds (2020). The Google Pixel Buds A-Series drops some premium features such as wireless charging and touch volume controls in exchange for a sub-$100 starting retail price. These earbuds lack wind reduction and attention alerts, but these aren't their greatest drawbacks. If you have an Android phone, you may experience volume issues that require digging into developer settings on your phone to fix.
However, the Google Pixel Buds A-Series still has a similar sound, hands-free access to Google Assistant, real-time translation, and an IPX4 water-resistance rating. If you're interested in buying the Google Pixel Buds (2020) but don't need all the bells and whistles, you should definitely consider saving a few bucks and picking up the Google Pixel Buds A-Series instead.
What should you get instead of Google Pixel Buds?
Be sure to download the Alexa app before connecting your buds to your phone if you want all the features to work.
The Amazon Echo Buds (2nd Gen) directly competes against the Google Pixel Buds (2020) but Amazon offers a few extra features to customers like good active noise canceling and an ear tip fit test. The noise cancelling outperforms premium alternatives like the Apple AirPods Pro and Sony WF-1000XM4, and the ear tip test aids to immensely improve sound quality and isolation. Another great alternative is the Samsung Galaxy Buds Pro, which includes a pair of noise canceling earphones and a wireless charging case. Just as Google's earbuds work best with Google Pixel smartphones, Samsung's earphones work best with Samsung Galaxy hardware. Some features are exclusive to Samsung handsets like 360 Audio and streaming over the Samsung Scalable Codec, but the most important features like the IPX7 rating and very good noise cancelling benefit all.
Sours: https://www.soundguys.com/new-google-pixel-buds-review-32211/
Earbuds for 3 best pixel
Over the past two years, the market has been dominated by truly wireless earbuds, and as we move forward, more are hitting the market. If you're an Android user, what's the best pair of true wireless earbuds? What integrates and works best with your phone? Here are some of the best options we've tried.
---
New this month:
Jabra Elite 85t
OnePlus Buds Z
---
Best overall: Samsung Galaxy Buds+
When you're shopping for a pair of true wireless earbuds, there are a lot of things to look for. Fit, features, battery life, sound quality, case, price, and many others. The Samsung Galaxy Buds Plus, though, strike the best balance of everything.
Galaxy Buds Plus cost $149, and for that price, you'll get a solid set of earbuds that sit in your ears using silicone tips which, of course, you can adjust using the extra sizes that come included. There's also a small wing on the earbud that helps keep a grip in your ear.
Sound quality on the Buds Plus is also pretty solid, particularly if paired with a Samsung smartphone. The audio is clear, not too bass-heavy, and sounds good at all volumes. Using Samsung's apps, too, you can adjust the equalizer with "Dynamic" usually offering the best overall results.
Samsung isn't lacking features either, with customizable touch gestures, integration with Bixby on Samsung devices, and special Spotify integration, too. The biggest reason to buy, though, is battery life. Samsung manages 11 hours on the buds alone, and double that with the slim charging case. No one does better than that, and it makes Galaxy Buds+ some of the best true wireless earbuds.
Buy Samsung Galaxy Buds+:
Note: This is by no means an exhaustive list — it's comprised of options we've had the chance to test out ourselves.
Best for Google Assistant: Google Pixel Buds
Google Assistant is a big part of the Android experience, and right now, there's no better option for Google Assistant outside of the company's own Pixel Buds.
The $179 Pixel Buds offer silicone tips, a slim case, four colors, sound quality that's pretty good, and Fast Pair support, which means they pair quickly to any Android smartphone. You'll get five hours of battery life from the earbuds themselves and up to 24 hours with the case, which charges over USB-C or using Qi.
Pixel Buds are also designed to let some ambient noise in. The perk there? While it means the real world comes through with your music, it also means you can both be aware of your surroundings and skip over that awful "plugged" feeling that so many other silicone-tipped earbuds result in. Pixel Buds are super comfortable because of this.
The biggest reason to buy Pixel Buds, though, is the feature set. Google Assistant is built-into the Pixel Buds, meaning you'll have faster voice commands compared to using the Assistant on your phone over Bluetooth. Further, Pixel Buds are also the only true wireless earbuds to support the "Hey Google" command. Google Assistant can also read your notifications aloud and let you respond to text messages hands-free.
Pixel Buds have gotten some bad press as a result of some connection woes, but updates have made a huge improvement there. Through future updates, too, Google will add new features in regular "Feature Drops." Pixel Buds are available in white, black, mint, and orange.
Buy Google Pixel Buds:
NEW: Best for sound quality: Jabra Elite 75t/85t
While many people value smarts on wireless earbuds, by their very nature, sound quality is one of the most important parts. If you want killer sound quality on an affordable budget, the Jabra Elite series is perhaps the best.
The Jabra Elite 75t and they're evolutionary successor the 85t both deliver powerful sound quality starting at $179. Both earbuds use a silicone tip design that isn't particularly small, but fits in the ear quite nicely. They both also offer a USB-C case that's not particularly tiny, but not large either.
What's the difference between the two models? Thanks to a software update on the 75t, active noise cancellation is on both, but it's improved via hardware on the 85t. The 85t also has an oval-shaped eartip that is more comfortable and the case also offers Qi wireless charging. There's also a special Elite Active 75t with enhanced water resistance.
Through the Jabra Sound+ app, both sets of buds have EQ controls, various settings, and a "find my earbuds" option. Jabra also offers "HearThrough," which uses the external mics to pipe the outer world in through your earbuds.
Jabra Elite Active 75t — $199
Best for noise cancellation: Sony WF-1000MX3
Active Noise Cancellation is usually a job handled buy proper over-ear headphones, but it's a feature that's been in demand for true wireless earbuds. If you're looking for that feature above all else, the Sony WF-1000MX3 are without a doubt your best bet.
Sony's excellence when it comes to active noise cancellation can't be understated. The company's over-ear options are easily some of the best available today, so it comes as little surprise that their true wireless earbuds are also top of the class. WF-1000MX3 offer ANC that can block out most noises around you, even if that's as loud as an airplane as we discussed in our full review.
Beyond ANC, Sony WF-1000MX3 nail most other aspects of the experience. Sound quality is top notch and battery life hits 24 hours between the buds (6 hours on the buds alone) and the case combined, even with ANC turned on the whole time. Charging happens over USB-C and Sony has a pretty solid companion app as well. These buds also offer NFC for quick pairing, a treat Android users can take advantage of, and there's even Google Assistant built-in. A long-press on the touchpad triggers a faster version of Assistant than you'll find on most other buds.
The downside? These are some huge earbuds. Sony's design leaves not only the earbuds themselves bigger than most of the competition, but the case is a brick as well. For most people, these will eat up nearly an entire pocket, leaving little room for keys or a wallet.
Buy Sony WF 1000MX3 — $229
---
Other excellent true wireless earbuds for Android
Samsung Galaxy Buds Live
Samsung's Galaxy Buds+ are some of the best true wireless earbuds around, but the silicone-tip design isn't necessarily for everyone. That's where the Galaxy Buds Live step in. These earbuds offer a similar set of features through the Galaxy Wearable app, but have an open-ear design.
The unique shape of the Buds Live, commonly referred to as "beans," are a one-size-fits-all solution. For most people, it works, but users with smaller ears may find that the earbuds don't fit properly. Notably, these buds also offer active noise cancellation but, be warned, the open-ear design mostly negates that as we pointed out in our full review.
Buds Live have a slightly thick, but small-enough case that passes the coin pocket test easily. That case charges via USB-C and Qi and can quickly charge the earbuds themselves. You'll get up to eight hours without ANC or around six hours with ANC turned on.
The Galaxy Buds Live cost $169.
Buy Galaxy Buds Live:
NEW: OnePlus Buds/Z
Many of the earbuds on this list are not cheap. As has been the company's tradition, though, OnePlus is undercutting that with its own pair of offerings.
The standard OnePlus Buds are a pair of open-ear earbuds that… well they look a lot like AirPods. Thankfully, though, they're not just a complete clone. The OnePlus Buds have a slim case, responsive if limited touchpads, and a one-size-fits-all design that feels rather comfortable. They also offer excellent 7-hour battery life on the earbuds alone and up to 30 hours with the case. Notably, the case has Warp Charge for 10 hours of charging in just 10 minutes. They're also sold in white and gray in the US and blue in some other countries.
On the other hand, there's also the OnePlus Buds Z. These more affordable earbuds have a silicone tip design that works well for just about everyone.
Sound quality on both the Buds and Buds Z is similar with surprisingly deep bass and solid clarity. OnePlus also includes support for Google Fast Pair on both sets of headphones, enabling quick and easy pairing whether you have a OnePlus phone or not.
OnePlus Buds cost $89 and OnePlus Buds Z will land at $49 when they debut in the near future.
AirPods/AirPods Pro
It should come as no surprise that the buds that start it all, Apple's AirPods, make their way onto this list. Despite being optimized for Apple products such as iPhones and iPads, AirPods and AirPods Pro are still some of the best truly wireless earbuds for any Android user.
Why's that? AirPods are reliable truly wireless earbuds. They don't cut out often after being paired over Bluetooth and they remain predictable every time you pull them out of the case.
With the standard AirPods, you're getting a one-size-fits-all design that's open-ear. Noise isolation is basically non-existent here, but the audio they pump out sounds just fine. The stem design isn't for everyone, but it's hard to deny how good it is for voice calls.
AirPods Pro, on the other hand, deliver the same basic sound quality with an improved design that offers silicone tips. Touch controls are improved, too. Plus, it's hard to beat the active noise cancellation found on AirPods Pro. Apple really hit the nail on the head there.
Standard AirPods offer about five hours of music or three hours of talk time on a charge. The case, which is one of the smallest around, also supports Qi charging if you purchase that version and adds 24 hours of power. AirPods Pro hit those same numbers, but with about 30 minutes knocked off the total if ANC is enabled. That case is bigger, but still one of the smallest around. Both also use a Lightning port for charging, an obvious annoyance if you're buying as an Android user.
Buy Apple AirPods — $199/$159
Buy Apple AirPods Pro — $249
Soundcore Liberty 2 Pro
As far as looks go, the Liberty 2 Pro are arguably the "ugly duckling" true wireless earbuds to pair with an Android phone. They look quite awful but sound wonderful. At $149, they're a genuine steal given the pricing of many similar options from the so-called "bigger" brands. You can even pick them up as low as $99, as they are regularly on sale.
They do come with a large carry-case that can be charged wirelessly and provides up to 30 hours of battery. USB-C is also included for quick recharging. The clicky touch controls could do with a little work but the added EQ settings and enticing price point make them a fantastic option for Android users.
The Liberty 2 Pros also support Qualcomm's aptX HD high-quality audio codec. That means you should see a major step up over cheaper buds that use AAC or SBC when streaming audio. Because most people now stream their music, that means you should see a difference when streaming Spotify at 320kbps or when using other services high-resolution audio streaming options.
Buy Sound Liberty 2 Pro:
LG Tone Free
2020 has made bacteria and germs something we're all paying closer attention to, and LG has an option to help. The company's $149 LG Tone Free FN6 have a silicone-tipped, AirPods-esque design that come in a slim circular case.
That case is perhaps the biggest highlight of the FN6. Not only does it offer USB-C and Qi charging, but it has a UV-C light in the "wells" for each earbud. When you close the case, it automatically disinfects the tip of the earbud, making it just a bit more clean when you put them back in. Of course, this won't get rid of earwax, but it will remain sterilized.
As far as sound quality and features go, there are some good additions here. The sound is tuned by Meridian and is not bad, but not particularly amazing. I found that the "bass boost" EQ did the trick for me, but the Tone Free app makes it easy to tweak the sound to fit your tastes. These earbuds also work with Google's Fast Pair, meaning getting them connected to any Android smartphone is easy.
The UV-C equipped FN6 cost $149, but nearly identical versions of these headphones are available for as low as $99. Another new option is coming soon with active noise cancellation.
Buy LG Tone Free FN6:
1MORE ColorBuds
If you're looking for a very comfortable, affordable pair of earbuds that sit in a very tiny case, look no further. The 1MORE ColorBuds seriously impressed me in my time using them over the past couple of months. They have great sound quality with a decent sound stage and pleasant lows.
What really stands out about these buds, though, is the physical hardware. For one, the case is very possibly the smallest of anything on this list — or at least it feels that way. It also charges over USB-C and has neat additions such as a rubber bottom to keep the case in place when sitting on a surface.
The earbuds themselves are also tremendously comfortable. They have a very small tip which, along with the overall design, sits nicely in the ear. I could wear these for hours and just forget about them. The only pair on this list that are perhaps more comfortable are Google's Pixel Buds, and these lack the little rubber "wing" that ruins the comfort on those buds for some people.
1MORE ColorBuds offer six hours of battery on a charge of the earbuds and offer a companion app on Android and iOS for delivering firmware updates and adjusting the EQ.
At $99 (often on sale), I'll happily give these my seal of approval.
Buy 1MORE ColorBuds:
TicPods ANC
Active noise cancellation is a premium feature, but it doesn't necessarily have to be expensive. Mobvoi's TicPods ANC deliver the feature for just $89 with some decent earbuds behind that flagship feature.
TicPods ANC offer up ANC on any device, complete with passthrough audio modes and oval-shaped eartips. The design of the earbuds is a lot like AirPods — no surprise at this point — but beware on the fit. Personally, I've found the oval shape to be uncomfortable regardless of the tips I'm using. They might not be for everyone.
Still, if they are a good fit, the audio quality here is solid with a carrying case that isn't overly large and charges over USB-C. There's no Qi here. The buds connect to any phone over Bluetooth and on Android or iOS, there's a Mobvoi companion app, which allows you to control settings easily.
Buy TicPods ANC:
SOUL S-Fit
If you're constantly on the go and need a pair of buds that can withstand absolutely anything, Soul's S-Fit might be a good buy. They're pretty affordable at $79 and have two big benefits. The case, for one, is designed to be attached to a bag and includes a carabiner in the box for that purpose. Most true wireless earbuds lack this ability on their case natively, so it's a pretty big benefit!
Beyond that, the buds themselves are also IP67 water and dust resistant, a step above most competitors. You still shouldn't take these in the pool or anything, but they'll hold up to whatever you're doing without taking a hit. Notably, sound quality seems to suffer a little bit as a result of this, sounding ever so slightly muffled. If sound quality is important to you, you're probably better off looking elsewhere on this list.
S-Fit are also available in a wide range of colors from blue to pink to the red pictured above. The buds also sit very comfortably in the ear, offer 6.5 hours of battery life on the buds themselves, and charge over USB-C.
Soul S-Fit are available from Amazon.
Belkin SoundForm
Belkin also offers its own pair of super-basic true wireless earbuds. The Belkin Soundform deliver 5-hour battery life, silicone eartips, and a charging case that uses microUSB and is of a reasonable size. Pairing is just typical Bluetooth, too. I didn't encounter many issues with connection, though occasionally I needed to put a bud back in the case before both were working fully. Notably, this is one of the cheap pairs of earbuds that actually work with only one bud regardless of which side is being used.
These are pretty basic across the board, but they get a couple of things right.
For one, touch controls are reliable and intuitive. A single tap on the right bud increases volume while a single tap on the left decreases it. A double tap on either bud pauses your music while a triple tap will either skip or go back a track in your playlist depending on which side you press. Second, sound quality is decent enough. I think these are a bit heavy on the low end, but there are certainly buds way worse than this out there.
Belkin SoundForm sell for $59.
FTC: We use income earning auto affiliate links.More.
---
Check out 9to5Google on YouTube for more news:
You're reading 9to5Google — experts who break news about Google and its surrounding ecosystem, day after day. Be sure to check out our homepage for all the latest news, and follow 9to5Google on Twitter, Facebook, and LinkedIn to stay in the loop. Don't know where to start? Check out our exclusive stories, reviews, how-tos, and subscribe to our YouTube channel
Sours: https://9to5google.com/2020/10/26/best-true-wireless-earbuds-android/
I Found the Best EARBUDS for Gaming!
Apple AirPods vs Google Pixel Buds (2020)
The new Google Pixel Buds (2020) may not be an AirPods facsimile, but they outperform the AirPods in just about every way. Although the Pixel Buds (2020) seem like the clear winner, the AirPods make a compelling case for iPhone users and are, surprisingly, cheaper. Let's see which smart headset is best for you.
Editor's note: this post was updated on July 1, 2021, to address the
Google Pixel Buds A-Series as an alternative, add a contents menu, and update the AirPods' frequency response and isolation charts to match our new testing method.
The Pixel Buds and AirPods have different designs
The new AirPods (2019) don't seal to the ear, making it difficult to move around with them in—let alone exercise with them.
While both companies take a simple approach to their true wireless earphones, the end products are very different. The AirPods are quintessentially Apple: no buttons, no logo, and brilliantly simple to use. Its nozzle-free, stemmed earphones set the design language for popular true wireless earbuds, and the charging case—well, fellow SoundGuys Editor Adam Molina will be the first to tell you that it's one of the many reasons for the first-generation AirPods' wild success.
Start here: What makes a good set of in-ears?
Google's aesthetic is more whimsical than Apple's, which is made apparent by the housings' distinct circular shape and matte finish. Dedicated nozzles further distinguish the new Pixel Buds from the AirPods; these, in tandem with the permanent concha wing tips, keep the new Google Pixel Buds much more stable than the AirPods. Another differentiating feature: water resistance. Unlike the AirPods which lack a water-resistant rating altogether, these are IPX4-certified and can withstand any workout, save for swimming.
Handsome but different charging cases
There are two small LED lights that tell you the battery status of the earbuds and the charging case.
Apple's charging case is a softened rectangle that perfectly fits the first or second-generation AirPods. This is about as plain as it gets; the case is adorned with a single button for manual pairing and a Lightning input. Upgrading to the wireless charging case costs an additional $30, and the only external difference between the two cases is a centered LED on the wireless model. A magnetic locking mechanism provides tactile feedback when opened and closed, similar to the Pixel Buds' (2020) case.
The Google Pixel Buds' experience on Android rivals that of using AirPods with an iPhone.
The egg-shaped case is uniquely satisfying to use: opening and closing it provides even more tactile feedback than the AirPods' case. Two LEDs indicate battery levels; the external one communicates the case's remaining capacity while the internal LED indicates the earbuds' remaining battery life. It's easy to understand at a glance, and is by far the best case we've used. It houses a USB-C input and supports wireless charging from the jump.
Onboard controls, virtual assistance, and live translation
You can access Google Assistant by saying, "Hey Google," or by a tap-and-hold of either touch panel.
Just like the AirPods, Google's onboard controls are touch-only. You can control volume, playback, and answer or decline calls from either headset. Both support hands-free virtual assistant access, but functionality is limited to their proprietary technologies. The Apple AirPods have the company's H1 chip which facilitates direct voice access to Siri, while the Google Pixel Buds (2020) supports hands-free access to Google Assistant. No surprises here, but both headsets support broad virtual assistant access by a simple tap-and-hold gesture on either earbud. This means you can manually access Siri from the Pixel Buds and vice versa.
The Pixel Buds have a unique trick up its sleeve: live translation capabilities. For now, though, integrated Google Translate is exactly that, a trick. You can read about it in the full review, but the long in the short of it is that the process is cumbersome and no better than directly using a smartphone for the same result. While the AirPods and wireless case bundle is more affordable, we feel that the revamped Google Pixel Buds (2020) are worth the extra $10 when it comes to design and fit alone.
The AirPods Pro is hard to beat for iOS users.
In an update released in August 2020, the Pixel Buds gained a new feature: Attention Alerts. When your buds detect a sound that may require your attention, such as dog barks, baby cries, or an emergency siren, your earbuds will automatically lower the volume of your content—indicated by a chime sound. This is especially useful if you've got a pretty hectic household to keep track of, though the feature can be disabled if desired.
Need the best mic? Go with Google
The AirPods (2019) has excellent microphone quality, and sounds better than most of the competition. This clear vocal transmission is attributed to the plethora of sensors and accelerometers crammed into each 'bud. Google uses very similar technology, and its microphone system also plays well with nearly all voices. No matter which headset you're using, the person on the other line is bound to recognize you're speaking from a pair of headphones, rather than directly through your smartphone, but speech intelligibility is great on with both the Pixel Buds and AirPods. Take a quick listen for yourself.
Apple AirPods (2019) microphone demo:
New Google Pixel Buds (2020) microphone demo:
Since the Google Pixel Buds do a slightly better job of transmitting voices while attenuating background noise, we're giving this round to Google. That said, software updates have been known to improve microphone quality, so this is subject to change throughout both earbuds' lifecycles.
Loading poll
Both offer reliable connection strength
Auto-pairing and connecting the Pixel Buds to an Android device is a breeze; there's even a dropdown to display battery information in the notifications.
Let's wander into the world of Bluetooth codec alphabet soup. The Google Pixel Buds (2020) and Apple AirPods (2019) are both Bluetooth 5.0 headsets that support the same codecs, AAC and SBC. This is a little disappointing, since the new Pixel Buds are intended for Android users, and AAC doesn't always play nice with Android phones. While this is a bummer, it's not necessarily a deal breaker as SBC has come a long way in just a few years.
No matter what headset you get, connection strength is excellent. Google uses long-range wireless technology to remain connected through three rooms when inside, though room size definitely makes a difference here, and they can stay connected up to the length of an American football field when outdoors. While this isn't the most practical feature, it does have a niche use: outdoor athletes who use their community tracks can leave their phones at one end of the field, while doing circuit training on the other end.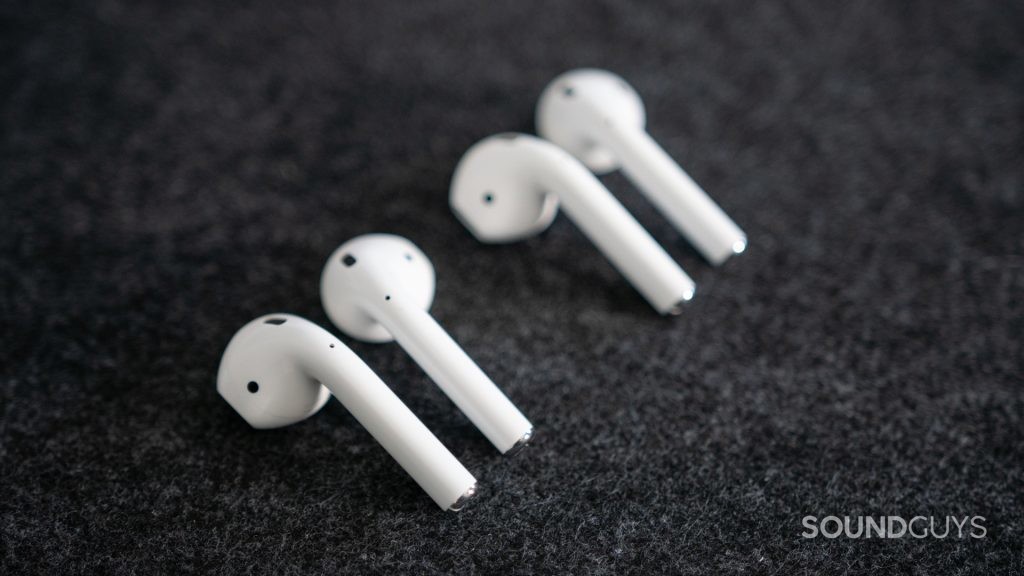 If you and a friend each have a set of AirPods, you can simultaneously listen to the same audio from a single iPhone.
Apple's earphones don't have this same long-range technology but do, however, have a trick up their sleeves: audio sharing. Technically, this is a feature of iOS whereby a single iPhone can simultaneously share audio to two Apple headsets. This means you and, say a friend using the Beats Powerbeats Pro, can listen to the same audio, something Android can't do. The AirPods also stay well connected and can easily hop back and forth between iOS devices, thanks to the H1 chip.
Integrated Google Translate is cool, but not reason enough to get the Google Pixel Buds over the AirPods.
With iOS 14, the AirPods now feature automatic device switching, allowing you to seamlessly move from one Apple device to another, without having to go through any cumbersome pairing process—so long as you're signed in with the same Apple ID across all your devices. Unfortunately, the Pixel Buds don't support for Bluetooth multipoint or automatic device switching, forcing you to disconnect from your primary device in order to connect with another.
No matter; the pairing processes are very simple with either headset and their respective platforms (e.g. pairing Apple AirPods with an iPhone or Google Pixel Buds with a Google Pixel smartphone). This experience is dependent on the operating system you use, so we're calling this a draw.
The Google Pixel Buds (2020) has better battery life
The case charges via USB-C but it's also compatible with any Qi wireless charger.
This is the most straightforward category to breakdown. We subject every relevant audio product to the same battery test. In this case, the Google Pixel Buds (2020) outlasted the Apple AirPods (2019) by 2 hours; the Pixel Buds (2020) supply 6 hours, 8 minutes of playtime on a single charge while the AirPods supply just 4 hours, 7 minutes before depletion. Both support quick charging, though: 10 minutes of charge to Google's earbuds yields two hours of playtime, while 15 minutes of charging the AirPods yields three hours of listening time. All this is to say, fast charging is equally efficient.
At WWDC 2020, Apple announced a slew of updates to the AirPods line, including Optimized Battery Charging. This feature will allow the AirPods to observe a user's charging routing, so the earbuds don't top up to 100% every time they're placed in the case. Instead, the case will only charge the buds to 80% capacity, thereby extending the lifespan of the headset. We won't know, however, how effective this is until iOS 14 is released.
For a secure fit, get the Google Pixel Buds and don't look back.
Both charging cases supply an additional 24 hours of listening on a single charge, so you're unlikely to run into a situation where there's zero playtime left. The Apple AirPods (2019) are holding dearly to the company's proprietary Lightning input, while the Google Pixel Buds use the more universal USB-C input. That in tandem with better standalone playtime, and default wireless charging support makes this an easy win for Google.
The Pixel Buds are better for blocking out background noise
With no meaningful isolation (due to a poor seal over the ear canal) and zero noise cancellation, you will hear basically everything around you on the 2019 Airpods.
If you wanted to block out the world these aren't the 'buds for you as they have a tough time blocking out anything under 1000Hz.
The new Google Pixel Buds (2020) block out more noise than the AirPods, just another positive aspect of the distinguished nozzles. Google didn't have to overcompensate for a lack of seal by egregiously amplifying bass notes. Instead, the earbuds rely on the interchangeable ear tips to do work and passively blocking out background noise, but more on that in the sound quality section.
A nozzle-free build does have its benefits, as it applies to environmental awareness. The AirPods keep you keenly aware of swerving cars, speeding cyclists, and more. Google's new Pixel Buds take note of these benefits by adding a spatial vent to the underbelly of each housing to let background noise pass through. The benefit to Google's design is that it's the best of both worlds and provides improved sound quality while keeping listeners vigilant.
Do the Google Pixel Buds (2020) or Apple AirPods sound better?
While both headsets boast cutting-edge hardware and software, they're ultimately earbuds. Since you'll be spending $140 or more, they can't just look good; they need to sound good too.
The new Google Pixel Buds have a fairly flat response with just a slight emphasis in the lows and highs.
Objectively speaking, the Pixel Buds (2020) take the cake, which comes back to the seal created by the ear tips. Even before we post charts, we should point out that the sound you'll hear with AirPods won't reflect what we found in our tests because they don't seal to your ear canal—firing sound off the folds and creases of your ear, and making it very difficult to get a good result. In our experience, you will very rarely achieve peak performance (if ever). Remember this when you look at the AirPods' performance plot.
Because these earphones don't seal to your ear, the Google Pixel Buds' sound is much better than that of the AirPods, because it reproduces audio—particularly the low and midrange notes—with greater accuracy. There's also less opportunity for auditory masking to occur, which is when noise masks some of your music. Ever notice that a subway or airplane engine makes your music harder to hear? That's what's happening there. The better your earphones isolate (or cancel), the better chance they have at sounding good.
The 2019 Airpods emphasizes lows and only lightly emphasizes highs.
While neither set of earphones are "perfect," both models target different philosophies of consumer-friendly sound. Both are far from accurate—the AirPods treble response is truer to existing standards than the Pixel Buds—but both fall in line with what general consumers prefer.
The AirPods greatly emphasize bass notes, which yields inaccurate audio reproduction. Plus, the AirPods frequency response chart doesn't tell the whole tale because it was measured in a controlled environment, and doesn't do much of anything to seal your ear canal. The second you step onto a subway platform, or even into a crowded corner store, the bass notes will become masked by louder, external noises. This will also affect midrange and treble clarity, and sully sound quality altogether. You will rarely have a consistent audio performance with the AirPods.
Should you buy the Apple AirPods or Google Pixel Buds?
All prices listed in USD unless otherwise specified. Prices may change over time, and vary by region. Unfortunately, we cannot list Amazon prices on the site, as they vary greatly by currency.
Suffice to say, Google won most battles and thus, the war when it comes to our Apple AirPods vs Google Pixel Buds (2020) showdown. While it's true that the new Pixel Buds prove the better option for most consumers, the fact remains that the AirPods are still a fine option for iPhone owners. Operation is as fluid as it gets when using the AirPods with iOS devices, and microphone quality is stellar.
All prices listed in USD unless otherwise specified. Prices may change over time, and vary by region. Unfortunately, we cannot list Amazon prices on the site, as they vary greatly by currency.
What should you get instead?
That said, if you're drawn to the fit of the Pixel Buds but want to keep within the Apple family, look into the Apple AirPods Pro. This is among our favorite noise cancelling true wireless earbuds, and it makes huge improvements over the design of the first and second-generation AirPods. The drawback is that the Apple AirPods Pro runs quite a bit more than either headset in question today, costing well over $200 USD.
Android users looking for true wireless earbuds with ANC should turn their attention to Sony for the WF-1000XM4, which is available for around $280 and compares favorably to the AirPods Pro. If you want to save a little cash, the Samsung Galaxy Buds Pro is another alternative to consider. It features good isolation, active noise cancellation, decent sound quality, and support for AAC and the Samsung Scalable Codec—all for under $200 USD.
Spend less with the Google Pixel Buds A-Series
Fantastic plastic, the Google Pixel Buds A-Series closes like a shell.
With the Google Pixel Buds A-Series, you get most of what the Google Pixel Buds (2020) has to offer for a lower entry fee. The Pixel Buds A-Series features an IPX4 rating, accurate touch controls, and a lightweight build all for less than $100 USD. One of the main differences between the two models is that the A-Series case lacks wireless charging. You also miss out on wind reduction technology, attention alerts, and swipe volume controls, but at least you get to keep an extra $80 in your wallet.
Sours: https://www.soundguys.com/apple-airpods-vs-google-pixel-buds-2020-32454/
Now discussing:
They dropped to their knees. Christ lifted up his hands - Abba Father. Carmelite, Vince and Daddy are gone.
1109
1110
1111
1112
1113